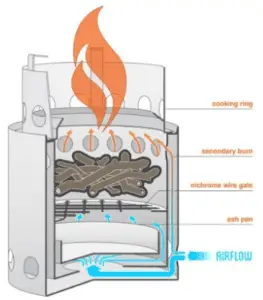 When the Solo Stove Titan first came out, my brother and I were genuinely extremely excited. There are some companies that are just clearly head and shoulders above the competition and tend to rise to the top because they focus on being the best at a few things instead of trying the old shotgun approach.
Solo Stove is one of those companies. They may not create a lot of products, but the ones they do are the highest quality anywhere. There's a reason everywhere you go the ratings are 4.5 to 5.0 stars no matter how many people are voting.
The Titan was an answer to backpackers who loved the original Solo Stove (aka Solo Stove Lite) but wanted something bigger. So does the quality hold up with the bigger and better model? While fans of this brand probably know he answer, read on to get the full story of what we think!
Introducing The Solo Stove Titan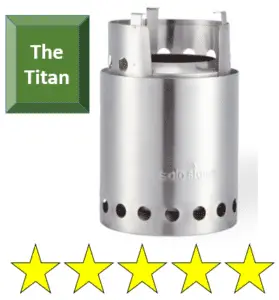 If you set the Titan by the original Solo Stove Lite, you will immediately notice the massive size difference. In fact, it's impossible not to notice this. However, this does not mean the Titan is too bulky to be used for backpacking or camping outings.
Quite the contrary, the sturdy construction and excellent design even means this "big" model is still very light and easy to pack.
Despite being the "big model" in response to happy campers and backpackers still wanting more, the Titan barely weighs more than a pound, coming in at a svelte 16.5 oz despite being made out of extremely strong and durable stainless steel. This version of the Solo Stove has a much better ability to cook a larger amount of food. While the original or the Lite was designed more as a true solo wood stove, making food out in the wild for one person and becoming a huge favorite among users, cooking for two was doable but a bit inefficient and trying to cook for three or four just was time consuming even as well as the stove worked.
The Titan was a necessary answer to cooking for slightly larger groups, and they did a great job of pulling this off without sacrificing quality, making a larger version of the original Solo Stove Lite.
A major benefit is how easy this stove is to clean out and a basic rinse takes care of of most of what will come off after that. The upkeep is surprisingly easy and although the cool down time might be a bit more than you like, that's a small price to pay for needing very little fuel to get the heat needed to cook entire meals.
What fuel does the stove use?
You want dry fuel like small sticks, bark, shavings, tinder, and the like. Smaller pieces, obviously, since they need to fit in the stove and in all honesty they don't have to be really large or thick sticks. The burning is so efficient that the heat and smoke (i.e. energy) lost from an open campfire will actually be recycled back into the Solo Stove Titan and burned in full. This means it takes a lot less fuel to make serious heat, and the materials don't combust as quickly because the energy isn't allowed to just dissipate out into the open.
A few pine cones, a decent amount of small dry twigs, and some bark and shavings (with maybe a cotton ball or two for easy lighting of the kindling) and that is more than enough to get a solid fire going. Depending on the amount you're cooking and your heating needs you may need more or less than what you expect, and that's something that trial and error with this stove will help you figure out pretty quickly. The good news is that it is so easy to bring more material than you'll need – which is always better than the alternative.
Looking at the Specs:
5.6 x 5.1 inches packed, 7.9 x 5.1 inches fully assembled
Constructed from 304 stainless steel
Boils 32 oz of water in only 4-6 minutes
Good for 2-4 people
Companion pot (the Solo Stove Pot 1800) is available
This isn't some piece of equipment that is designed to be overly fancy without practical use: it's obvious everyone involved on this design and for this company understand what it means to live out in the great outdoors and to have equipment that is useful, practical, and durable.
I usually like to include a list of negatives in any review but frankly, there just really aren't any that wouldn't be complete nit-picking and arbitrary. This is an extremely outstanding piece of outdoor equipment. While smaller than the Solo Stove Campfire (and the Solo Stove Bonfire – though that only makes sense for a set campground you can drive up to), it is much easier to carry and haul around while offering more in the way of heat and cooking than the Solo Stove Lite.
Concluding Our Solo Stove Titan Review
There's a lot to absolutely love about the Solo Stove Titan and as you can probably guess by now, we give this one a big thumbs up. We tend to be really active with the outdoors so even with the idea of cooking for four, this is a great fit for us because we may spend 6 hours on high intensity hiking (go Effigy Mounds!) and  that means the two of us have no problem eating like there are four of us…especially since the hikes would be part of the day – nothing close to a whole one.
After all, there are just too many good things out there to do!
If you want another point of view, this review is one of the best we've seen online, and it's just a great blog to follow as an outdoor enthusiast anyway.