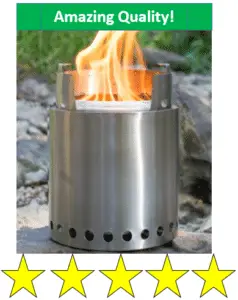 I'm a huge fan of what I'm seeing from Solo Stove as a company in general. These products are extremely high quality, serve a very specific and useful outdoor purpose, and can be used by a variety of outdoor enthusiasts from campers to travelers to backpackers and hikers.
As someone who always saw a 20 mile walk as being fun and relaxing, and saw rough terrain making it a same day 20 mile hike as being even better, I like everything that involves outstanding gear that allows me to travel and adventure at will.
The Solo Stove line really hits high report card marks as far as this goes, and while we have already reviewed the still developing, soon to be publicly available Solo Stove Bonfire, I wanted to back and review the rest of the products because this is one of those rare times where I'm absolutely enamored with the products this company has come up with, including the original Solo Stove Campfire.
Looking At The Original Solo Stove Campfire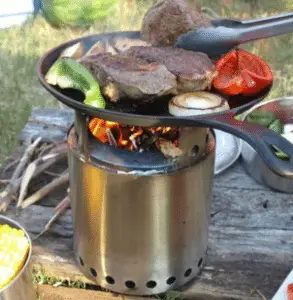 The campfire was the Solo Stove product to proceed the upcoming (or current, depending on when you read this) Bonfire. True to the name, the Campfire is much larger than the Lite or Titan. While the first two could find some use with long distance backpackers or the ultralight crowd, the Campfire was designed by Solo Stove to be larger and to provide a portable campfire pit.
The efficient design is still the star here with this 2.2 lb canister, which is actually very light weight still as long as you're not talking about hardcore ultralight hiking and backpacking. Because of the dual walls designed to efficiently feed air to the fire and absorb most of the heat energy (open fires are awesome to look at but terrible at energy efficiency), meaning even a small handful of twigs, bark, and pine cones are often more than enough fuel to create the heat for some basic cooking and warmth.
The classic Solo Stove design makes this a wood gas stove, recycling heat usually wasted back into the burning fuel and keeping a much longer burn as a result. You can check out their website for the engineering/science behind it but the long and short of it is simple: this is an impressive piece of equipment.
Having a contained campfire that can trap and keep the heat to keep cooking makes this wood burning stove an extremely efficient piece of equipment that is going to find a lot of fans.


Solo Stove Campfire Product Overview
The campfire for a long time was the largest of the products offered by Solo Stove for quite some time, although it is set to move out of the way with the upcoming release of the Solo Stove Bonfire. This was well received by many campers and outdoor enthusiasts who saw the potential from the original models but wanted a little more space and a little more heat. They wanted something that wasn't necessarily for backpacking, but could be used at a campground or on a day hike as opposed to the long thru hikes where every ounce really counts.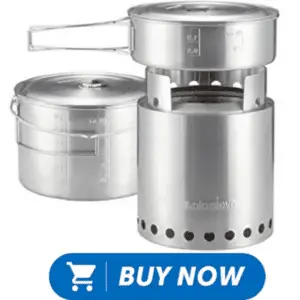 The construction is top notch. This isn't just a small wood stove that looks good, it is rock solid and holds up to the wear and tear of consistent use. While you need to be careful because it retains heat for a very long time (not just when cooking but also in the cooling down stage), it's easy to clean with the carbon from the blackening of use generally washing off with ease.
Cooking larger meals or even using a 12 inch cast iron pan is no problem with this larger model, which can hold the weight and put in enough heat to guarantee a thorough cook through.
The packaging is quite nice and the easy breakdown and set up gives you a few more options when camping. Generally we'd say this is better for camping at a site or for a meal after/during a day hike seeing as how the extra size and weight are going to be issues with the really long distance crowd, but this works without a problem for most camping outings.
If you're in a rustic campsite that you reach by vehicle, but then have to handle creating a fire pit, cooking area, etc, then the Solo Stove campfire is actually about as ideal as it gets at that point!
Basic Product Specs
Packed size is approximately 7 in X 7 in
9.25 in height fully assembled
2.2 lbs in weight
Composed of nichrome wire & specialized stainless steel
Less than 5 minutes to boil 32 oz of water
Heavy for a Solo Stove but light by most other standards, you get a good impression from the very beginning as the packaging is excellent, a carry pack is definitely nice and helpful, while the Stove delivers on being the compact heat producing cooking machine it promises to be.
Where Does The Campfire Sit Among The Solo Stove Products?
Considerably larger than the Solo Stove Lite and Solo Stove Titan, the Solo Stove Campfire is one of the larger models and is for more heavy duty use, but it will pale in size in comparison to the Solo Stove Bonfire, set to be released soon.
CAUTIONARY NOTE: It's easy to underestimate just how long the Solo Stove will remain hot after the fire goes out. The design is setup to keep heat in as long as possible, and the choice of stainless steel isn't by accident. Don't cook, eat fast, and then grab for the Solo Stove. That is a good way to get severe burns on your hand. Take all proper precautions and if in doubt, a little bit of water to help the cool down is never a bad idea.
So What's The Final Verdict?
A big thumbs up. While I'm as annoyed as anyone else at websites that just give all five star reviews (c'mon guys – even the best products are going to have 4 and 4.5 stars at some points depending on the niche), Solo Stove earns every single one. They don't do a lot, they focus on what they want to do well and then execute. While this stove won't be ideal on the ultralight backpacking circuit, it works as a great campsite stove or even emergency wood gas stove. This blog post shows its use in winter camping.
This stove continues the company's tradition of producing extremely high quality products and we are extremely excited to look at any future products as well. If you're looking for a larger wood burning stove that is extremely efficient, effective, and compact then you won't find better! We hope you enjoyed our Solo Stove Campfire review and you can check out this video for another POV on the same awesome piece of equipment.