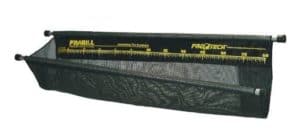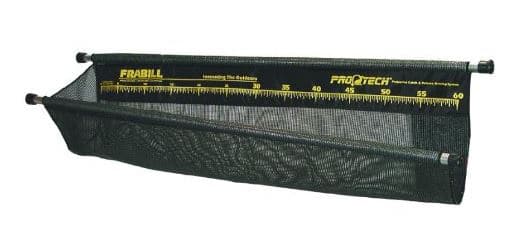 If you have been a long-time reader of amazingoutdooradventures.com; you will know just how much we love fishing for trophy fish like northern pike, muskie, and even walleye (have you checked out our guide to northern pike fishing or our Lake Erie Walleye Fishing Trip review yet?).
Muskie fishing – more than most other types of freshwater fishing – really requires having the right type of gear to go along with an abundance of patience. I mean, they didn't call musky the fish of 10,000 casts for no reason.
One of the biggest challenges you are going to face (besides catching the musky) is safely netting and releasing a trophy sized fish.
There are a couple of different options for safely landing a muskie, and they include a more traditional landing style net or a musky cradle net.
There are advantages and disadvantages to using both – and this article should help you determine if a muskie cradle net would be a good choice for you, or if you should stick with a more traditional fishing net option.
How to Use a Musky Cradle
It is actually very easy to use a cradle net, it is just going to take a few attempts to get completely comfortable with it.
To keep it simple, you want to have a tight grip around the handles. As the muskie gets to the side of the boat, you want to spread the handles apart to expand your surface area, dip the cradle beneath the musky, then push the handles back together to safely enclose the muskie. Once the fish is enclosed, you can lift them right out of the water.
Overall, it is a very simple process. At the end of the article we have attached a really cool video from the YouTube Channel Canada Fishing Guide showing them landing a fish with a cradle on Big Echoing Lake. It is pretty cool to see these cradles in action.


Benefits of Musky Cradles
If you decide to pick a musky cradle instead of a traditional landing net, here are some of the major advantages to making that choice!
They provide a lot of support for muskie. The fish can stay in the water in a horizontal position (which is natural for the fish) during the time you are removing the hooks. This also limits any potential harm you could cause the fish during the catch and release process.
A good muskie cradle will be made with the right type of materials that will protect the fish and the "fish slime" that are on muskies during the catch and release process.
Depending on what type of muskie landing net you buy, these musky cradles are easy to store in the boat. Some muskie landing nets can be a little ridiculous in size.
Anglers that go the musky cradle route tend to enjoy using them once they get use to the techniques required to use one effectively.
Problems of a Musky Cradle
There are a few disadvantages to using a musky cradle instead of a traditional muskie fishing net – with these being the most common complaints.
You basically can't use a musky cradle alone. You need to hold the handles of the cradle and dip it into the water, which is basically impossible while you are holding your rod and a large muskie is fighting against you. It just isn't plausible to use alone.
They are harder to use than a traditional muskie landing net. The cradle takes more technique and practice to use effectively, and that can be a problem when you are netting that once in a lifetime muskie!
Some people think that musky cradles can be a little more dangerous to use. If you are using large crankbaits and treble hooks, if they pop out of the mouth of a muskie, they can fly into the face of the person using the cradle. However, I would argue anytime you are dealing with a large muskie, sharp teeth, and treble hooks, – it becomes a little more of a dangerous situation that your traditional netting jobs.
The biggest complaint is always going to be you can't use a muskie cradle alone. If you are someone that likes to fish by themselves and enjoy a little quiet time, you are going to have to buy a traditional net. Also, if you are fishing with someone that has never used a muskie cradle, do you trust them to net your once in a lifetime muskie with that over a traditional net? It is something to think about.


The Best Musky Cradle Nets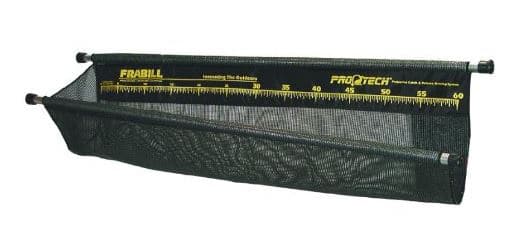 I would say the Musky Cradle Net that has the best reviews and is the most popular right now would be from Frabill.
Frabill makes some great traditional landing nets, but the Frabill Pro-Tech Musky Cradle is their option for those looking for a good musky cradle.
This cradle is popular because it has heavy duty aluminum handles that are strong, durable, and light-weight. The cradle "hoop" is 15 x 60" and is made from a special knotless mesh that is cushioned to protect the fish.
This net also has a built-in ruler, so you can measure your fish while keeping them safely in the water. We all want to follow good muskie catch and release guidelines – and a well-built muskie cradle helps you keep that fish protected and in the water during the catch process.
Why the Frabill Pro-Tech Musky Cradle is so popular is because it checks all the boxes of what people are looking for in a good musky cradle net – which is why it is our top recommendation for Best Musky Cradle Nets.

Final Thoughts
As you can see, there are a lot of benefits, and a few disadvantages, to using a musky cradle over a traditional muskie net. We certainly understand that not everyone is interested in using a musky cradle, so here is a review of the best nets for muskie fishing – in case that is going to be more your style.
As promised, here is that quick video showing a cradle in action!