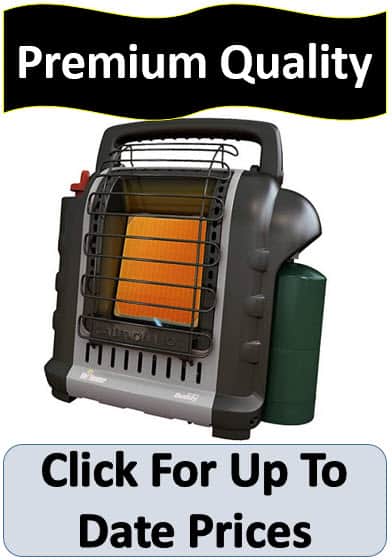 Best Portable Heater on the Market?
Portable heaters can be great for RVs when you are doing winter road trips or late autumn camping trips when the temperature drops, but these aren't the only times that strong portable heaters come in handy.
Whether setting up a permanent camp powered by solar, warming up an otherwise cold workshop, or spending plenty of time ice fishing, a good portable heater is a life saver.
And when it comes to safe, effective, and powerful heaters the Mr. Heater Buddy RV heater is our pick for the best of the best. While it is advertised as an RV heater, we've found it to be an excellent versatile pick that can work well in many useful situations.
Major Features
BTU range of 4,000 to 9,000
Designed for both indoor & outdoor use
Great auto shut-off feature programmed for multiple potential dangerous situations
Easy to use propane heater
Four decades of quality work
Cordless forced air design maximizes convenience & versatility
Made in the heartland of America – right in Ohio
Weighing a touch under 10 pounds and featuring dimensions of a wireless 14.3 x 14.2 x 9.1 inches, this portable heater is compact, lightweight, and versatile. There's a reason that it is one of our top choices.
Warranty Information
The warranty can tell you a lot about whether a company really backs up their work or not, and we're happy to say that when it comes to the warranty for the Buddy by Mr. Heater, it really does hold up.
The warranty is excellent. Parts are covered with a 3 year limited warranty while even reconditioned heaters are backed up with a 90 day warranty. Basically as long as the problem is not customer negligence (so no smashing your heater against the wall) then you are good to go.
The full details can be found HERE. Among those we've talked to who have had to work with customer service, none had any issues getting the item repaired, replaced, or in one case refunded.
Where Do Mr. Heater Buddy Propane Heaters Shine?
There are several things that really stick out about the Buddy style of Mr. Heater portable propane heaters. One of the major pluses is the overall versatility that they bring to the table.
These are heaters that are incredibly well-designed and pack a great punch for their size. They can be used in a variety of circumstances and we know multiple outdoorsmen and DIY types who have more than one.
Ice Fisherman Love Them!
No doubt about it. The heater is powerful, safe, portable, and since backpackers, hikers, campers, many hunters, and many others are likely to already have propane powered gear whether lanterns, stoves, or other heaters.
Because of that, this is a great fuel source for portable heaters and the cordless setup makes it perfect for a cold and wet area like an ice fishing setup. This is an excellent heater that is designed to be safe, is good for inside and outside use, and has automatic shut off when knocked over.
These features with its pure effectiveness make it an amazing gift for the winter angler in the family.
In fact the Mr. Heater Buddy Propane heater was our #1 pick for the best portable heater for ice fishing, as mentioned in our panfish ice fishing article!
Heating Your RV at Night
This was originally designed as a portable RV heater, so obviously it is designed with RV camping specifically in mind. The fact that this heater can be used both indoors and outdoors means that it is ideal for RV camping since you can bring it outside, under a tarp, or even in the RV if you are camping in the fall and winter and the outside temperatures are…less than friendly.
From the fishing hole to the campsite to the RV: the Mr. Heater Buddy cordless portable heater does it all.
The Perfect Portable Garage or Workshop Heater
If you live in an area of the country that has four seasons, or really far up north living in Alaska like I used to, where there is winter, winter, mosquito, summer, and more winter, then you need some heavy duty heating for anywhere you're spending time on your hobbies.
Whether this is a piece of the garage, a woodworking shed out back, or a rustic basement or attic lacking the insulation of the rest of the house, you will need an exceptional portable heater so you have full hand and finger movement even in the coldest of months.
One of these heaters can do some serious work so the winter blues can't slow you down while you're enjoying your favorite hobby, hustle, or past time.
Great Emergency Heater
If you grew up in the country like my brother and I did, you know just how important it is to be prepared in case of emergency. When you grow up at an address like "Rural Route #1, Box 24A" it's a safe bet you're not on the town's top priority list when it comes to power outages via thunderstorm or blizzard.
If the power goes out and it's 10 degrees below zero outside with a -60 windchill in the middle of a storm, you need a backup. Especially when your house is right there in the country, exposed to the wind and cold that blows in.
This cordless portable heater is perfect for keeping a room warm in even the most challenging of conditions, which is exactly what you're going to be facing in these situations.
The fact your emergency, ice fishing, and workshop heating can all be provided by one little package tells you just how impressive this portable heater actually is.
Final Grade
There's no question in our mind that the Buddy line from Mr. Heater are everything great about outdoor products made in America and featuring American manufacturing pride. This gets an easy 5 stars out of 5 score from us and if you're looking for an exceptional versatile portable propane heater, you should take a "chance" on Mr. Heater.
The Buddy definitely lives up to its name!