Are you going on a hammock camping adventure with your dog? You might have taken your dog to numerous camping trips before. However, hammock camping is quite challenging especially if you are not sure your pet companion likes it.
Have you mastered hammock camping? Are you trying it out for the first time? Well, there is always room for your favorite pet on your hammock camping trip. You might never have considered sleeping with your dog in a hammock so try it out now.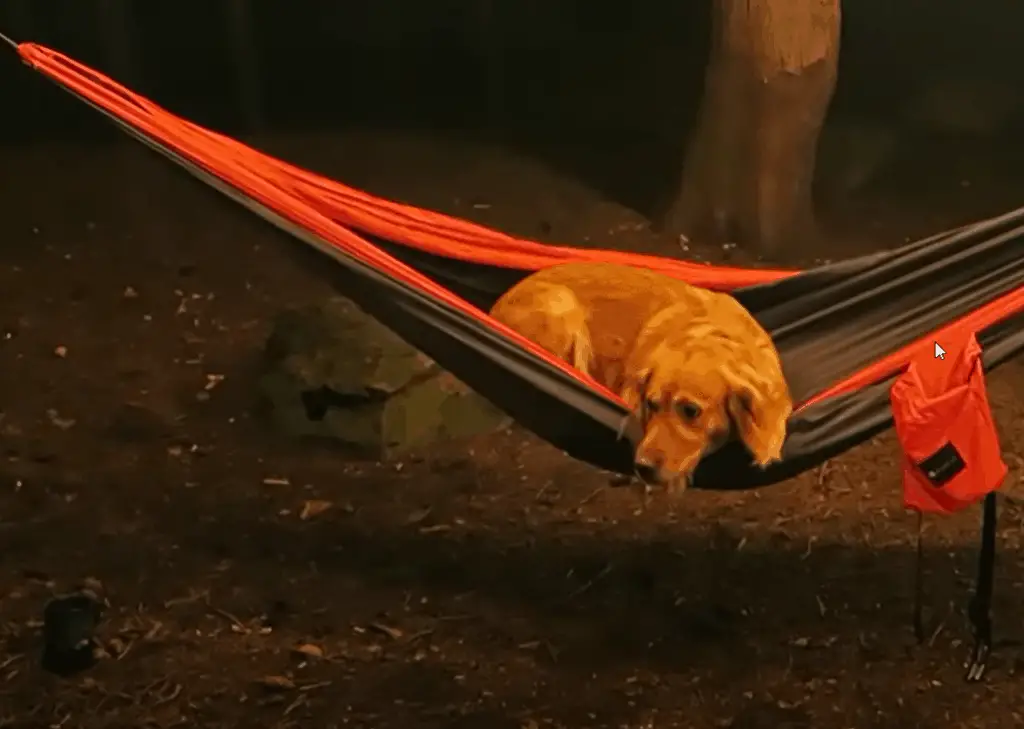 If you are looking for a way to make your next hammock camping trip with your dog successful, here is a useful guide. Here, you will get the most useful answers such as where your dog will sleep or how to prepare for the trip.
Even better, you will know the things to look out for in the camping trip and how to keep your dog safe in the hammock with you. Any hammock trips you are planning after reading this guide will be an absolute success.
Look for a Dog-Friendly Campsite
If you take your dog to a campsite where no pets are allowed, you will be fined. Take your time to find a dog-friendly campsite near you. Once you have found one, you need to set up the hammock. Make sure you choose a spot that's good enough for your dog.
Hang the hammock on a level ground away from cliffs, slopes or any sharp rocks. It will reduce the chances of your pet getting injured as it jumps in and out of the hammock. During the day, if you are planning to let your dog out of their leash, you should use a tracker collar.
This way, it's easier to find your dog if they get lost in the woods. Note that, even if the campsite might be dog-friendly, there is a chance that you are not supposed to take your dog off the leash. You should check the campsite rules when you arrive to avoid any fines.
Check the Weather at the Campsite Beforehand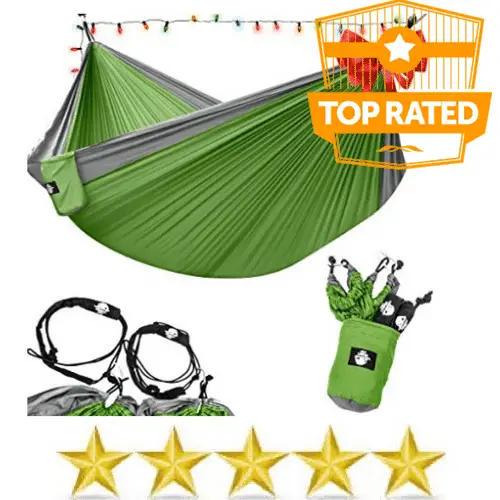 Here, you need to download a weather channel app and confirm before going to the campsite. It's possible to hang up your hammock in the toughest weather but your dog will be a little hesitant to get on the hammock with you. Yes, they might be able to last the whole night.
However, if there is a heavy downpour and thunderstorms, your dog will not get any sleep at all. Therefore, if you want your dog to be happy, you need to check on the weather beforehand. If your dog doesn't handle rainy conditions well, you should take the trip when the skies are clear.
Remember, you know your dog better than anyone else. It's your judgment call to decide whether or not you can go on the trip with bad weather. If you are sure your lovely pet companion will not have a problem sleeping in a hammock during rainy weather, you can go ahead with the trip.
Pack the Right Things for Your Dog
Make sure your dog has everything during the camping trip. Here is a good checklist to ensure that you bring everything.
Hammock Camping with a Dog Checklist
Dog food – Make sure you bring more dog food than your dog generally eats regularly.
Bowls – For water and food
Clean drinking water, especially if it's not available at the camping site.
Leashes – If possible, bring more than one leash in case they break
Medication
Dog treats
Insect repellant – Make sure it's safe to use on your dog to keep away ticks and bugs
Sunscreen – To keep your dog safe from the hot sun
Nightlight for the dog collar to make it easy to spot your dog at night
Biodegradable poop bags to make sure you pick up the dog poop.
Extra towels and blankets to make sure that your dog is not cold at night.
Your dog's favorite balls and toys to keep it entertained during the camping trip.
A light raincoat in case it rains
A first aid book and kit in the event that your dog is injured
Hammock – Make sure you buy a large hammock to fit both you and the dog comfortably.
Sleeping Arrangements for Your Dog
You can either bring a hammock or a dog bed for your pet. If you have a bigger dog it's safe to buy a larger hammock. You can't go wrong with a Brazilian-style hammock because it is durable and can guarantee ultimate comfort for you and your pet.
Practice sleeping in a hammock with your dog at home first before going camping. You can do so in the backyard comfortably. If your dog sees how relaxed you are in the hammock, they are going to jump in there with you.
Give your pet time to check out the hammock before it settles in. At first, the dog will jump in too quickly or slowly. Also, it might need a little help getting in and settling in the hammock at first. When in the hammock, make sure your dog sleeps closer to your feet, especially if it is smaller. However, if you have a bigger dog, make sure it sleeps closer to the head or the chest.
If your dog doesn't like the hammock when you are at home, there is a chance it might like it at the camping site. Don't forget to bring a trap and camping quilt, in the event that your dog hates the hammock altogether.
Setting Up Your Dog's Bed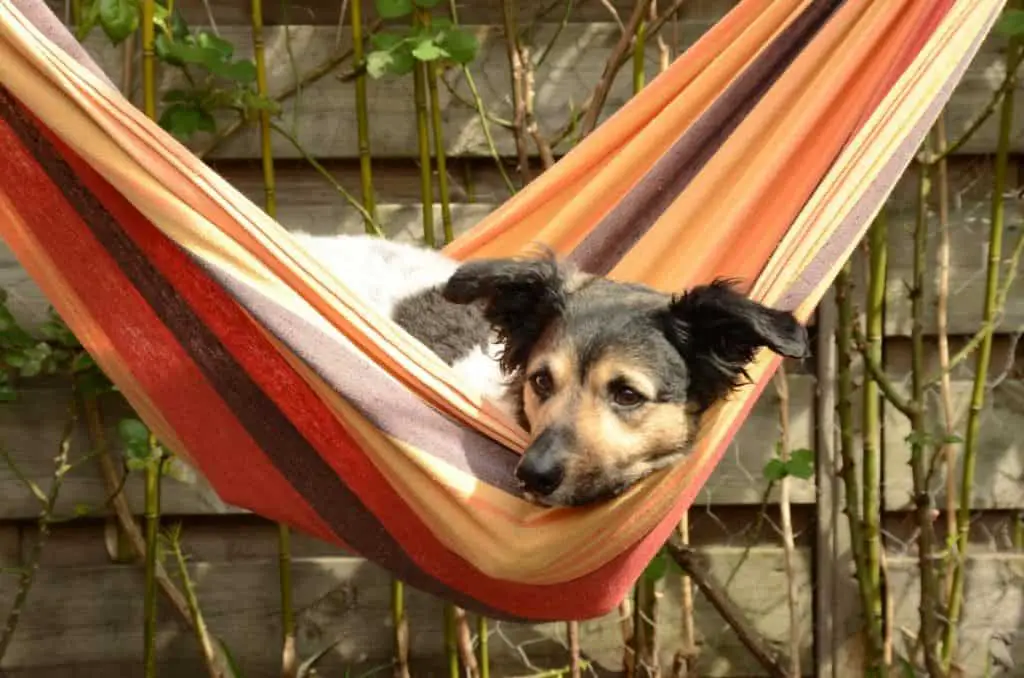 If you are not going to sleep with the dog in the hammock, you can set up a dog's bed underneath it. Here are some options to choose.
Setting Up A Doggy Tent – If you bring a separate tent for your dog, you need to lay down a tarp after setting up the tent. Don't forget to bring some extra blankets to make sure your dog is comfortable in the tent.
• Setting Up A Dog Bed – Here, you need to place down a tarp, followed by the dog bed as well as quilts and blankets.
To protect your dog from strong winds, you should drape a trap down from the hammock. Also, drape a mosquito net underneath the hammock to make sure your dog isn't bitten.
If your dog is comfortable and protected from winds or rain underneath the hammock, it will sleep comfortably.
Depending on the type of campsite, you might be required to tether your dog to the tree. Also, you should tether your pet if you suspect it will run off during the night. Try wrapping the leash around the tree then connect it to the dog's collar or harness.
Make Sure Everyone's Comfortable at the Campsite!
If you go camping with your dog during the colder seasons, here are the best ways to ensure comfort.
• Towels – Regardless of where your dog sleeps, you need to make sure that they are dry. You can bring a lot of towels to keep your dog dry throughout the night. Note that, if your dog is wet before going to bed, it will make you, the bedding or the dog's bedding wet. Ultimately, you will both be very cold during the night.
• Biodegradable Wet Wipes – It's advisable to wipe your dog with biodegradable wet wipes right before getting inside the hammock. It's the best way to keep your dog clean and dry during the camping trip.
• Tarps – It is the best way to keep you and your dog dry and properly sheltered from weather elements during your camping trip. If your dog sleeps on the ground, you should keep it dry by placing a tarp under the blanket.
• Blankets or Sleeping Bags – If your dog doesn't sleep on the hammock and chooses a sleeping bag, you should add blankets to the dog bed. If possible, you can use a small sleeping bag to keep your dog warm overnight.
• Top Quilt – Using a top quilt on the hammock will keep you and your dog warm and cozy when you are sleeping.
• Make sure you hang the hammock lower than usual to make it easy for the dog to get in or out of it effortlessly. Otherwise, you need to give your dog a hand every time it tries getting inside the hammock.
• Mosquito Net – Regardless of which campsite you choose, you should expect some nasty mosquitoes throughout the night. To prevent mosquito bites, you should buy a hammock with an in-built mosquito net. Make sure there is a place for both you and the dog to get into the hammock effortlessly.
If you have a nylon hammock, it's easy for your dog to rip through it. Choose a Brazilian-style hammock with a separate mosquito net to prevent any potential damage.
Clip Your Dogs Nails to Avoid Disasters
Before you go for the camping trip with your dog, you need to clip its nails. Most hammocks are made out of nylon so the dog's nails could rip through it.
Also, if you are going to a cold, rocky or snowy camping trip, you can buy some booties for your dog to wear. You can rest assured that your dog's feet will be warm and safe from harm during the journey. Even better, the dog will not rip through the hammock.
It's ideal to groom your dog before going on the camping trip. With a shorter and clean coat, it's easy to spot any parasites such as ticks before they harm your dog.
Keep Your Dog Safe and Close
If you don't want any issues with wildlife or other campers, keep your dog close to you while you are camping in the woods. Make sure your dog is on a leash at night to keep it close.
It would be terrible if your dog was attacked by a skunk or ran after a critter. When sleeping in the hammock, hold your dog's leash or tie a long lead in a tree nearby to keep your dog safe.
Always Use ID Tags When Camping With Your Dog
Your dog's vaccinations should be up to date when going camping. Also, it should have valid ID tags with current information. You should add the campsite information so people can know where to go in the event that your dog is lost.
As a dog lover who loves bringing your lovely pet with you everywhere, hammock camping is an amazing place for both of you. It's the best place to cuddle and keep warm with your furry companion. With these tips, your hammock camping experience will be unforgettable!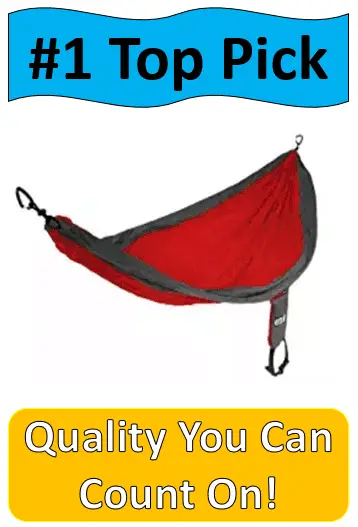 In Conclusion
There's a lot to love about a good time camping out in the wild. Especially when man's best friend comes along. If you have a good camping hammock, a faithful four-legged friend, and a good spot all picked out then maybe it's time to hit that special spot and enjoy mother nature with your canine companion!
Other Outdoor Articles of Interest