If you're going to be spending time fishing out on the ice, you want a quality shelter to keep the wind and worst of the cold off of you.
While having a permanent ice fishing shack you can move onto the ice each winter is great, if you need to be moving around or can't quite afford that then the portable option is the way to go.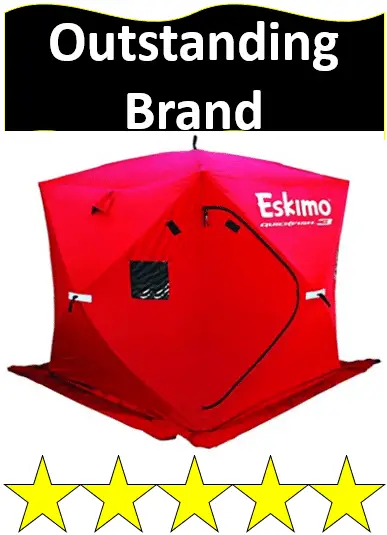 Brief Overview
The "too long, didn't read" version of this review is simple: the Eskimo Quickfish Pop-up Portable Fish Shelter is simply one of the absolute best out there. In fact, they are one of the few that gets a full five stars from us.
Excellent design, top-notch construction, and using only the best materials, there's a reason this ice fishing shelter is consistently considered one of the best out on the market.
This portable ice fishing shelter is a bit more on the expensive side compared to your average portable ice fishing shelter prices, but not prohibitively so.
This shelter keeps heat extremely well, is built with heavy duty materials and double stitching, and gives plenty of space for your ideal ice fishing setup.
Whether you are ice fishing for panfish, fishing for winter walleye, or going after something else entirely, with the Quickfish pop up ice fishing shelter from Eskimo you will be properly sheltered from the winter elements around you will getting a good setup to enjoy your day pulling fish from the lake.
While most of the models even come with some insulation, if you go with the Quickfish 2 or Quickfish 6 these models do not come designed with insulation. Either way, a good portable heater is a good piece of gear to bring with you.
Add in a great warranty and a reputation for caring about quality, customer service, and a dedication to proving themselves worthy of that reputation, and you have an ice fishing shelter that is worth every penny and then some.
Our final score for the Eskimo Quickfish Ice Fishing Shelter: 5 out of 5 stars.
Pros
Comes in 7 styles and/or designs for maximum versatility
2, 3, and 6 person sizes
Top notch materials and heavy duty materials & design
Easy to setup
Most models are insulated
Simply one of the complete portable ice fishing shelters out there
Cons
Two styles of the Quickfish are not insulated
Can be a touch on the heavy side
Even the best portable shelters can only hold up so well to extreme winter winds & conditions
Quality Temporary Ice Fishing Shelter
Most of us don't have a permanent ice fishing shack that can be moved on and off a reliable private lake location every year. A temporary fishing shelter is the natural solution to make sure you get quality time on the ice.
You need a shelter that holds up to strong winds on open ice, contains warmth from your favorite portable outdoor heater, and gives you the space to set up a good fishing rig without being so open as to let in extra cold.
This model of portable fishing shelter meets all of these factors perfectly.
Warranty Information
The warranty will actually vary a bit depending on the actual style or model of the ice fishing shelter. The base warranty for manufacturing is outstanding at a full one year. None of that 30 day or 60 day junk, Eskimo will back up even a heavily used shelter for a full 365 days after purchase.
This shouldn't be surprising considering they are famous for their ice auger warranty which is a crazy good 5 years, so you know this is a company that stands behind their products.
In Conclusion
If you're looking for a reliable high quality shelter for ice fishing then you will want to give Eskimo's Quickfish a go. They are relatively lightweight (for portable ice fishing shelters), made from high-quality materials