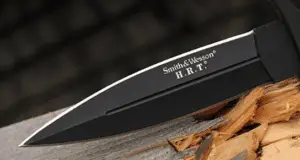 Boot knives are an extremely popular type of survival (and potential self-defense) tool.  However there's a lot that many people don't know about these knives.
Are they effective? Are boot knives legal to conceal carry? Do you need special boots or holsters to carry a boot knife?
Or is carrying a boot knife a bad idea that is just begging for an excuse for the police to get an easy bust?
Whether needing to understand how to carry a knife in your boot or wanting to know if boot knives are legal or not, there are plenty of questions surrounding these. The good news is that in many places a hidden knife in a boot sheath is legal as long as several rules are properly followed or adhered to.
That being said, boot knives are interesting, but come with plenty of strings attached. While the open carry of knives is legal in a wide number of areas, those rules can change in some urban centers. In other words, using Iowa as an example, the state laws as of this writing forbid hidden knives that have blades of 5 inches or more.
But several cities in eastern Iowa knocked that down to 4 inches or even 3 inches in some particular locales.
So doing your research ahead of time when it comes to boot knives is extremely important.
There's a lot to go over when it comes to our favorite things about boot knives. We're going to give you information on state to state laws, review some of our top rated boot knives, as well as various ways to transport them and other considerations.
Note: This is an informational article helping to educate you, teach you the best options for carrying a boot knife, and answering questions. It's important to understand what your local and state laws are. In some places this is legal. In others it would be considered an illegal concealed weapon.
Do your research not only for your area but for any place you'll be traveling to be on the right side of the law or at least understand the legal consequences if you get caught ignoring the rules.
A good resource addressing these legal questions or issues can be found at: https://knifeup.com/knife-laws/
Best Boot Knives
There are many different options when it comes to finding the perfect boot knife, as well as any accessories necessary to comfortably and efficiently carry them around.
These can be an awesome tool for self defense while also working in a pinch in a survival situation. It is important to note that these are not legal in all states, so it's important to use any resources you can to see the knife laws where you live as well as any place you are traveling to.
After extensive testing (i.e. a LOT of fun playing with knives) we came up with this list of the absolute best boot knives around (click on the link for up to date pricing from Amazon):
Top Rated Boot Knife: Smith & Wesson Stainless Steel Fixed Blade Knife
Simply but effectively made, you expect nothing less than quality from a brand like Smith & Wesson. This 9 inch straight lade knife features a full handle for easy grip and a 4.7 inch blade. The blade is made from high carbon steel and the black rubber handle gives a firm easy grip.
At a weight of a mere 7.7 ounces, this lightweight yet sturdy boot knife is a winner.
This is a dependable knife that has a secure hand guard, while the rubber handle is properly grooved. Add in the lanyard hole at the base and there's a lot to like here. This is a versatile knife that could be quickly pulled from ankle or waist, though it definite looks good in an ankle holster.
This is a very sharp knife that keeps an edge well, has thousands of perfect ratings online, and is perfect as a tool or for self-defense. There are plenty of knives that call themselves a quality boot knife but are just a general knife that really don't practically work as a boot blade.
This isn't the case with the excellent Smith & Wesson fixed blade boot knife. We really love this knife. Lightweight, sharp, balanced, and useful – this is a really outstanding option.


Old Timer Full Tang Fixed Blade Knife
This is an old-style, old school style of boot knife from the Old Timer brand. Referenced as 162OT, this boot knife is full tang with a fixed blade, which is exactly what you want out of a true boot knife. Made from high quality carbon stainless steel with a "spear point blade" that features a proven design. The handle is old school in the best possible way in function and appearance.
The Old Timer full-tang fixed-blade knife also comes with an outstanding brown leather sheath that easily connects to the belt or can be adjusted for easy use in most boots as well. The blade itself is a touch under 4 inches, which in many states is the length where a fixed blade knife can be considered illegal. Cutting just under 4 inches helps make it legal in more locations.
On this particular knife the overall length is just short of 8 inches which the blade is 3.75 inches and made of stainless steel. This makes it a legal fixed blade knife in most locations, and it comes with a leather sheath. This is an imported knife, and for an inexpensive boot knife it is solid.
In fact you could say this is our top budget option. It is full tang, blended knife, and overall it's a really well made knife. The sheath isn't nearly the same quality, but it's adequate until you get a better one. The one major complaint: some people with smaller boots find that the knife is a bit too large for realistic carry in the boot.
They are definitely more for a deep work boot type carry that goes partially up the leg, not a smaller boot that stops just north of the ankle. Keep that in mind while making a buying decision.


Schrade SCHF19 Small Boot Knife
The Schrade is a really high quality small boot knife that has quickly gained a reputation for its solid spear point blade, solid handle, and functional size at 7 inches in length with a blade of 3.6 inches which also allows it to duck under the 4 inches many cities and states use as the cut-off point for "technically illegal" fixed blade knives.
Weighing a mere 2.1 ounces, this extremely lightweight knife easily fits in the average booth sheathe, has a lanyard hole in the handle in case you want to carry it off the belt. Because of the balance and light weight this can double as a throwing knife with very little effort. As long as you have good technique, this is a viable throwing knife.
The leather sheath that comes with it is surprisingly well made. Many knife companies cut corners with the sheath that comes with the blade, but not this time. This is a solid sheath that you're likely to use.
The rubber handle is comfortable and makes for an easy grip while the hand guard can protect your hand in a self-defense type of situation.
This is a solid boot knife. It's not complete top of the line steel, but it is better than average and takes an edge pretty quickly with the right bit of care. The right honing oil and knife sharpening stone is all that is needed in order to bring this knife fully up to speed. A very solid option for a functional hidden boot knife.


Best Boot Knife & Sheath Kit: Gerber Ghoststrike Fixed Blade Knife Deluxe Kit
There are plenty of searches online about how to wear a boot knife or how to actually carry a boot knife. This makes sense, because the last thing you want to do is accidentally slice your ankle open. One good way around that: go for a boot knife that comes with an ankle holster.
When you have a sheath that is made for a knife, you don't have to worry about the fit. Overall we believe based on trying out a few combos that the best boot knife & sheath combo is the one offered by Gerber Ghostrike. 
Now this is made for a small boot knife, one that is clearly for self defense and not for other things such as skinning game while hunting, and not ideal for wilderness survival situations.
The boot knife is simple and skeletal, well balanced, and may remind many carriers of the role that a neck knife often plays.
The blade itself features a corrosion resistant black ceramic coating that also helps to kill reflection. The handle has a great grip, and the sheath is designed in a way that makes it so you can open carry your knife or you can carry it as a concealed weapon.
The versatile sheath makes things easier when it comes to having options for how to carry and use the knife, and though this knife is simple and small it is an excellent blade in a compact frame that gets the job done. This Gerber boot knife might look different, but there is a reason it is definitely one of our favorites!
A quality knife with an outstanding versatile sheath, it's hard not to like what this brings to the table although the one downside is that many people do find the knife a bit small for their preferences or for long-term survival use.


Cold Steel 36MB Drop Forged Boot Knife
This is a really cool looking boot knife that focuses on smooth, slender, and a solid drop forged design that looks sleek, functional, and beautiful. The blade is made from a very high quality carbon steel that is then coated with a grey teflon.
This gives it a very unique and polished aesthetic look that you won't find elsewhere and gives the knife a very distinct look while also protecting the blade from rust.
Measuring 9 inches in size total with a five inch blade that is sharpened on both sides. This is a boot knife that is specifically designed for self-defense in a worse case scenario and to be used as a concealed carry option.
The accompanying sheath and clips are there to help you find the perfect set up to carry your concealed knife where it is quickly accessible, and gives you that last resort defense.
This is a very good one-piece knife that is balanced, very sharp, and designed to have piercing power. This is also a very good option as a small survival knife because of the sturdiness of the construction and sharpness of the blade.
This is a knife built very specifically for self-defense and along those lines scores higher than most other options however as a general overall knife that less obvious versatility takes it down a touch. However all in all this is a great model and especially solid with extra credit as a defense option.


CRKT Shrill Fixed Blade Knife
As someone who grew up in a lumber family, and who loves "old school" looking knives, the aesthetic appearance of the CRKT Shrill fixed blade knife is my favorite based on pure appearance. Even though this isn't made from actual wood, the design of the handle gives a true homage to the old school designs and give the feeling of wood grain even with the material being polished resin (albeit polished resin that is actually infused with fiber overlays to create that wood appearance).
From the trusted Columbia name, this is a remarkable knife from Columbia River Knife & Tool that uses titanium to make its extra sharp and rust resistant blade. The handle is surprisingly smooth yet manages to avoid getting slick in wet weather, which is a definite plus.
This knife design is actually a collaboration between CRKT, an Oregon-based outdoor company, and renowned custom knife designer Matthew Lerch, who is based out of Sussex Wisconsin. 
The dual-edged blade is 4.8 inches in length and set to pierce. It has a remarkable balance and comes with a leather sheath with boot clip – both of which are actually quite a bit above the average that most boot knife companies offer with their blades. In other words, quality comes through every part of this combo.
Definitely one of the best looking knives we've seen, and it features remarkable craftsmanship that shows in a look you won't find with any other boot knife.
Add in the fact it is extra light and the sharpness of the blade gets the job done and you have a winning combination here, especially when style and self-defense capabilities count.


MTECH USA MT-20-03 Fixed Blade Knife
The MTECH USA MT-20-03 is an incredibly impressive fixed blade knife that is everything many outdoor adventurers are looking for in a boot knife and then some. Featuring a rust-resistant double edge blade made from high quality titanium. 
This is one of the larger knives on this list, coming in at 9 inches total while the blade itself is 4.75 inches. The good liking handle displays a Pakkawood handle while there is a titanium hand guard. This is clearly a defense dagger and is designed as such.
In fact, this double edged blade cold accurately be described as a double edged dagger. This isn't a "collector's level" construction but is made to be practical and the full tang blade with the handle molded around it is exactly what we like to see with this design.
This is an extremely good dagger, especially as the budget seeing as how it is relatively inexpensive price wise. For the money, one of the better buys.
Now that being said, the nylon sheath it comes with is not nearly as high a quality featuring cheap nylon and single stitched in addition to that. You should look at upgrading your sheath to carry this.
A very good looking boot knife perfect for self-defense.


McNett Tactical Full Tang Fixed Blade Knife
The McNett tactical knife is small but functional. This isn't meant to be showy, but it is an excellent small knife that is easy to conceal and versatile enough to be a neck knife, a boot knife, or a hidden belt knife. The small solid build of the blade makes this a good backup option for when you always like to have a knife on hand – or two or three.
This comes with a solid nylon sheath that is designed to have a versatile clip on and clip off function which is what allows it to be carried in so many different ways.
The Kydex sheath is designed for the ability to easily be attached or detached from your boot and the knife itself is made from a heavily corrosion-resistant stainless steel with a black carbon coating.
Good as an emergency utility knife, backup knife, or replacement knife, thi design is proof that very good things can come in small packages.
Add in the fact this is one of the more inexpensive knives on the market that we are willing to recommend and you will quickly see why we love the value that it brings to the table.


Are Boot Knives Legal?
Necessary Legal Disclaimer: We are not attorneys. Not in our current state, not in any state. What we're giving you here is for informational purposes to answer this important question as best we can with the most up to date information as of the original publish date. We are not giving legal advice and in no way shall be held legally liable for any of the following. Once again: informational purposes only, responsibility on legal requirements falls to the individual.
This is a huge question. While we know that some people are just going to do their thing no matter what, we here at Amazing Outdoor Adventures need to emphasize that it's important to always find out what local concealed knife laws are.
In some areas carrying a blade in an ankle knife holder is acceptable for everyone. In other places you need a permit similar to a concealed carry for a firearm, and there are a few places where a boot knife is technically illegal period.
Although even in those places enforcement of that rule can vary greatly. This makes understanding the state to state laws extremely important. If you're traveling to one place looking up those laws is a bit easier but keep in mind if you're carrying a boot knife and traveling through multiple states you need to understand the laws in each of those places you're traveling through.
What Constitutes a Concealed Blade?
In most places there are exceptions that are made for pocket knives. However, it's important to understand that the rules vary greatly as does enforcement. Generally speaking smaller bladed boot knives are going to be more likely to be legal than especially large ones. There also tends to be a difference if you are in the wild, rural areas, or camping areas as opposed to urban areas. In some places boot knives are covered where concealed carry is allowed but strangely enough in some of those states a boot knife isn't covered as a legal concealed weapon.
In other words there are cities and even states where it might be legal to carry a concealed firearm without a permit, and yet carrying a concealed fixed blade of a certain size will still be considered a crime. This is part of the reason that boot knives tend to be smaller in size, because it takes out some of the legal concern. That being said, even some of the smaller models will still be too large to be legally viable in some cities.
The other reason is practicality. One of these blades needs to be able to fit into a boot knife holster. While I love big fixed blade knives for many situations, a big Buck Knife is not generally going to be a practical boot knife even for the largest and tallest of individuals.
Generally pocket knives are not considered concealed blades in most states and townships, although they are still not allowed in places like courthouses, airports, etc.
Fixed Blades & Large Blades Are a Problem
The knives that most often can get you into potential legal trouble are those that are fixed blades in nature, and any large blade. In many places a large blade doesn't even have to be large. If it's over 4 inches in some cities, technically it can be considered a concealed weapon. That covers a lot of knives and even includes many pocket knives.
In some places common sense is used. Many people know what fillet knives are for and if you just came back from a fishing trip it probably isn't a big deal in some places, but when it is "technically illegal" then that's playing with a fine line. 
Even more confusing is this little known fact: in many areas there is no permit to carry a concealed weapon for a knife. It's only for firearms. The concealed knives stay illegal.
You should do your homework regardless but if you find yourself in particular liking fixed blade pocket knives or single tang long blades that are one-piece in construction then you definitely need to do your legal homework to know the risks 
How to Wear a Boot Knife
So do you know how to attach your boot knife properly to your boot? This is an important bit of knowledge if you want to practice good boot knife safety. A friend of mine who shall remain nameless was in the military and served two tours in Iraq. In all that time he had one injury: when he stumbled a bit and his own boot knife cut him.
Embarrassing, but hilarious. So even if professional soldiers can mess this up, you want to make sure that you take the proper precautions to properly carry it to avoid injury. There isn't a good reason to have a naked boot blade tucked into your boot without a proper sheath or concealed carry knife holster of some kind.
Well, unless you're into slicing your own feet and ankles.
Still, we wouldn't recommend it.
How to attach knives to your boots
Assuming you don't have a tactical ankle wrap to conceal carry a gun and night (Like This One), or there are some isolated boots that can be customized to come with a sheath sewed on to make a side pouch with can work for some boot knives, but that also means the knife will be visible on the outside of the boot. That is still a viable option for a pocket knife ankle holster, but mot people prefer an interior holster design.
If the boot knife you pick comes with an attachable clip holster, then this is a relatively easy process as each of these tends to be designed to attach easily and with a classic single back clip design that puts the sheath inside the boot while only the clip is attached to the outside.
The first two things to always remember when attaching a boot knife:
The knife should always be in a sheath
The sheath should be on the boot you wear on your dominant side (right for right-handed people, left for south paws)
If you have a preference for the type of knife or sheath you're looking for, make sure to buy with those thing in mind. It is much easier to work with a knife designed for your favorite style of wear rather than buying a knife that doesn't work well that way and trying to adjust around it.
The easiest way to move from here is to look at the clip sheathes to see if one of them fits your need. This allows you to simply sheath the knife, and then clip it onto the boot, making minor adjustments for comfort and convenience. However if this isn't the case then you may want to look at a separate Velcro holster that allows you to wrap your ankle or lower leg as you see fit, leaving your favorite pair of hunting boots alone so you can put on those miles without worry.
This is one of those issues that seems confusing when you're trying to attach a knife to a boot that isn't designed for it without a sheath or with one that isn't ideal for that purpose. 
As long as you avoid these issues, you are going to be in really good shape.
If you're still a bit confused, the best in-depth video we've seen on this topic comes from the Cutlery Lovers YouTube channel below. It goes over each potential situation and combo and how to deal with them properly.
Best How to Attach a Boot Knife Video
Boot Knife FAQ
Q: Are boot knives legal?
A: This depends a lot on the size of the knife, the state, and whether or not you have a permit for concealed weapons. In some places this is fully acceptable. In others it's not, and in some it depends on a variety of factors. The biggest thing is to understand that this varies specifically state by state and you will need to look at specific state statutes to know for sure.
Q: Is it legal to carry a pocket knife?
A: This actually depends on a variety of factors including state laws, city laws, and the knife being carried. In most places a basic folding pocket knife is legal within reason (this normally means a blade 5 inches long or less) but laws vary widely from one place to another. In some cities this isn't the case, and often times the length of the knife and the style of knife matter a lot (switchblades are widely illegal, for example).
Q: What are the best boot knives for self defense?
A: This will actually vary a bit from person to person. A lot depends on what type of knife you're comfortable using. Also the length varies based on your hand size, experience, and what will comfortable fit hidden in your boot.
Q: How do I carry around a boot knife?
A: Most come with holsters that slide easily into the side of the boot. There are individuals who custom make sheathes and holsters, and this isn't just about showing the best aesthetic look but also includes customizing a fit. 
Q: Is a boot knife considered a concealed weapon?
A: In most places, yes, a boot knife is considered a concealed weapon. In many states this can be illegal, so it's important to know the laws. In some of those states a concealed carry permit covers knives, while in others it does not. There are also some states where certain types of concealed knives are fine while others are considered weapons.
Q: How can I make a boot knife sheath?
A: This can be an article in and of itself (and it might be in the future) but the big thing is to start with the boots that you want to pair a knife with.  Think about the attachment device whether it is a clip, a wrap, or something similar.  When you make your own you have the ability to do a lot of different things, including running small leather strings or straps like an ankle holster but fancier and more lined up with your taste or personality.
Q: What are boot knives good for?
A: This depends a bit on the specific style of knife and what your main intention is. There are boot knives specifically designed for self-defense, some designed for hunting (skinning), and some designed as generally all-purpose. Most of the time a boot knife is designed as a backup hunting knife or for self-defense.
Q: Why carry a boot knife?
A: There are multiple reasons. If you are going to be incredibly isolated and in an area where wilderness survival could be an issue, every extra knife counts. For people who are really paranoid about self defense or live in really rough and tumble areas having a boot knife can be an important boost to self defense. Many people have different reasons for wanting a boot knife, but they do serve many purposes.
Q: How do I sharpen a boot knife?
A: A quality boot knife should work just like any other and if you just use one of the top-rated sharpening stones out there and a good honing oil, you should be able to get that blade to a very fine edge.
In Conclusion
There are many options available when it come to getting a good boot knife. However if you want to get the most out of your purchase you need to understand sheathes, boot placement, and how to place a knife in your boot. This can be a lot of information to learn but a little bit of practice and research can go a long way.
This article has gone over the most exceptional boot knives currently available, some of the best boot knife holsters, as well as much of the information you need to know to safely and responsibly carry your knife. Each model might be slightly different, so make sure to do your homework and get comfortable with wearing, drawing, and carrying your boot knife prior to going out into public with them.
Buck Boot Knife Video Demonstration
Other Articles of Interest