Big Agnes: A Backpacking Tent You Won't Forget!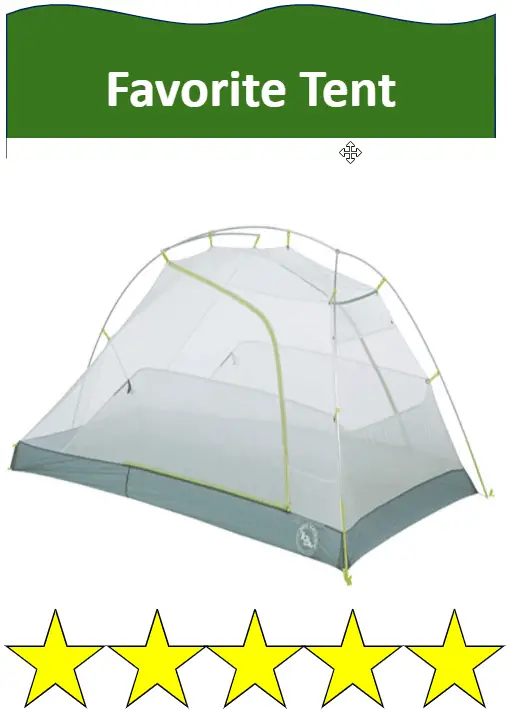 Once of the things we love most here at Amazing Outdoor Adventures is when a new piece of gear shows up on the radar and just shows up in stunning style! Big Agnes has done just that with their amazing lightweight backpacking tent.
This is a premium piece of gear that looks great, is built with a clear knowledge of what backpackers need, and is going to find its way into the favorite gear list of many an outdoorsman!
The price is higher than many other options, but you know immediately where that extra money goes. This is an incredible tent that is comfortable, lightweight, and designed with the long distance hiker in mind. If you're looking for a backpacking tent that can reliably take a beating week after week without letting you down, you need to take a look at the Big Agnes Tiger Wall Platinum Crazylight Backpacking Tent.
Major Features
2-person and 3-person tents available
Lightweight (29 ounce trail weight for 2-person)
Strong material – durable despite frequent heavy use
Single pole design
Interior mesh pockets
Very breathable mesh tent
Easy to set up
Includes 8 super lightweight aluminum J-style tent stakes
One important thing to note is that since this is a backpacking tent designed to be lightweight for long hikes, you will need to pick up a good rain fly and tent footprint.
Warranty
Big Agnes is a brand that we have heard a lot of good things about. Our personal experience is somewhat limited, but what we've experienced first hand we've loved. So it's no surprise that the warranty Big Agnes offers on this tent is amazing.
The warranty covers any manufacturing or material defect in full. Wear that comes from improper use or basic wear and tear isn't covered, but we've found them to be very accommodating in offering low repair costs, credits, or other options to keep customers happy.
This makes it one of the better outdoor warranties we've tested out there.
What Makes the Big Agnes Crazylight Tent So Special?
Where to start? This is one tent where the individual features are really outstanding and the sum of the parts are even greater than the really outstanding features.
The Crazylight Tent by Big Agnes comes with strong but lightweight poles. Add in solid aluminum J-style stakes and you have a tent ready for set up. Add your favorite rain fly, add a footprint, and you are ready to hit the trails!
The guy lines on the tent corners are reflective which makes them easier to see at night to avoid foot injuries…or accidentally bringing down the tent.
These also use the popular two door system that allows you to enter or exit from either side, giving you flexibility with setup and making two people sharing a tent much more bearable.
These tents are incredibly light for how sturdy they are and incredibly sturdy for how light they are. That combination is excellent.
The design is great, the materials are top notch, and they come together to create something really special that ultralight backpackers of all experience levels will really love.
Who Should Buy Big Agnes Crazylight Backpacking Tent?
Let's hit the one big obstacle: the price. This isn't a cheap tent by any stretch of the imagination. That being said, there's something to the old saying that "You get what you pay for."
Not everyone is going to be able to afford this tent. If you need to buy all new ultralight gear with a total budget of $600, then this isn't the tent for you. That being said, the extra money here is worth it.
This is a tent for hikers, for backpackers, and for individuals who are going to be carrying a pack. While this can be used for a camping tent, it's a small tent that is not great for families or large numbers.
However, for anyone needing a small tent in general, and a lightweight tent in particular, this is an outstanding option.
Big Agnes Tiger Wall Platinum Crazylight Backpacking Tent vs. Mountainsmith Morrison 2-Person Tents
There are so many different tents out there we could compare the Crazylight to. So how to choose? For now we looked for one we were familiar with that had also impressed us. The Morrison 2-person tent, which is featured on our list of best small camping tents, is one that we liked and can draw some comparisons to.
While the Mountainsmith Morrison tent is a great 2-person option, this is a more full 2-person dome tent that is going to be slightly heavier but still good as a backpacking option. This is made from great materials, should hold up through a solid season and is a good option that is normally priced under $220. Sometimes it may even be below $200.
That is one of the big advantages. The Big Agnes Crazylight tent is generally twice that price or even slightly more but it is a truly premium piece of gear. If you are only an occasional hiker who takes a few weeks a year this might be a touch overkill. On the other hand, if you want the truly best gear out there then Big Agnes is offering you a truly amazing ultralight backpacking tent that is going to get the job done.
These are both great choices but as long as you're not on a tight budget the Big Agnes is the way to go.
Final Grade
The Agnes Crazylight Tent (Tiger Wall Platinum style) is an absolute gem. We've been very happy with testing out this one and the two little hellions known as my brother's kids couldn't even wreck this over a day of horsing around.
This is a backpacking tent build for backpackers. Surprisingly sturdy when setup, very lightweight, and with a great airy mesh for comfort there's nothing about this backpacking tent I don't like.
In fact, in my opinion it might be the best backpacking tent out there. It's certainly in one of the top two that we currently trust.
Final Score: 10/10 – We love this backpacking tent!