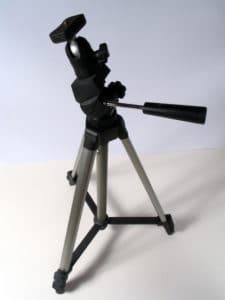 Many long-range hunters prefer to use spotting scopes over binoculars, and although there are several great reasons for this, without a quality tripod, you'll have a hard time taking your game to the next level. Tripods allow you to get a clear, level shot of your prey and can be easily customized to your level of comfort. Having a spotter makes a big difference whether on the range or out hunting – and you know that's a good strategy when it's used by many snipers in the military.
Once you use this clever contraption, you'll wonder why you didn't start earlier.
There are several different products on the market. The important thing is to find a well-constructed model that's right for your spotting scope and is best suited to your needs. Listed below are several top-of-the-line products that are all worth the investment and provide a high level of stability, adjustable features, and practical usefulness that make these a great piece of shooting equipment that you won't want to pass on.
Read on to learn more about the spotting tripods available out there and find the one that's right for you.
RetiCAM Tabletop Tripod
The thing that's really impressive about this tripod is the versatility. Although the RetiCAM is extremely lightweight and compact, this little device has a three-way pan head and can be extended to a full length of 19 inches.
Another thing that is quite amazing about this tabletop tripod is the quick release plate. This plate allows you to attach and detach your spotting scope in the quickest and easiest manner possible, allowing for fast setup, take down, and adjustment as necessary.
There's nothing more annoying than a complicated setup, and when you add this hunting accessory to your collection, this won't be an issue.
If that's not enough to sway you, the aluminum design should be. This tripod by RetiCAM is tough, durable, and is made to withstand your basic wear and tear. This is one well-made product and will go perfectly with virtually any spotting scope that can be attached to a tripod/rest.
The best part? Every purchase comes with a convenient little carrying case for easy transportation.

AmazonBasics 60-Inch Lightweight Tripod
This is one amazing device. The AmazonBasics 60-Inch tripod is extremely lightweight, very simple to set up, and even comes with a handy little bag. Anybody who enjoys to hiking, camping, or going on extended wilderness adventures will really appreciate the convenience that this spotting scope tripod offers.
The sturdy design makes this tripod by AmazonBasics the perfect choice for anybody who owns a spotting scope with an average weight of 6.6 lbs. You'll always get a steady, level shot no matter what. For increased accuracy and comfortability, the legs have rubber feet and can be extended anywhere from 20″ to 48″ in total length.
The leg locks are also easy to use and make adjusting the height a quick and painless process.
The built-in level is another feature that's quite striking and will help make your life a little easier. This level is located just above the legs of the tripod and will inform you when the base is perfectly level. The process is that easy. If you're interested in getting a quality shot every time, you should really think about spending the money and adding this accessory to your hunting collection.

CVLife Tactical Rifle Bipod
If you're interested in owning a spotting scope Bipod with all the bells and whistles, then you'll definitely want to check out this device. For starters, the CVLife Tactical Rifle Bipod comes with a really impressive picatinny adaptor. This adapter gives you the ability to attach the bipod to the picatinny rail within seconds. If that's not convenient enough, the whole tactical rifle bipod folds up for easy transportation.
Another thing that's really nice about this hunting accessory is the mount tension screw. This screw has been improved and can hold tension better than most models on the market. You'll always get a steady and level shot. For increased accuracy, the legs are also adjustable. In fact, there's 5 different length settings to choose from. Once you try with this rifle bipod, you'll never want to use anything else ever again.
The design of this CVLife accessory is crafted out of 100% aircraft aluminum and won't rust no matter what kind of weather conditions you prefer to shoot in. If you're looking for quality, give this gem a shot. You won't be disappointed.

Vanguard VS-82 Table Top Tripod
This table top tripod can easily be folder and is so lightweight, taking it with you on hikes and other outdoor adventures is a breeze. There's nothing worse than having to haul around heavy accessories, and when you add this device to your collection, you won't have to worry about that. This tripod by Vanguard was built with convenience in mind.
Shooting with the VS-82 Table Top Tripod is also quite the pleasure. The two-way pan head and the extended height of 9 7/8" allow you to adjust your spotting scope to the perfect position. The legs feature non-slip feet for a wobble-free shooting experience and can easily be adjusted within seconds. Once you start using this spotting scope tripod, you'll understand why this model is so popular on the market right now.
The solid aluminum body is also worth mentioning. The body is tough, weatherized, and can hold up to 5.5 pounds. Whether you like to shoot in the rain, the snow, or even sub-zero temperatures, this spotting scope accessory will continue to hold up no matter what. Anybody who's familiar with Vanguard knows they build premium products, and this clever little contraption is a perfect example of this.

Emarth 20-60x60AE Waterproof Angled Spotting Scope with Tripod
The Emarth 20-60x60AE is the crème of the crop. This is one amazing spotting scope and tripod duo for a very reasonable price. To begin, the large 20x to 60x magnification range gives you the ability to truly capture whatever you're focused in on, both up close and far in the distance. You'll really appreciate the full field view and the vibrant, crystal clear colors.
Another thing that's great about these lens is that they're nitrogen-filled. This is an effective anti-fog system that works really well. This feature will definitely come in handy more times that you think.
In addition to performance, this spotting scope and tripod by Emarth are both coated with a shock-absorbing armor that's fully waterproof. It doesn't matter whether you're shooting in the rain, the snow, or even the extreme cold, this tripod with the mounted spotting scope is made to withstand the harshest weather conditions.
When you purchase this Emarth combination, you'll also receive 1 manual, 1 durable lens cap, and a really convenient carrying bag. This bag will make transporting your new toy an effortless job. This is one fantastic collection worth every penny.

AmazonBasics 50-inch Lightweight Tripod with Bag
This AmazonBasics tripod is one great hunting and shooting accessory for the money. The height can be adjusted up to 50-inches. You can also set the height of this spotting scope tripod to match your comfortability. Whether you want to shoot your firearm sitting down, on your knees, or even crouching, you'll be able to.
The legs on this device are sturdy and feature no-slip feet. Even when sitting on wet surfaces, you'll rarely ever experience any slippage. To add to this, these feet also sit perfectly level on flat surfaces.
If you are on uneven ground, simply adjust the size of the legs to accommodate to your environment. Using this device is really that easy and the setup allows for an even and clear view of the current target area.
The thing that really makes this AmazonBasics accessory stand out from the rest of the competition is the beautiful carrying case that comes with every purchase. This case is fashionable, durable, and features a shoulder strap for easy carrying.

Manfrotto MKBFRA4-BH BeFree Compact Aluminum Travel Tripod
Any hunter or recreational shooter who enjoys traveling will appreciate this Manfrotto travel tripod. The aluminum design is built tough but also light enough to make traveling with this device no trouble at all. In fact, this spotting scope tripod can easily fit into an averaged sized suitcase or duffle bag.
Using this Manfrotto accessory is also a very enjoyable experience. Once you adjust the spotting scope to your desired position, the head of the tripod will lock your spotting scope in tightly, so you can focus on your target and accurately hit it.
Every person who purchases this Tripod by Manfrotto will also get a stylish carrying case with an adjustable shoulder strap to go with it. This case is lightweight, easy to carry, and offers superior protection for your new accessory.

CURRENTLY UNAVAILABLE: Vortex Optics SKY-1 Skyline Tripod Kit
The Vortex Optics SKY-1 Skyline tripod is made for the great outdoors and can handle the harshest conditions. This device is constructed out of rust-free aluminum and feature legs that are fully anodized for advanced protection. On top of this, the legs also have slip-free feet and keep your spotting scope level at all times. For increased comfortability, you can adjust the legs to a wide array of angles. This is great for rocky or uneven surfaces.
The micro-fluid head is another really cool feature. This head provides reliable support for your spotting scope and allows you to move the scope fluently to the specific direction you want. The micro-fluid head is extremely precise and impressively convenient.
When you purchase this spotting scope tripod kit, you'll receive a VIP warranty. If anything should happen to your new accessory, you'll be protected. For the money, this is one wise investment for any hunter or recreational shooter.

In Conclusion
Not everyone likes using a tripod for their shooting scope and it isn't going to be appropriate for every situation, however this is a tool/piece of gear that makes sense for a lot of people in many different situations. Especially for moderate to advanced shooters who are looking to take that next level step in accuracy or who need to be able to adjust on the fly, having an excellent shooting tripod for your spotter can help make all the difference.
Great Shooting Tripod Comparison Video

Some other shooting articles of interest: