Pop up privacy tents are a specialty type of outdoor tent that go by many different names. Often referred to as portable changing rooms or outdoor pop up privacy rooms/tents, there's no denying that the original designer was on to something when he/she first had this idea.
There are many options when it comes to buying a quality changing room for those situations where you need or want a little bit of temporary privacy out in the open. These aren't always going to be necessary, but there's no denying the psychological benefit that comes from having a pop up privacy tent, especially for those people who are a bit shy or just want a touch of privacy during particular situations. Nothing wrong with that.
So which ones are the best in the market, and what models should you look at buying? Read on to find out more about privacy tents and which ones we recommend for you!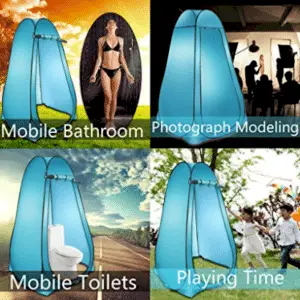 Just What Is A Privacy Tent?
A privacy tent is a relatively simple structure that can serve a variety of purposes. Most of them are designed as pop up tents that may or may not have a floor depending on the main focus of their use.
These tents aren't for camping or even for getting into the shade for any amount of time (although they can serve that purpose on the beach in lieu of an umbrella or good beach tent in a pinch).
Just as their name would indicate, a privacy tent is made for short term use for campers, normally during a long term hike or a rustic campsite where general facilities aren't available. Generally speaking, there are three main uses for a privacy tent:
As a camp shower
For changing clothes
Some privacy around a cathole / hand dug latrine
Any instance requiring this level of privacy can be a time where a pop up privacy tent shines, but it's important to get one that serves its one and only function and that's it: these aren't meant to be multi-functional. They do their thing and that's it, but in the right situation that is exactly what you need!
You can read this as our top 5 pop up privacy tents (+1 bonus) followed by honorable mentions, our top 6 with honorable mentions, or even a top 10. However you want to view our way of splitting up these unique portable showers, changing rooms, and outdoor bathrooms, these are the top models that we endorse here at Amazing Outdoor Adventures.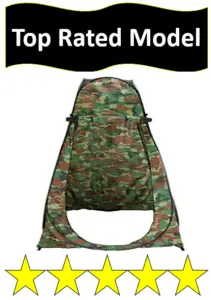 Leapair Pop-Up Shower Tent
Leapair definitely sticks out as one of the big players when it comes to making a high quality pop up privacy tent. In fact, they make two of the three highest rated ones and frequently show up on any list of best pop up tents for privacy. The Leapair pop up shower tent is our pick for the absolute best model out there.
This camouflage shower tent is easy to set up, with many campers able to set up the tent in a mere ten seconds or so. The material is an extremely impressive and high quality taffeta polyester that is fully waterproof. Some light but flexible steel as supports allows for a shower tent that will be sturdy, especially in comparison to many other similar tents.
Add in four solid stakes, and although a portable and temporary privacy shelter, this Leapair privacy tent is going to be firmly affixed to wherever you choose to set it up. Keep in mind that whether you are setting up a temporary shower or a temporary bathroom, you will want to keep an eye on where this is in relation to your tents, water supply, and everything else around your camp site.
The front door can be zippered up for privacy and this serves well as a temporary camp shower, a changing room, or even some privacy for a camp bathroom if need be.

Live Outdoorsy Portable Pop-Up Changing Room Tent
The solid construction and multi-use construction of this tent are two of several factors that caused it to sneak past #3 on this list, the other major design that Leapair has rolled out. Whether being used as a temporary changing room indoors during a modeling session or outdoors as a changing room before (or after) going swimming, or even as a a thick lined pop up tent for an outdoor solar shower or privacy for going to the bathroom at a rustic campsite.
This portable changing room is designed extremely well with a silver interior lining so a bright light doesn't reveal your outline or figure while changing, showering, or taking care of bathroom business.
Many other models are thin enough that in sunlight your outline is going to be visible. With this one, that isn't an issue. That alone is a top selling feature for many campers, hikers, and other individuals.
The bottom is removable which gives the Live Outdoorsy portable changing tent another level of versatility for use. Weighing less than 5 lbs this tent is made from premium high quality nylon, UV protection from sunlight, and even gives 6 feet and two inches of head space for plenty of changing room for all but the tallest individuals.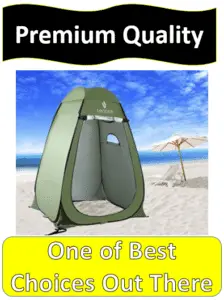 Leapair Instant Pop-Up Privacy Tent
Coming in three different colors (blue, green, camouflage), Leapair shows up again with another model of instant pop up tents that offer plenty of privacy, uses high quality materials, and allows outdoor enthusiasts to set up a camp shower, outdoor changing room, or as a latrine area. Whether using a portable camp toilet and bucket, or digging an actual cathole, this privacy tent offers exactly what you need when enjoying the great outdoors.
Popular features include:
High quality 191-D nylon polyester
Special UV-blocking fabric
Mesh roofs for ventilation
Integrated clothesline & pouch
This outdoor pop up privacy tent can function for a variety of specific needs and this particular tent comes with a lightweight bag for carrying, a removable floor, and a rain fly that can be placed over the top of one of these privacy tents.

TMS Portable Pop Up Tent
This pop up changing tent has gained a lot of attention due to its high quality construction materials. The high quality waterproof polyester material used to build the tent combine with solid steel mounting stakes and a removable bottom that allows the TMS outdoor changing room to be used as a changing room or it can be used to set up a solar shower or even as a bit of privacy for your campsite privy.
This tent is easy to fold up back into a folded circular base that can then be easily carried to a new site. This easy set up, take down, and transport can make all the difference when it comes to how useful these outdoor pop up changing rooms can be.
These come in army green, have reliable zippers that are rust resistant, allowing for confident use of these privacy camping tents as part of an outdoor shower setup, and also helping to increase the chances that they will last the test of time. Too many of these tents have the zippers go out early, making the rest of the tent pretty much unusable for all practical purposes.
This is not a problem you'll have with this TMS pop up tent model. If the standard army green color isn't to your liking there are some models in light green and camouflage as well.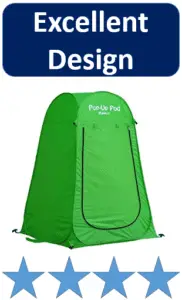 GigaTent Pop Up Pod Changing Room
The GigaTent company produces a very solid portable changing room tent, one they refer to as a Pop Up Pod. This is actually the best selling version of outdoor pop up changing rooms currently sold on Amazon.com, and there are nearly 300 buyer reviews of GigaTent privacy tents on that site as of this article's initial writing.
This model of a green polyester privacy tent is extremely lightweight coming in at a mere 3 lbs. (4.4 lbs shipping weight), which also makes it one of the lightest options on this list. This is a major factor for many individuals, and whenever you can make packing easier and loading up a vehicle or pack lighter, that's a major benefit.
The dimensions of this temporary pop up changing room are 69 inches X 39 inches X 69 inches. When properly folded up this is easily folded into a circular carrying case that allows for easy packing as this takes up very little space.
There is no ventilation window, which means this isn't quite the ideal option compared to others for a privacy shelter for a camping toilet, however this does insure privacy and makes it a great choice for outdoor photo shoots (senior pictures) where multiple clothing changes are ideal for the full variety of photos.
The main reported con with this model is that some appear to be shorter than were advertised, making height an issue for taller individuals.

TMS Portable Outdoor Pop Up Tent
These army green portable outdoor pop up privacy tents are put up with a combination of polyester and lightweight flexible steel frames to create a high quality tent that is worthy of making our top list here.
This tent comes with a ventilation window that makes it ideal for use as a camp shower or also allows ventilation if you are using it to offer privacy for your cat hole or portable camping toilet.
The door can be rolled up (as shown in the picture, and when released it can easily be zipped up completely to complete the privacy of a full enclosure. The steel is rust resistant and that includes the zipper, making it so the entire tent is in a much better shape to hold up outside, no matter how rainy or wet it gets. There is an attachable floor that can be added, if need be, and with a 75 inch height there is plenty of space even for most taller individuals who may need to change or rinse off in a rigged up solar camp shower.
Generally speaking this privacy tent gets some pretty high reviews, although for the extra shy individuals it's worth noting that with this particular tent when it is incredibly sunny and bright out, your profile will show through.

Other Privacy Changing Room Tents of Interest
There are many designs out there that are interesting, have extremely high ratings (but very few reviews) or just are really new on the scene that we believe are definitely worth mentioning, but there just isn't enough information out there at this point for us to feel comfortable making them part of the "official" top ten.
So we have the official top 6, and these 4 interesting options that could absolutely break into this list sometime in the near future. Take a look at them all for ten options for getting the best portable pop up changing rooms to meet your needs!
Privacy Pop Bed Tent
This is a fantastic and interesting item that is actually more often used indoors, but can be a great option for people camping in a shelter or camp shelter but still want a little additional privacy from others they might be sharing the shelter with. Coming in six different colors, there are many aesthetic options when it comes to the Privacy Pop, and they are designed for many different bed sizes, as well.
These are durable and there are even those set up for twin beds, queen sized beds, and double zippers on both sides mean it is really easy to get in and get out while still having all the benefits of additional privacy and a bit of darkness when it is time to sleep.
These were specifically designed with college students in mind to give at least a little bit of privacy in shared dorm rooms, but they have become incredibly useful for siblings who share rooms or just individuals who like having their own little private space to retreat to and get things done. These might not seem like much, but the mental benefit from having a small personal space is absolutely huge.

KingCamp Portable Pop Up Dressing/Changing Tent
The blue KingCamp portable changing tents are relatively new on the scene, especially compared to the competition, and it all comes with a carry bag. This model is very easy to set up and doesn't require any additional poles or gear to get properly up. The ventilation window (which can also be covered) is located smartly near the top, discouraging peeping and preventing any potential for accidental side sights because of it not being fully zipped.
The material is solid, a dark blue that looks extremely good and will cover you enough that your shadow/silhouette won't show through on an extremely sunny day, giving an extra degree of privacy compared to some models that are made from lighter and thinner material.
The waterproofing is exceptional, and whether a temporary changing shelter on the beach or having the floor detached to allow for ground to show so it can give privacy for a camping toilet at a rustic campsite or a set up camp shower, there is a lot to love about the KingCamp model of pop up changing tents, and it won't surprise us at all to see these absolutely fly up our top list once word continues to spread.

TSWA Portable Outdoor Dressing Tent
Another relatively new design that is definitely picking up fans among outdoor enthusiasts is this entry into the market by the TSWA. Whether used as a privacy tent for a camp toilet, a changing room with a small window, a solar powered camp shower, or a private place to change some diapers, this tent provides a solid portable dressing area with plenty of privacy.
There is a flexible steel frame that isn't separate but is actually sewn into the polyester fabric the dressing tent is made out of. There are four steel mounting stakes included with this particular dressing tent, and setup should be both fast and easy.
The dimensions are 47.2 x 47.2 x 74.8 inches and this can also be used as a quick change station for models during a photography shoot. The zipper is designed to be particularly strong, as one of the most common complaints among private tents that don't stand up involves zippers that are breaking. This is not a problem at all with this outstanding TSWA model.

Sportneer Portable Dressing Room Tent
Sportneer is one of the most interesting portable dressing room tents on this list because it is not designed necessarily as a normal pop up privacy tent, but Sportneer aims this design specifically as a changing room. The outside walls are made out of a solid material that doesn't outline your profile when heavy amounts of sunlight hit the portable tent directly, and includes custom built clotheslines, various pouches for small possessions and a couple ventilation screens.
This is a changing area where multiple outfits can be hung up, there's enough room (and privacy) to change on the spot, and those pouches can hold phones, wallets, keys, and more.
There is no bottom in order to keep the tent clean, and there's no denying the design goes above and beyond to provide a secure portable dressing room for all your photography shoot needs.
The portable dressing room comes with a carrying bag for easy transportation

In Conclusion
While this might be impractical for most people who are looking at a long thru hike where every single ounce on the backpack counts, these do open up plenty of options for people who want a quick place to change or who like rustic campsites and want some privacy when doing the business, these pop up privacy rooms for campers are absolutely the way to go. Take a look at all the fantastic options that we have laid out in this long article (we hope the best online on this topic) and find the one that truly works best for you!
Good Video on Folding a Pop Up Privacy Tent