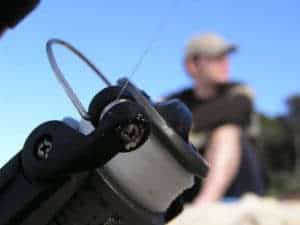 Jon and I both grew up using open face reels whenever we went fishing, to the point where I didn't even know there were other options until I was already in junior high school and some of the other Scouts during our summers of camping out were using closed face reels.
"Weird," was my original thought, and Jon and I stayed with open face reels because that's what Dad used, and while we recognize there are good closed face reels out there, personally I'm a huge fan of the open reel and direct control over the line while casting instead of the button push casts that come with closed face reels.
When we're teaching others to fish or getting ready for another yearly walleye fishing trip to Lake Erie, we tend to fall back to spinning reels because it's what we've spent decades using, and it gives a level of control and feel that lets you do some pretty amazing things once you're fully used to them.
While spinning reels are definitely what we are most familiar with, there is another type of open faced reel: the baitcasting reel. These are some high quality reels that can produce some serious casting ability if you get used to them, while spinning reels are what the majority of us learn with and are familiar with using.
Two Main Types of Open Faced Reels
There are many different ways to describe a fishing reel, and while most of the anglers I know refer to reels as open, closed, and baitcasting, actually baitcasting reels are just one type of open faced reel. Turns out the term I always grew up using, and that many of the anglers in the Midwest use, isn't the correct technical term. Open faced reels actually refer to one of two types of reels, and not just the spinning reels we grew up.
Spinning Reels
These are the types of reels that both Jon and I grew up with, and there's a reason they are so widespread and popular. These are incredibly easy to use, and versatile. Beginners can learn to become proficient with them relatively quickly while experienced anglers can get extremely accurate pinpoint casts and use a variety of lures and techniques, as well.
Spinning reels are ideal for beginners learning to cast. They can also work for trolling and jigging setups. Good for beginners, good for professionals, spinning reels are a favorite for a reason.
Baitcasting Reels
Baitcasting reels are almost always open faced in nature, but they are very different from spinning reels in appearance, design, and they are often considered to be a superior pro model of reel.
Why is that? Because when properly used a baitcasting reel gives additional distance and control with each cast.
Because these are a little different we separate the article into two sections: open face spinning reels and open face baitcasting reels. Since more people are going to be looking for the spinning fishing reel options, those are the ones that we are going to cover first.
Best Open Face Spinning Reels Reference Chart
Why Spinning Reels?
Spinning reels are very popular and for good reason. They offer a great combination of control, power, and are easy to learn with. These are simpler to use than baitcasting rods, work for the far majority of anglers (many pros in fact use open face spinning reels), and yet a good spinning reel is more than good enough for anglers of all skill levels.
The far majority of anglers you talk to are going to use spinning reels. These are outstanding options and king of the reel design for a reason.
KastKing Centron & Summer Freshwater Spinning Reels
These are shoved together in part because they are more or less the same design. This includes high quality parts and construction, but wildly different colors. One is classic black while the other is a shiny white and blue blend. Trust me, you'll know those reels when you see them.
Both are produced by KastKing, one of the most respected names in the angling industry. Whether you go with the strangely unique coloring shown on the left or the classic black, you will have a great looking reel that will hold up to heavy duty use.
These are some of the best spinning reels on the market. This also makes them some of the best open faced reels out there. These are specifically designed for freshwater use as opposed to saltwater, so keep that in mind. That being said, this is a smooth spinning setup on a graphite frame that most anglers fall in love with this reel very quickly.
A fantastic choice to add to your favorite fishing rod for that ultimate rod and reel combo.

Daiwa BG Spinning Reels
Daiwa is an outstanding brand in the fishing world, and for good reason. In fact, Daiwa fishing reels and rods are internationally well known. They don't just coast on their name, either. Too many big names have done that in the past, but Daiwa keeps striving for quality.
The Black Gold (BG) open-faced spinning reel is truly an outstanding design. Any angler would be happy to have this reel attached to their favorite freshwater fishing rod whether fishing for walleye, bass, pike, or something else altogether.
While these reels aren't going to be cheap, true quality never is, but prices range from $85 on the low end on sale up to $290 for the full featured and most precision styles of this reel. While this can put the dent in some outdoor budgets, the good news is you actually get what you pay for. Many anglers we know have commented that these work as good, or better, in their opinion than reels that cost twice as much as the high end.
That is pretty high praise. There are 10 different sizes/designs under the Daiwa BG reel brand and it's hard to argue with the quality and versatility that these 5-star fishing reels bring to the table. This reel is a touch heavier than some other lightweight freshwater spinning reels but the extra power, control, and handling is definitely worth it.
This is consistently one of the highest rated reel on any online sports store sites we check out, and chances are they aren't going to fall off the list anytime soon!

Okuma Ceymar Lightweight Spinning Reel
Many anglers aren't familiar with the Okuma Ceymar brand, and that's not overly surprising. They are definitely niche in the fishing world, and focus on creating spinning reels for anglers that are lightweight, efficiently engineered, and an incredibly good value. These are truly premium fishing reel that are designed & manufactured with extreme precision.
This reel features a custom designed gear ratio that is combined with an extremely high quality ball bearing system to create a smooth and powerful fishing experience. There's a reason the reviews around the Okuma Ceymar are so overwhelmingly positive.
There are five different versions of this elite open faced spinning reel. Each one refers to the general size and what type of fish (or size of fish) these reels are designed for. The powerful C-65 is the giant of all the Okuma Ceymar options and is designed for going after some seriously large freshwater trophy fish as it handles 310 yards of 15 lb test line. On the other side of the spectrum is the C-10 which is designed for heavy action. That small compact reel only holds 110 yards of 4 lb test line, so get ready for some hard fought action if that's the one you go with.
The name might not be as well known as some of the reels higher up on this list, but their outstanding spinning reels can stand up toe to toe with the competition!

Penn Battle II Spinning Fishing Reel
The Penn Battle brand was a name that was relatively new to us when we first heard it. However, they have made a major splash in the fishing world. Our early ignorance of their reels should not be seen as a strike against them. After fishing with a few – let's just say we're plenty impressed and we would not be surprised to see them keep moving up the list.
Penn Battle II spinning reels come in multiple different styles depending on the type of fish you're going after and the rod you're using. Currently there are 8 main styles that can range greatly in size and appearance. However from the 1000 style to the 8000 style, the high quality is obvious on each and every model.
Many of our coastal readers will be glad to hear that this isn't just for freshwater. The durable Penn Battle II fishing reel is made with high quality materials that resist rust even with multiple saltwater uses. Smooth action, durable body, and a powerful drag system makes this a great option for those coastal fishing charters off of St. Petersburg Florida (or wherever your coastal favorite spot tends to be).

Penn Pursuit II Spinning Fishing Reel
Yup, that's right: back to back Penn spinning reels. Hey, like we said, these guys know quality! If the Battle wasn't quite your reel then the Pursuit II is definitely still worth checking out. This premium open face fishing reel does a great job of offering elite quality at a budget-friendly price.
Featuring a durable graphite body further reinforced by an aluminum side plate, the Penn Pursuit II reel looks aesthetically smooth without sacrificing quality performance. You'll really appreciate the combination of smooth action along with quality pressure drag.
This is a reel that gets the job done while remaining gentle on your hands and wrists, which is necessary if you're going to be casting 10+ hours (hey when we fish, we FISH)!
Once again these guys make a great looking reel that matches in performance. As one final note: if you like braided fishing line this is one of the best reels we've found for using braided fishing line. Good for beginners or experienced anglers, you're getting really good value with this low cast high quality elite fishing reel.

KastKing Sharky III Fishing Reel
No surprise that KastKing has another fantastic reel that makes the list. The Sharky III is another popular open face spinning reel produced under the KastKing brand. While the 2000 and 5000 are the most popular models of the Sharky III, there are technically five different models of this reel to choose from.
These are sleek looking reels that are built with the rock solid engineering & design you expect from a brand like KastKing. Good for saltwater or freshwater fishing, this is an extremely versatile reel that can provide an angler with plenty of use no matter the location of their favorite fishing holes.
The Sharky III reel is light, durable, and beats most of the competition when it comes to design and drag quality. This is a sleek looking design that really gets the job done. Top notch engineering and design makes all the difference when it comes to this reel.
KastKing does it again!

Daiwa Revros Spinning Reel
Daiwa is an incredibly popular company among anglers, and anyone who has used their equipment knows why. These guys know fishing and produce rods and reels with the experienced angler in mind. In fact, Jon and I both noticed on our 2018 Lake Erie walleye fishing trip that our guide's boats were loaded with Daiwa rod and reel combinations – and we caught 102 walleye and 5 perch and were back in from the water by noon so…yeah. We're believers.
The Revros reel from Daiwa features a high level aluminum construction and although has multiple sizes, primarily comes in four sizes. Designed to be both lightweight and sensitive without giving up any strength or smoothness, this is a solid reel that has one more additional benefit worth mentioning: it's ambidextrous. In other words, it's designed so you can set it up as either a right handed reel or a left handed reel.
That type of versatility is excellent, especially if you tend to fish in groups. No reason for Southpaws to be left out of the fun, especially when the black bass are hitting!
The high grade aluminum used for parts makes this fishing reel particularly quiet on top of the smooth action. Relatively inexpensive, it's easy to see why this is such a popular choice among many anglers.

Piscifun New Spinning Reel
This is an outstanding option for anglers looking for a cheap spinning reel that doesn't skimp on quality. While it's not going to quite be the same level as a KastKing or other truly high end reel, there's a lot to love about it.
Piscifun has a reputation for quality budget-friendly options, and that definitely isn't a bad thing. Anyone who has done some serious shopping for anglers knows just how quickly that bill can stack up.
This is also one of those rare reels that is setup to work extremely well with braided line. Any time you can avoid the common snags and issues that can come with braided line it's a good idea. Add in the fact these are built to be able to handle extended saltwater fishing and there's a lot to like about what these reels bring to the table.
Especially for a budget conscious angler who needs to keep a cap on what he or she spends. Depending on the model there can be room for as little as 180 yards of braided 10 pound test line all the way up to 290 yard of braided 40 lb test. All about the style/ model you choose.

Burning Shark Fishing Reels
We may have a winner for the most creatively named fishing reel brand. While some anglers might be hesitant about the name because of being burned by glitzy marketing in the past, none of those worries exist with this eye-catching reel.
These are incredibly unique looking reels with a design that is impossible to mistake for another brand. While it's easy to think of this as a potential gimmick, the reviews have been rock solid. In fact, they are consistently among the highest out there however there are fewer reviews so we're waiting to see if that rating holds once there are thousands of reviews online.
So far the composite material has reportedly held up stunningly well. The action is smooth, it holds up against corrosion from saltwater, and the design is right up there as one of the best we've consistently seen.
Like it's name sake, Burning Shark fishing reels are deadly serious about being one of the best designed and functioning fishing reels out there and so far they are definitely hitting the mark.

Sougayilang Fishing Reel
Finally rounding out the list of our favorite open face spinning reels is the reliable Sougayilang fishing reel. Available to anglers in multiple sizes, they are smooth spinning, and are definitely one of the cheapest options on this list – but that doesn't mean they are lacking in quality.
The gears in this reel are made of brass as opposed to aluminum, and while this will have a hard time competing with the absolute best spinning reels on the list, it is going to still be a rock solid choice for most anglers.
Particularly those just beginning to figure out the differences between cheap reels, average reels, and quality reels.
This is a lightweight reel that gets that feel via hollow frame design yet manages to remain balanced and relatively strong. There's a lot to like about what this brings to the table. Add in an easy to grip "non-slip" knob that is easy on the hands even after a long day and we get to wrap up this particular list with yet another winner.

Best Open Face Baitcast Reels Reference Chart
Why Baitcasting Reels?
Baitcasting reels offer plenty of outstanding options, and sometimes are going to be the better option over a classic spinning reel depending on what type of casting and fishing you are actually doing. While it can take more time to really learn how to properly use a baitcasting reel, if accurate distance casting is what you're shooting for then taking a season or two to learn and master a baitcasting reel can really pay off.
In addition to this, some smaller spinning reels either have issues with thicker fishing line (like braided test line above a certain weight class) or thick line of other kinds. Baitcasters are designed to have no issue with larger, heavier line which makes them ideal when you are really chasing giant trophy sized fish.
Many anglers are just fine with spinning reels, and will thrive with those alone, but for those anglers who want or need a little bit more, a good baitcasting reel could be the way to go to get that little extra "OOMPH" you've been looking for.
Abu Garcia BMAX3 Baitcast Fishing Reel 
Anyone who is really looking for a top of the line fishing reel isn't going to go far without running into an Abu Garcia reel. Once again they have the top choice on our list when it comes to the best available baitcasting reel. Featuring a one-piece graphite frame with supportive side plates, this is a reel that is designed to get the job done whenever you need that perfect combination of power and accuracy.
The drag is smooth but strong, and can be adjusted to help you find those perfect settings for any fishing trip. The handle is compact for smooth handling and a comfortable grip means you can kiss end of the day hand cramps good-bye.
The BMAX3 from Abu Garcia is their best baitcasting reel yet and gives a level of power and precision control that any avid angler can truly appreciate.
These top notch reels work with a wide variety of different fishing rods. The versatility of rod and reel combinations possible with this baitcaster make it extremely popular as a next level solution to any and all of your fishing needs. Many of our friends who use baitcasting reels instead of spinning reels swear up and down about just how good this particular reel is and how it has improved their results out on the water.
So it makes our number one spot for open faced baitcasting reels!

Lew's Fishing Tournament MB Baitcast Reel
Keeping both lefties and righties in mind, Lew's MB baitcasting reel is an outstanding option that keeps anglers of all dominant hands in mind. Whether you're left-hand dominant or right-hand dominant, these reels come in both styles. That type of versatility is definitely going to be appreciated. Add in multiple gear ratios for the technical angler and you really have the ability to customize your casting experience.
This is a tournament style reel. A good-looking design isn't just about passing the eye test but it is extremely functional and designed to work at a high level from day one. This is one of the highest rated bait casting reels you'll find online and for good reason. It is tested, tried, and approved by some serious anglers and that makes this reel's place on the top rated list an easy add.
Multiple accounts have reported the amazingly smooth cast that this particular reel delivers, and that is pretty high praise. Some have even gone so far as to describe the cast as "buttery smooth." Even from relatively new baitcasting reel anglers there are reports of far fewer "bird nest" snag issues that are common headaches for anglers who are learning how to use this style of the reel for the first time.
This is an outstanding option and there's a reason it easily hits our list of the top open faced reels.

Sougayilang Baitcasting Reel
There's a reason some brand names appear on multiple lists. When a company really devotes itself to providing truly top-notch quality for our fellow outdoor adventurers, we want to make sure that they get the credit they deserve. Especially since this helps bring premium reels to our favorite anglers!
So no one should be surprised that another Sougayilang baitcasting reel appears on our list of the top rated fishing reels currently on the market. This open faced baitcasting reel isn't nearly as widely known as many of the others on this list, but its early scores are outstanding and we suspect this is a trend that is only going to continue.
Extremely lightweight at a mere 8.3 ounces, it is built from a solid carbon construction. Add in some lightweight side plates and handles, and the final package is exceptional. All the parts are excellent, and the sum of its parts are even greater than that.
This reel offers outstanding accuracy on casting and wins especially good marks for correcting your cast while it's out on the fly. Add in some great stability and surprising durability for such a light reel, and there's a lot to love about the total package here. The Sougayiling lightweight reel also has a 1-year warranty backing it up.
Good for 10, 12, & 14 lb test lines, this 5-star baitcasting reel is a winner!

Piscifun Torrent Baitcasting Fishing Reel
The widely popular Piscifun Torrent baitcaster fishing reel is a sleek looking little reel that has gained its reputation for a reason. Every few years some minor design changes or upgrades might be made but the same high quality is a constant that many anglers appreciate.
Durable, sleek, heavy-duty, there's a lot to love about what Piscifun's newest fishing reel brings to the table. This is considered a heavy-duty reel and features a new 3-washer design to take it to the next level. Surprisingly quiet and smooth on the reel in, this is an outstanding option.
Coming off of quality Japanese engineering, there's a lot to love about the total design of this reel. Water resistant, rust resistant, and designed to take a beating and keep on working, this baitcasting reel is an outstanding option and there is a reason why there are many hundreds or even thousands of top notch ratings online.
One of the top compliments given to this reel is that it has an extremely unique and remarkable "quick port" design that makes it extremely easy to oil up and care for the reel while eliminating the concern about losing loose parts. For anglers who have lost a ball bearing or had this happen, this is a great design that many anglers will appreciate.

Daiwa Tatula CT Baitcast Fishing Reels
The Tatula CT baitcasting reel from Daiwa is another really high quality open faced fishing reel that is completely worthy of our top rated list. Daiwa is another one of those names that you likely already know if you've spent any amount of time at all looking for fishing gear.
The Daiwa brand name is widely renowned in the fishing world, and perhaps most remarkable is how many different types of anglers are familiar with their gear. Daiwa is a name that is often considered synonymous with quality among serious anglers. This is an outstanding baitcasting reel and one that definitely deserves the attention that it is receiving.
Precision craftsmanship by Tatula brings forth a lightweight reel with a unique appearance. The drag is quite efficient, and an adjustable click system gives plenty of power and control with each and every cast. Called the "T-Wing System," there's a lot to love about what this reel brings to the table.
The Tatula is an outstanding option as a baitcasting reel and Daiwa comes through again. The ratings are fewer for this model than others but the overall score is one of the highest out there. Premium quality reel at a much more budget-friendly price.

Abu Garcia Revo SX Max Low Profile Reel
Yup. Yet another open faced Abu Garcia reel makes our top-rated list. They are a company who have thoroughly dedicated themselves to creating some of the absolute best fishing reels out there on the market. Especially if you're looking for top notch reels that aren't in the insane $1,000 a reel range.
At this point no one should be surprised that the Revo SX baitcasting reel by Abu Garcia makes the list. What is a bit remarkable is how low key this baitcating reel is. Sleek, compact, and well-designed, there's a lot to love about this perfectly balanced reel.
All of this is put together to create an ultralight fishing reel that provides quality well above its price point. That is one of the best things you can say about these reels. The frame is resistant to corrosion from water or saltwater, making it a very durable option, as well. That is always a concern when it comes to lightweight reels but if you go with the Revo SX you don't have to worry about it: the construction is solid.
This reel also features a strong drag system, excellent control, and a suprisingly smooth movement. In other words, it brings all the quality you expect from any Abu Garcia release. This is yet another open faced reel that will find plenty of fans.

Piscifun Perseus Low Profile Baitcasting Reel
Do you have large hands that make conventional reels seem small, delicate, or a bit hard on the bones in your joints? In this case, you might want to give the Piscifun Perseus baitcasting reel a chance. This low profile and uniquely colored reel looks good but also features a particularly large handle that makes it much easier on a large handed angler – especially throughout a day.
Despite being advertised as a low profile reel, this is a powerful reel with an 18.5 lb drag system that is also supported by some serious engineering. These reels come in left-handed & right-handed options, meaning there are available for all anglers.
Corrosion resistant with a solid dual brake system, this is a solid design that is eye-catching as well. In other words, just because it is a bit lower on our list doesn't mean it's a bad reel – this is still an incredibly high quality reel that will help you get things done.
Lubricating this reel is much easier than with the majority of models because of quality design. This baitcasting reel can handle even high end 30 lb braided test line. There's a reason this Piscifun baitcasting reel is so popular.

KastKing Royale Legend/Whitemax Low Profile Baitcasting Fishing Reel
One of the biggest names in fishing, no one should be surprised to see a KastKing make this list. Extremely popular on the spinning reel side of things, they're not quite the same level with their baitcasting reel but that doesn't mean this isn't still a top-notch option.
Sticking out with its stylish white design (or you can go classic black with the Royale Legend instead) the Whitemax is an excellent baitcasting option with thousands of positive reviews online. They are a budget-friendly option that are well designed with solid gears and corrosion resistant to minimize the need for heavy maintenance.
These baitcasting reels are great for experienced anglers who love the high level of control that they offer. This has really superior levels of control and distance casting making it a great option. Add in the fact these are lightweight and it's easy to see why this combination does well.
An outstanding option, especially if you are looking for a baitcasting reel that is inexpensive and budget friendly.

What to Look for in an Open Face Reel
As always quality can matter quite a bit from one design to another or one brand to another. There's a reason certain companies rise to the top over and over again. On the other hand, the needs of one angler can be completely different than the needs of another.
While it's impossible to customize this section so it applies to every single reader, the good news is that there are several general guidelines or truths that apply.
Gear ratio
While this might be something more advanced anglers know about, there are some basic rules here. Generally speaking gear ratios work like this: 6.0 is universal, higher gear ratios start at 7.0 and higher and are best with lures where the rod is the mover (jerk bait, jig, etc), while lower gears in the 4.0 to 5.0 range work best when you're using big heavy bait like big crankbaits that go deep and heavy swimming baits.
What's the weight?
Some people like the really lightweight reels. Then again if you're a bigger individual who grew up with heavier rods and reels you might like feeling that actual weight. In that situation you might prefer one that is slightly heavier. Both can be good, it all depends on what you are most comfortable using, so if you like the ultra lightweight options then go that way. If this isn't a big deal then take a look at some of the heavier models out there.
How much line do you need?
Depending on what you're fishing for you may need different levels of line. In most places you don't need all that much line for walleye or bass fishing but if you're hunting for lake trout, another story. Different types of reels will have room for different lengths of test line, especially depending on the weight it is approved for.
Depending on what you are fishing for, what lb test line you're going to use, and how much line you need, you may want to make difference between two reels that you're looking at.
If you want more information on selecting a good open face reel take a look at this bass pro article – it's an excellent resource on breaking down what to look for in a reel.
Open Face Reels FAQ
Q: What are the major differences between baitcasting reels and spinning reels?
A: The design looks very different and that's because the function of them differs by quite a bit. Both get the job done, and both styles are used by anglers of all skills, including professionals. Spinning reels tend to be much easier to learn how to use while baitcasting reels have a built in drag that takes more time to learn and master.
Q: Are open faced reels better than closed face reels?
A: There might be some people who disagree, but in the eyes of both me, my brother, and virtually every professional or semi-pro out there: absolutely. The far majority of pros use some type of open face reel and I have found that most closed face reels tend to be good as introductory or kids' reel but open faced ones just consistently work better.
Q: Why are open face reels left-handed?
A: This is kind of a weird question. They're not all left-handed by default. Open face reels could be for lefties or righties but if the question is about why is the handle on the left hand side, it's because casting on spinning reels means needing to hold the line with your finger before casting. If you're a rightie you need to do that with your right hand, which means the handle needs to be out of the way, so on the left hand side. It makes sense when you look at the full motion.
Q: What is an open face reel?
A: Any reel that is not covered but which is open so you can see and access the line without taking a cover off.
Q: Are open faced reels better for braided fishing line?
A: The majority of the time, yes, an open face reel is a much better choice for thicker line or braided line than a closed face reel is. There's a reason these are much closer to being standard than a closed face reel.
A Few Final Thoughts
Hey everyone is going to have their preference and while some people might prefer a close face reel because they grew up with it, I'm all about the open face spinning reel. The spinning reels in particular bring back a lot of memories, and it doesn't take long for me to bring back the muscle memory even after the longest of winters. It's no secret that I'm a big fan of open face fishing reels in general and spinning reels in particular. Here you see all the best open face reels currently available and if you can't find one you like on this list…good luck on the water then!
Great little pro video on using a spinning open face reel

Other Fishing Articles of Interest