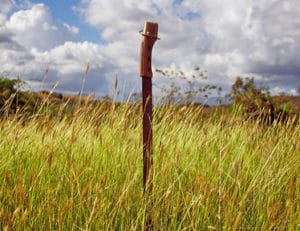 Sure, Jon and I don't spend much time in the jungles. In fact between the two of us I'm the only one who has been in the jungle and that was once.
The one on the Yucatan Peninsula in Mexico. On path. In the tourist area. With lots of other tourists around the well-kept Mayan ruins. Not surrounded by shrubs or snakes.
So needless to say we don't need machetes all that often.
Just because we don't need machetes doesn't mean we don't want them. Let's face it: if you think knives are cool then how could you not want a machete?
Admittedly when it comes to practical use, there's not a lot of reasons for me to have a bunch of jungle machetes lying around. I firmly believe in not living anywhere within 100 miles where there's a snake big enough to eat me, so jungles are out of the question. That being said, a good work machete is a great tool to cover that awkward middle ground between knife & hatchet and full sized ax.
That doesn't change the fact machetes are awesome. Whether you're going with classic designs including finely carved wooden handles, or a modern variation, there are many different types of machetes out there. We're big fans, and to be frank in a true survival situation these can be amazing tools. That is even before considering the psychological benefit of being armed with a long blade.
So whether you're looking to replace an old one for practical use or just love blades and want a few true quality machetes to add to the collection – we've got the best on the market here. As well as a couple popular ones to warn you off of.
Read on to learn more about our 5 best camping machetes!
Best Machetes Reviewed
Kershaw Camp Machete
The Kershaw camp machete has three different models: the 1077 (10-inch blade), 14 inch, and 18 inch sized blades. All follow the same quality design and are made from high quality carbon steel finished with a special black powder coat to give it that clean sleek aesthetic this particular machete is renowned for.
These blades are very well built and work for a variety of tasks. Need to remove vines? No problem. Want to clear out a trail? No sweat. Whether you need to do some basic plant cutting or more serious trail clearing with branches and fallen foliage, these machetes give the strength, durability, and quality you need to get the job done.
The handles are covered with a molded handle that features non-slip rubber. This allows you to grip the machete with confidence even in rain, with mud around, or any type of less than ideal conditions. When you are swinging a machete around the last thing you want to do is lose your grip and send that thing flying. Definitely a hazard best avoided.
Kershaw is known for high quality and in addition to being a fully functional survival machete designed for the toughest of conditions, this is a workman's machete, as well. Good for farmers, survivalists, jungle exploration, farms, and maybe even a zombie apocalypse or two: this isn't for decoration. The Kershaw camp machete is one of the absolute best out there for heavy use. When properly maintained, they can last for many, many years.
Throw in the lanyard holes in the handle and a molded specialty sheath that includes lashing points and there's a lot to truly love about this outstanding machete. This makes it easy to strap and carry in a variety of ways.
This is closest to a bolo-style of machete although that's not 100% the case here. A modern design to create a truly great machete, you won't be disappointed with this outstanding machete!


CRKT Chanceinhell Fixed Blade Machete
Another solid, stout full tang machete, the CRKT Chanceinhell fixed blade machete is another one that makes our short list of the 5 best working machetes out there. Standing behind their motto of "Innovation & Integrity" this is a very simple but proven design that focuses on innovation through small detail changes to create a superior machete.
This small shifts have combined for big results to create one heck of a machete. A molded hand grip that features a "football texture" style of grip handle is comfortable and better for use in wet, slick, and cold conditions. The blade has a black finish that helps make it rust and corrosion resistant, and it comes with a quality nylon sheath that will fit your new machete perfectly.
The design hails from Hawaii where in many situations the machete is a legitimate tool and a solid easy to use machete that is easy to grip. The exceptional handle and simple but functional design means this is going to be a practical machete that can be used for a variety of situations.
This machete comes with a limited lifetime warranty and has earned a reputation for being one of the truly outstanding options out there. Plus you have to love a name with that much attitude in that. This is a machete that is designed with thick brush in mind and being able to cut through even some of the roughest overgrowth and shrubbery.


Condor Tool & Knife Golok Machete
Featuring a quality curved handle made from Walnut (and coming from a lumber family – amazing choice, I'm a fan!) the Condor Tool & Knife machete is a golok style of machete that goes from a beautiful smooth handle into an impressive curved machete blade.
The look is simply beautiful. This might be the best looking machete of them all, which is why I was thrilled when it held up to real world testing.
Not only does this machete look really good, but it holds up in the field. Featuring a long blade length at 14.25 inches, the earlier mentioned walnut wood handle also features a professionally drilled lanyard hole. This gives extra options for carry options.
The machete is made from high carbon steel, and features the industry standard black powder finish designed to help minimize rust and metal wear. The Condor Tool & Knife machete comes with a leather sheath with the company logo on it.
This is a machete with a reputation for lasting the test of time and the sheer number of reviews that talk about how effective these machetes are even after multiple years of in-field use. The handle remains smooth but functional, the blade stays sharp as long as it is sharpened, and the quality of the cut continues.
This is a strong functional machete that looks good and operates in the field. We love when a piece of outdoor gear looks great, but functionality always trumps appearance.
This is a golok style machete and one that we feel confident recommending as an outstanding choice.


Elk Ridge ER-280 Machete
The Elk Ridge ER-280 machete definitely catches the eye. Featuring a thick curved blade with a strong hand guard that almost reminds you of an old cavalry sword, it offers a distinctive look that is backed up with solid performance. The blade is 3 mm thick and the overall length of the machete is 20.5 inches.
Special attention is paid towards allowing a solid grip and outstanding security with a hand guard. The blade is sharp, can be made more so with a top rated sharpening stone, and is able to hold up to a variety of real world conditions.
Like the other major picks on this list, this is not a prop and it is not for decoration. A decorative machete might look cool on a wall, but we want tools that work well in the field!
The blade design is full tang, as any respectable machete should be, with the handle sealed around the bottom. This creates the strongest functional blade possible for the design. Very good for vines, brush, saplings, and even some small trees growing where they're not wanted. The blade is known for holding its edge quite well, and maintenance is a breeze. The sheath that comes with it is a perfect fit.
If there is one potential downside: this is a rather heavy machete. There's some extra weight to it so if you don't have arms that are in good shape then you might tire out during a long job. However, that extra weight means more momentum behind every swing which means better cuts.
All in all, a fantastic work machete and one that we highly recommend.


Schrade Full Tang Parang Machete
A slightly different design than the others on this list, fans of the Parang style of machete will like what the Schrade full-tang Parang machete brings to the table. Featuring a quality ergonomic handle that is also designed to be non-slip, this 19.6 inch machete offers 13.7 inches of blade to cut through the thickest and most stubborn of shrubbery.
The handle is made from a special thermoplastic fit to create a solid grip. The blade is solid, though will require proper care to stay in that shape. There is a polyester sheath & loops to allow multiple styles of carry. The lanyard hole gives more options for transport or additional grip support.
Schrade does a great job knowing how to stay true to the parang style by making sure the balance is heavy on the nose, the steel sharp, and the angle just perfect for someone familiar with using parang machetes. This is a great bushcraft machete that has strong approval from a large number of outdoor specialists.
This is also a great value machete, which performs at a level equal to many machetes that cost 2x or 3x as much on average. The nose-heavy balance is what you want in a machete designed to cut efficiently out in the wild.
There's a lot to like about this tool, and there is a reason we have it on our top five functional machete list. Good for use with coconuts, good for thick brush, it's a winner. The multiple arrangements for easy carry shows a good deal of forethought by Schrade focusing on the many ways their product might be used.
The only negative we found was that this is a bit heavy, which I don't mind but might be an issue for others. This is also very much a parang machete so if you don't like that particular style, that could be a potential issue.


Highly Rated Machetes with Serious Potential Issues
So here's a section we don't like as much when it comes to reviewing outdoor gear, but it's also absolutely crucial if we're going to give you the tools that you need to make an informed decision. Sometimes a piece of gear has tons of great ratings online but is called junk by many outdoor specialists we know or trust. Nothing like seeing a near 5 star rating online, and then having the item break on day one.
While we prefer to focus on the good, we also want to scare you off of the bad (or at least the really questionable).
Unfortunately when it comes to machetes, we found two that generally have strong ratings online but which our experiences argue differently. Before you buy, we would say think long and hard before taking any of the following two.
Buyer Beware:

SOG SOGfari Machete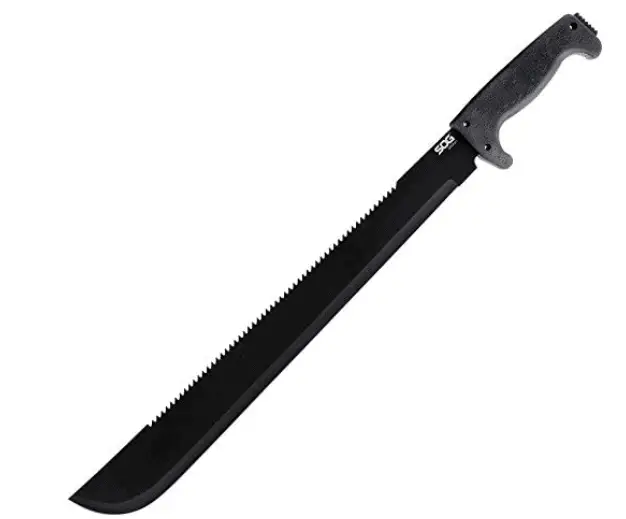 So this is a conflicted one for sure. If a reviewer goes purely by online ratings, there's little doubt that the SOG SOGfari machete is going to be near the top of the list. This is a sawback machete, one built more with a multi-tool use in mind.
There are purists who believe these are not going to compete with conventional machete designs. Depending on what they need out of a machete, that isn't a completely unreasonable point of view to have. But there's no reason a machete/saw combination can't be a really solid and useful bushcrafting tool.
The SOGfari machete comes in a smaller 13 inch model as well as a longer 18 inch model and are made from stainless steel. They're produced in China and are made more for general light to medium cleanup work – not the heavy duty stuff.
The design gives a great length to the blade, and the coated finish helps protect from rust and wear. This is a touch on the heavy side, but considering it is longer than most other machetes on the market, that actually makes sense.
Most outdoor sites you look at will overall have a positive review of this tool, and I know at least one country boy who finds this a great tool for around the garden or heavy growth areas of his acres. On the other hand, there are also a large number of negative reviews that mention two major problems: one being it is only good for light work, the other being that many people have noticed blade issues with multiple reports of blades cracking or breaking.
These do come with a limited lifetime warranty which is good but anytime I see a heavy duty tool reduced to light duty and still having issues – that's a red flag. While the link is still here to buy if you really want this style or you've had nothing but good experiences with this type of blade, we have to mark it as a clear buyer beware scenario.

Buyer Beware:

 Gerber Bear Grylls Parang Machete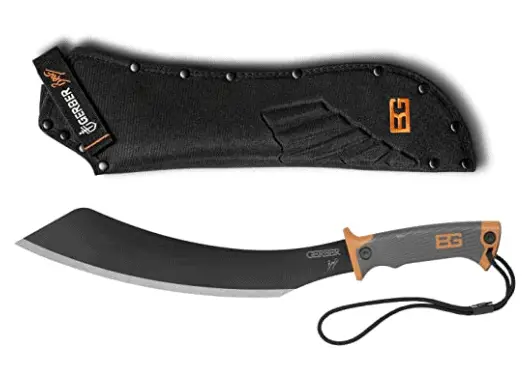 Well it should go without saying that any time a celebrity comes out with a mass produced piece of equipment that it should be "buyer beware" until proven otherwise.
That's been our experience in the past, and no doubt many of you have gone through the same thing at some point in your life.
Admittedly, the outdoors space is an area that has its own niche celebrities and in this case many times the situation isn't as bad. Pro anglers tend to design great lures or rods. Pro hunters know how to design a quality hunting bow – and often do.
However, this is one case where the nervousness or suspicion seems to be the way to go. While the Gerber Bear Grylls parang-style machete does have plenty of positive reviews, many corporate backed celebrity endorsed gear will, regardless of quality. This is also a machete that has many terrible reviews, as well, with enough recurring themes to be worried.
On the plus side the design overall looks good. The angled blade is solid and works well as a traditional parang machete. The blade itself is made from carbon steel and is treated to resist rust and corrosion. The machete is full tang (NEVER trust a machete that isn't) and the grip is designed to be comfortable and non-slip.
So far so good as far as design goes.
The problem is the large number of reports of the blade wearing down quickly, getting damaged quickly, and even breaking. This doesn't sound like the really high end steel that they advertise. Some reviews have said this is only good for very light work, others say it worked well at first but straight out broke a few months later.
Because of the frequency of those reports, we can't recommend this machete despite the high overall ratings most online outdoor sites have for it. So while it is available here if you're insistent, buyer beware.

What to Look for in a Machete
While we obviously have our favorites when it comes to good machetes, what is perfect for one outdoor adventurer won't necessarily be the perfect choice for another. When you're looking at picking the right machete for you, there are several factors that come into play. Make sure to keep each of the following in mind before making your final purchase!
Style of Machete Blade
This is a big one that makes a lot of sense off the bat. There are massive differences between parang, kukri, bolo, bush, and cane blades and yet all of them definitely qualify as machetes. Some will clearly be better suited for certain types of bushcraft, outdoor work, or survival than others. What your specific needs are matter a lot here when determining what type of machete is best.
Obviously using pictures as a visual guide can help but you will also want to do some research to understand what your options are and what each blade type is best for. There's actually a good section on that following this one.
Whatever type blade you go with, you should always look for a full tang machete.
Size of the Machete
Depending on what type of work you're doing, the length of the machete is going to matter a lot. Most machetes are around 18 inches in length give or take, and the most common wide range is from 11 inches on the lowest end up to 28 inches for those long reaches. You may find one size does the ideal work or you may even want one long machete and one short one, as well.
What Is the Blade Made of?
At this point all blades should be made out of some type of steel. This could be stainless steel, carbon steel, or nowadays high carbon stainless steel is perhaps the most popular option of them all. While metal type alone doesn't determine the quality of the blade, it is an important consideration.
Don't Forget about Machete Handle Materials!
A truly good blade is a great thing, but that's not the only part of a machete! The handle matters quite a bit, as well! This includes looking at the style, the materials used in building a handle, as well as the shape. Most modern handles will be ergonomic, designed to be slip-resistant, and comfortable. Some use plastics, some use special plastic-like molds, sometimes you get the occasional wood handle. The point is that there are plenty of options.
Look for a grip that feels comfortable and is going to continue to be so after minutes or hours of swinging. A comfortable handle offering a solid grip is definitely top of the list of what you should be looking for in a good working machete.
Weight
Almost all machetes are going to seem light when you pick them up for the first time but in the long run after an hour of swinging away there will be a massive difference between the 15 oz blade and the 1.75 lb one. Heavier machetes are going to tire the arm and shoulder out faster and can become a bit of a liability during a really long day, especially if you don't watch out for wear-based injuries. On the other hand, a lighter blade allows you to swing for much longer periods of time before getting tired but aren't going to create the hard single cuts that a heavier machete can handle.
Your Overall Budget
Pricing and budget is going to always be important when it comes to picking out the right machete. The old saying "You get what you pay for," is definitely relevant here. That being said, there are plenty of $30-40 machetes that work just as well as a premium $80 option. There are plenty of viable options depending on the level of work or quality you need.
Don't expect much from a three-dollar blade, but it doesn't have to be super expensive. A perfectly serviceable machete can be had for $20 or less. Ontario's US-made 18-inch Military Machete model is a proven standard if you shop around.
If you want further resources on this topic, take a look at this great article on buying a machete.
Types of Machetes
There are multiple types of machetes out there and which kind you want will depend on use, need, and even preference. Not all machetes are created the same and a wide variety of different blade designs really opens up the available options. Depending on what you most often need a machete for, one of these designs might be better suited for your specific needs than others.
That being said, some machetes are going to be a bit more common than others because general demand settles around some styles of machete more than others. That being said, there are always regions that are going to be focused on a really specific type of blade but the following down here are going to be basic rule of thumb setups.
Bolo Machetes
The bolo machete is an extremely versatile blade, and because of that it is one of the most popular options out there. These blades can even vary a bit from one example to another, but what distinguishes them from others is that they start out straight but then curve and widen at the end.  This is a Filipino machete, as several good designs are, and the wider blade at end gives additional momentum. From there it is simple physics. More momentum equals better chopping.
These are great for a wide array of uses including, but not limited to: breaking open coconuts, cutting tall thick grass, weeding, harvesting rice, combat/self-defense, or even the slaughtering of animals for food.
Parang Machetes
The parang machete has a very distinctive look that stands out even among most styles of machetes. These often have very thing handles with a slight curve at the bottom, and a long curvy blade that is like the Golok style of machete but even more pronounced in style. These also tend to be heavier than the Golok because of their additional length. These are very popular as options for chopping large sections of thick vegetation and thick stalks.
The design is originally out of Southeast Asia and is ideal for jungle terrain. These are generally heavy duty machetes because they are designed for areas where frequent chopping is a must.
Golok Machetes
My personal favorite choice of all machetes is actually a Golok (#3 on the list further up). These are very much related to the Parang style and are similar in design. These are a "chopper" type of machete that has a solid body and is used for heavy chopping and even the shaping of large wooden parts. These are great for truly wild areas, and are very popular in Indonesia.
Some consider these interchangeable with Parangs, and while there's a lot of overlap they are technically different styles of machete.
Kukri Machetes
This one is a big controversial as many consider the Kukri a unique blade – not knife, not machete, but very much holding its own place in the middle of the two. However, since Kukri blades are much larger than the average blade, it's worth noting that they almost certainly fall into the "machete family" of blades.
Originally from Nepal, these machetes have a worldwide following and are among the most popular blades in the world. They are incredibly well designed blades that can be used as a big time tool for collecting bushes, hacking dry branches, clearing brush, and the Kukri is an incredibly popular blade for combat. In fact to this day they are used by many armies and special forces.
If you're looking for a quality do-all blade that is good for combat or survival as well, the Kukri is a good way to go (we'll be judging Kukris separate from other machetes in a future article).
Bush Machetes
The bush machete is sometimes called a traditional machete (might be basic design but that doesn't make it the most traditional), the Collins Machete, or the Latin machete. This is designed with generally very little curve until the very top. These tend to be a bit wider than your average machete blade and they are designed to be used for a wide range of areas especially in outdoor use. This makes them great for general use although not necessarily the best at any one function compared to other styles.
Cane Machetes
These machetes are specialty blades and very easy to tell apart from others. Used for cutting thick strong plants like sugarcane or bamboo, these blades tend to be a very wide blade that also includes a bladed hook on the back tip. These are heavy duty machetes that tend to be wider but shorter because it's all about bringing the most power into a single swing.
Barong Machetes
These are a very common machete that are known for having a leaf-shaped blade that are wide, short, and single edged. They have incredible slicing power and are even used in hunting and slaughtering livestock as the cutting power behind the slicing design allows these to go right through hide, skin, muscles, sinew, and more.
Billhook Machetes
These are  less common than most other models and are specifically an agricultural tool. They are most commonly found in the grape growing wine vineyards of Europe. These are a big curved blade and are especially apt at using a sharpened inner blade for the gripping and cutting of vines, as well as trees. This makes them specially designed for use in these vineyards.
Bowie Machetes
A larger more extended version of a Bowie Knife, these have become popular in the United States and are seen as an excellent design specifically for wilderness survival situations. These aren't designed for butchering livestock or agricultural use but they are ideal for when you need a large blade for a variety of wilderness survival situations. Solid for hunting, the pointed tip with this machete makes it multi-useful for a wide array of wilderness survival situations.
Panga Machetes
The panga style of machete comes from Africa and has some similarities to the Bolo but these tend to have a very sharp tip, display a broad blade with a slight curve, and has an extremely powerful chopping force. This is very good when it comes to cutting your way through thick woods or chopping thick vegetation. The piercing power is good for a variety of different situations, as well. These are also very popular throughout many parts of the Caribbean.
Camping Machete FAQ
Q: Why are there so many different types of machetes?
A: The blades, as well as the handles, are going to be designed based on what is most needed in an area. In some places the classic blade makes the most sense while in some others a curved or more sickle type of blade is going to make more sense. Different designs for different uses.
Q: What's the best survival machete?
A: This depends on environment, quality of the machete, and a variety of other factors. As in many survival situations it's better to have a B+ tool that you are extremely familiar with than an A+ tool that you aren't familiar with. Kukri is a good option for those not familiar with machetes, otherwise practice using several different styles of machetes to figure out which are easiest or most natural for you to use.
Q: Are machetes illegal?
A: In many places carrying a machete in the United States could be considered illegal. These are considered knives and therefore weapons as opposed to tools, so any area that has rules on fixed blades, you'll need to follow those rules and make sure to stay on the right side of things as much as possible. Not a big deal when on private property and less likely to be an issue in a very rural camping area, but you're responsible for checking the rules for each place you'll be carrying, transporting, or using machetes.
Q: Can machetes be sharpened?
A: The answer is yes, with the caveat that you have a real machete and not some weapon replica. The real machetes are tools that are expected to be used in real life situations. These are not props but actual blades used for real life situations.
Q: What style of machete does Jason use in the "Friday the 13th" movies?
A: While never explicitly stated, and a Hollywood prop versus an actual tool, the machete that the fictional character Jason uses looks like it is almost certainly some form of a bush machete.
Q: What machete does the military use?
A: Most of the time when a military or special forces unit of a nation trains with machetes they are using a kukri machete. These famous machetes are great tools also very much known for combat. There are also modified bolo machetes used in combat, but the far majority of the time the answer to this question is the kukri.
In Conclusion
Hey, I see no reason you should only own one machete. These are awesome tools and a well designed one made from high quality materials will be able to serve you very well. Whether used in a survival situation, for clearing overgrowth, or a variety of other purposes, it's hard to argue with the high quality work a good machete provides. Not to mention the satisfying psychological factors in play from swinging a good blade.
Whatever your specific needs are, whatever your budget, this article shows you all your top options when it comes to the best machetes out there on the market. Read through once or twice, find the best one that fits your needs, and go from there.
Choosing the Best Machete for You Video
Other Blog Posts of Interest