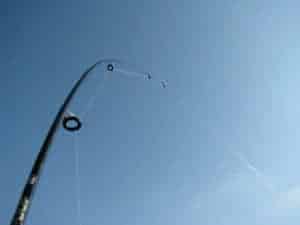 I remember when Dad first tried out kevlar fishing line, all the way back in the early to mid 1990s when some of these "super lines" started coming out. Considering our annual high adventure fishing trip to Canada took us to a lake where we often lost several lures to likely 30+ pound northern pike and muskie slamming into the line, this seemed like a good place to try to the "heavy duty" fishing line made from the same material as bullet proof vests.
While it definitely held, and never snapped, the feel on it wasn't great at the time, and we worried about being able to see it a full 8-10 feet below the surface of green (not clear) water in the lake. While we eventually went back to other types, that was some of the earliest kevlar fishing line going main stream, but the designs drastically improved after our experience – we were just a bit too far ahead of the curve!
Kevlar fishing line is always braided in nature and while it is definitely more of a niche type of fishing line as opposed to the common mainstream choices, but it found its fans when it first starting marketing to go mainstream with your experienced anglers and continues to have a limited but devoted base of experienced fans.
KastKing SuperPower Braided Fishing Line
As far as a pure fishing line that has a versatile number of uses, and isn't just limited to spear fishing, heavy duty saltwater fishing, or a similar niche, it's really hard to argue with what KastKing brings to the table.
A trusted name in the fishing industry, their SuperPower braided fishing line brings the strength of Kevlar to the table in addition to the traditional quality that KastKing lines are known for.
Featuring a strong knot strength, proprietary treatment that allows a strong grip, and solid construction means this line holds up whether you are casting, trolling, jigging, or taking care of any other type of angling.
This braided line is specifically design to resist fraying or abrasion, making it perfect for long time use on your spools. Available in both 5 colors as well as several dozen different test-line strengths and sizes, there are plenty of options available to make sure that you have a high quality braided line that takes care of all your needs.
This is a top notch fishing, and you will fall in love with the outstanding results!

MagicShield Super Dyneema Braided Fishing Line
MagicShield produces one of the most popular and widely used braided fishing lines out there, and among anglers this has quite a reputation. A high quality line braided from strands of Kevlar, the MagicShield brand is well known among the anglers who are fans of braided fishing line.
A crucial part of fishing gear for these anglers, this line is colored black, comes in pools of 500 meters (or approximately 1500 feet) and has been tested for up to 100 lbs of pressure.
That's a whole lot of strength for an item that weighs a mere 3.5 ounces. Make sure you have an outstanding fishing knife because a mere pair of toe nail clippers isn't going to do it when it comes to cutting line.
There have been a few complaints about strength, but many of them seem to go mention situations where there's a very good chance the fish was way above that 100 lb mark – and with fishing line no matter how good a 100-lb test line is, it will not hold a 300 pound hard fighting fish – certainly not most of the time.
So be aware this line has less top level strength than most braided Kevlar options.

EMMAKITES Braided Kevlar Line
The EMMAKITES brand of Kevlar fishing line is one that any angler can purchase with confidence. Not only is this braided line made 100% from high quality Kevlar, but it comes from the Dupont Company, a reliable name that almost everyone recognizes. That type of confidence is a security in and of itself.
This material not only features a very powerful tensile strength but it also has a remarkably high melting point meaning it's not getting burned by accident, not easily with a 930 degree Fahrenheit burn rate, but it also holds up to the constant wear and tear of daily, monthly, and yearly use.
This line is designed for multi-use so it can be a thick fishing line that helps you go after the truly giant trophy fish, but in a pinch it is also a great piece of equipment for outdoor activities including survival situations.
EMMAKITES comes in a wide variety of colors that don't fade, so you're not stuck with a bright yellow line you can often see ten feet down in clear water. This line is also very resistant to saltwater, is tough, and comes in a variety of sizes and strengths – with line as small as 1.3 mm tested up to an incredible 500 lbs.
A great all around option for anyone looking for useful Kevlar line for fishing, other uses, or both.

Dupont Kevlar 400 lb-Test Braided Line
More for spear guns and tactical use, only reason this is so low on the list is because it definitely sits heavily on the cord side of things as opposed to thinner line, but it isn't so thick as to not to be useful for fishing. It's simply important to realize that this is going to be a thicker braid and may only be appropriate for heavy duty saltwater fishing.
Coming from a reliable and trustworthy brand name, the Dupont Kevlar braided line featured here comes in lengths of 50 feet, 250 feet, or 1,000 feet and the color choice are yellow or black (it looks a bit gray to me, but I'm a touch color blind, so trusting what others are telling me). This line is counted as 400 lb test line and has the full level of heat tolerance, abrasion resistance, and overall strength that you expect from solid Kevlar cordage.
This is more of a cord and although they can be used for a wide variety of different activities or outdoor needs, it can be used for heavy duty fishing. The low stretch rates and top notch (some would even say superior) knot retention means your knots will stay solid and you'll get the best possible results from your fishing efforts.

Jigging World Soft Kevlar Line
Jigging World is the very aptly named company that is obviously all about a very specific type of angling, and why not? Jigging World knows what's needed to make sure you have your best shot and bringing in that heavy lunker using jigs.
While they focus quite often on jig lures and hooks, that doesn't do much good without a high quality fishing line that holds up to even the sharpest strikes.
These are available at 160-lb test line and 200-lb test line, giving plenty of strength to hold up whatever may come while you are out and jigging. While this is great, the obvious most common frustration that comes up is the limited amount of line seeing as how these only come in strands of 10 meters (33 feet).
While line can be tied together using the right knots, or this might be okay for a shallow lake, any fish you catch of serious size is going to require a lot more than this. Even if using this as a tie on: why add that potential extra weakness?
The line itself is soft, very easy to work with, and plenty strong. On that level these definitely get it done.

Sea Green Braided Kevlar Line
An excellent way to end the list, this Kevlar line is definite designed with multi-use versatility in size. This braided Kevlar line has a 70 lb break strength and is very fine in diameter, meaning it is thin enough for a wide array of popular uses, including fishing.
Dyed green to help with fishing as well as UV resistance and the ability to work as camo in survival situations, this line is resistant to wear and cutting and the spools offer an enormous amount of line.
The minimum length offered is 300 yards (900 feet) but shipments can be made of up to 400 yards or 1200 feet per spool.
That is a lot of Kevlar line, and its durability and versatility is a major part of the reason that this one is so popular. The line is fire resistant (but not fire proof), and while this is designed with the Kevlar line itself as sort of the end goal, as opposed to the use, this Kevlar line will offer the type of versatility that still allows anglers to fish with confidence that their line will hold.

Kevlar Fishing Line FAQ
Q: Is all Kevlar fishing line also braided fishing line?
A: Yes. Kevlar line is made by braiding several threads of Kevlar together to create a solid piece of fishing line. Not every type of braided line is going to have Kevlar as a material, but every type of Kevlar fishing line out there is going to be braided.
Q: I've heard negative things about Kevlar line like it being too easy to spot in the water or not as sensitive to strikes, are these problems true?
A: These were actually really common problems when braided Kevlar line was first coming out to the mainstream angler and truth be told compared to the premium fishing lines out there today there might still be a shred of truth to these complaints via comparison but they are not nearly the problem they used to be, and there are plenty of positives that come with the good Kevlar braids, as well.
Q: I thought Kevlar line was used for tactical cording and not fishing – what gives?
A: Kevlar is an incredible tough and versatile material. This is a major part of the reason they are used for bullet proof vests, and as a nearly unbreakable material that can be put out in braided or rope form, it is more popular and well known as a survival cord or survival rope material.
Q: Can Kevlar line be used with my speargun for underwater saltwater fishing?
A: Yes. In fact there are many anglers who prefer a Kevlar line when they go spear fishing because of its strength and reliability.
Q: Can all Kevlar braided line or cord be used for fishing?
A: Nope. A lot of Kevlar cord or line is labeled that way but is designed for more heavy duty use and wouldn't be appropriate for any type of fishing. You need to do a little bit of homework and make sure the line you're looking at is either designed specifically as fishing line or is thin enough and versatile enough to be used in that way.
In Conclusion
This post was a bit of an education to me, as well, seeing as how I always thought of Kevlar fishing line as its own type, not just a sub-set of braided fishing line. Then again, the ideas, names, and preferences many of us form come from other anglers so since Kevlar line was "another type of fishing line" when fishing with Dad, my mind just kind of put it in that compartment.
While our early experiments with Kevlar line came with mixed results, it was still in the rotation whenever we went north to Maki Bay, Ontario, and I'm delighted to hear advancements continued to be made to make it better and better, even as breakthroughs with a stronger and more flexible mono-filament line helped them take a bigger share of the market.
As we do more comparison articles and look at the different types of fishing line out there, we'll be sure to update with the links right here to make sure you have all the information at your fingertips for making an informed buying decision based on your specific needs.
What type of braided fishing line is best video

Other Articles of Interest