Carp fishing is one of the most interesting types of fishing to tackle because of how differently it is perceived from one place to another. This fish is the living embodiment among anglers of "One man's trash is another man's treasure."
In Europe and Canada carp are considered legitimate sports fish and are extremely popular while in other places like the United States they are often considered by many to be more of a junk fish and not really desirable at all compared to bass, pike, trout, or whatever other more "popular" game fish might be common close by.
Obviously this means the demand for good carp fishing gear is going to vary wildly depending on your area and the tastes of local anglers. Is carp a desirable species in your area? Are there plenty of recipes for smoked and stewed carp that makes the fish a great food source, or are you in an area where they are considered more or less a junk fish, not worth spending any time on?
There are a lot of varying feelings when it comes to carp fishing, but there's a lot to like about what this common and large growing fish has to offer.
Introduction to Carp Fishing Gear
There are many great types of fishing out there, and carp fishing is quickly becoming one of the most popular, making carp fishing gear higher demand products, as well. In the United States the process has taken much longer to come about as catfish, bass, walleye, trout, salmon, and northern pike are all extremely popular while carp has long been one of, if not the, most popular fresh water fish for anglers in Europe.
Because of this, European anglers designed and developed some of the best carp fishing gear around. There are many different styles of carp fishing, which use a variety of different fishing techniques and carp bait in order to give anglers the best chance at landing a giant trophy. While many anglers are beginning to come around to the idea of chasing the big carp, they still need an education to be fully prepared to chase these giant game fish. And the right carp fishing gear to land that giant when they hook it.
Why Carp Fishing?
My interest in carp fishing really took off around 2002. We grew up fishing because there was nothing our Dad would rather do than camp and fish, and although it was usually walleye, bass, and northern pike, once in a while we would hook a 10 or 20 lb grass carp and enjoy the fight.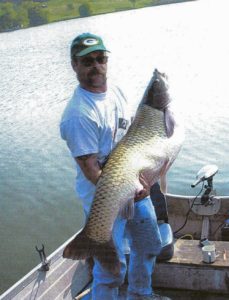 However, our small little slice of camping and fishing heaven growing up, Hannen Lake, ended up being home to something no one who has ever been there would predict: a potential world record carp. Our Dad was fishing for some bass, of which there were almost certainly some 10 lb+ area bass (he once caught an 8 lb one, and he wanted the state record).
During one of these outings he hooked something that then began towing the lightweight boat all the way across the lake one way, then turned and towed it the other way.
At the end of a battle that took over 45 minutes and had some of the local old guys at the doc watching in extreme interest (who also were fortunate to have a camera on hand), finally Dad brought in this bad boy (he's #5). If a brand new world record can't get your attention then what will? Soon after that was my first experience with some great smoked carp (not from that fish) and my interest was piqued.
Not sure they will ever replace the fight of a northern pike or the taste of a freshly caught salmon, but my fishing world has expanded, although that is with the caveat that I need to be in an area where I know someone who loves to smoke it because that end result makes all the difference!
Carp fishing is alive and well, and I'm definitely glad to have expanded my personal fishing experience to include these often underrated fish.
Finding a Good Carp Fishing Rod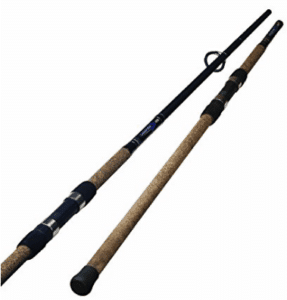 When you're talking about high quality carp fishing gear, one of the first pieces of equipment you need to look at acquiring is a good carp fishing rod. Now this can get a little bit complicated because a large measure of what constitutes a great fishing rod depends on what type of carp you're fishing for and the specific challenges that come with where exactly you are fishing.
The ideal fishing rod for reeling in a giant trophy carp in Europe (maybe even during the World Carp Angling Championships, perhaps) can be vastly different than the rod you'd use in up state New York in order to catch a bunch of smaller 5-10 pound grass carp.
There's also the question if you're going to use a single rod in a more traditional way of freshwater fishing, or if you're going to use an adjustable rack called a "pod," which many carp anglers will use to fish three rods for carp at one time from the shoreline. There are voracious carp anglers from Europe who will carry over $1,000 in special carp fishing gear to chase down their favorite sports fish.
If you don't have the money for this type of set up, there is some good news. Plenty of "carpers" enjoy plenty of success with a simple fishing rod. For the beginner, many fishermen will recommend medium action fishing rods that are at least 6 feet long or even more. This gives you a good chance to land big carp while enjoying the fight – and without sacrificing the feel you need to still enjoy catching smaller to middle sized carp.
So if you're looking for a great beginner's carp rod, that's the way many anglers will tell you to go.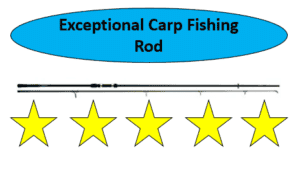 Some Of Our Top Picks For Carp Rods
Keep in mind that these can certainly change from year to year and based on what level of fishing you're doing or what your main goal is, you may very well find the best rod for you is one not even on this list.
However, this is a great starter list to find excellent fishing rods that will hold up and help not only with enjoying fishing for carp but also act as great starting rods for any type of freshwater fishing experience!
Three major rod brands you need to look at are:
Daiwa Maddragon & Mission fishing rods
Okuma fishing rods
Ugly Stick Elite fishing rods
We will go over these rods a little bit more, and there are plenty of other great fishing rods for carp but if you're looking for a solid fishing rod that has a reputation for being reliable year after year, you'll want to take a look at some of these following ones.
They are consistently listed as being among the best of the best by avid carp anglers, and it is a well earned reputation.
Even if you're just testing out the carp fishing waters, so to speak, having a normal fishing rod is fine but you want to avoid the ultralight and go for medium action rods with 12 lb test line at a minimum – and possibly more based on local populations. These will work just fine and help you get hooked on the possibilities that carp fishing has to offer.
Great Carp Fishing Tackle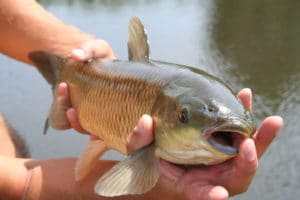 One of the most stunning differences that brand new carp anglers will find when fishing for carp as opposed to other fish is how "set it down and leave it alone" carp fishing can be for long periods of time. This isn't bass fishing with rapalas or other constantly moving jigs or bait.
For carp angling, the best carp fishing lures are often actually strong smelling bait that get tossed out into the water and then the anglers wait for the carp to come and feed while the rod can be held or even set in a rod holder.
Many experienced carp anglers will tell you to bring more than one rod, and to be prepared to enjoy nature, as long quiet waits will take place as you wait for the trophy carp to show up and really take the bait. Because of this, the question about what makes the best carp fishing lure can be really deceptive, because usually the answer is no lure, but to catch trophy carp you will want
Carp Fishing Bait
While many anglers like the cleanliness of tackle or lures, and my dad's world record was caught on a rapala of all things, most avid carp anglers agree that bait is definitely the way to go if you consistently want to catch the attention of local carp. Smelly is good, sticky is good, and by setting them near the shore where carp are likely to find pockets of solid feeding anyway, that's a good setup.
Carp tend to be much more responsive to bait than artificial tackle and lures, but of course this can vary quite a bit and in some cases you can make a nice combination of bait on the hooks of artificial lures to get the best of both worlds when it comes to carp fishing.
Advice on Shopping for Carp Fishing Gear
It can be hard to find good advice on where to find really good carp fishing gear. One of the best bits of advice is to ask any local carp angler. When it comes to fishing for any type of fish, asking the anglers who have spent years at it makes the most sense. An avid carp fisherman is going to be able to give you much better advice on buying really good and effective gear as opposed to an angler who has gone mostly after trout or bass or something else.
The second obvious option is to look online. There are some fantastic websites online about carp fishing, and I've included several of the most helpful links down below. Carp fishing fans will talk about all aspects of angling for carp, and because of this you should be able to find plenty of advice on what type of fishing tackle and gear to consider purchasing and (just as importantly) which to avoid like the plague.
Oh, and you might want to consider finding a good portable folding fishing chair while you're out and about.
More on Carp Fishing Gear
There is so much information that could be covered on picking out good carp fishing gear. In Europe, fishing for carp has been considered a major and legitimate pursuit for decades, and professional gear from there can range in the thousands of dollars. Obviously most novices are not going to be able to afford that type of investment early on.
The other major issue that could come up is that it is much harder to find quality carp fishing gear in an American sports or outdoor store as opposed to a similar shop in Europe where carp fishing is, at the present time, far more popular.
That said, there are some general things to look for. If you're looking for higher end carp rods, graphite is common and Kevlar is also popular – although pricier, options for the carpers. You will also want to have a reel that holds a minimum of 150 yards, because these guys can run! Look for 12 lb+ test line, and if you're on a budget there are cheap graphite rods to start out with.
Once addicted to carp fishing, there will be plenty of fellow carp anglers to help guide you towards better and better equipment.
Don't be afraid to ask for help! I've rarely met an outdoorsmen who didn't love to talk about their particular sport of choice, and carp anglers are no different, so take advantage of their knowledge and recommendations!
Consider a Good Fishing Chair
Carp fishing is growing in popularity, whether it's with anglers who like to catch up on their reading while by the lake, or by serious sportsmen who are willing to wait for the freshwater fight of a lifetime. Finding a great fishing chair is a huge part of staying comfortable by your land rods while waiting for some trophy carp to take the bait. While some people are still going to prefer the boat to sitting on shore, there are plenty of portable fishing chairs available for individuals who like to lounge on shore in pure relaxing bliss while carping.
I hope you found the rest of this page on carp fishing gear helpful. Like many Americans, I was all about the bass fishing and trout fishing until one day shortly after I graduated college when my Dad called with some strange words: "I caught a world record out of Hannen Lake. It's a record for grass carp for this test line." He received a plaque from the world fishing hall of fame, a pin, and a hat. It had taken two hours, and instead of a bass hitting that day a carp hit the rapala and tugged him up and down the lake, and he got his name in the record books.
Whatever your experience with carp fishing, there's a reason that Europe has gone bananas over these fish and this is a trend that many American carpers hope will follow "across the pond."
Catching Onto Carp Fishing
There's a lot to love about carp fishing, but it's not going to be for everyone. Let's face it: often times there is a special place in the heart for the specific type of fishing that you enjoyed as a kid. Bass fishing, pike fishing, trout fishing, walleye fishing are more likely to stay popular in the United States but there's a reason carp fishing is popular throughout much of Europe and why shouldn't it? Carp fishing is fun, it can be done almost anywhere because of how hardy these fish are, and a good smoked carp is hard to beat.
So whether you're a long time carp angler or a longtime fisherman looking to give it a try, why not go back out to the water to set up a great carp fishing camp today?