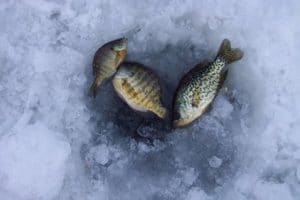 If you're new to ice fishing, it's understandable if you forget some basic pieces of small but useful (and important) pieces of equipment. While certain things like top notch ice fishing rods or gas powered ice augers make sense and are hard to forget, then you have things like polar gaffs, fishing bite alarms, or yes even ice skimmers. While they might be little in comparison to a really good fishing rod, tough line that will take a beating, or the auger that will develop the perfect ice hole to fish from, your experience will definitely be much easier and smoother if you have a quality ice skimmer on hand to keep that hole clear!
One of the things to remember if you're ice fishing for the first time or just getting into it is that you are surrounded by freezing temperatures, freezing water, and ice. Because of all those circumstances and the normal outside temperatures, the water that is exposed will start freezing up and icing up.
The laws of nature don't stop just because you want to keep fishing even in the winter time! The good news is that there are several solid options when it comes to finding the perfect ice skimmers (sometimes referred to as ice scoops) to choose from, so take a look at this list, find one that works for your needs, and add it in to your ice fishing gear so you can spend less time shopping and more time grabbing that trophy sized fish through the ice!
Celsius Telescopic EVA Handle TS-3 Ice Skimmer
Made from only the highest quality of materials, while the Celsius name might not be a well known as Berkley or some of the others on this list, they create an outstanding ice skimmer than can last for years, is easily adjustable (telescopic) based on you specific needs and the thickness of the ice, and the metal construction is major positive.
There might not be too many points on a checklist for what makes a good skimmer for ice fishing purposes, but the TS-3 ice skimmer hits all the main points. Made of metal? Check. Plenty of reach? Check. Built to last multiple years as a permanent part of your ice fishing gear? Check. Add in a relatively inexpensive price point and there's a lot of reasons to love what this particular model brings to the table.
This is one of the most heavy duty ice scoops out on the market, and is further reason why I'm a huge fan of this skimmer and have it as the top rated ice fishing skimming spoon out there!

Berkley Ice Metal Scoop
Berkley is a brand name that virtually every sports angler is going to recognize, and it's a big enough fishing brand that even most casual anglers will instantly recognize it in most cases. This all metal skimmer is a solid one piece design (no telescopic or adjustable abilities) that is built to last and includes an easy grip handle to make it easier to use.
The solid steel construction is top notch and the inclusion of an ice chisel is just bonus. The handle even has marked engravings to work as a ruler for up to 15 inches, making it easy for you to determine at a glance if that most recent fish is legal size or not.
Good for holes 6 inches in diameter or larger, this solid one piece scoop has several solid reviews and comes from a company that lives and breathes outdoors. This is a very solid option that has something rare going for it: it's built to be versatile and multi-functional while also being built with solid metal to last. That is a 1-2 combo that you can have confidence in!

Frabill Ice Skimmer with Chipper
One of the most popular options available, Frabill's ice skimmer with chipper is simple but effective, with a pure metal construction that is bare bones without much concern towards aesthetics. However, this ice skimmer is built for practical use not only as a top notch scoop but the handle also is sketched with inch long marks to act as a rule, while the top of the handle also seconds as an ice chipper.
The ruler is stamped up to 15 inches, and this is a verified 6 inch diameter scoop that will work for any holes in the ice of that size or larger. The metal construction means that this skimmer is absolutely built to last and it can be an excellent piece of your ice fishing gear over the long-term.
One thing of note: this is a solid metal build and that means this is one of the heavier ice skimmers out there. While this isn't a big deal seeing as how even a "heavy" skimmer just isn't going to weigh that much, it is something that is worth noting.
However, it's also worth noting that extra bit of weight could very well be the reason many ice fishing enthusiasts have picked this out as the ice skimmer with the most effective ice chipper/pick attached.
This is a popular choice for a reason and an excellent option for your next ice fishing outing.

HT ICS-3 Iceman Ice Skimmer
Made of metal and coated with a good looking black finish, the HT ICS-3 Iceman is an excellent choice when it comes to available ice skimmers, even if it isn't as widely known as some of the others higher on this list.
This solid metal skimmer measures out with 22 inch long handle that ends in a blunt rectangle that works as an effective ice chipper.
The scoop is a bit flatter than some other designs, but works fully effectively and can help to more easily corral in the loose ice from a slightly wider area. The quality here is undeniable, and the solid manufacturing means a reliable product that doesn't have to be bought over and over again but which works effectively even with just a one time purchase.
This is an excellent option among all the available choices, and the darker color does make it much easier to spot and keep track off when looking at snow and ice as opposed to the more conventional silver that is otherwise used for most models.


Jiffy 1840-D Ice Dipper
The 1840-D ice dipper from Jiffy rounds out our top 5 list for the best ice scoops for ice fishermen currently on the market. Brighter and with more of an eye towards a pop out aesthetic look than others, this might look more like a spoon strainer that belongs in the kitchen as opposed to a consistent piece of ice fishing gear yet it has received an array of good and very good reviews among anglers who have this budget-friendly option a shot.
Featuring a bright silver metal handle, a black scoop, and a yellow ice chipper at the base of the handle, the design might also be a favorite of Iowa Hawkeye fans who want everything in black and gold.
Designed to function well in sub-zero temperatures with their patented "D-Icer Armor," this specific piece of ice fishing equipment is a great addition that will stick out against snow and ice, and when push comes to shove it gets the job done.
Not the highest premium option on the list but definitely a solid choice that shouldn't be discounted out of hand.

Advice: Go Metal Over Plastic
While there are inexpensive plastic models that can often last you through a season, again and again I hear from anglers that you should definitely go metal. The metal ice skimmers to keep a fishing hole clear are still relatively inexpensive and will last multiple seasons which makes them a much better long-term investment.
This is the old argument of paying more up front for one item that lasts years or even decades so you're not buying a new cheap one every few years. While cheap plastic builds might seem tempting, metal skimmers for ice fishing are generally much higher quality, will last longer, and if you are going to go plastic at least make sure it is heavy duty plastic that will hold up as long as possible so you get some value out of it.
There are guys who have had plastic ice skimmers that have lasted for years – but why take the chance when it usually only takes a couple bucks more to buy yourself the security of solid construction and materials?
Note: There are many metal handles with plastic scoops that work fine – we just don't like seeing cheap plastic handle, cheap plastic body, and cheap plastic scoop. That's not a great product to invest in. Very hard plastic as the spoon connected to a solid metal body? That can absolutely work.
In Conclusion
There's a lot to absolutely love about ice fishing, and the better equipped you are for all your needs the smoother any time out on the ice is going to be and the better your overall experience. While ice skimmers and scoops can seem like a really minor piece of equipment, and in the large scheme of things they are, having a good one on hand helps you to make sure the fishing hole stays clear the line doesn't rub against any ice, and you will be able to fully enjoy your time out on the frozen lake, pond, or river.
There was plenty of information given in this article to help you find the right ice skimmer for you and your specific needs. Take a look at the video below for more on why ice fishing can really be an incredible experience, or if you are a relative novice make sure to get all the equipment you need to get started by checking out our articles on the best ice augers, top rated hand warmers, or Jon's article on the best portable fishing chairs.
Some incredible ice fishing on Lake Erie