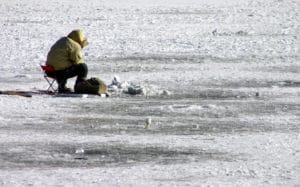 There are some people who just live for ice fishing, and while I was a bit dubious the first couple times I went out on the ice, it did not take long for me to become a fan.
While it might not be as high on my list as some other forms, it has a strong charm and admittedly when in a more established shack with the right people can be amazing, as Anthony Bourdain found out while in Quebec (Video Clip Here). However, a major part of any ice fishing experience is having the right equipment ready to go and that means if your ice auger just isn't slicing through the ice like it should be, then it might be time to bring in some ice auger replacement blades to get it back up to full speed once again!
There are many choices when it comes to finding the ideal ice auger for your needs, but no matter how well you keep up your equipment, you will need to make sure to keep the blades sharp and in top working order if you want to keep things smooth on the ice.
Important Note: While many of these types of articles we do go relatively from best choices down to very good (we try to cull out anything average or worse so you don't have to dig through all that), in this case matching up the replacement blades with the ice auger you use is far more important!
Strikemaster Mora Hand Auger Replacement Blades
These blades are designed specifically to replace dull or broken blades for the Strikemaster Mora hand augers. While these are excellent augers and well known for their quality, as with any hand auger that gets used year after year, sometimes you're going to need some replacement blades.
Manual ice augers are built for the long term, and that means no matter how good a job you do taking care of them, you will eventually want a good replacement in line. These are perfect for Strikemaster owners and will help you get back on the ice and get the space open to put your line down for those hungry fish below the surface!
These are made out of a high alloy carbon steel, one of the preferred materials for consistently sharp and reliable blades. This also makes them resistant to rusting, which is a definite positive since you're cutting through ice and dealing with snow, slush, and water.
These are available in three different sizes:
6-inch blades
7-inch blades
8-inch blades

Strikemaster Lazer Blades
The Strikemaster Lazer is an outstanding example of a great gas-powered ice auger, and one that is incredibly popular with a wide array of ice fishing fans.
Manufactured in Sweden, these are high quality and sharp blades, not some cheap Chinese knock-off, and can cut through even the thickest of lake ice with ease.
They are perfectly crafted and designed to work on the Lazer brand of Strikemaster ice augers, and have a great reputation for keeping an edge.
That's good news for anyone who went through our list of the best ice augers and dug down to go with the Strikemaster Lazer auger for ice fishing will be happy to know that they should never have a hard time finding high quality replacement blades that can take over for year or decade old blades that are beyond the help of another go with the sharpening stone.
Available in 6, 7, and 8 inch replacement blades, there is going to be an option that is right for you and your specific needs!

Eskimo Hand Ice Auger Standard Replacement Blades
Even the absolute best augers are going to eventually need some replacement blades. While the first two entries strongly cover the Strikemaster brand and some of the most popular options available to those users, obviously we have to have something by the Eskimo brand here!
Eskimo gas powered augers and Eskimo brand hand ice augers are some of the best out there. This is another reliable ice auger that many avid ice fishing enthusiasts have used for years or even decades.
These are the standard replacement blades that can easily be brought in when the time is right and with the right screws and nuts to make sure that the fit is perfect. These blades are available in all three common blade sizes of 6 inches, 7 inches, and 8 inches.
These are outstanding blades that have an especially strong reputation for their sharpness and ability to cut through even the thickest and densest of ice. If you need replacement blades for your Eskimo hand powered ice auger you won't be disappointed with these!

Strike Master Ice Augers Replacement Chipper Blade
This is the all important chipper blade for the ice auger, designed specifically to be used for the Strike Master ice auger. These are extremely well designed and are the perfect fit for Mora's Strikemaster line of gas powered ice augers.
This has a reputation for being easy to attach and detach – and it is made with the quality that you want from any piece of gear that is being used to make sure you get to stay out on the ice to chase after those hungry fish.
This comes in sizes of 8.24 inches & 10.25 inches, and is great to have along in case of the sudden need for an extra (which can happen if you hit a large rock frozen in the lake). The reviews for this replacement ice auger blade have been overwhelmingly positive.
The only drawback that consistently comes out seems to focus on the protective case for the ice auger blades, which don't appear to have the same durability standards as the replacement blades themselves.

Strikemaster Replacement Lazer Mag Blades
These replacement blades look shiny, they look good, and this is one case where looks don't deceive: they actually give you the right idea. These replacement ice auger blades are made out of stainless steel and are serrated in nature, giving them the design and material needed to carve right through that ice.
These are a great replacement option to Strikemaster Lazer ice augers and will make sure that you won't miss a beat when you get back to setting up your next fishing holes.
In fact, there are many experienced ice fishing anglers who swear the replacement blades are consistently much better than the ones that come brand new with a new ice auger. The auger size is actually stamped on the blades and it's not hard to see why these are so popular.
If you need to replace out the blades, these are a great option that are relatively inexpensive and will help you to get the job done. Those fish won't be safe as you continue to drill new holes and drop those lures before pulling in yet another amazing catch.

Eskimo Replacement Quantum Ice Auger Blades
Available in both 8 inch and 10 inch sizes, these replacement blades from the Eskimo brand of ice auger are all about taking care of your gas powered ice auger needs. While we covered some replacement blades from this brand earlier in the article, those focus on the manual ice fishing augers while these are all about keeping the Quantum ice augers powered up and running!
These replacement blades are extremely well designed, built and engineered in a way to help guarantee the maximum amount of penetration through the ice so you can get back to creating the perfect spots to work your ice fishing magic.
These tend to be a bit more expensive than some of the other comparative replacement blades but as these are specially designed to work with the Quantum Ice gas auger from Eskimo, that makes a bit of sense.
Premium blades for a premium gas powered ice auger that will keep you on the ice and pulling in those stringers of fish!

How to Replace Ice Auger Blades
If you've been using the ice auger recently and it just isn't cutting quite like it used to, or you even find yourself having to push down on the ice because it just isn't making headway otherwise, then it is definitely time to look at replacing the blades on your auger.
Remember to be careful around the blades at all time. While these might be dull for cutting through three feet of thick lake ice, that doesn't mean they're not sharp enough to slice the hand open if you're not paying proper mind!
What You Will Need
You will basically need the proper wrench for your ice auger. On many of them the answer is going to be an 8 mm house wrench, however you may need to adjust sizes depending on the specific type of electric or battery powered ice auger you use.
The main point is having a hose wrench you can use to loosen and undo the connecting bolts so you can get the old places off and the replacement blades on.
Replacing the Blades
Step #1: Remove the blade guard
Obvious, but you need full access if you are going to be able to change out the blades.
Step #2: Loosen both bolts on one side of the blade carriage
Remove the bolts one at a time, careful to mind the blades, and move them to the side. You want to hold the side of the blade in place as you do this to keep it from wriggling in a dangerous manner.
Do not lose these as they are crucial to putting the new blade back on! Once both bolts are removed you can remove the blade.
Step #3: Rotate the auger over and repeat step 2 on the other side
Remove the bolts on the other blade, which then allows you to remove the second blade that needs replacing, as well.
Step #4: Replace with new blades
Make sure to use new blades. While we like re-sharpening blades with a lot of things, it is worth noting that with ice auger blades that sharp original angle matters and you can't re-create that with ice auger blades that are re-sharpened or re-purposed.
Do this by lining up the blade, place one bolt in place, then the other. Make sure the blade stays lined up, and once the bolts are minimally secured you can tighten the bolts.
Step #5: Repeat step 4 with the other side
Follow the directions from step 4 for the other blade so both new blades are now fully secured.
Step #6: Dispose of the old blades safely
Step #7: Put the blade guard back on
How Often Should You Replace Your Blades?
This is going to depend on a variety of factors including how often you use your ice auger, if there is any damage on the blades, and also if there is any rust. Generally though, any time the blades are damaged, rusted, or you see a noticeable decline in performance, it's time to order those replacement blades!
Replacement Auger Blades FAQ
Q: Do I have to use actually company auger blades that match the auger, or can I mix and match for a better deal?
A: Generally speaking, you absolutely should use the replacement blades made by the same company as makes your auger sine they are going to know the precise measurements and the precise fit. While there are some Yankee Tinkerers out there who might be able to mix and match or make generic work, going with replacement
Q: How often do I need to replace auger blades?
A: The answer to this question is going to vary greatly depending on several factors. These include, but aren't limited to, if you use a sharpening stone and how often you maintain the blades, how often the auger is used, if the blades and auger are properly stored, as well as the overall quality of materials and design in the ice auger.
Q: How expensive are replacement ice auger blades?
A: The exact amount is going to vary depending on the model and who you buy from, but generally replacement blades are quite inexpensive and even on a tight budget you should have no problem getting what you need to get the ice auger up and cutting again.
Q: How do I replace auger blades?
A: Make sure the replacement blades are sharp, disconnect the nuts and bolts keeping the old ones connected, then attach the new ones using the proper tools. Most require a ratchet wrench.
Q: I don't see the blades I need – where can I find replacements for ______ model?
A: There are many options available, and sometimes the best place to look is on the company's website for further directions or purchase options.
In Conclusion
There's no question that a good gas powered auger can be an amazingly helpful piece of equipment when you head out to the ice, but you also need to make sure that all your blades are sharp and ready to slice right through. Nothing counteracts the benefits of an electric ice auger or gas powered ice auger than dull blades that don't want to make a full cut down through the frozen surface. Make sure you have these backups on hand and you'll make sure a day out on the ice is just as much fun as you want it to be!
Good YouTube Video on Changing Out Ice Auger Blades