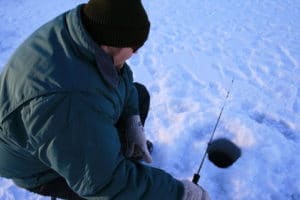 Some people are perfectly fine with three seasons for fishing. Then there's the group that stares death daggers at you at the mere idea that there's a season where no fishing takes place.
This dedicated group of four season anglers might have it easy in a state like Florida, but what about those of us used to terms like "Severe wind chill, frozen over lakes, and double digits below zero?"
Ice fishing is not only an angling option for brave North men and North women who need to scratch that fishing itch, but for some it is the best of all the fishing seasons.
This only works if you're prepared, and that means making sure you have the best ice auger possible, blades sharpened, and ready for the next ice fishing season!
Choosing from the Top Rated Ice Augers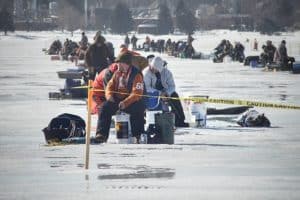 There are many different factors to look at before choosing the right ice auger for your specific winter fishing needs, and it's important to really think about your needs and preferences before making the investment. Many winter anglers love the speed and strength of a modern gas powered or electric powered auger, but you have traditionalists who not only love the work that goes into the manual making of the fishing hole but also point to the fact that a manual auger is a simple but effective tool that should be able to last decades – which most gas augers will almost certainly not match given a long enough timeline.
Then there are innovative companies like ION that are creating new designs and using electric batteries to bring more power and reliability to power ice augers while also providing a green solution that doesn't require gas, oil, or propane to use. There are many options out there, and by reading on you'll not only see our picks for the absolute best ice augers out there regardless of type, but also learn what features to look for, frequently asked questions around picking the right article, and important general information on ice fishing.
So read on – and get yourself the right auger to start your ice fishing season off right!
ION 40V Electric 8-Inch Bit Ice Auger
ION not only provides an amazing auger that takes away the hassle of manually drilling a hole in the ice, but it is also the only model on this list that is electric as opposed to gas or manual. This cutting edge design features a heavy duty battery to bring all the power needed to really punch through the ice and let you set up that perfect fishing hole.
There's a lot to like about what this ice auger brings to the table. For a heavy duty ice auger it is relatively lightweight, clocking in at an incredibly reasonable 21 pounds, and the design features a large trigger button for easy on/off switching as well as a handlebar design that is widely spaced out for ideal balance. The large lithium ION battery not only comes with a good battery charger but provides more than enough power to hammer out those holes in the ice.
The auger itself features steel construction and is naturally set to drill holes that are 8 inches in diameter, although there are different bits and connection kits that can allow that to be upgraded to 12 inches.
Electric ice augers aren't common and in fact this is a fairly new invention, however it has quickly been recognized as one of the absolute best augers out there and works without needing gas, a major benefit.
The ION has been heavily tested and is earning extremely high marks from experienced ice fishing enthusiasts who have put it to the test over several winters and many, many outing, and give their approval of this premium electric ice auger.


Eskimo Hand Ice Auger
The Eskimo hand ice auger is a prime example of top notch craftsmanship that creates an outstanding piece of equipment that every ice fishing enthusiast can appreciate. This particular model of hand ice auger comes with 6, 7, and 8 inch auger blades allowing for a versatility that winter anglers will find incredibly useful.
Cutting clockwise, this ice fishing auger is extremely easy to use, gets the job done, and consistently receives incredibly high ratings from users who have tried a wide array of manual augers and really appreciate the full level of quality that Eskimo brings to the table.
The bolt in the center allows the handle to come off of the auger for easy packing and transportation when you are going to and from the fishing hole, another added bonus to the fine construction. Comes with excellent blade protectors that will help to keep the auger blades sharp.
The ratings for this ice fishing auger have been extremely high, and it's easy to argue that the Eskimo hang auger really is the king of the manual metal augers. If you like the dependable classic models then make sure to give this one a try!


Eskimo Mako 43cc Quantum Ice Auger
The Eskimo brand is going to be one that appears several times on this list, and that should come as no surprise at this point. They are a renowned brand among ice anglers for good reason, and while there are several sub-models among this brand (rocket, stingray, mako, shark) and any one of them will hold up to the incredibly high standard of quality that this company is known for.
While they are all similar and almost interchangeable, this doesn't mean that they are perfect clones of one another. Out of the several exceptional options open to the avid ice fishermen, the Mako 43cc is our pick for the king of the pack, and it is a truly high quality gas powered ice auger that you can rely on.
Aside from the 8 inch diameter auger to make a fishing hole of proper size (also worth noting that a 10 inch diameter auger is also available), this ice auger has a working length of 42 inches and a 30:1 gear ratio that helps support the high-performance engine that anglers love. Why spend tons of time out in the open making that hole when you can drill on through?
Add in special handlebars with comfortable foam grips and over 50 years of experience as one of the top names in the filed, and it's not hard to see why this outstanding ice auger lives up to its name. One of the top names in the business, if you go with an Eskimo, you're not going to be disappointed with the results!


Strike Master Ice Augers Lazer Hand Auger
Featuring blades that are made of stainless steel and a chrome alloy, this hand auger for ice fishing from Strike Master is one of several that the company offers, but it's hard to argue against Lazer as being just a sliver above the other high quality manual ice augers that Strike Master also produces.
These blades are available in every size from 4 to 8 inches, giving a wide array of options and ability when it comes to finding the perfect blade to auger out a perfect hole for your next ice fishing outing. Soft rubber grips are comfortable on the hands, and the handle is adjustable allowing it to go from 48 inches to 57 inches.
StrikeMaster Lazer augers have a reputation for their ability to really turn those rotations per minute into a quickly created hole perfect for all your winter ice fishing needs. The less time you spend auguring (that's a verb, right?) out a fishing hole in the frozen river or lake water, the more time you can spend actually fishing.
These precision manual hand powered augers are some of the best on the market and a great addition to your winter gear list.


Heavy Duty Eskimo High Compression 40cc Propane Quantum Ice Auger
There are manual ice augers, there's one major electric one on the market, and then there are several people who want the speed and power that comes from a high quality gas powered auger. This heavy duty ice auger from the Eskimo brand is the definition of "heavy duty" and gives the ice cutting power that anglers are looking for who would rather spend more time jigging for walleye, trout, bass, or pan fish instead of staying out in the open slowly chipping away at the ice.
Propane powered, this is an ice auger that has plenty of power and torque, and yet is actually very reasonable noise wise, especially compared to many other similar gas powered models manufactured by other outdoor companies.
There are many major compliments from experienced winter anglers when it comes to the drilling power of this auger as well as the clean and smooth bore of the hole. Definitely one of the strong points of this model, as well as the durability and dependability.
There are a few reports that the initial construction can be a bit finicky, so have some WD-40 on hand, but with a little patience you shouldn't have too many problems getting everything to fit together perfectly and be that much closer to your next positive ice fishing experience.


XtremepowerUS V-Type 55CC Gas Ice Post Hole Digger
XtremepowerUS is a name brand that seems to actually be a bit divisive among many ice fishing enthusiasts. While some people point to the 55cc of extra power and the ease of handling this particular model of ice auger, there are those experienced anglers who also argue about its relatively small size and have stories of taking 20 minutes to start like that lawnmower from your youth that was well past its prime.
Not the type of problem you want to deal with when you're out on the ice.
Equipped with an 8″ ice auger bit, this gas powered auger features 1090W of output power which is how they manage to get a full 55cc of displacement. There are larger bits available if the initial one doesn't quite do the job, though it can dig through up to three feet of ice, so that's a pretty solid depth.
Weighing 28 lbs, there are plenty of reviews of this auger getting the job done and lasting through an incredible number of uses, though the complaints of it being a bit small and hard to start are common enough that we had to knock it down a few notches off the top.
All in all still consistently a great value more often than not.

Strikemaster Ice Fishing Mora Hand Auger
One of several hand augers that we recommend on this page, the Mora line from Strikemaster lives up to the brand name by offering a quality manual auger option for a price that won't completely bust the budget.
Available with 6, 7, or 8 inch blades, all made from the same exceptional carbon steel alloy, these are the perfect tools for getting a steady pace going and drilling the perfect hole for your next ice fishing excursion.
This model also features soft rubber grips, and the ergonomic handle means your hands stay comfortable as you auger out a new fishing hole, perhaps after using a good fish finder to pick out the right part of the lake to set up your little fishing camp.
There are many anglers who are fans of this manual ice fishing auger, however while very solid in construction and with strong overall ratings from winter anglers who know what a good piece of equipment looks like versus a mediocre one, it might not be the top manual auger but it is a solid choice deserving of its place on this list.


Eskimo Silvertip Curved Blade Hand Auger
Once again, Eskimo manages to make the list of our top rated augers for ice fishing. This is another manual entry by the Eskimo brand, and it is distinctive based on the type and shape of the blades. The Silvertip curved blade is actually a bright glossy red in color and made from stainless steel, giving a gleam that you'll appreciate aesthetically while also cutting smoothly through the ice to auger out the perfect ice fishing hole.
This is a great starter ice auger for individuals who are still relative novices, but understand the basic concepts and set up of ice fishing and want something dependable that rewards their effort, even if the technique is a little less than perfect.
Available in 6″ or 8″ blades, this auger might not be fancy or splashy but the curved blades allow for solid movement cutting through the ice and it gets the job done.
This is also a great budget option – as it is generally less expensive than many other similar models out there and certainly a money saver versus the gas powered or electric powered options.
Another worthy entry to our top winter ice auger list.


Basic Ice Augers Vs. Electric Augers Vs. Gas Augers
The comparison between various types of augers for ice fishing can get a bit tricky since what works for one person might seem insane to another. There's not necessarily any right or wrong answer – as with so many things this is going to come down to personal preference of each individual as much as anything. However we'll do our best to run over each type, pros and cons, and give you some food for thought to chew on so you'll make the best decision for your specific situation.
Traditional ice fishing augers
These aren't nearly as popular with many ice fishing enthusiasts as some of the more modern versions, but the old manual design does still have some advantages to the other more modern models. If you're looking for a good little workout, the manual ice auger will definitely give your arms a bit of a workout, which can be a positive (some would consider that extra effort a negative, however).
Second, a good manual ice auger isn't going to break. You don't just snap a stainless steel tool in half. That means while gas or electric augers may need replacement parts or need to be replaced every so many years, a good manual auger could, if properly taken care of, last many decades without issue.
These also tend to be
Electric ice fishing augers
Right now there aren't very many electric or battery powered ice augers on the market and there are a couple reasons for this. First, the technology to overcome natural challenges like the cold or remaining powerful but lightweight are problems that have only been solved. There's also the fact that in extreme cold electric batteries can have a hard time keeping a charge, much less putting forth the power needed without draining.
That being said there is currently one major electric ice auger out on the market as of this writing, and it's a doozie in the best sense of the word.
Gas powered ice fishing augers
This has been where the main movement has been headed, with many gas augers powered by liquid propane, which is also convenient for many outdoorsmen who are likely to have some on hand due to the use of propane lanterns while camping or preparing for an emergency power outage.
In addition to this, gas powered fishing augers tend to be stronger, allowing for a good hole to be cut through the ice fast and efficiently. This means less time prepping and more time fishing – definitely a good thing.
While more expensive in general, it's hard to argue with the results!
Ice Auger FAQ
Q: Should I go with a manual ice auger or an electric ice auger model?
A: This is going to depend on a variety of things. I mean, look at the section right before this for a bit of a breakdown on both sides of the argument as well as personal preference and the area you are ice fishing in. Do your research, ask local ice fishing enthusiasts about their opinion, and go with the one you are personally most comfortable with.
Q: Do I need blade covers to protect the blades, or are these just excessive?
A: Keeping auger blades sharp and in tip-top condition should be a priority, but like many things it is easier said than done. With high quality augers the blades shouldn't dull easily, but it is always a good idea to look at getting blade covers to protect that edge when the auger isn't in use so you're all ready to go the next time you need an ice fishing hole.
Q: How do I know when it's safe to go ice fishing?
A: If you're not an experienced old hand, make sure to contact local ice fishermen in the area, the local DNR, and look around online to see what locals are saying. Always make sure safety is your first thought and if you're new, you need to find someone with experience who can take you under their wing and walk you through the process the first few times.
Q: Do the blade types make a difference?
A: Yes. The type of blade can determine how smooth the cut through the ice is, how much sediment gets kicked in, and how clean the fishing hole itself is. Which one works best will depend on your strength, preference, and simply the make up of the ice in comparison to how the blade cuts, especially when related to the areas you are interested in fishing.
Q: Are propane powered augers powerful enough to cut through thick ice?
A: Absolutely! In this case it isn't about the fuel but it's about the quality of the tool itself. Several propane fueled ice augers made our list here because they really are some of the best on the market. As long as the propane powered auger is made from high quality materials and designs, then you will likely have an equally high quality final product – more than enough for any shelf of ice!
Some "Final" Thoughts…
There's a lot to learn when you're dealing with ice fishing, and that starts with making your life easier (and your chances of landing a good stringer much higher) by outfitting yourself with the best possible equipment from the get-go. Without a proper sized hole in the ice, you're not going to be able to set up any shelter, and you're not going to be able to pull out a good sized fish. The good news is that with all the information we've given you here, you should have no problem finding the perfect auger to meet all of your ice fishing needs.
So go get 'em! We expect to see those trophy fish pictures!
Great YouTube Video on How to Sharpen Aauger Blades