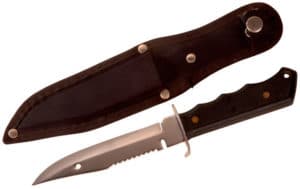 While most hunting knives and fillet knives come with a carefully fit sheath when they are purchased, many knife owners choose to look at an upgrade or even consider cutting a custom sheath made. For the avid outdoorsman, the idea of learning how to make their own knife sheath could be appealing as the learning process makes for a good hobby – and who doesn't like some fancy leather work?
Whatever your reason for needing a good knife sheath right now, here are some of our favorite options whether it works as a final sheath for your favorite hunting knife, or just a transition from what you have now to what you want later, take a look at the options in this article to find the right new (replacement?) knife sheath for your hunting knife right now!
Sheath Fixed Knife Sheath
If you're looking for a fashionable and effective way to protect your knife, then you'll absolutely love the Sheath Fixed Knife Sheath. This beautiful sheath is made from top-of-the-line brown, basketweave leather, features a stylish design on the front and is sewed together by sharp, white stitching.
The Sheath Fixed Knife Sheath is much more than just a good-looking sheath, it's also built for performance and comfort. This handy sheath is lightweight and can be easily strapped to your belt making it perfect for hiking and camping trips of all kinds. The retention strap near the top snaps around the base of your knife preventing it from flopping around while you're in motion.
The Sheath Fixed Knife Sheath is available for 4, 5, 6, or 7-inch blades and only comes in a smooth, light brown. In addition to the great color and exceptional material being used, these designs just look fantastic and are clearly one of our favorites for the types that are currently widely available on Amazon.

Ka-Bar 7-Inch Brown Leather Sheath
The Ka-Bar 7-Inch Brown Leather Sheath is well-constructed and extremely durable yet features a very traditional design. This sheath is made from premium leather that can easily handle your average wear and tear. If you're looking for a sheath that's built to last against all kinds of temperatures and weather conditions, the Ka-Bar 7-Inch Brown Leather Sheath is definitely a great choice.
The Ka-Bar 7-Inch Brown Leather Sheath is also extremely comfortable. It has a lightweight design and can be strapped to your belt for easy transportation. This sheath will protect any full size 7-inch fixed blade Ka-Bar knife from rust, corrosion, and your average wear and tear, not to mention looking good and being easy to loop a belt through for easy carrying.
This is solid, it's from a reliable and trusted name, and it gets the job done. At the end of the day that's all that matters and when you get one that has a solid aesthetic on top of it, you've got a good deal.

Ka-Bar 7-Inch Brown USMC Leather Sheath
Are you a proud supporter of the United States Marine Corps? When you invest in the Ka-Bar 7-Inch Brown USMC Leather Sheath, you'll not only show your support for our troops, you'll also protect your knife with one of the best sheaths on the market.
This well-constructed sheath features a large, USMC logo imprinted on the front and is made from premium, high-quality leather that's not only durable but also resistant to rain, snow and extreme temperatures. You can feel confident knowing that the Ka-Bar 7-Inch Brown USMC Leather Sheath will last for several years.
Another aspect that makes the Ka-Bar 7-Inch Brown USMC Leather Sheath such a great sheath is the built-in handle retention strap. This retention strap snaps firmly around the base of your knife and will hold it tightly in place at all times. The Ka-Bar 7-Inch Brown USMC Leather Sheath also has a lightweight design and can be easily strapped to your belt. If you're a lover of the USMC, then give this gem a try.
A great option for the current or former service member, and how appropriate to review it right on the Fourth of July!

XYZ Brands Basketweave Leather Natural Knife Sheath
Sometimes there isn't a lot to say when it comes to looking at leather knife sheaths from different companies as quite often they use similar designs, materials, and basic tools to make designs that are pretty hard to tell apart (this isn't a knock – a great leather sheath design is just that: one fantastic design). However the basketweave natural leather design from XYZ Brands definitely sticks out against the competition.
If you find yourself in a situation where you are trying to find a stylish yet durable sheath for a 4-inch knife, finding a good sheath in the right size that you'll be happy with can definitely be a little difficult sometimes. The Basketweave Leather Natural Knife Sheath has both of these qualities and then some. This fantastic sheath is made from premium, sandy-brown leather and features a basketweave design on the front. The outer edge is decorated with white stitching and held tightly together by four shiny metal buttons. This is a very sturdy and high quality design that doesn't disappoint.
The Basketweave Leather Natural Knife Sheath not only looks great, it's also an effective tool for protecting your knife from filth, moisture and extreme temperatures. When you invest in the Basketweave Leather Natural Knife Sheath, you'll extend the life of your knife by several years while getting a very unique bit of leather working that holds up to every day use in addition to looking great from an aesthetic point of view.

Brown Leather Basketweave Folding Knife Sheath
The Brown Leather Basketweave Folding Knife Sheath is a great sheath for people who own a knife with a 4.5 to 5.25-inch blade. This particular design is very distinct, pops when you look at it, and creates a fantastic look that will easily go with your belt or even work as a carrier to put in the pocket of your jeans. This sheath protects your knife with the use of a fully-closed hood that snaps down tightly and securely. This fully-closed hood is an excellent defense against moisture, rust, and corrosion, and that means a knife that is going to look better, work better, and stay sharper.
That's a winning combination.
There's no denying that this small folding knife sheath is not only effective but it is also extremely stylish. No matter what anyone says, aesthetic matters and you will notice just how good this style is. Starting with the beautifully embossed weave design, adding in the dark natural leather color, and pulling it together with fine stitching and a solid polished button that snaps shut, this is simply a really great looking premium folding knife case.
In addition to this great look, the design pattern also means that it is much easier to grip which is perfect if you find yourself having to hold on tightly when you're in rainy, snowy, or otherwise wet and cold conditions.

Sheaths 8″ Camo Knife Sheath
The Sheaths 8″ Camo Knife Sheath is a fantastic choice for the ultimate hunter. This sheath is made from a high-quality nylon that not only protects your knife from rust and corrosion, it's also camouflaged, so you can stay hidden and have a sheath that fully blends in with the rest of your hunting clothes and accessories.
This is an extremely popular design and frankly there is a reason why camo is such a popular design that you find on hunting boots, vests, pants, general gear, jackets, and more. There's a lot to like about how well this sheath holds up and there's a reason it manages to make its way up onto our list.
Another great benefit of the Sheaths 8″ Camo Knife Sheath is its lightweight design, and its Velcro belt strap. With the Velcro belt strap, you can easily hook your sheath to your belt without having to unbuckle your belt first. This allows you to attach and detach it quickly and conveniently, although not necessary quietly so make sure to keep that in mind for situational use. All that being said, at the end of the day there is little denying that this camouflaged sheath is definitely a hunter's friend.

Sheath Black Straight Knife Sheath
Some people like leather and then there's others that like nylon. While this seems a touch baffling to my brother and I, who aren't big fans of nylon cloth sheaths as they just simply are never going to be quite as solid or long lasting as your classic leather sheath, in the end this does come down to personal preference and some believe nylon sheaths are more durable and comfortable when compared to leather sheaths.
We find this a wee bit odd, to be honest, and haven't had great luck with finding a good non-leather sheath, but we felt the need to include at least one nylon sheath because of the number of people who do want an extremely inexpensive non-leather option. IN the end this really does boil down to personal preference. However, if you are in fact a fan of nylon sheaths, then you'll more than likely by a fan of this black knife sheath for straight knives.
The Sheaths Straight Knife Sheath is made from high-quality nylon and is so light, you won't even know you have it strapped to your belt. This sheath also features a convenient Velcro retention strap near the top which can be tightened or loosened to your liking. This can be a great convenient feature that allows faster access than a traditional snap system in some situations.
There are some complaints. This is an extremely inexpensive sheath, and in fact is one of the cheapest on Amazon. While this model has received more five star reviews than not, there are also a fair number of reviews complaining of cheap materials or the Velcro strap not working.
Personally Jon and I recommend spending a few extra bucks for a good leather sheath but if you are going to go for the cheapest nylon sheath you can find, this is your best pick for one that might work.

Should I Make My Own Leather Knife Sheath?
This can be a bit of a complicated question and as with many of those types the final answer often ends up being a "Maybe?" complete with the question mark included. This is not a bad way to go at all especially if you tend to have some skill as a crafter and either have experience as a leather worker or see it as a hobby that you've been wanting to break into for some time now.
This being said, if you want a really custom piece of work and you don't want to spend months or years picking up the skills to create exactly what it is you are looking for, then in that situation you may prefer to go to a professional, instead.
Even if you decide to do it yourself, depending on what your time constraints are, it's never a bad idea if you have the money to buy a quality knife sheath for your favorite blade so you have something decent with you that will work for your basic needs while you craft something a bit more decorative that will work as a long term solution for what you're looking for.
In Conclusion
Finding a great sheath for your knife is rarely an easy process. The good news is that virtually any hunting knife you buy or order is going to have a sheath with it, so generally speaking you're not stuck in a situation where you absolutely need to have one now, but this is a prime opportunity for something interesting, something different, something that looks great and genuinely shows off something about your personality and tastes. Whether you decide to take the time to learn how to make your own custom sheath for your hunting knife, go to a leather working expert to see what they can make for you, or choose one of the fantastic options that are listed out for you in this article, there's no reason to stick with an original sheath. There are many other much better options out there so make sure to find the one that fits you and your tastes to a tee!
Great DIY Leather Knife Sheath Video Tutorial