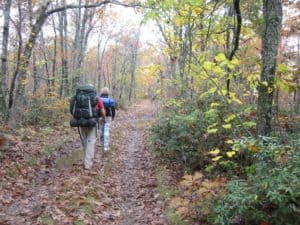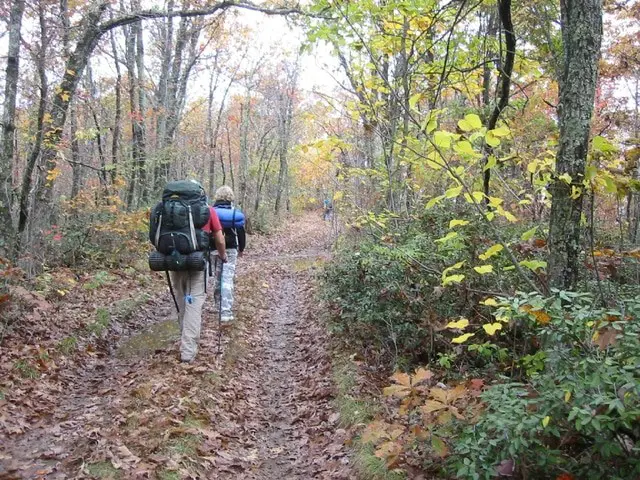 There are few things in life better than hitting the hiking trails on a cool autumn day. Whether you're the type who loves trail running with nature all around you or thirsts for the hamstring burning challenge of some seriously steep trails to unforgettable scenic views, there's a lot to love about what a good fall hike has to offer.
A good pair of women's hiking boots are an important piece of gear for the ladies to get out and enjoy the trails when they're at the finest.
And for those thoroughly outdoor types, a truly good pair of hiking boots can be perfect for any season. If there's a trail to run or explore, you can bet there are plenty of people out looking to enjoy them.
The perfect hiking boot will be lightweight, sturdy, and offer you the support and comfort you want for a long hike – on or off trail. Read on to find our picks for the 10 best hiking boots for women currently on the market.
Top 10 Hiking Boots for Women
Columbia Women's Newton Ridge Plus Waterproof Amped Hiking Boot
Is anyone really surprised that Columbia appears on any list of top hunting boots? They're here again as their Newton Ridge Plus is an outstanding hiking boot for women that makes the top of our list. This combination looks good and most importantly is stylish with a firm rubber sole, combination of suede & full-grain leather, as well as outstanding cushioning for your feet.
These are designed to give support, take a beating without issue, and provide comfort all at the same time. That is the sign of a truly top notch hiking boot. The Newton Ridge Plus from Columbia is just that.
Add in the trademarked "Omni-Grip" traction on the sole and there's a lot to love about these boots.
This boot hits high grades for ankle support, for versatility, and for footing. Whether keeping to the trails or trekking through woods and wilderness, they won't let you down.
These have outstanding reviews online, and for good reason. Well made, well-designed, and using a classic proven design combined with new materials and hiking check, these are boots that all the lady hikers in the family will love!

KEEN Women's Targhee II Mid WP Hiking Boot
The KEEN Targhee II Mid WP Hiking Boot for women is a truly outstanding option that combines outstanding waterproof Nubuck Leather with great design and careful material use to create an outstanding outdoor boot. These quality hiking boots are light on weight but strong in support.
A rubber sole at the bottom of a well designed platform and heel means plenty of cushion from the terrain. The interior is built for comfort, giving the best of both worlds. In fact, the interior has EVA foam that molds around the foot while the hiking boots are solidly waterproof.
The protective toecap is a nice touch and helps to prevent severe toe stubs or splinters.
These are a highly rated and incredibly popular hiking boot for a reason, and they have received very high marks from a wide range of different review sites. These offer far more protection than trail runners. They are lighter and better for long range hiking than heavier models.
All that being said, there is one common complaint with this particular pair of high end women's hiking boots: they tend to run half a size small. Keep this in mind when picking out hiking boots, especially if you layer socks or tend to go on long thru hikes that can cause your feet to swell over time.

Columbia Women's Newton Ridge Plus Hiking Boot
Anyone who has spent a lot of time out on the trails has run across the Columbia brand plenty of times before. The gray gives more of a comfortable and casual look but with all of the support you would expect from a top notch trekking boot.
This features the trademarked Omni-Grip tread to allow better no-slip footing no matter what the weather or terrain. These boots are waterproof to provide plenty of protection from the many different environmental factors that can cause water to soak in: never an ideal situation with a long day of hiking ahead.
A thick rubber sole gives the bottom grip you want while the back heel gives plenty of support. In addition to this the smart design also incorporates breathable mesh that allows proper ventilation to help prevent your feet from overheating and sweating.
This design of hiking boot uses the classic hook and loop system for convenient lacing. In addition to this these boots get a lot of high marks for being light weight and not putting any weight stress on the ankles or lower legs.
Comfort meets practical usage here to combine into a very high quality women's hiking boot that deserves all of the many accolades it has received.

Timberland Women's White Ledge Hiking Boot
A dark brown leather hiking boot, there's a lot to love about what Timberland brings to the table with the White Ledge line of hiking boots. Aside from being a mainly leather boot there is also a waterproof sole with a nice wedge and secure arch for better foot support.
Timberland is one of those outdoor names that is renowned among outdoor adventurers, and for very good reason. Their boots have a reputation for outstanding craftsmanship that results in durable boots that lace up tight, give plenty of foot support, and solid waterproofing.
In other words, Timberland makes hiking boots that are designed to last no matter what the conditions hiking, backpacking, or otherwise exploring every single adventure that the outdoors have to offer.
There are certain companies that are just known for providing really high quality footwear for backpackers, hikers, and trekkers, and Timberland is right up there along with Columbia and Merrell as footwear companies that are always a great choice if in doubt.
There are many reports of hikers putting these to the full test day after day, week after week, and they held up as comfortable, solid, and meeting or exceeding the expectations of anyone who uses them. One of my best friends she goes trekking through northeast Iowa all the time and these are her absolute favorite hiking boots – and I trust her judgment so between the online reviews and her glowing testimonial, we're happy to have them on the list here!

Manfen Women's Mid-Rise Waterproof Hiking Boot
These are incredibly nice looking hiking boots that are very well built, and I was actually quite impressed reviewing them. For me, they might even be one of the best options out there, although there is a legitimate potential issue that knocks them down a bit.
But starting with the good things: the high ankle and heel support. Many hiking boots are built with a lower cut which does have the advantage of being better for weight. On the other hand, there's less heel support than with the full back that this Manfen boot design covers.
Featuring a thick rubber sole and a synthetic material mesh for maximum water proofing, there's a lot to like about this boot that goes well beyond style.
Aside from solid materials, the design of this boot is excellent with a solid toecap to protect your toes, firm support around your feet, ankles, and lower, legs, and these boots even have a snowshoe strap ridge so you can use them to hike in the summer or snowshoe in the winter. That's the type of versatility the really active outdoors woman will love!
The trademarked Thinsulate insulation keeps feet comfortable down to -22 in the winter, while they breathe enough to work as summer boots, as well.
There are only two potential downsides to these good looking and amazing hiking boots, but they do need to be taken into consideration.
One: These boots do tend to be a touch on the small side. When you order, consider going a size large for a better fit.
Two: Because of the design they might be a bit heavy if you tend to have especially thin or small legs. That design gives extra support but it does mean more ounces of weight you have to pull along with the rest of your leg. Just something to keep in mind.
Overall an outstanding option when it comes to versatile women's hiking boots – especially when you're looking for a good fall and winter fit that can double as a hunting boot, as well!

Under Armour Women's Post Canyon Mid Waterproof Hiking Boot
Another great option for waterproof women's hiking boots, these are a leather/textile combination over a thick rubber sole. The tight weave means they are lightweight, durable, and able to keep water out while still having enough breath-ability to make sure your feet stay comfortable even on hot summer days.
The solid gray coloration and cross lace design gives more flexibility while fitting without giving up on much needed support. A solid toe cap helps protect your toes from injury while the bottom gets high marks from us for traction.
Sadly there are hiking boots that fail to hold up in real world conditions but fortunately these do not disappoint!
They are fairly comfortable with the mid-sole specifically designed for extra cushion and comfort. These are mid cut to offer a little bit more protection and the friends we've talked to said these were exceptional when it came to navigating really rocky or difficult terrain.
Whether going through Pennsylvania Appalachian country, the rockier parts of Austin's greenbelt during drought years, or traversing through Iceland (lucky you!) – these are great boots when dealing with particularly rocky and otherwise potentially hazardous conditions.
These may wear out your legs over very long hikes if you have especially thin legs, otherwise the design does its best to give that extra sturdy support and protection without adding too many extra ounces.
2020 Update: This Hiking boot is being phased out from Under Armour. It is still a great boat if you can find it, but the alternative from Under Armour that we would recommend is the Under Armour Women's SF Bozeman 2.0 Hiking Boot!

Ariat Women's Terrain H2O Hiking Boot Copper
These hiking boots from Ariat have that heavy old school Old West type feel to them, and from an appearance stand point are one of our favorites. That being said, they are really solid and practical in use as well making them a winner.
These leather hiking boots also feature a synthetic sole, are waterproof, and have designed with padding in all the right places. Add in some very solid shock absorbing mid-sole design and it becomes really easy to see why these boots are so popular.
The leather look is a popular one for good reason and many people we know love these as the pair of hiking boots they also wear when taking the dog out for a walk, checking out a local natural area or park, or just wanting a little bit extra support above and beyond what a traditional shoe can offer.
These look good, keep the feet dry, and although they can be a touch tight they break in quite nicely and really hold up against the test of time. That's great news for buyers who want the most out of their hiking boots!
Since these are mostly leather, they can not only age a long time but by using the best boot leather treatments these can stay looking great and be re-waterproofed if age chips away after five or more years.
In other words they are a great pair of traditional leather hiking boots given a touch of modern makeover for the best of both worlds – and we couldn't be happier to have them on our top rated womens hiking boots list!

Timberland Women's Norwood Hiking Boot
Timberland is a name renowned among hikers in particular and even outdoorsmen in general. There's a very good reason for this, and the Norwood hiking boot does that reputation proud.
The Norwood is an impressive leather hiking boot with a rubber sole, and it's worth noting that this isn't just any leather. This is truly high quality leather that is not only waterproof but only comes from LWG Silver-rated tanneries.
In other words, that's the good stuff. A waterproof membrane keeps the feet dry while the cross lace setup with the fully gusseted tongue gives a reliable design any hiker will be familiar with. These are a very nice combination of functionality and style all in one.
These are great travel boots and hold up to the label of waterproof. They are also surprisingly light. Since they obviously look like heavy duty hiking boots many women hikers are surprised to see how light they are which is an additional bonus if you are going to be doing some really long hiking.
These are good "wear around town" boots as well, but if there is one potential mark against these boots it's the fact that there are some legitimate concerns about how well they function on slick surfaces and if maybe a little too much functionality in adverse weather conditions was given up to keep the high level of aesthetic style.
Still a very good choice with high rankings across multiple outdoor gear review sites.

Kodiak Women's Surrey II Hiking Boot
The Surrey II hiking boot is Kodiak's follow up toe the original popular model and has its share of very devoted fans. These are leather boots with a very distinctive rubber sole. There is a foam insole that is removable and the waterproofing is very solid.
Off the bat these will stick out a bit because they look more like comfortable around the town boots or work boots more than your traditional hiking boots but don't be fooled – these really can hold up well.
The trademarked THINSULATE insulation will keep your feet warm in even a lot of cold winter weather, and the outsole is designed to be resistant to slipping. If you like exploring out of the way places regardless of the weather like I do, this is a must.
Kodiak is an extremely reputable brand that has been around for over 100 years and continues to make really top notch boots. They are a Canadian based brand and have the ability to hit the trails hard or be perfect if you just want to go around the city for a day.
In other words, an excellent option that is especially good for the occasional hiker looking for something that is also acceptably stylish for around town.
The fact they're designed to resist long-term wear also means that you will have these boots around in good shape for a long, long time. That is good money value when looking at the long game.

KEEN Women's Voyageur Mid Hiking Boot
The Voyageur from KEEN is a great choice when looking for a mid cut women's hiking boot. Using a traditional leather and mesh combination on a thick rubber sole, there's a lot to like here.
The heel measures about two inches in height for that extra support and protection you're looking for while the shaft is about four inches from the arch. These boots look guard, are extremely breathable, and easy to clean.
They are water resistant which is better than nothing, although certainly not as good as being straight out waterproof. That's one of the main drawbacks, but that shouldn't deter from what KEEN does right with this particular hiking boot design.
Weighing only 14 ounces this is a lot of quality for very little weight, while the reports we've had from comfort have it up there as one of the better choices when comfort of your foot is the absolute most important thing.
Not designed for snow or heavy water areas, these are going to be plenty for the majority of hikers looking to make it through a park, a local trail, or a similar type area. However if you often find your feet are too hot in waterproof hiking shoes because you're a sweater, or in heavy desert climates, this can be an excellent alternative choice!
Just call these the best women's hiking boots for desert hikes!

What Should You Look for in a Good Hiking Boot?
There are several factors that go into picking out the best pair of hiking boots for your specific need. While we can rank the overall best options, just because a pair is a general consensus top rated or number one pick doesn't mean it's the appropriate piece of trail footwear for your specific needs.
What works for a thru hiker tackling the PCT is far different than what someone cutting through uncharted territory is hiking, and that's different than what someone constantly scrambling through heavy stones will have to deal with.
Understanding where you're going to be using your boots the most will also help you to figure out the best option that suits your specific needs.
Matching Hiking Boots to Terrain
Not all hiking boots are created equal and there are some pretty major debates about which ones are best. Personally, I find getting into specifics is crucial because what hiking means in one place or to one hiker can be a completely different thing from what another means. Terrain matching is crucial.
From level of support to the weight of the boots, to being water resistant vs water proof, these are all very important things when it comes to making the right choice. If you're going to be doing a lot of river crossings, creek crossings, or just going through marshy areas consistently then having water resistant boots might not be nearly enough.
If you're looking at these terrains, for example, then water resistant boots might not be enough. You will need hiking footwear that is 100% waterproof. Those slightly different terms can make all the difference.
Ankle & Heel Support
Most hiking boots tend to be low cut as this is one of the most popular designs in addition to being easier for companies to produce cheaply because less material is used. While low cut designs but be in the majority, there are still plenty of mid cut options for when you want a little bit more support on the heel and back of the foot and lower leg.
Personally I like having the higher mid cut, but I also have large legs and the extra bit of weight doesn't bother me at all even over long distances. On the other hand, many people prefer the low cut as it gives plenty of ankle support and they don't like the extra weight that the mid cut models of women's hiking boots bring to the table.
You'll want to think about which level of weight vs support matters most to you, and the longer you tend to hike each day the more important weight becomes in the matter.
Water Resistant vs. Waterproof
As a quick note water resistant means it helps minimize any water or moisture from getting in, but it won't keep water off of it. Waterproof is exactly that, although with any footwear there are potential leak points around the tongue or top opening of the boot where water might get in during certain circumstances.
If you're looking for "the most waterproof boot" then you do want to avoid the water resistant models.
Women's Hiking Boots FAQ
Q: What makes women's hiking boots different from men's hiking boots?
A: Fit and design. Just as men and women have different shoe sizes in regular circumstances, the same foot and measurement differences are going to exist when it comes to hiking boots, as well. The boots listed in this article are made with those differences in mind to create a better fit for the trails.
Q: Where should I buy women's hiking boots?
A: There are actually several options here. Generally speaking women's hiking boots can be found both in outdoor sports stores, especially those focusing on hiking, backpacking, and trekking. Big box shoe stars are also a potential option although in many cases this means potentially being limited in selection.
Shopping online is often ideal as eBay, Amazon, and review sites like this one often have a wide selection and can connect you with the best price although you want to make absolutely sure you understand your shoe size/measurements before hitting that order button.
Q: Are there any cute hiking boots for women?
A: Generally hiking boots are about functionality versus style. I'd argue "handsome" is probably a more accurate description of some of the better looking options but this is certainly a personal preference type of thing. With hiking boots it isn't about looking great, you want practical functionality. That said, some of these still look pretty dang good, in my opinion.
Q: Why are most women's hiking boots low cut?
A: This is the most popular style of hiking boot, period, and so it makes sense its the design that most major companies would invest in. Add in the idea that many hikers have thin legs or slim muscular calves, and adding extra weight to the hiking boot is just going to add some unwanted strain, as well.
Q: Why buy hiking boots at all?
A: Well this depends on how often you hike, how hard you are on footwear, and once again what type of hiking you're doing. If you're hiking a lot of well maintained trails you probably don't need actual boots and a good pair of trail running shoes will be more than enough to meet all of your needs. On the other hand for rough trails that take climbing, or freelancing through the woods, hiking boots offer an extra little bit of protection that you might really appreciate.
Q: When is the best time to buy hiking boots?
A: This will vary based on time and place. While it can be counter-intuitive to look in winter, outdoor stores have Black Friday sales like everyone else and the winter gear is more likely to stay high priced. Also take a look for sales in the months leading up to November as many stores with limited shelf space may look at unloading some stuff before the holiday season to clear the shelf space and sometimes a really good hiking boot sale can flip through the tracks during this autumn months.
Q: Does anyone specialize in women's hiking boots for narrow/wide feet?
A: Generally speaking no, but there are some brands of hiking boot that just have a reputation for being a bit tight or a bit loose. Paying attention to those reports and reviews can help you determine which boots are most likely to fit your feet properly.
Q: Aren't there special women's hiking boots with red laces o blue laces, etc.?
A: The Kodiak Women's Surrey II are hiking boots with red laces but if those weren't the ones being talked about, keep in mind that laces can always be changed out.
Q: Why do hikers use trekking poles?
A: Hey, what a coincidence, we have an article about that! For a full answer check out this post on why do hikers use trekking poles.
In Conclusion
Don't let indecision over the best footwear keep you from enjoying the best trails in the area. The right pair of hiking boots or trail runners could be all you need to make sure you get the absolute best of what the area has to offer.
Generally if you're going extreme distances day after day you'll want to consider trail runners, especially if you have thin legs. But if you need extra support or want that truly solid protection then finding a good pair of women's hiking boots needs to be a top priority to take your hobby to the next level.
Good General Video on How to Choose Good Hiking Boots

Other Hiking Articles of Interest