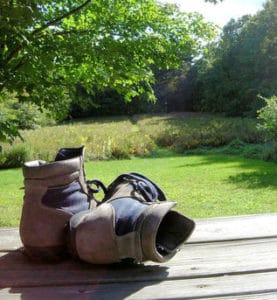 In my opinion it's really hard to argue against hiking being the perfect way to spend a day, a weekend, a week…maybe even longer. There are few ways to see naturally beautiful country while getting great exercise, and getting away from the stresses of everyday life.
The first time I had a great pair of men's hiking boots, I was psyched. Over the course of a year I hiked so often I wore them out. Yes, you read that right.
No, there wasn't a problem with the boots. They were great hiking boots! I just walked, trekked, backpacked, and hiked that much that eventually even they wore down to my relentless use. This also brought me into the world of hiking shoes and understanding that depending on what type of walk or hike I was going for, that called for a different type of footwear.
This only made me even happier with my newer pair of hiking boots, and I've worn them on the rougher and more challenging parts of the Austin Green Belt, the awesome backcountry of Alaska, as well as the bluffs and parks of northeast Iowa (trust me – there are some incredibly awesome and challenging day hikes up there).
Timberland White Ledge Men's Waterproof Boot
You're going to have a hard time arguing with what Timberland brings to the table with their White Ledge line of hiking boots. Available in six different colors and with a shaft that measures about 4.75 inches from the arch, this is a good looking hiking boot from a trusted brand name that is all set to deliver for even the pickiest of weekend hikers.
Made from high quality leather but featuring a sturdy rubber sole, the shaft measures 4.75 inches from the arch while a padded collar adds a little bit of extra comfort above and beyond even the quality craftsmanship. The outside is an oiled-leather finish that really looks amazing, though while the aesthetics are incredible, they reflect the quality of hiking boot this model is. A gusseted tongue, strong stable frame, and removable EVA footbed combine to give comfort, support, and durability.
These hiking boots are waterproof, built for rugged terrain, and give an extra bit of foot and ankle support that you want when going over some particularly challenging trails or exploring off-trail terrain. These perform big time out in the field yet look good enough that you can toss them on with nice jeans and a decent shirt for a good hanging out look.
This is a hiking boot that holds up through the miles and that's why they enjoy thousands of perfect online reviews. While this review is loaded with stunningly good hiking boots, there's no question this one needs to be king of the list as our top rated hiking boot of all.


Columbia Men's Newton Ridge Plus II Waterproof Hiking Boot
Columbia is another one of those brand names that is simply going to appear a lot when looking at premium hiking & outdoor gear. The Newton Ridge Plus II looks great, is waterproof, and provides the level of support you expect from top notch hiking boots.
The Newton Ridge Plus II is a waterproof hiking boots that combines extremely durable & high quality leather, synthetic leather, and a rubber sole to create a truly remarkable piece of footwear. These look, feel, smell, and perform like outstanding hiking boots.
The shaft of the boot measures approximately 5 inches from the arch while the sole is a solid half an inch thick. The mid-sole is designed to be lightweight while providing the same level of comfort, support, and grip that you would expect from the best conventional designs. The rubber sole of this boot features the Omni-Grip traction system to help prevent slipping.
These hiking boots are waterproof and have the popular lace up closure system to give the most flexibility in fitting without giving up on sturdiness or quality of foot support. In other words, these Columbia hiking boots live up to their reputation as some of the absolute best around.
These men's hiking boots hit the entire checklist when it comes to what you want to see out of a good quality pair. They are rugged, they are built for wet conditions, they offer excellent grip, and they have an old school leather aesthetic look that most hikers will love. Sometimes you just can't beat the classic look – especially when it comes with all the modern improvements a great pair of trekking boots can offer.
If you're looking for a truly premium pair of hiking boots, you're going to be hard pressed to find many options that compare to this one!


Ariat Men's Terrain H2O Hiking Boot
These heavy duty leather hiking boots are near the top of our list for good reason. Ariat hiking boots have a solid reputation as one of the top choices out there, and the H2O is our favorite among all the styles they create. Featuring a rubber sole in addition to being 100% real leather, these waterproof hiking boots look great and work great.
They also have a remarkable reputation for fitting people with unusually large feet, something that I can definitely appreciate as honorary vice president of the "feet the size of Big Foot" club. Add in a padded collar and a heel stabilizer to give that extra bit of comfort and support, and there's a lot to like about this hiking boot and what it brings to the table.
These hiking boots are built for endurance and use for many miles over tough terrain hour after hour, day after day. The design is very well thought of and is based to help stabilize your balance, give appropriate padding, and stabilize the entire foot, ankle, and heel area of the foot.
These boots give great grip and yet clean easily. Some of my friends who hike and do manual labor use these boots for both purposes. These are good versatile boots perfect for hiking, backpacking, working, and more. Big props for what these bring to the table.


KEEN – Men's Durand Waterproof Mid Hiking Boot
These leather waterproof hiking boots are a popular option with many of my hiker friends and for good reason. Featuring a synthetic sole, leather matieral, and easy to find from sizes 7-14, there's a lot that KEEN brings to the table with their Durand hiking boot brand. The design of this boot gives a lot of support to the back heel as well as comfort cushioning for the heels.
The combination of comfort and support is just what thru hikers and backpackers are looking for in a high quality hiking boot. Obviously if these are good enough for the hard core outdoorsman then they are going to hold up just fine for a weekend adventure on the local trails. The shaft of these men's hiking boots measure 5 3/4 inches from the arch.
KEEN Durand hiking boots will help provide outstanding comfort, solid support, and keep the fit dry. To a hiker this meets all the needs. Add in the fact they are breathable despite being waterpoof and that's a great combination. They look good, as well, making them a viable option for footwear during other events or times of day.
These are assembled in Portland, Oregon, which is great for those outdoor hikers who want to buy American. This also helps explain the high level of quality control. This is a company that believes in an active outdoor lifestyle, which we can all get behind.
There is one big potential issue with sizing. The company even states that Durands specifically tend to run about half a size small, so anyone ordering should go have a size larger than they're used to. Also if you have wide feet like I do, make sure you're ordering the wide foot sizes and not the regular.
But all in all this is an outstanding men's hiking boot. It deserves this spot on the list of top rated hiking footwear options.


Danner Men's Mountain 600 Hiking Boot
Danner is a name that comes up a lot when it comes to outdoor footwear. Anyone who is familiar with their history of quality won't be surprised by this. Jon and I first learned about them due to researching snake proof boots, but that isn't their only foray into the outdoor footwear field.
Danner work boots have been renowned for a long time, and it turns out they've made their mark as a great hiking boot option, as well. The Mountain 600 men's hiking boots are the best Danner has to offer. Featuring a 4.5 inch
Danner Men's Mountain 600 4.5″ Hiking Boot features a Vibram sole and 100% suede material. This creates an outstanding hiking boot that focuses on giving high performance results with the strong traditional D-ring style of lacing.
This boot wins major points for its tread design ("MegaGrip") which focuses on giving hikers the ability to keep firm footing. Whether on wet rocks, mud, or sand, the MegaGrip design for this hiking boot helps you keep steady. This exceptional grip means less slipping and an easier time climbing through otherwise slick terrain. Whenever you can add safety and ease that's a good thing.
This hiking boot is the result of Danner partnering up with Vibram. The idea was to borrow from decades of quality hiking boot designs while creating some new and better sole designs. Add in some serious waterproofing and you have a solid trail boot.
Do note that the Mountain 600 hiking boot from Danner tends to fit slightly large so be prepared to double up on socks or size down by half a size from what you would usually get for the best chance at a good fit.


Merrell Moab 2 Mid Waterproof Hiking Boot
Merrell is a name that has come up a lot in recent hiking boot and hiking shoe reviews we've done, and for good reason! The suede and leather blend creates an outstanding hiking boot that also looks good to the eye. The boots have a distinctive aesthetic design, and a synthetic sole helps you keep your footing whatever the situation.
The mid-sole of the Moab in particular has a reputation for being comfortable while also offering serious stability. When you're going over long distances of rocky terrain that combination is a must.
At a weight of 2 lbs 4 oz for an average foot size (obviously a little bit more as you get into larger sizes) this is fairly lightweight for a heavy duty hiking boot. The protective rubber toe cap might not always stop a stubbed toe, but it'll definitely force you to really work for it.
The ratings on these hiking boots are generally very good, and in fact in many places rate just as high as the earlier options on this list. However, there are some reports of the waterproofing wearing off and a few isolated instances of the sole becoming detached around the 200 mile mark. Both seem to be relatively rare, but it's enough of a concern to drop these fine hiking boots a few spots.


Timberland Men's Chocorua Trail Mid Hiking Boot
Timberland is one of the premium brand names in hiking circles. Timberland hiking boots are well known for exceptional fit, excellent waterproofing, and being a rugged boot. Overall they are consistently one of the top hiking boot brands out there. The Chocorua Trail mid hiking boots from Timberland are renowned for their excellent fit and remarkable waterproofing.
Add in a rugged overall aesthetic serious hikers can appreciate, not to mention a good enough look to work as street wear, and it's easy to see why they're so popular. They look good, they hold up, and that waterproofing is renowned.
These men's hiking boots are ready to help you tackle any trail. There's a reason this brand is so renowned, and these don't disappoint. The metal is rust-proofed, while high quality foot beds help reduce foot stress and fatigue.
In other words, these are great all around hiking and trekking boots. These boots are the result over over 40 years of making better and better boots, and it really shows.
The Chocorua Trail Mid Hiking Boot is a great display of quality encapsulated.


Timberland Men's Mt. Maddsen Hiker Boot
Surely you didn't think Timberland would end with only one entry on this list? The Mt. Maddsen style of Timberland men's hiking boot is an outstanding leather boot on a strong rubber sole. These boots are designed for any terrain and can hold up to a challenge.
These are great boots for the outdoor adventurer who loves hiking or trekking as much as I do. These are hiking boots that will keep your feet dry, give a little bit of extra comfort to the bottoms of your feet, and also give you the support you need to tackle virtually any terrain.
The design of these boots give extra support to your feet. The shock absorption is a really nice bonus to keep your feet in decent shape. These hiking boots are also surprisingly breathable. Especially considering just how amazingly waterproof they are.
There's a reason that Timberland is a big name in the hiking boot industry. These Mt. Maddsen hiking boots are available in men's, women's, and children's sizes, as well. They are an outstanding option that will have you logging in many happy miles on the trail.


Hi-Tec Men's Logan Waterproof Hiking Boot
Finally there's Hi-Tec's entry onto this prestigious list of elite hiking boots. The Logan Waterproof Hiking Boot from Hi-Tec is a leather and fabric combination on a rubber sole. These ankle high hiking boots offer plenty of protection, a classic proven lacing system, as well solid footing.
That's a pretty good combination for any hike. Add in a compression resistant liner designed to keep your foot comfortable longer and there's a lot to like about what they bring to the table.
Even better for those of you with thinner lower legs or sensitive Achilles tendons, these are definitely on the lightweight side for a hiking boot.
Hi-Tec Sports USA has been all about using new materials, methods, and technology to created a better hiking boot. In fact they were at the forefront of designing lightweight hiking boots from their very beginning all the way back in 1978.
These hiking boots are renowned for being extremely comfortable. Not just for hiking boots, but for any type of footwear, period. They are known for a very good waterproofing and for feeling almost more like shoes than boots.  The only potential drawback is that if you use these like work boots or for a long distance thru hike, they can occasionally show some wear and tear around the 6 month mark.
These are a very high quality lightweight hiking boot that has earned their share of rabid fans.


What to Look for in a Good Men's Hiking Boot
There are several different things to look at when it comes to finding the perfect men's hiking boot. One of the first things to keep in mind is different styles of hiking can lead to different footwear. For trails that may require a bit of climbing and have a lot of rocky terrain that can be rough on the ankles and joints, you want a boot that gives plenty of support.  In this case you might want a heavier boot that offers plenty of support around the lower legs for when you're scampering among the rocks.
On the other hand if you're covering a long distance but it's pretty easy trail, hiking shoes or lightweight hiking boots might be the better option.
Other major considerations include waterproof vs. water resistant, the weight of the boots, the overall quality, as well as fit. If you have special fitting needs then that is definitely something you need to consider before making a purchase. This goes for narrow feet with high arches in addition to those of us on the extremely wide/flat footed side of things.
Style of Hiking
The style of hiking might determine the best pair of hiking boots to meet your need. There is a major difference between walking some basic trails in a local state park, backpacking for a weekend, and spending weeks or even months on a long thru hike. Which of these types or styles of hiking you're most likely to practice can change which hiking boot is a better fit for you (or even if you should consider hiking shoes instead).
For some people hiking means a lot of flat paths around a local county park or through some hills but where the paths are wide and well maintained. These are best tackled with a much different type of footwear than what isolated trails, rocky trails, or rough trails would require out of you and your footwear.
The style of hiking matters a lot when figuring out which hiking boots are going to be the best option for you.
Where Are the Best Hiking Trails?
This is a fantastic question! Honestly my immediate answer is the best hiking trail is the one you can jump to in a few minutes. When I lived in Austin, TX, the Green Belt was absolutely amazing and the apartment complex I lived in was 50 yards from a connecting trail.
In Cedar Rapids, Iowa, it was one of the city trails that connects to the Cedar Valley Nature Trail, always less than half a mile away. While the nearest one is great – what are the hiking trails that can get you dreaming and excited about your next big adventure?
If you're looking for a multi-month adventure then the AT, PCT, CDT, & American Discovery Trail are all amazing options. No matter where you live, there are going to be some great options. Even flat states with few trees often have rail to trail programs or special features where outstanding local hiking trails have been developed.
In the near future we'll have some massive hiking guides so you'll be able to get plenty of bucket list ideas for your hiking goals both in the United States and internationally, as well, so be sure to check back for those!
Hiking Boot FAQ
Q: What are the differences between hiking boots and hiking shoes?
A: Hiking boots are definitely a heavier build than hiking shoes and tend to be better for a short term or short distance hike through rough trails and territory, all the while getting stronger ankle and foot support to help avoid turned ankles. Hiking shoes, on the other hand, are often preferred by long distance hikers and ultralight hiking. That is the main difference between the two.
Q: What are the most important traits of hiking boots?
A: There are several you need to look at. One is that you get the support you need. Do you need a special design for the arches of your feet? The back of your heel? Do the boots you're looking at give you that support? You want boots that are strong, durable, extremely well made, that fit, but also very important: aren't so heavy as to cause strain on your lower legs.
Q: What is the best brand of hiking boots?
A: There's a lot of debate over this, although there are a few names that tend to come up again and again. Columbia, Timberland, Danner, and Merrell are all really excellent hiking boot brands that tend to make all the "top rated" lists.
Q: What are the major differences between hiking boots for men and hiking boots for women?
A: The fit and build. On average men and women will have differently shaped feet, and especially when looking at things like arch and heel support, and leg muscle size to carry the weight of a boot, it's important the boots are customized to each person's (gender's) common needs.
Q: How much heel support should a pair of hiking boots give?
A: The heel support should be outstanding. The fact you're going with boots over hiking shoes generally means more material and a bit less give on the back heel. This should give you more ankle support and more heel protection. If it doesn't – time to look at some other models.
Q: Which hiking boots are best for deep snow for winter hiking?
A: There are a couple ways to go here. Most hiking boots tend to be lower cut, which while it makes sense for long-term warm weather hiking doesn't help if you're trekking through several feet of snow. One is to look for winter hunting boots, which go further up the leg and are often designed to be able to tuck lined pants in or go with snow gaiters, making them better when hiking thru snow. Even if you don't go with hunting boots, then the snow gaiters will be a necessity.
Q: Are there any men's hiking boots with Velcro?
A: No. This isn't to say there aren't any hiking boots with Velcro straps, but there's no question that all the top rated brands of hiking boots for men use laces. Velcro might be good for grade school but it isn't the material you use for top notch trail boots.
Q: Can you wear men's hiking boots with blue jeans?
A: We're not style experts, and I suppose it depends on what type of event it is that you're attending, but personally I always thought a good clean pair of hiking boots with blue jeans looks nice. So if you're feeling it, why not rock it?
Q: How do I find men's hiking boots for sale?
A: There are multiple options. Price shopping on Amazon is one option, as is buying from eBay though always be cautious of buying footwear used or make sure it's via a really quality seller. Local outdoor stores like Dick's Sporting Goods, Scheel's, Patagonia, and others will occasionally have sales that are worth checking out, as well. Do a little bit of research and shopping to see what you can find. A little research for the best deal never hurt anyone!
A Few Final Words
I know from experience just how important the perfect pair of hiking boots can be, and what a difference they make on the feet. I hiked a dozen miles of trails every day or every other day for years before getting a good pair of hiking boots…and I couldn't believe the difference that they made. Truth be told, it was undeniable how much better my feet felt, how many twisted ankles I avoided during awkward steps because of the extra support, and also how many fewer pairs of shoes I had to buy throughout the year.
A pair of good hiking boots is something you can appreciate. From the extra support on the ankles and lower legs to the thick sole protecting the bottom of you feet from shock, there's no question plenty of us are fans of what top rated men's hiking boots have to offer.
Very good video on how to pick the best hiking boot
Other Articles of Interest