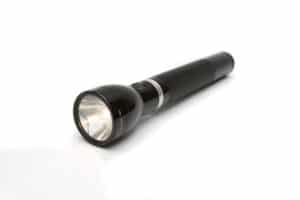 Heavy duty flashlights are quality pieces of equipment that are an important part of any survival kit, bug out bag, or even as a reliable piece of camping equipment. These flashlights, also often referred to as tactical flashlights (we'll go into what exactly this means a little bit further on in the article – it's kind of a muddled mess at this point), are flashlights that not only work but can hold up to the heaviest of beatings from major use.
The strongest versions are made of materials that also allow them to often be used as a solid club in a self defense situation – which is where the "tactical" part originally came from when it comes to heavy duty tactical flashlights.
Don't just assume any type of flashlight will do. While there are many options out there, including many cheap ones, a truly great flashlight should be seen as an investment in an exceptional tool that can take a beating that normal flashlights might not be able to handle, and still function fully.
Whether you are looking for something durable because you're a klutz, because you know accidents happen on night hikes, or whether the potential self-defense aspect of a serious military grade or police grade flashlight, going heavy duty might mean breaking a little bit more out of the wallet but for the additional quality and reliability many people find the extra expense well worth it.
Some of our favorite tactical flashlights include:
Heavy Duty Flashlights Versus Tactical Flashlights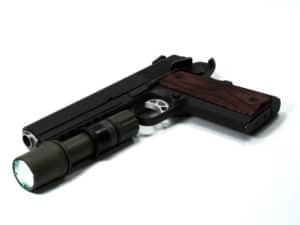 So what is the difference between a flashlight that is touted as being heavy duty and one that is described as being tactical? Generally speaking, not nearly as much as there used to be. This is one of those issues where the answer can actually change based on the specific lights being looked at.
Originally a tactical light referred to any flashlight that was designed to be attached to the barrel of a firearm. This would be the type of thing that could be useful for law enforcement or the military and originally the term "tactical" meant that these were lights which were specifically designed for that purpose.
There's no denying that the word has loosened in its meaning over time and now is often interchangeable with heavy duty, meaning simply a flashlight that is bigger, heavier, and often has metal as a base over plastic making it effective not only as a camping tool but large and heavy enough to also be used as a weapon in self defense situations.
Original tactical flashlights were smaller than modern versions, seeing as how the word "tactical" has actually become marketing for a certain type of heavy duty light more than it has held to its original traditional meaning.
What Sets Heavy Duty Flashlights Apart?
There are many different types of heavy duty flashlights, and while many brands have at least one version that falls under that "heavy duty" line, there are some that really stick out compared to others. Rayovac and Maglite are two examples of companies that are well known for their heavy duty flashlights.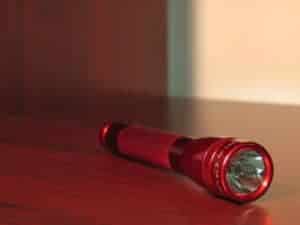 While exact definitions of what does or does not make a flashlight heavy duty, generally when this term is used it's for a larger light that has a long handle, and in theory could even be used as a self-defense weapon, if need be, because of its sturdiness and the quality of materials used to put it together.
Heavy duty flashlights tend to be a little more expensive than regular run of the mill plastic models, but these are designed to last a lot longer. They can also take a beating. As stated earlier, some of the best examples of heavy duty flashlights are the ones that police officers use at night.
Not only do these compare favorably to other more commercial based flashlights, but as shown by the video further down on this page – they can also be used very effectively as weapons against a mugger or attacker.
I'm personally a major fan of heavy duty flashlights because they're designed and built to last. Too often nowadays things are "Wal-Mart quality" – cheap low end crap that's designed to break year after year. If you're purchasing an actual heavy duty flashlight, you're actually getting something that's going to last year after year, and provide additional security to boot.
That's a win-win situation all the way through.
What Are Some Current Top Rated Heavy Duty Flashlights?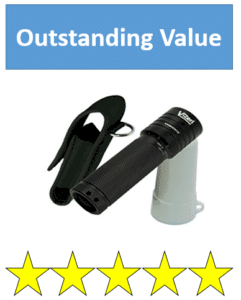 Vizeri CREE T6 XML Tactical Flashlight
This military quality LED flashlight is designed to create an intensely bright beam. This is the type of flashlight you want when you're trying to find hunting camp in the middle of the woods or getting attention in a wilderness survival situation.
The construction for the Vizeri CREE T6 is remarkable, as the individual components are threaded together to create the perfect fit.
There are low and high light options, and for conventional flashlight use often low or medium  is more than enough to get the job done. The high beam absolutely cuts through the night, but can be almost dangerously bright up close if you are shining it in someone's eyes (though this can be a serious benefit when you find yourself in a potential self defense situation).
The strobe and SOS settings can make you easy to spot, especially if there's someone searching for you at night or you're worried that someone might be lost in looking for camp. Either way, this heavy duty flashlight has you covered.
This unique tactical flashlight offers 5 settings:
High
Medium
Low
Strobe
SOS
Those options alone go to show how well this flashlight is designed and what type of scenarios people might need it for.
J5 Tactical V1-Pro Flashlight
When it comes to top of the line flashlight design you know the name "J5 Tactical" is going to show up on any reliable list. This is the original of the highly regarded 300 Lumen ultra bright flashlights. Although black is the traditional color most people are familiar with, this exceptionally designed heavy duty flashlight actually comes in 5 different colors that buyers can choose from.
Aside from the conventional low/high options when it comes to controlling the intensity of the light, there is also a strobe setting that can be good for getting attention in an emergency situation.
These lights are built to be both compact and tough, making them easy to pack and use while also making sure whether you are into camping, hunting, or what that reliable flashlight for an emergency situation, the original 300 Lumen J5 Tactical V-1 will hold up to all of your needs and more!
This light has a stunning number of reviews on Amazon, currently well above 10,000 reviews and a 4.6 star rating, which is really dang good – especially when you consider the sheer number of reviews over the years. Add in the company policy of replacing or refunding your money in full any time you're not happy, and it is hard to argue with what this entire package brings to the table.
These also come in bundles of 10 if you need to provide an entire team with high quality heavy duty flashlights!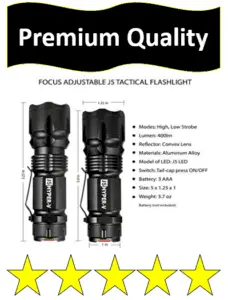 J5 Hyper V Tactical Flashlight
The excellent follow up to the original V-1 from one up on this list, there's no denying that both of these models of high quality tactical flashlights from the J5 company deserve to be on here. Stunningly bright at a full 400 lumens, this LED heavy duty flashlight lives up to the tall standards that the V-1 set before it.
Running off 3 AAA batteries, even at high beams these lights give hours of use and are easy on the grip, designed to be powerful and well constructed, and are going to last against the test of time.
These flashlights are made for heavy use. Whether you are into night hiking, camping, or hunting, these lights are designed to function fully and correctly even in the elements, even after taking beating after beating.
Made from a special aluminum alloy, these are extremely lightweight and yet fully durable and reliable.
Even better? The company guarantees that you will be satisfied or they will send you a new flashlight or send you your money back. They stand by the quality of these lights just like they stand by their original tactical flashlights.
Streamlight 88040 ProTac Professional Tactical Light
One of the more expensive flashlights on this list, Streamlight's contribution to the world of high quality heavy duty tactical flashlights has been a remarkable one. With a 4.6 rating out of 5 stars (as of this writing) from a stunning 5600+ reviews, you have one heck of a track record from satisfied customers who have bought, used, and truly tested out this flashlight in real world situations.
Featuring a white LED light and coming in the classic black case, and weighing only 5.6 ounces, this flashlight is made from outstanding aluminum and is battery powered.
While that might seem boring, the results that come from those batteries is exactly why this flashlight sticks out – because that beam is nothing to sneeze at!
Just to show how much they trust their level of craftsmanship and quality, these flashlights come with a limited lifetime warranty for replacement. When you're looking for a lightweight yet premium made flashlight, you're going to be hard pressed to find better than what these Streamlight heavy duty flashlights bring to the table.
Nitecore EC4S High End Tactical Flashlight Bundle
Nitecore hasn't received the same attention as many of the bigger names, but they're quickly gaining a reputation for creating exceptional tactical flashlights that look very different but deliver when it comes to producing reliable and high quality light for any job purpose.
This light has up to a remarkable 2150 lumens, that can provide hundreds of yards of clear visibility even during the darkest part of night. Running off of lithium ion batteries, this powerful light is waterproof, comes with five different settings to allow managed use of battery life (or make for one heck of a signal at night) and is impact resistant from reasonable heights, protecting it from basic drops out of the hand.
The design definitely sticks out as being something very different from your conventional flashlight and the new design is aimed at helping these flashlights take a beating and keep on working without any hiccups.
These have a small following right now compared to the other more established models/designs on the list but we expect them to continue to improve, gain new fans, and continue to make high quality tactical flashlights into the future.
Don't let the design throw you – these flashlights are ready for those important outdoor or survival scenarios where you need a reliable light that is going to come through.
Fenix PD35 TAC CREE LED Tactical Flashlight
Fenix stands up to the most popular of flashlight designs out there, and if you've ever handled one you know why they enjoy that good of a reputation. The high grade of materials and fine detail on craftsmanship come together to create one of the truly great tactical LED flashlights that is currently on the market.
This flashlight comes with a secure carrying case and uses one of two battery options to get the up to 1000 lumen lights going. The battery options are: two 3V lithium batteries (CR123A) or a rechargeable Li-ion battery.
There are hundreds of reviews for this high powered and heavy duty flashlight on Amazon, and overall the light has an impressive 4.6 out of 740+ reviews as of the writing of this review.
This flashlights has two modes: outdoor mode and tactical mode. Each one has different settings for the light and gives a remarkable set of options when it comes to the degree of light needed as well as the situation. Six different options are associated with outdoor while tactical offers the basic three.
This flashlight is made from extremely durable aluminum, strong glass, and is waterproof. This light has been tested underwater (6 feet deep) for up to 30 minutes in one setting. That's a lot of durability and goes to show just how exceptional a design this can be.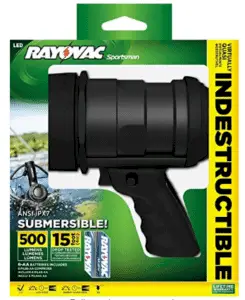 Rayovac OT6AASP-B Virtually Indestructible Spotlight
Rayovac is one of those companies that appears quite often when it comes to heavy duty flashlights, and unlike many others they don't just focus on one specific type of light or design that they then make different versions of over and over again but this company makes a variety of different specialty heavy duty lights which is how you get interesting lights like this one.
The Rayovac spotlight was specifically designed as a high quality submersible light that would cut through the murkiest of underwater areas.
Waterproof and made of hard molded rubber, this 500 lumen spotlight has three different light modes (low, medium, and high), features a glass lens that is shatter proof, and this spotlight has even been drop tested consistently up to 15 feet.
This light absolutely cuts through the darkness and can cut through up to 360 meters on high out of water, and is one of the best non-commercial options available to the general public.
Add in a safety strap for those of us who tend to be a little bit clumsy and you can see just how good an option this is.
So Many Good Choices Out There

While there are a couple of major companies who tend to produce the majority of heavy duty flashlights, there are still other companies who occasionally make a good industrial flash light, or even a military grade flashlight. Rayovac heavy duty flashlights aren't quite as heavy duty as some of the other popular models, but they do make some serious level flashlights of note.
Some models of heavy duty flashlights are also designed for ultra-strong and ultra-bright beams of light that go way beyond the normal levels. While these can be useful, lights that are designed to be that much brighter are also likely to chew through batteries a lot more quickly than a normal heavy duty flashlight.
There are many different uses for heavy duty flashlights, making these a solid buy for virtually anyone who is in need of a good flashlight. Why go with something cheap when you can buy something that is going to last a long time and you can rely on in difficult situations? Buy heavy duty.
Great Maglite Flashlights
There are some brands that just stick out compared to the rest of the competition, and when you have someone who has managed to stick out because of that high level of quality, it makes sense when their specific flashlights start showing up all over the place.
While this isn't to take away from any other company and the tactical or heavy duty flashlights they produce, there's no denying the impact that Maglite has had in helping to set the standard for quality in the industry.
Generally speaking these aren't true tactical flashlights but they are heavy duty. Think of the big black flashlights you imagine police officers carrying, ones that can be quickly turned into a weapon if a self defense situation should arise and you probably have a heavy duty Maglite in your mind's eye. They're great flashlights that are built to last and get the job done. While providing high quality light as a reliable tool, you also have the type of flashlight that can be used as a solid tool in the wilderness or for self defense in a fight situation.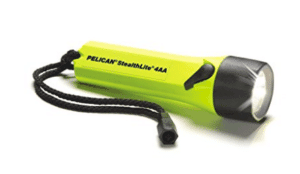 Pelican Heavy Duty Flashlights
Maglite isn't the only company that produces heavy duty flashlights of note. The fact is that Pelican heavy duty flashlights are also very well known, and produce some flashlights that are used for less conventional reasons. For example, there are "props" to connect heavy duty flashlights to sleeves that fit over shotguns. So I guess if you're into shooting a 12 gauge in the middle of the night, which could come in really useful.
Depending on which types of Pelican lights you grew up with, you might be used to one of the traditional Pelican designs: the bright and thick yellow rubber over most of the body with a black flashlight head. These classic Pelican work flashlights are still available and many of them are among the most popular models, as well as similarly designed lights that are various shades of green instead of yellow.
That being said, there are some incredible Pelican heavy duty flashlights that also come in a more traditional color or design that remind people of Maglites or other tactical flashlights often used by police officers. The selection really is remarkable when it comes to design but there is one thing that stays consistent: the high level of quality.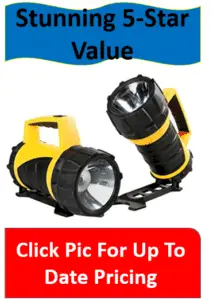 Looking at Heavy Duty Rayovac Flashlights
Rayovac flashlights are extremely popular with many outdoorsmen and have gained popularity because of several new designs that are specifically geared at campers, hikers, and other individuals who enjoy the great outdoors and need a heavy duty flashlight that will take a beating for whatever comes up.
Several models of these flashlights are high beam and when you combine that with the Sportsman and Xtreme brands of flashlights.
Top quality Rayovac flashlights are designed to be strong, take a beating, and work in the fully functional way that you would hope for from a high quality flashlight. In addition to these, Rayovac is also known for its industrial strength flashlights. This means that they are designed to be strong, to last, and to pass heavy duty quality tests.
This combination of being outdoor ready and workplace ready helped build the reputation that Rayovac thoroughly enjoys.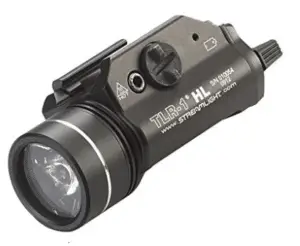 Streamlight Tactical Flashlights
These are some of the most popular brands of flashlight on Amazon, with some models having over 5,000 reviews and still receiving close to 5 stars. Just simply remarkable. These aren't only great tactical flashlights, they're not just some of the best when it comes to being heavy duty, but considering the overall score and number of stars these are some of the best products that can be found anywhere online.
While there is no shortage of various flashlights that meet even the most stringent of needs and expectations, Streamlight flashlights rank up there as one of the highest ranking for a reason. They have a reputation for being some of the best out there, and they are a company that is synonymous with strong, dependable flashlights that have a reputation for standing up to (and even beating) the best of the competition. While they make a wide variety of flashlights, keeping in mind that there are many different needs that their customers will have, and so they create a remarkable array of truly incredible flashlights to meet those needs accordingly.
The one pictured is a special example, as it is combined with a weapon mount, making it a true tactical flashlight. In many places tactical and heavy duty are used interchangeably, which technically is not correct although it happens often enough that at this point you sort of have to accept it.
Leave it to Streamlight heavy duty tactical flashlights to remain truly old school in doing it right. If you don't know where to start, try looking up Streamlight's Scorpion Lite line.
Conclusion About Heavy Duty Tactical Flashlights
Maybe it's the paranoia in me, maybe it's the anger about having to replace anything bought at Wal-Mart within months, if not weeks, but I prefer heavy duty flashlights over any other kind. The quality of craftsmanship, as well as the self-defense angle, makes this one a winner for me. I've already made a hub about learning how to brawl, so this fact shouldn't surprise anyone. A heavy quality flashlight is always a good buy for both its functionality, and its other benefits.
If you're not sure about what type of flashlight truly is right for your specific needs, I would still highly recommend a heavy duty flashlight because they are well made, work great, and an accidental drop on the ground isn't going to bust one of these. If you are a firm believer in good craftsmanship and buying something that lasts for years, the extra little bit of money that a heavy duty flashlight costs is well worth it. Take a look around, do some research, and figure out how to pick a great heavy duty flashlight that's right for your needs.
There are so many choices when it comes to heavy duty or tactical flashlights, and finding the right one for you may take a little bit of searching and research, but this article should definitely have given you more than enough information to really kick off your search. Whatever your needs, you are sure to find a flashlight that meets your every need!
Great SWAT tactical flashlight YouTube video
Other Flashlight Reviews Of Note:
The Tactical Guru 2016 Flashlight Guide
Survival Kit Club's Most Durable Flashlight
Tactical Flashlight Articles on Wikipedia
Blue Light Flashlight Use Guide