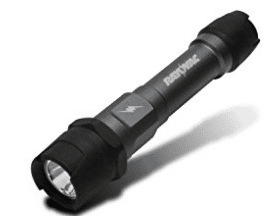 There are a few names that stick out in every industry as being the standard by which everyone else is measured by and/or trying to match. Rayovac is one of those names and while they are known for a variety of products and batteries, it's the Rayovac heavy duty flashlights that really make a strong showing.
Whether you want the type of flashlight that always works and takes a beating when the power goes out, when you're out hunting, or from one camping trip after another, Rayovac lights are a great choice to make sure you always have a working light out in the darkness.
Read on to take a look at the absolute best heavy duty flashlights put out by this company, as we work to give you more than enough information to make an intelligent and informed decision when it comes to figuring out the flashlight that works best considering your specific situation and the needs that result from that.
Overview of the Best Rayovac Flashlights
There are many great flashlights out there by Rayovac and that is especially true when it comes to what many people would refer to as the heavy duty models. Why buy a really cheap flashlight, one made out of cheap plastic, when you you can spend a few more dollars to have the type of flashlight that can last years or even decades when properly taken care of?
There are many other choices when it comes to cheap flashlights, but they won't deliver the same quality. Even some top of the line outdoor flashlights can be had for $20-60 so there really isn't a good reason for not getting a high end design.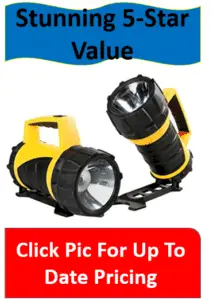 Rayovac Professional Industrial LED Flashlights (110 Lumens)
This heavy duty flashlight from Rayovac offers a very powerful beam that gives bright light over long distance and offers full professional grade lighting. The beam is advertised to go over 869 feet in length while the build of the flashlight emphasizes materials and construction that make it top of the line.
The term "indestructible" isn't just marketing spin. This flashlight is designed not only with immense sturdiness, but it is tested to make sure that it holds up to the roughest of common uses. Not only can they take a beating thanks to the hard casing with rubber trim, they are also fully water resistant, making them even more useful when out in the wild or on a particularly rough job site. When you need an industrial strength flashlight, these are the way to go.
There's even an adjustable stand included for hands-free illumination whenever you may need it. Rated near the top of Amazon's rankings, these flashlights do a great job of representing the Rayovac flashlight brand and are a well made industrial design that holds up to the test of time.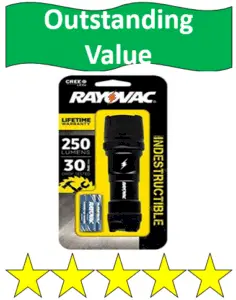 Rayovac's DIY3AAA-B 250 Lumens LED Flashlight
Some of the best Rayovac flashlights also happen to come in smaller packages! The DIY3AAA-B Indestructible model is a mere 4 and a half ounces, and yet it boats 250 lumens and a beam distance of nearly 500 feet. You'll also likely be very impressed by the battery life. Despite running on 3 AAA batteries, there's an energy saving feature built in that will grant you nearly two full days of run time.
The design itself is also the best possible mixture of comfort and sturdiness. Made of both titanium alloy and aluminum, this is a flashlight that will keep going even after huge tumbles from as high as 30 feet up. If that wasn't enough, this particular model is also waterproof! This is a wonderful option for your car's glove compartment, or even a tote bag or purse. Virtually indestructible isn't just marketing, either, as these flashlights have proven that they consistently still hold up after a 30 foot drop, which is far more than the 3 foot drop that is standard in the industry.
Rated near the top of Amazon's rankings, these flashlights do a great job of representing the Rayovac flashlight brand and even come in lantern or headlamp form!
Rayovac DIY2AA-B Indestructible Flashlight
The DIY2AA-B Indestructible is a AA battery Rayovac tactical flashlight model in the same vein as the AAA version listed above. With just 2 AA batteries, you'll receive 35 hours of power and over 440 feet of beam distance. It can be held and operated within a single palm despite the massive output.
This model also comes with bonus features such as water resistance, shock and impact proofing, and all the resilience you've come to expect from Rayovac over the years.
Whereas other major flashlight brands give out on you after merely dropping them on your kitchen floor, this model will keep ticking even if it falls up to 10 times further. With a low price point, you can easily stock up on several of these to distribute throughout the house in case of a sudden power outage.
You'll never have to fear rummaging around in the dark again with the DIY2AA-B at your disposal.
OT2D-BC Virtually Indestructible LED Flashlight
Next up, the OT2D-BC model is another contender for one of the best Rayovac flashlights. Running off of 2 D batteries — which are included in your purchase, of course — this reliable entry boasts 320 lumens, a certified safe drop distance of up to 20 feet, and an incredible 900 foot beam distance.
The battery life will also net you about 30 hours of run time, giving it a fairly long life among flashlights that are this powerful.
Of course, the design itself is not only easy and comfortable to hang onto, it also has full shock absorption built right in. Thanks to the titanium alloy construction, there's very little chance of this model ever receiving more damage than it can take. IPX4 water resistance is also in full effect here, which means this is one flashlight that can take a beating rain or shine and yet keep working.
This is our top rated model out of the Rayovac heavy duty flashlight designs and it certainly doesn't disappoint.
The BEAST RWP123A-B Outdoors LED Flashlight
With a name like The BEAST, you can rest assured that this is definitely one of the top options for Rayovac heavy duty flashlights. While easily the priciest of the entire list, the loftier cost nets you some truly remarkable features. There's also a lifetime warranty included free of charge, which is always a good sign as far as we're concerned.
As the promotional material proudly (and rightly) boasts, this model provides a 1,300 foot beam that's even more powerful than standard car headlights. At high output, you'll be getting 2,000 lumens, whereas the low setting offers 530. You can also switch over to a 200 lumens energy saving mode if necessary.
Thanks to the frosted lens, you can even use the RWP123-AB as a floodlight. Despite the heavy duty nature, it has a perfect ergonomic design with brilliant weight distribution. The aluminum housing will also keep it protected from any harm. Given the immense power, you're only going to have around 2 hours or so of run time with the lithium batteries, but you must keep in mind this is more for outdoor use than searching around your home.
If you're a camper, hunter, canyoneer, or even a security professional or other law enforcement agent, this is exactly what you'll need to gain the upper hand in any low-light scenario when out in the open.
If you're looking for the very best of the best Rayovac flashlights, this model is going to be tough to beat.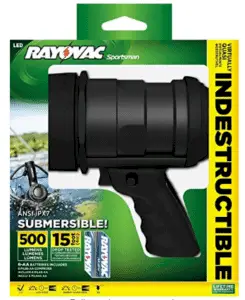 OT6AASP-B Sportsman Virtually Indestructible LED Spotlight
The OT6AASP-B Sportsman is yet another promising entry in the lineup of Rayovac tactical flashlights. On this model you'll find a lens and reflector that's completely shatterproof, and the entire unit is drop tested at up to 15 feet. There are up to 500 lumens available, with three different output settings that will give you varying degrees of battery life, although it is definitely worth noting that even the high setting guarantees at least 10 hours' worth of battery life.
Like The BEAST, this model offers a beam distance of over 1,000 feet, and it only needs 6 AA batteries to pull it off. It can even work when submerged in water and in fact is designed to be a viable underwater flashlight. The lens is built to be shatterproof, which helps assure the waterproofing does its part for those divers who need a reliable light for murkier water.
Whatever the reasons for needing a great spotlight, Rayovac's OT6AASP-B LED flashlight and underwater spotlight will be able to provide everything you need and more while guaranteeing that quality of construction this company is famous for.
In Conclusion
Rayovac is a name that is synonymous with quality and a good Rayovac tactical flashlight is going to work reliably not just once or twice, but it is one of those outstanding pieces of equipment that you can count on being good and lasting over the long haul. Rayovac is just one of several companies that focuses on manufacturing heavy duty flashlights that are built to operate at a high level while standing the test of time and major amounts of use and wear that are going to take place.


If you're looking for the type of flashlight that is truly worth the money and isn't going to crap out on your during an emergency, you'll be happy with any of the choices on this great list!
Great Review Video of Rayovac Flashlight