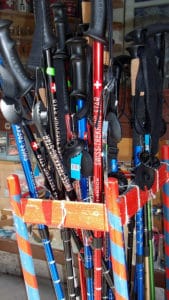 There are many different types of hiking poles out there, and you would be amazed by just how many different opinions are out there on which brand or type are best. We've gone over this topic a few times, and while our best tri-fold trekking poles article was extremely popular, there was a high demand for more content in this area.
You never have to ask me to try out more hiking poles! So we're happy to add this as our contribution to the local hiker community!
Carbon fiber hiking poles in particular have gained a lot of attention, and we have to say, we're big fans! Some people will be up in arms off the bat with that statement, but the truth is as with any type of gear: quality matters.
Truly well made and high quality carbon fiber trekking poles are strong, flexible, and can put up with a beating, especially on long distance hikes when you need really lightweight gear that is still going to be able to hold up against heavy use and the test of time.
Carbon fiber is a material that is known for being incredibly light, especially considering the durability that really good models display even with heavy duty use. While they aren't going to be as strong as machined aluminum, the carbon fiber trekking poles we review are these are what we see as the top of the line, the ones that stand above the others and really help you to bring the A-game forward.
Best Carbon Fiber Trekking Pole Top Picks
Best Carbon Fiber Hiking Poles
Carbon fiber is an incredible material that can make some truly exceptional trekking poles, however you want to absolutely make sure that you shop for the best available option because there's a huge difference between cheap carbon fiber poles mass produced under lenient quality standards overseas ("China quality") and the really high quality options.
We take a two-pronged approach to giving you our editors' top rated ultra lightweight carbon fiber trekking poles.
First: We make sure that our best overall pick is on top, followed by several other top rated options that specialize for really specific demands like quality on a budget, durability, etc.
Second: We scour the web for other really top notch models that are clearly a step above and beyond the average hiking poles made from carbon fibre that are out there. This way for those of you who are like Shane (Big Alaska) and need to read ALL the information before making a choice – you get all the top options with a rock solid summary right here.
So keep that in mind and enjoy your new incredibly lightweight trekking poles!
Best Overall: Hiker Hunger Ultralight Carbon Fiber Trekking Poles
Hiker Hunger (great name) takes the top of our list for the absolute best when it comes to ultralight carbon fiber trekking poles. These are some of the best carbon fiber hiking poles that are currently available on the market and there's a reason that they are overwhelmingly popular with hikers of all skill levels.
Hiker Hunger's carbon fiber ultralight hiking poles are built to last while helping to absorb the shock of the trail. Each pole is only 7.6 ounces – these seem inconceivably light when you pick them up for the first time. Yet these are built to last and the company is very willing to brag about making the strongest lightweight poles that you are going to find anywhere on the market. These poles also have the featured "Quick Flip Lock" system so poles can be collapsed or extended. At their shortest they are a mere 24 inches while they are 54 inches fully extended. This versatility means they are easy to pack and carry while not in use and get the job done while on the trail.
The comfortable grip is legendary among distance hikers, combining an ergonomic grip made from cork while also being designed to pull moisture from the hand, relieving pressure you might not even know you're putting on you grip.
These poles come with a couple rubber tips, feet, mud baskets, snow baskets, and a carry bag, as well. There's a lot to love about these truly elite level carbon fiber hiking poles and the one year manufacturer's warranty is the cherry on top.
You won't be disappointed with these hiking poles!

Best Adjustable Ultralight Option: Foxelli Trekking Poles (Carbon Fiber – Ultralight)
This is another set of high quality lightweight carbon fiber hiking poles that we are really big fans of. Foxelli trekking poles are built from high quality carbon fiber while featuring natural cork grips that are more comfortable on the hands and help wick away sweat/moisture.
These poles are collapsible to take up as little space as possible while transporting and are approved for use during all four seasons.
Add in the fact they sport a pretty impressive track record of absorbing shock despite being lightweight and we have a real winner here. They advertise as allowing ultralight hikers to move faster and further with minimal effort for maximum results.
These poles only weigh 7 ounces, which is less than half a pound. That is very impressive. Add in a solid design that holds up among the best of the ultralightweight carbon fiber models that are out there.
The ability to adjust the size of these poles can be a major plus. These are some of the few poles on the list that can be used by short people and tall people alike. These can be a short as 24 inches in length or as long as 55 inches – which definitely covers a wide range of average heights!
While there is occasionally the worry that adjustable carbon fiber trekking poles aren't going to be quite as sturdy or solid as one piece option, these are more than enough for the majority of trekkers and their needs. Advertised as being perfect for all conditions and all terrain, there's a lot to love about these.
Add in a tungsten carbide tip as well as comfortable rubber tips and you're prepared for hiking through any condition. These poles will help reduce the impact on your joints, keep your balance, and navigate slippery, thin, or tricky areas of trail.
Foxelli's carbon fiber trekking poles are outstanding options and will find plenty of fans among hikers and backpackers of all types. Add in the 120 day money back guarantee and a further 3-year warranty for exchange and it's hard not to love what you see out of Foxelli here.

Outstanding Durable Pole Option: Cascade Mountain Tech Quick Lock Trekking Poles
Cascade Mountain is a name that will come up a lot and for good reason. Simply put, we love their commitment to quality and that commitment comes through with top notch gear. These quick lock carbon fiber trekking poles from Cascade Mountain Tech are our pick for an outstanding durable option.
Coming with a choice of cork grip or EVA grip, these poles refuse to use inferior quality materials but only use the bet and it shows. These are unusually durable for carbon fiber poles and especially considering each pole weighs less than a pound.
That means these durable high quality poles are also perfect for long distance hikes. They will hold up and they won't wear down the arms in doing so!
These carbon fiber poles are extendable as well as featuring a quick lock system. Whether pushing hard uphill or getting your footing heading down slope, these are a great option that will last the test of time.
These poles can be as small as 26 inches or as long as 54. That's plenty of area to help make sure you get the perfect size for your height. Grips are EVA or cork and provide two great non-slip options. Adjustable wrist straps are available, as well.
The company's dedication to high quality products and materials means they fully back every single pairs of heavy duty trekking poles they produce.

Cascade Mountain Tech Carbon Fiber Quick Lock Trekking Poles
Cascade Mountain Tech is a name that we lover and these carbon fiber hiking poles are an excellent value. Using quality materials and designed for the thru hiker who needs strong ultralight poles that will last for hundreds of miles without breaking.
These poles are extendable and feature a quick lock. This means solid support and allows a change of length from 26″ to 54″ in length. Comfortable EVA grips are non-slip meaning even in rain, sleet, snow, or even heat beating down creating palm sweat, you'll be able to keep a firm grasp on your hiking poles.
These are often lauded as one of the best overall values out there when it comes to finding an outstanding pair of high-quality carbon fiber hiking poles at an incredible price. We've heard from more than one section hiker of the PCT and AT that they love these poles. They've held up for many hundreds of miles and from the guys we talk to they really like these just about as much as Leki, Black Diamond, or some of the other really high end brands that charge a lot more.
That's pretty high praise from serious hikers who would know if the carbon fiber hiker poles they were testing would be good or not.
Perhaps even more impressive is the versatility. I know backpackers who are a good 6'5″ who use these poles as well as a few who barely make the 5 foot flat mark. Yet both love these specific trekking poles and that says a LOT.

Black Diamond Alpine Carbon Cork Trekking Poles
Black Diamond is one of the really renowned names in the hiking arena, and there's a good reason for that. The handles are made from premium cork with a grip that is designed to be comfortable and ergonomically friendly. These come with comfortable and adjust able wrist straps to make sure you don't lose these poles if you lose your footing.
These adjustable premium carbon fiber trekking poles include a dual flick lock. In addition to this they also have interchangeable carbide tips, trekking baskets, and powder baskets. In other words, these are prepared no matter what type of weather or environmental conditions you find on your hike.
These are four-season hiking poles. The design and high quality of materials make them great for any hiking challenge. Ergonomically designed grips are comfortable, while the upper shaft is aluminum and the middle shaft is carbon fiber.
Then of course there is the reassurance of the Black Diamond brand, which has been a powerful and outstanding option since the company's foundation in 1989.

HETTO Carbon Walking Poles for Men
Considered by many to be the best budget option for high quality lightweight trekking poles, this one is right up there as one of the most popular options we know of.
These guys believe in carbon fiber through and through, as evident from the design. These three section trekker poles are all made from very high-quality carbon fiber. This material is ultralight, durable, and is designed with an anti-shock function that helps it hold up over the course of time.
As with any other carbon fiber hiking pole, these can still be vulnerable to snapping in the wrong situation like deep snow treading and getting the pole jammed between two rocks before twisting against the build – but that's also true of any specific hiking pole.
The design these poles use minimize those issues. In addition to this, the handles are comfortable, absorb sweat, and come with both flip locks and wrist straps. In other words, you get the full package.
Great for a wide variety of different terrains and challenges, these trekking poles from HETTO will become a favorite for many hikers. Whether you hike long distance or just want to get in a few miles in on the weekend, these powerful 4-season ultralight hiking poles will get the job done.
The diameter of these poles might be a touch larger than some of the other ultralight choices out there, but these tenth of an ounce increase in weight offer a surprisingly large increase in stability and strength.

Titan Trekking Carbon Fiber Trekking Poles Reviewed
With a name like Titan Trekking you expect some serious quality that backs up the brand. Fortunately, Titan comes through with these excellent adjustable carbon fiber hiker poles.
Featuring comfortable cork handles these collapsible carbon fiber trekking poles come with a wide array of accessories to adjust for any terrain or hiking situation. Engineered to be a good fit for walkers, weekend warriors, and even thru hikers, there is a lot to absolutely love about these poles.
These can be set anywhere from 24 inches in length to 56 inches in length, which helps make these a great fit for short, average, and tall people. That type of versatility is something we always like to see. Especially when it comes to quality hiking poles. The ergonomic handle is made from cork, wicks away moisture, keeping your hands as comfortable as possible. All without losing your grip over tricky ground.
Bragging about being "light as a feather," these ultralight trekking poles have a strong fan base. We can definitely see why as these are really top notch carbon fiber hiking poles.
Often times they even come with a bonus of a free carrying case that has a mesh pocket sewn into the side for your water bottle.

Starlight Mountain Outfitters Trekking Poles
There are several styles of quality carbon fiber hiking poles that are relatively similar in design, but that makes sense. When you have a truly outstanding design, why not use that as the base?
Starlight Mountain Outfitters does just that, focusing on creating their take on durable ultra lightweight trekking poles. Less than half a pound each, the strong 3K carbon fiber creates outdoor equipment you can be a part of.
These telescopic trekking poles have a popular design that includes friction locks and adjustable heights. The cork handles are designed to be as comfortable and ergonomic as possible while included accessories allow you to change out based on the terrain and if there is any snow to deal with.
Each of these carbon fiber weaved hiking poles are very lightweight at a mere 6.8 ounces. They are adjustable, and the grips are designed to be breathable and ergonomic in nature. There are solid carbide tips to hold up to rocky and rough trails, mud baskets for soft ground, and snow baskets for powder.
In other words, they are versatile are designed for every style and type of hiking in mind. Whether you're hitting a well maintained park trail, looking at a major thru hike, or something in between, these sturdy lightweight poles are going to be a great option.

Why Carbon Fiber?
Carbon fiber has become one of the most popular materials when it comes to lightweight hiking poles, and it isn't hard to see why. When every ounce matters, you're not going to find a material that is this durable while keeping the weight off.
This is a major reason why virtually all long distance thru-hikers look for a top rated carbon fiber trekking pole for their journey. Now it's important to note that quality matters. In the same way that not all types of aluminum or steel are the same, not every carbon fiber mix is the same quality.
There is a HUGE difference between good ones and bad ones.
Good carbon fiber characteristics
Good carbon fiber trekking poles are going to be strong, but remember that all carbon fiber is going to be much stronger top to bottom than side to side. While good hiking poles made from this ultralight material should do well, they become much more brittle in the cold. This means they're not good for use in high mountain climates or through rocky terrain on really cold days.
However in normal conditions these are an outstanding option and the flexibility and extreme light weight of the poles will really stick out. There are many different grades of carbon fiber, and if you want to really dive into the weeds on this one check out this article.
That being said, good carbon fiber will have a few common characteristics:
Sturdy yet flexible enough to avoid brittleness
Very light weight
Able to handle most basic to moderate difficult level hiking conditions
Under longer warranty (manufacturer confidence)
There's a huge difference between the best in the business and the also-rans, and that's a major reason why these "best of" articles are so important. We only focus on the top trekking pole brands so you know no matter which ones you decide on off this list that you'll be getting the right level of quality.
What to Look for in Carbon Fiber Trekking Poles
As with any type of outdoor gear, the things to look for depend a lot on the type of outdoor trekking you do the most. If you do a lot of winter or high altitude hiking then you will want poles that are equipped to work with snow and tougher terrain. Lightweight matters a lot more if you do distance hiking versus short hiking "jaunts."
In other words, what is the #1 hiking pole choice for one hiker might be #3 for another, and vice-versa. It's up to each individual to figure out the details of what works best for them.
That being said, there are certain factors you should look for in any good trekking gear. This is doubly true for carbon fiber hiking poles where quality makes a huge difference.
Your quick hit list of questions on what to look for:
What's the quality of the carbon fiber?
Is the company/brand well known in the hiking/trekking community?
Are the trekking poles designed to handle your preferred terrain?
Is the cost reasonable for what you're getting?
What's the weight of these poles?
Do they have flip locks or twist locks (overwhelming consensus: flip locks are better and more durable)
How comfortable are the grips?
While each of these can be broken down a little bit more, when it comes to a quick hit list of what to look for in a great pair of hiking poles that's a great starting point!
Carbon Fiber Quality
We've said this plenty of times but it bears repeating again: you need high quality carbon fiber. The really top of the line carbon fiber is absolutely fantastic offering remarkable strength and durability at an incredibly light weight.
The cheap stuff is really cheap – and will snap at the first sign of challenge. The difference between the two is really night and day.
Grip Type & Comfort
A great pair of hiking pole makes a big difference when enjoying the trails, but the last thing you want are sore or throbbing palms because the grips are bad. Cork grips tend to be much better than foam and a lot of hikers are fans of EVA.
Look at poles with ergonomic grips and always feel them if possible to figure out which ones contour to your hands and which don't.
This can be hard to figure out while trying them out. There's a big difference between mile one and mile twenty, after all. That being said, you want to do your best to see if there are any grips that feel great or any that feel a bit off.
Try to find grips that are going to be as comfortable a possible. If they don't feel great in the store – that's not a great sign for mile 20 or 30!
Company (Brand) Reputation
Some companies have a sterling reputation. Others don't. Obviously you want a solid company that has a proven track record with outdoor gear.
A well-known and well-established company is a good indicator of the quality you can expect. If the hiking poles are made by a company with an iffy or so-so reputation then be wary.
Finally, it's worth noting that a lack of history isn't necessarily a bad thing. There are great new start-ups popping up all the time. This is especially true in the outdoors industry where there are so many passionate members.
A little online research can go a long way to determining how the new guys are going to measure up.
What's the Weight?
Even among carbon fiber options there can be several ounces of difference from one set of trekking poles to the next. If you're just hitting a 3 mile trail or a 5 mile jaunt then it really isn't a big deal.
However, if you are looking at a really long distance or even thru hiking then you want to be sure to pay attention to weight. In those situations every single ounce of equipment counts.
This is another reason why carbon fiber trekking poles are incredibly popular as a top option for serious thru hikers.
What Style of Locks Are There?
There are multiple styles of locks out there, and you don't want to end up with the cheap ones. The overwhelming consensus among serious hikers is that flip locks are the best overall option. Twist locks may seem like a good idea, but they aren't nearly as durable. In other words, they're pretty easy to break.
Really high end poles shouldn't have twist locks. They will always go with the flip lock style because it's simply the superior option.
Carbon Fiber Poles Vs. Aluminum Poles
There are fans on both sides when it comes to this discussion, and both sides make some valid points. There are definite positives for carbon fiber hiking poles just as there are some positives from going with aluminum hiking poles. In other words, there are trade-offs from going with either material.
These are the two main materials used for ultralight trekking poles. Good reason as both can be very lightweight in addition to durable and high quality.
Generally aluminum is a little bit stronger and more durable, but it is also going to weigh more and be a lot heavier over the long term. Carbon fiber is more brittle (relatively speaking) but very lightweight.
So How Do You Choose?
Honestly it's a preference thing and it is also based on what you need the most from your trekking poles. There are many hikers who have one (or more) set of both! We're big fans of carbon fiber because they're lightweight, we don't tend to use poles for setting up a tent as some thru hikers do, and because we only buy the high end hiking poles made from carbon fiber like the ones in this post.
Carbon Fiber Trekking Poles FAQ
Q: Is it true carbon fiber is more brittle than metal?
A: Assuming we're all talking about high quality top notch materials that are made through the best possible methods, then technically yes, but there's a huge difference between "More brittle than nearly unbreakable military grade anodized aluminum" and basic lightweight metal that isn't machined or specially created.
Q: What difference does quality make when comparing carbon fiber poles?
A: Huge. Really amazing carbon fiber trekking poles are top of the line gear while cheap carbon fiber is a lot more brittle and not worth the investment. Quality always matters when it comes to high end gear but that is even more true in this case.
Q: Why is carbon fiber so popular with ultralight gear?
A: Because hiking poles made from carbon fiber are not only surprisingly resilient and effective but they are also much lighter than other options, cutting off precious ounces that are all so important when hiking those types of distances.
Q: Is there a major difference between expensive carbon fiber and inexpensive carbon fiber?
A: Yes! We can't emphasize this point enough. With some types of materials or items the word "premium" is just marketing speak but when it comes to carbon fiber there is a huge difference between cheap/inexpensive carbon fiber and the premium made version of this material.
You want the more advanced premium carbon fiber. Cheap carbon fiber is incredibly vulnerable to pressure, cold, and breaking. While the same can happen to any trekking pole in the right (or wrong) circumstances, the cheap carbon fiber will do so more frequently.
Q: Is there any time I shouldn't consider carbon fiber based hiking poles?
A: If you spend all your time in incredibly heavy duty hiking conditions that involve making your way through deep snow, climbing rocky and craggy places, or going around trails and areas with lots of places where a pole can get wedged between stones and snap.
In those situations where the terrain is always a big issue then you may want to go with heavy duty aluminum.
Q: Are carbon fiber hiking poles expensive? 
A: Compared to what? While high end carbon fiber hiking poles from a premium brand can get a bit pricy, so can any really premium piece of hiking equipment.
In Conclusion
There are many outstanding hiking poles out there, whether they go by the name of hiking poles, trekking poles, walking poles, or whatever else, a good pair of poles makes a huge difference. Even if you're used to hiking without them, it's worth taking the time to get used to using them over long distance hikes.
They offer support, a good lead over hard to see territory while hiking that might help wildlife know you're there (or in the case of rattlesnakes, let them know you are there), and help take pressure off the legs which is crucial over huge through hikes.
The right pair of carbon fiber hiking poles will help you get the most out of your days on trail and once you're used to them, you'll wonder what you ever did without them!
Hiker Hunger carbon fiber trekking pole review video

A few other article of interest: