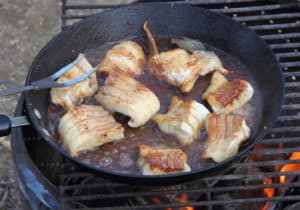 Fishing might not be on the top of everyone's mind around Christmas time, especially when it comes to getting gifts, but maybe it should be. Walleye fishermen know any time of the year can be a great one for walleye fishing, and if you want to to get a gift from the heart then appealing to the angler side of them will never fail!
If you're a passionate walleye fisherman looking for the perfect gift for yourself, or a family member, then take a look at our list of the best possible walleye fishing gifts. Whether you're buying for one or many anglers, you'll find plenty of options here for anglers of all ages and experience levels!
Few things are more delicious than walleye right out of the lake, and if you want to make the walleye angler in the family happy try grabbing them one of these gifts. You even get the benefit of many delicious fish fries in the future!
Best Walleye Fishing Rod
If you really want to hit a home run with your Christmas gift for the big walleye angler in the family, then one of the best walleye fishing gifts you can grab is a brand new fishing rod. Especially if you get a premium top of the line walleye fishing rod. Anglers can tell the difference between a beginning rod, a normal rod, and a premium fishing rod.
St. Croix fishing rods are truly incredible and among the absolute top of the line options for walleye fishermen. The St. Croix Legend fishing rods or St. Croix Tournament fishing rods are a great choice to get the walleye fishing angler in your family smiling from ear to ear.
We haven't been shy at all about how much we love these fishing rods. Jon does about 90% of his fishing with St. Croix rods and I'm probably not that far behind. These are on the pricier side but the value and quality is impossible to argue with.
These are actually hand crafted fishing rods. No mass production here! After being carefully crafted by hand, each one is tested right on site in Park Falls, Wisconsin, to make sure the quality is up to date. Only top of the line Fuji level materials to make sure the rod is an incredible high quality. Add in renowned customer service and a 15 year warranty and you can bet any serious walleye fisherman is just going to fall in love with it.
Among the many gift options for anglers, these are among the absolute best walleye fisherman gifts out there, so if you want to get in good, take a look at that awesome fishing rod for Christmas!
For other great options check out our best walleye fishing rods review post.


Best Walleye Net
Well you're not going to be able to pull in all those walleye without a great fishing net. There are some anglers who just use one or two nets, and I also personally know several anglers who have multiple nets in the garage. Before going out they just pick out the right one based on what they're fishing that day.
So why not get your favorite angler(s) in the family the perfect walleye fishing net?
This is the type of gift any fisherman will appreciate and when it comes to fishing nets, there's a reason that Frabill shows up on virtually every top rated list that we create. They make outstanding fishing nets and the 20 x 23 Conservation Landing Net is one of the best for walleye fishing, in our opinion.
This versatile hoop net is large enough to fit even really large walleye with a good depth that gives plenty of space without being so deep as to make it hard to fish out smaller ones.
This is one of those modern knot-less meshes that make it easy to grab and help keep it free of tangles. In addition to that, the handle is adjustable from 24 to 48 inches to give you more reach if needed. This is a fantastic walleye net and works well as all all-around fishing net for many freshwater species.
These nets are great for species like trout or bass, as well, giving the angler in the family plenty of options when going out with this versatile net!
For other great options check out our walleye fishing net review post.


Best Walleye Fishing Lure
There's a lot of debate over the best walleye fishing lures, and let's be honest: there are too many variables to ever declare a single lure as the best one. We've had amazing success fishing walleye with crankbaits, with worms, with rubber lures, and spinners.
Whether spinning, trolling, casting, or jigging, walleyes have plenty of appetite and so there are many options. So when we're looking for the best walleye lures for ourselves or to get as a Christmas gift for our Dad, we like to go with something that is versatile and not only works great for walleye but for other fish, as well.
The Cotton Cordell walleye divers are not only great lures that can help the angler in your family pull in more walleyes, but these special crankbaits can be used on other aggressive freshwater fish like largemouth bass or northern pike. I particularly like the box of three lures because it feels like more of a gift and gives three color options, increasing your chance of having one that works well whatever the overall weather conditions.
These are great lures and hey, if there's one thing a devoted walleye fisherman will never have too many of, it's fishing lures!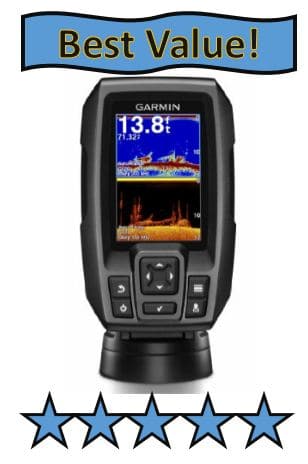 Best GPS Fish Finder for Walleye Fishing
How can you catch a giant walleye if you don't know where they are? Now this is not going to be a realistic gift for a lot of people because truly good fish finders tend to be more on the expensive side. After all, you get what you pay for.
The obvious star here is the GPS feature with this portable fish finder, but it also features a clear 3.5 inch screen that clearly defines fish, schools of fish, and a variety of underwater features. This allows anglers to see where the fish are, where underwater snags might be, and the high sensitive settings means that you get a much more detailed look than the average fish finder can provide.
Another feature we love, and we're sure a lot of walleye anglers will agree, is the ability to mark various underwater features and locations so you can take notes and return to favorite spots. If you want to remember something in the area in the future, you'll be able to do exactly that!
Thanks to that mapping feature, it's easy to come back to favorite spots in the future. In ideal conditions you will even be able to see things like your jig or lure in the water and see where it is compared to where you want it to be. For walleye jiggers, this is an ideal feature that can drastically improve results.
The screen isn't just stationary but it updates based on what is happening underwater. So you can see when new fish show up and you can see when the fish go away. This is an outstanding portable GPS fish finder for walleye anglers. As a note, you will need to get the appropriate portable kit to go with it, but this is usable on regular fishing boats, canoes, or even fishing kayaks.
If you have a large budget, this is a great choice as a walleye fishing gift.
For other great options check out our top rated GPS fish finder review.
Best Fillet Gloves for Anglers
Every good angler knows how important it is to be careful when using a fillet knife, and a great pair of fillet gloves can be a great way to fully protect the hands when the knife ever slips. Avoid the hospital visit, avoid the injury, avoid the pain.
These are a good deal for any angler, and if you're catching some delicious walleye chances are that you want to rush to get the fillets ready and to get cooking. A good pair of fillet gloves that are comfortable, fit well, and offer great protection are a gift that any walleye angler will surely appreciate!
Rapala is a major brand name that virtually every angler is going to recognize, and for good reason. Although most well known for their outstanding crankbaits, they make a wide variety of truly high quality equipment. Their fillet gloves are made of high quality protective materials, look good yet simple, and get the job done.
In other words, the type of unpretentious but highly effective piece of fishing gear that true anglers will really love! If you have an angler in the family who doesn't have a good pair of fillet gloves, it's time to look at getting them a pair for a Christmas gift!
For other great options check out our best fillet gloves reviewed blog post!


So What's Your Favorite?
Depending on how well equipped your family's favorite walleye fishermen are, some of these great options might be a little bit better than others. The best thing about having a list like that is the variety. If you're favorite family fisherman has plenty of lures, get them a new fishing rod. If they've been bragging about their rod, get them a net. If you're really looking to spurge, take a look at GPS fish finders to help them find the promised lands of walleye fishing.
Take a look here, find the right gift, and help guarantee that your fisherman has a very Merry Christmas or great holiday season indeed!
Great Giant Walleye Fishing Video

Other Fishing Gift Ideas