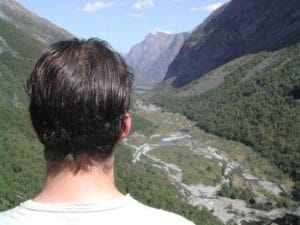 One thing we never want to be accused of here is not sharing an amazing outdoor resource because we're removing competition or doing anything self-serving. While I found some okay lists of 10 or 20 channels that were decent, many of them were promoting their own channels, had channels long since abandoned or were the ones everyone knew – in other words no digging for diamonds in the rough.
This is disappointing to me for a variety of reasons, not the least of which is I'm always looking for hidden gems – a passion that started from my years of traveling and getting very, very good at finding the types of places, memories, and experiences that makes traveling such a positive obsession for so many of us.
I was really picky. There were channels where the outdoor videos were great, the political rants or really questionable "natural remedies" were not. If it failed the smell test at any point, I moved on. If it failed the "Would I want to have a beer with this dude, this gal, these folks?" test, I moved on. If I was just iffy on a channel, I looked for another one.
In other words, this should really be an amazing list of the 50 top rated outdoor YouTube channels that gives you plenty to mull over. We hope you enjoy it – let us know if there are any great ones we missed that we should add to the list!
The Top Rated YouTube Channel List
1) Homemade Wanderlust
https://www.youtube.com/channel/UCQhqmV26773qZhzqJz4VFcw
Jessica (aka Dixie) has a great down to Earth personality that is friendly, easy to relate to, and brings a lot of quality information about thru hiking, backpacking, and her experiences thru hiking The Appalachian Trail (AT). She covers the many topics you want to hear about, and dives into more niche questions like hygiene, hammock camping vs tent camping, and even whether or not you need a gun on the trail. This is one of my favorite channels because it has that perfect mix of an awesome host, great video presence, and truly good information.
This really is an outstanding channel – and Dixie just recently finished the video documentation of her PCT thru hike adventure (in my opinion this is one of the best outdoor video series on all of YouTube – seriously check it out and get inspired!) and is looking ahead to the CDT next year to complete the Triple Crown. You can support her by shopping at her Amazon store over the next few months – hope she makes it all the way in 2018 and I'll be following along with each weekly update after the next thru hike starts!
You can also support Dixie more directly by donating to her Patreon page here: https://www.patreon.com/homemadewanderlust
2) Halfway Anywhere
https://www.youtube.com/user/halfwayanywhereblog
"The Pacific Crest Trail in Three Minutes" isn't just one of the most amazing videos on YouTube, in my opinion, but it's one that I feel especially related to because that video helped pull me out of a deep depression and really moving forward with a goal I could envision firmly: getting to the PCT. This is a very small channel with few videos at this point, and the PCT in 3 minutes is the jewel by far, and although that alone is enough to get it on the top 50, you'll find quality is the name of the game here and this might be a small collection of videos but they are an outstanding collection.
If that doesn't convince you to look for this awesome Pacific Crest Trail music video, then I really don't know what will.
3) Jack & Barb
https://www.youtube.com/user/jandbpct
Great small channel by this husband and wife combo with a special focus on the Pacific Crest Trail which they tackled as thru hikers. The video "Basic Information on the Pacific Crest Trail" is an absolutely outstanding video and true to its name, one of the best resources out there on getting ready to hike the PCT with practical knowledge, overview from a trail vet, and a little mix of encouragement to tie it all together.
While it's a small page, the handful of PCT videos are just absolutely exceptional and Jack has a very soothing natural narrator's voice that encourages you while instilling confidence that you're up for the challenge of hitting the full trail.
4) Shugemery
https://www.youtube.com/user/shugemery
Now here is a channel after our own hearts! An amazing array of videos on all manner of hammock camping, ultralight hiking, and backpacking really stick out but sometimes you get a jam session, sometimes a great barbecue recipe, and sometimes something completely out of left field.
Intense, unique, and hilarious, a few videos on this channel will have you yelling "Woo, buddy!" in no time!
5) Paul Kirtley
https://www.youtube.com/user/ThePKirt
Bushcraft, survival, and outdoor safety. Paul Kirtley gets right to the point when it comes to what his YouTube channel is all about, and we love the incredible in-depth information this Brit covers in each and every single one of his channel's videos. The practical skills and techniques he teaches can improve wild bush living, your comfort in rough campsites, or even boost you in an all-out wilderness survival type of situation.
Definitely check it out!
6) Adventure Archives
https://www.youtube.com/user/AdventureArchives
This is really an amazingly impressive channel. Seriously this is one of my absolute favorite channels to follow on all of YouTube. Not only is this channel full of great camping, backpacking, bushcraft, and even wilderness survival. This isn't just about teaching, though. These three young adults add the youthful exuberance to adventures near and far with each episode, and even more impressive: this is like a solidly made and budgeted TV show.
The camera work is great, the sound and editing are professional, so watching these videos is more like watching an exciting new TV show versus a YouTube video. Follow this outdoor channel – you won't regret it!
7) Winter Trekker
https://www.youtube.com/user/Wintertrekker
This channel is really one of those undiscovered gems. It doesn't have the following or attention of other channels but when exploring northern Ontario in all seasons there are northern wetlands, serious Arctic conditions, and many types of environments that you don't get exposed to very often. For anyone who has ever dreamed of exploring the far, far north, this channel is great.
This is all about the pure unique content and not production value, but offers some serious gems that you aren't going to find anything comparable to on the rest of YouTube.
8) Joe Robinet Bushcraft
https://www.youtube.com/user/josephallen19
Joe, sometimes with his dog Scout, runs a great YouTube bushcraft channel that shows backwoods camping and bushcraft in a variety of different settings – and in all seasons! Joe's relaxed attitude and instinct on what to show along with Scout's frequent guest appearances during non-winter months make for a great experience that will have you watching video after video whether watching a quick weekend fall setup in the woods, information on the tools he prefers, or seeing a nice view of a hypnotic campfire after a long day.
There's no question that Joe Robinet Bushcraft is definitely an outdoor channel worth following!
9) Guide You Outdoors
https://www.youtube.com/user/GuideYouOutdoors
Guide You Outdoors is a departure from many other outdoor channels, and in a good way. You still get the full fill of great outdoor adventures, video tutorials on patching a tent or using a favorite piece of equipment, but you also get to experience a bit of nature philosophy. "Nature is healing" is a motto, and they have a full belief in an outdoor life being a better one. There's an interesting mix of philosophy, thought, and something that gets ignored all too often outside: simple contemplation.
This channel is a splendid mixture of all these things and a true gem among the many outdoor YouTube channels out there.
10) Flat Broke Outside
https://www.youtube.com/channel/UCyIjwGmnVJooAUEpfe5bwpA
Lots of great information here. Heavy focus on the Appalachian Trail, and really digging into various aspects of what it takes in order to make the long thru hike. Lots of information packed in every video – you'll feel like you're getting an interesting lecture from a favorite professor as he talks with a distinctive but pleasant accent makes it a pleasure to get the full on education on hiking the AT and preparing yourself for any long thru hike.
From an information to time ratio, this really is an outstanding option that really pours in usable information that includes every detail you could want.
11) Will Wood aka "Redbeard"
https://www.youtube.com/channel/UCiqcdUZJG6qRqCaqfD60wjg
Hiking, backpacking, hiking, backpacking, hiking and more backpacking. Tons of amazing videos from all parts of the Appalachian Trail, Pacific Crest Trail, and many beautiful section hikes of other trails you may have never heard of. There's no question that Will just has a perfect sense for balancing narration, solid information, and giving viewers a great sense of the nature, the surroundings, and all the beautiful sites that are there to see.
This is just one of those voices that is easy to listen to while seeing a wide array of incredible sights from our nation's best trails. You're missing out if you're not following "Redbeard." His PCT video series is some of the best stuff on all of YouTube, IMHO.
You can also catch some amazing stuff in his Instagram account: Redbeardhikes
12) Survival on Purpose
https://www.youtube.com/user/SurvivalOnPurpose/
Bryan, the founder behind the Survival On Purpose channel, takes a thorough teaching approach to each topic he puts a video on, and the focus on survival takes a wide variety of forms. Whether it is basic wilderness survival and bush craft, reviewing pieces of equipment, or learning other important outdoor skills, detailed videos with patient and in-depth teaching help bring each point home in a way that is easy to listen to and easy to understand.
An outstanding channel to follow for informational purposes.
13) Nat Geo
https://www.youtube.com/user/NationalGeographic
Award winning documentaries, some of the most beautiful videos of natural beautiful areas in the world, and you get an amazing education on top of it all. Sometimes the classics are classics for a reason, and this is one case where the big name is well earned. National Geographic has long been known for having one of the best magazines in the world and their YouTube channel doesn't disappoint.
We love introducing small, awesome, and new channels but this wouldn't be a top 50 list without Nat Geo's YouTube channel on it.
14) REI
https://www.youtube.com/channel/UCwZcNfPpV9CXSVbpH1ckVmw
Generally you wouldn't expect a commercial or company channel to make an honest list like this, but REI goes way above and beyond reviewing their own products. They have some absolutely incredible short videos following inspirational outdoor fans doing their thing whether it's brothers climbing, an ultra-runner taking on a new challenge, or training for a major event. There are also exceptional "pro series" videos that give advice on various skills like skiing, snowboarding, or other outdoor skills.
This is a great YouTube channel with so much to offer, and there's a reason so many of their products show up on so many of our articles and product review lists.
15) Wilderness Outfitters
https://www.youtube.com/user/wildernessoutfitters
Wilderness Outfitters is a great YouTube channel. This channel is chock full of video tutorials that are put together as a series. Whether you want to learn to build a primitive survival knife, crafting a wood bench for your home, or learning more about survival there is something here for you. This channel is hosted by Dave Canterbury, founder of the Pathfinder School. The opening video on this page is an incredible "updated" review of his 10 C's for survival and shows just how good and in depth these videos are going to go.
A winning channel in every way for sure when it comes to the great outdoors and one of our personal favorites!
16) Survival Lilly
https://www.youtube.com/user/alonewolverine1984
Lilly has grown up in the woods since she was a child, and that comfort in the wild shows clearly in her videos. Based out of Austria, these videos are a mix of gear reviews, bushcraft, and basic survival tutorials that take a visual and hands on approach. You get to see someone who truly knows their way around the woods, has a great patient & friendly voice leading you through important steps, and then outright shows you how it is done.
Take a look at Lilly's channel: she has some truly wonderful videos you'll want to see!
17) Demolition Ranch
https://www.youtube.com/channel/UCBvc7pmUp9wiZIFOXEp1sCg
Chalk this one up as a lot more about guilty pleasure than true survival or outdoor channel, but sometimes you just want to be entertained, and Demolition Ranch has you covered in this regards. Category titles like "Redneck Scientist Experiments," "Breaking Things at Demo Ranch," and "50 Cal Fridays" should tell you all you need to know about just how entertaining this channel can be.
Just take a look through a few videos – we promise you'll be hooked.
18) Kenneth Kramm
https://www.youtube.com/user/KennethKramm
Sometimes called "The Mr. Rogers of Bushcraft," Kenneth is not a powerfully charismatic individual trying to put on a show, but he has an easy-going slow drawl that fits perfectly with his laid back personality that comes through on each of these videos. The information Kenneth provides is rock solid, covers a wide array of bushcraft topics, and for those of you who love the easy relaxing style of tutoring over the energetic in your face style, this is the channel for you!
Really, don't you want to spend more time with anyone named "The Mr. Rogers of Bushcraft?"
19) EverydayTacticalVids
https://www.youtube.com/channel/UCsg_7hCRtGan3LCve-erpmw
This channel is an absolute gold mine of awesome wilderness survival lessons, gear review videos, and teaching. From deep in the wilderness survival to talking about bug out bags and the need to understand urban survival. Shot by Tim Carpenter, a survival instructor and specialist, these are some of the best videos online, in my opinion. They're very easy to watch, Tim has a great camera presence, knows how to explain things clearly while also building up excitement about whatever topic the video is about.
There are so many must check out videos in this channel, which is loaded with many hundreds of videos, check out his "Top 10 LIES About Survival" YouTube video to really get a great sense of Tim and what his channel is all about.
20) Post Apocalyptic Garage
https://www.youtube.com/channel/UCdckcPu9UDcFKbUS2Acjzsg
Hands down, one of the best channel names on all of YouTube. Seriously, we're envious of this one. As you can probably guess based on the name, Post Apocalyptic Garage focuses on a lot of "post disaster" survival topics and things like knives, axes, and guns to go along with good survival videos that focus heavily on practical survival skills for those who look at long term situations. Crafting videos on making your own aluminum pans, your own survival saws, and a variety of survival hacks that are frankly amazing.
Great video from two Austrians (they speak exceptional English) that cover crafts and skills that you frankly won't find elsewhere. Exceptional channel.
21) Survival Russia
https://www.youtube.com/user/Moscowprepper
Survival Russia, previously under the name "Moscow Prepper," is a very interesting outdoor channel that brings a very different world perspective to survival. The channel host is a Dane living on a homestead in Russia, and that means survival videos in very beautiful and very wild land. While there is a bit of a Danish accent, his English is very good and the videos not only talk about practical survival with tools and homesteading, but he also shows videos of experiments, attempting new things, and even some absolutely epic fails.
Take a look at the video titled "Reality Of Survival. A Real Survival Tool" to get a good sense of his tone, his accent, and his teaching methods, and take a look at some of the beautiful scenery you see around his homestead. Remarkable.
22) Far North Bushcraft & Survival
https://www.youtube.com/user/phreshayr
Of course I'm going to give a shout out to a fellow Alaskan. Appropriately named, Far North Bushcraft & Survival takes place up in the Last Frontier where you meet bushcraft specialist and appropriately bearded Alaskan Lonnie, and his wife Connie, (and man's best friend: Buck) on a channel that is all about not only survival and wilderness intelligence but also the old way of doing things.
The fun little video on popping popcorn over a campfire (the old fashioned way) is a great example of this, delivered in the slow steady tone of a man truly comfortable with his place outdoors.
23) Darwin onthetrail
https://www.youtube.com/channel/UC18exdGWh7piVWisrnDXiZg
Great channel with a strange spelling, "Darwin onthetrail" is an outstanding outdoor channel focusing on a wide array of outdoor topics and projects. While there is a ton of info on the Appalachian Trail due to Darwin's thru hike, you will also find question and answer videos, notes on restoring vintage trailers, videos on bike/cycling and backpacking, and more. This is a great channel with an easily likable host who obviously knows his stuff.
Definitely check out his must see video on "How the Appalachian Trail Ruined my Life / Post Trail Depression" that tackles a really serious issue for outdoor fanatics and frequent world travelers that doesn't get tackled often enough.
You can find it here: https://www.youtube.com/watch?v=LgbNE6t7Vfk
24) Totally Awesome Fishing
https://www.youtube.com/user/TAFishing
This is a fantastic channel that embraces that deep love of fishing that so many of us have. Whether you grew up with Dad and Grandpa teaching you how to fish like we did, or found more joy in the relaxing nature of it as an adult, a good fishing channel is worth its gold, and this is a great one. From displaying pike and carp fishing challenges to rod and reel reviews to great video series about various types and styles of fishing, "Totally Awesome Fishing" has it all.
We can't recommend this channel enough for avid anglers!
25) TA Outdoors
https://www.youtube.com/user/TheTAoutdoors
A natural off-shoot that come from the "Totally Awesome Fishing" channel, this just made sense considering the outdoor love here. There is an amazing array of videos on this channel hitting all kinds of bushcraft from talking about knives, fire starters, and other gear to showing how to build a really interesting shelter, talking about outdoors, or even side projects like creating a nice little setup for building a fire and enjoying a good cup of coffee.
Many great videos that cover a great broad array of different activities that make up the outdoor life – you'll find something you love!
26) Salt Life
https://www.youtube.com/user/realsaltlife
One area we haven't covered overly well on our blog yet is the Ocean, part of the reason being that my brother and I have spent a good chunk of our lives in the Midwest, and even when I was in Alaska, I was in the Interior. However, we love the beach and for those of you who get to enjoy surfing, beach activities, spearfishing with sharks, or fishing for them, then this is definitely a channel you're going to love.
The sheer variety of videos and topics makes Salt Life an outstanding channel and one of our favorites on this list.
27) Motorhome Campervan
https://www.youtube.com/user/MotorhomeCampervan/
Nowadays not all camping is done in tents. Heck, a truly good campervan or motorhome has been an acceptable mode of travel since Steinbeck's days. Motorhome Campervan is just like it sounds like: a YouTube channel that is dedicated to all things involving motorhomes and campervans. From maintenance to reviews to travel and more, there's a lot to love about the intense focus of this channel and the heavy emphasis on all aspects of motorhome and campervan travel is going to be a delight for those of you who love to see the country this way.
Even a heavy tent camper or survival shelter camper like myself can admire the thoroughness and focus of all the videos in this channel.
28) Bass2Billfish with Peter Miller
https://www.youtube.com/user/Bass2Billfish
I love outdoor enthusiasts who really dive into their specialty at every level, and there's no denying that when it comes to fishing there is quite a gap between hitting the lakes for freshwater bass and from hitting the saltwater charters to go after local saltwater species. The name says it all: when you're talking about bass to billfish you are hitting one hell of a spread in between no matter how varied of an angler you consider yourself.
This channel includes full episodes of their local TV fishing show, clips from when they were finding action on the boat but the cameras weren't running, as well as a wide variety of other videos that cover everything about fishing in Florida. There are plenty of options for finding an excellent fishing spot in the state and these videos go over everything you need to know to get the most out of any angling adventure in The Sunshine State.
29) MCQBushcraft
https://www.youtube.com/user/MCQBushcraft
The MCQBushcraft YouTube channel is the baby of Michael McQuilton, a UK bushcraft enthusiast who has spent a lifetime gathering information, skills, and experience in a wide variety of outdoor endeavors that range from wilderness survival to true roughing it style camping, to crafting. Not only does he provide dozens upon dozens of outstanding videos that have earned him quite a following (in fact as of this writing he has already had a special giveaway to celebrate having over 200,000 subscribers) but he does a great job of also creating small groups of videos based on the topic whether foraging, crafting, camping, fire, shelter, or even various Q&A sessions over time.
This is a truly outstanding channel and one that you will love to watch. Michael knows how to shoot a video and you can expect to lose multiple evenings watching and re-watching these videos.
30)  Sigma 3 Survival School
https://www.youtube.com/user/sigma3survivalschool
With over 280 videos and counting up on the channel, it's easy for the avid outdoor enthusiast to fall in love with this channel – especially if you are like me and absolutely love wilderness survival. There is such a treasure trove of incredible outdoor based videos that you are almost certain to find something you'll love. Three personal favorites of mine include the master bow building series, survival trappers bible video series, and the day in a life of a survivalist series.
In addition to this you will also see plenty of individual videos that range from conventional survival situations to having really great videos focused on getting the most of any materials you find, such as using a knife and discarded 2 liter plastic bottle and turning it into cordage that can turn into a powerful and reliable rope. If you really dig these types of topics and this area of outdoor knowledge, training, and practice then you will want to definitely check out the Sigma 3 Survival School Channel.
31) AnglingAuthority.com
https://www.youtube.com/user/AnglingAuthority
As you would expect from the name, this channel is all about the fishing, and what angler doesn't like having another high quality video channel to dive into? You can expect multiple videos each year diving into the annual ICAST events as well as multiple videos all about individual product reviews, to special instructional videos on issues like replacing the carpeting from your boat or dealing with other maintenance. This combination of important topics, interviews, and product reviews makes the Angling Authority channel one the avid angler should definitely subscribe to and follow.
A worthy addition to any list of favorite fishing channels on YouTube.
32) Twig 'N' Timber Archery and Outdoors
https://www.youtube.com/user/TwigNTimberArchery
A YouTube channel belonging to the Twig 'N' Timber Outdoors Company out of Western New York, this is a great little channel that shows you these guys don't just talk the talk, they live the outdoor life and walk the walk. Obviously archery videos are easy to find here, but there's a lot on fly fishing from advice on casting to tying flies, to product reviews. There are some hunting videos, fishing videos, and even some great product reviews and open discussion videos.
This channel is quite a bit different than most on this list, in large part because they are a smaller channel focusing on the same interests that caused these outdoorsmen to become store owners – and we are all about supporting that especially when the channel has this many quality videos on it!
33) Boy Scouts of America
https://www.youtube.com/user/BSA100years
As I've stated before a few places on here I'm a huge fan of the Boy Scouts of America (BSA) and while there are plenty of people who want to argue politics and other issues that have swirled and surrounded the organization for the intent here it's simple: this is an amazing organization that, though far from perfect, has done absolutely amazing things for millions of young boys and young men through the years. I'm proud to be an Eagle Scout, I think many of the standards, mottos, and slogans they teach are great ideals to build your life around, and I think they've done a very good job providing an exceptional YouTube channel for old Scouts like me, as well as younger kids wanting to know what the BSA is all about.
If you have fond memories of Scouts this is definitely a channel you will want to check out, and they do a great job with keeping a focus on that core mission.
34) Girl Scouts of USA
https://www.youtube.com/user/girlscoutvideos
Look you can't have one without the other, and although I hate to admit this because of my competitive nature and that old competition from growing up in a small town, as far as making really enjoyable and relatable videos that are less overarching marketing or sheen (although nothing wrong with that when well done and about your standards) but really enjoyable as a "slice of life" look at what many of the scout troops are up to, the Girl Scouts of USA channel is *probably* a little bit better set up at this point. Both organizations have done enormous amounts of good and both have great channels that are definitely worth supporting.
Now if I could only get Caramel Delights aka Samoas during the entire year…honestly those cookies are like crack to me.
35) Exploring Alternatives
https://www.youtube.com/user/explorealternatives
This channel isn't 100% outdoors, but we love it because it is such a great mix of certain outdoor topics that we absolutely love as well as many closely related topics. Dedicated to videos that are in-depth mini-documentaries of sorts on the topic at hand, just a short read of the favorite video categories for this YouTube channel include tiny houses, boat living, van living, living off the grid, long term travel, and more.
Whether considering the benefits of living in a yurt, wanting to travel for months or even years at a time, or living minimally so you can spend more time connected to the wonders of nature, this channel has all kinds of videos that will draw you in and keep you coming back for more as you really look at just what might be possible.
36) The National Park Service
https://www.youtube.com/user/NationalParkService
While the videos certainly aren't a weekly or necessarily even a monthly thing, this YouTube channel representing the National Park Service has some very impressive videos on the history of the National Park Service, in-depth looks at some of the more famous ones in the United States, sometimes announce internships, and make video announcements of news that affects the National Parks.
While not as filled out or active as many other outdoor YouTube channels, nonetheless it's an important one to keep track of, and gives some pretty information from old videos on a wide array of topics including finding the nearest national parks you might not even know about.
Not the most active of channels but still an important one that is worth checking up on every so often.
37) Ultimate Survival Tips
https://www.youtube.com/user/UltimateSurvivalTips/
Admittedly I'm going to be a sucker for a really good survival YouTube channel, and Ultimate Survival Tips doesn't let us down. This is an outstanding channel that not only goes over all the "basics" that you can catch on any self-respecting survival channel but the specific comparisons between products, detailed tutorials comparing wilderness survival shelters, or videos on emergency topics we rarely think of such as providing emergency lung/air protection, creating effective traps in the wild, or showing actual survival adventures to give a better feel for the experiences and challenges that will come up.
This is a great survival based channel that has a little bit of everything as well as plenty of unique videos that make it stand apart from the pack. This was an easy add to our top 50 outdoor YouTube channels list.
38) Primitive Technology
https://www.youtube.com/channel/UCAL3JXZSzSm8AlZyD3nQdBA
My first experience with a primitive skills club took place when I first went to Alaska for graduate school. Obviously I expected to find everything outdoors and then some, but there was a very active group on campus that focused on the primitive "cave man skills" as they called it. Making arrowheads by hand from stones. Starting fires with nothing but kindling, sticks, and stones. Creating usable twine and rope from properly stripped bark or scavenged plants.
These are the types of skills that this channel goes over, taking it naturally one step further to creating gardens, semi-permanent shelters, and tools or materials that would truly be useful if somehow everything was set back to zero.
This is a great channel and one that gets you going in the right direction to one of the most interesting niches in wilderness survival or survival skills. Give it a try!
39) Tomas Man
https://www.youtube.com/channel/UCNDnwWBSmOiu1F9TBR5MCdg
Want more of the PCT? Then Vlogger Tomas Man has the YouTube channel for you. I first became aware of this channel thanks to Dixie's (Homemade Wanderlust) Episode 26 video on her PCT experience, and boy am I glad she mentioned it! This channel is really simple and focused. Tomas is from the Czech Republic, he's hiking the PCT, and there are well over a hundred videos documenting his thru hike every step of the way.
If you want a serious PCT fix, this is a channel you'll want to check out!
40) Wilderness Wandering
https://www.youtube.com/user/catmccjk1/
This is a great outdoor and adventure travel channel. Ever want to buy a bus, completely renovate it to be a traveling camping home, and then take off across North America? If so then, Justin McCormick's channel is going to be right up your alley. From the building of the bus to getting on the road with the family and visiting the great white north, this YouTube channel is outstanding on its own and pairs well with companion Facebook page and website.
This is a great channel that is only going to continue to get better!
41) KGB Survivalist
https://www.youtube.com/user/KGBsurivalist
Even a basic visual inspection of this channel makes it clear very quickly that this channel is going to cover the full spectrum when it comes to survival, prepping, and being ready no matter how bad the situation gets around you. From dozens of videos on firearms to tactical knife throwing techniques, to wilderness survival and urban survival, there is a lot of everything when it comes to preparation and survival here. KGB Survivalist has an incredible history of videos, and you can go down this Rabbit Hole for quite some time. Definitely worth checking out.
Feeling a bit overwhelmed on where to start? One of my favorite videos is the creation of a bow and arrow using PVC piping, and the "How to Survive on $40 at a Dollar Store" is an outstanding video.
42) DrBones NurseAmy
https://www.youtube.com/user/drbonespodcast
The YouTube channel for the popular Doom & Bloom Survivalist website, there's a lot to absolutely love about this particular channel. Their stated mission is to put a medically prepared person in every family, and their channel goes full on into that. With videos on important long term survival tenants like gardening and surviving very specific situations provide great information, the overwhelming focus is on every area of first aid, advanced medical treatment, and medicine/healing knowledge in long-term survival situations. Fantastic and unique channel from two experts!
They are the author of "The Survival Medicine Handbook" that really focuses on the medical treatment side of both short-term and long-term survival. You can check that out HERE on Amazon, and make sure to visit their incredible YouTube channel!
43) The Wooded Beardsman
https://www.youtube.com/user/billert55
As an upfront warning, if you really don't like hunting or seeing wild game preparation, then you should absolutely skip. However, for a lot of people who thrive in many areas of outdoor life but haven't been as big into hunting, or who want a realistic look at what it takes to clean wild game in a survival or hunting situation, then the Wooded Beardsman is definitely the channel for you. This really goes into the details of cleaning, capturing, and cooking wild game in extreme detail.
One of the great things about this channel is the genuineness of the host. He is a woodsman, a hunter, and someone who is the outdoor specialist he is and he is unapologetic about it. As long as you don't mind butchering and preparing game for cooking, this channel really does stand as a class of its own.
44) Karamat Wilderness Ways
https://www.youtube.com/user/KaramatWW
The YouTube channel of Mors Kochanski, a name that is legendary among bushcraft enthusiasts in the know. A Polish Canadian who has spent many decades teaching wilderness survival and spreading an appreciation of naturalism, this author and instructor is so good in the wild that he enjoys an international following and has instructed both civilian groups AND military in the United States, Canada, The United Kingdom, and Sweden. Videos include very specific bushcraft skills and projects, favorite books, and even looks at upcoming camps or instruction courses.
When it comes to knowledge, as Kochanski loves to say: "The more you know, the less you carry"
45) Zold Outdoors
https://www.youtube.com/channel/UCXEiY7vLtN3iQt1xX16owsg
I first learned about this from a video interview Joe Robinet did with Clint Zold, owner of the Zold Outdoors channel, and a northern Ontario outdoorsman who is really feeling the full call of nature and embracing a longer more permanent return to the woods as home. This channel delivers a surprising array of videos from setting up off the grid shower and power to trapping and foraging to solo trips in faraway locations.
There's a lot to like about Clint's channel here – might be on a bit of hiatus as of this writing (been a while since the last video) but what's there is gold and definitely worth checking out if the off grid life has any interest for you!
46) UPNORTHOF60
https://www.youtube.com/user/upnorthof60/
This is a really interesting channel in my mind, one that focuses a lot on van travel/living as well as the proper setup of a serious canvas tent campsite – even the type that can serve as an outdoor home during the coldest of winter days. From setting up a permanent canvas tent camp with wood burning stove to creating the van life, this is a great channel with a variety of great video lists that really dive into outdoor living that doesn't let winter force them indoors.
Very good channel that we feel like you'll enjoy immensely.
47) MrBackpacker48
https://www.youtube.com/user/MrBackpacker48
Do you love the state of Oregon? Want to see some amazing hiking trails, caves, and waterfalls? In that case the channel of MrBackpacker48 will be right up your alley! This is an outstanding channel that reviews various hiking and backpacking gear, explores the many beautiful places found throughout the state of Oregon and gives a really great local focus to an area worth exploring.
One of my favorite true hidden gems among outdoor YouTube channels.
48) My Self Reliance
https://www.youtube.com/channel/UCIMXKin1fXXCeq2UJePJEog
Shawn James shares his journey in northern Ontario as he not only shares his love of the great outdoors but also video by video talks about his pursuit of a childhood dream of building his own primitive cabin by himself from scratch. This is an incredible process to watch, and many videos after are right from the cabin talking about everything from design to favorite cooking recipes over the fire, to anything and everything about the great outdoors.
This really is a heavily underrated channel and just an exceptional watch!
49) Bushcraft Bear
https://www.youtube.com/channel/UCZB7zNCIi3F6uWCJZa-qdVQ
This channel is a great look into actual bushcraft and what is especially fascinating to me is that aside from the introduction video, the outdoorsman going by the moniker of Bushcraft Bear will virtually never speak in any of his videos – and certainly not in English. Yet his friendly manner and love of nature comes through in expertly edited videos showing living, surviving, and thriving in the wild.
There are plenty of journal videos showing his experiences outside, building camps in the bush in all seasons (including winter), and it really is amazing what you can learn and enjoy even sans narration. Trust me, this channel will quickly grow on you as nature videos are sometimes best done to the sound of silence.
50) The Woodsman School and Guide Service
https://www.youtube.com/user/sargefaria
A smart YouTube channel, the Woodsman School and Guide Service is a bushcraft school originally started out of the Lakes Region of New Hampshire and has expanded to other areas in New England of interest like the rural regions of Maine and Vermont. These videos are shot by professionals who know how to train others, and make a living doing just that.
With over a decade of experience, each video holds the promise of learning something interesting and new.
Some Final Thoughts
Aside from this incredible list that hits the full range of channel types from organizations to passionate individuals, from hundreds of videos to just a handful, from one topic-focused to outdoor polymaths, there is so much here to dive into. Even beyond this, there were several channels that were just getting started that were very encouraging – telling me the future of outdoor focused channels on YouTube remains very bright indeed!
Also as a bonus #51, and just showing my sense of humor, Red Green counts as creative bushcraft, right?
Red Green Carbeque Handyman's Corner