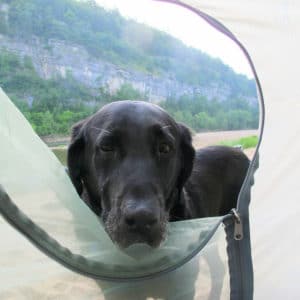 Tents for dogs? While this definitely is news to me, I can see the appeal of having some loyal four-legged friends along for the camping trip, especially if you are exploring your own land or have an extremely well trained dog that loves exploring and getting out as much as you do. So what makes a good dog tent? Is a general pet tent the same thing?
While at first this seemed really unusual or different to me, the more I thought about it the more that it really began to make sense. I'm a light sleeper as is – I need every minute of those 60-90 minute bursts at night, so getting woke up to let the dog out once or twice isn't high on the priority list.
Even if you don't still have the same light sleeping problem as I do, the idea of being able to bring the pets along and give them their own little tent right by yours complete with open door (and I recommend a blanket with your scent on it) can be a really great way to give them their own safe space right by you while giving them the amount of free movement they need.
While a good outdoor pet tent for camping won't be for everyone, there are several good options for those who want to bring man's best friend along for the next outdoor adventure.
Petego Umbra Portable Pet House
Offered in three sizes (small, medium, or large) the Petego Umbra portable pet house is our top choice as the best camping tent for dogs currently out there right now. Marketed as a pet house and containment system, these dog tents are designed to work a a full shelter to give your favorite four legged friend a place of their own while camping, and also gives an ability to pen them in when necessary.
This is a pop up portable pet tent design, which allows for very fast and easy setup. This is always a good thing when an excited and energetic pet is involved! Smaller models an quickly be setup in vehicles to calm them during transportation while all three sizes are designed to be usable for outdoor use.
This is the natural evolution to come out of the original "Dog-Bag," and going the direction of a full pet tent has helped them create a far superior product that really holds up to inspection.
The tent material is high quality and durable, while mesh vents give plenty of air flow while also being claw proof. This is an ultralight shelter that won't weigh down your pack but it holds up easily and even has its own built in "porch" that gives your pooch plenty of space to lay down and relax.
These tents fit in the back of SUVs and can just as easily be used inside as they can be set up outside during an outdoor adventure or camping trip. Add in a rain cover via an attached umbrella mechanism that can be fully deployed in seconds, and it is easy to see why this is such a popular choice among campers who are also pet owners.
Offering tent sizes for almost every sized dog (dimensions in inches)
Small size pet tent: 23 5/8″ X 23 5/8″ X 26 3/8″
Medium sized dog tent: 29.5″ X 29.5″ X 31.5″
Large dog tent: 35 3/8″ X 35 3/8″ X 35 3/8″

Lumsing Portable Folding Pet Tent
While Petego's pet tent is top of our list, there's little doubt that right now Lumsing's portable folding pet tent is their biggest competition at the moment. In fact, our Lumsing folding tent for pets review wouldn't be complete without bringing up the fact that these get very few low marks and with a few adjustment or improvements would absolutely be capable of taking over the #1 spot on this list.
As is, the Lumsing is still a very solid choice. A solid size with dimensions of 45″L x 32″W x 27″H in inches, and an easy pop up design allows for easy setup. The tent has zippered doors and very breathable mesh to allow breezes in and keep bugs and mosquitoes out.
In addition to coming with an easy storage carrying bag, the floor of the tent is designed specifically to act as a pet bed and is created from high quality materials that help guarantee your pet will be comfortable and be able to rest well.
The tent itself is designed to be as outdoor positive as possible. This means being moisture proof, waterproof, dust proof, and even UV protected. That is a great combination and shows the serious measure this company has gone to in order to produce a truly good outdoor tent. Add in excellent durable fiberglass tent rods and 210D polyester (waterproof, of course), and it's easy to really like what this tent brings to the table.
There are even metal stakes to further secure the tent into the ground as needed, guaranteeing a little wind isn't going to cause any issues, even when your four-legged friend is out and about.
Sturdy, strongly functional, well-designed, there's a lot to love about Lumsing pet tents and what they bring to the table. Add in a 1 year (12 month) warranty starting from the very date of purchase and that's a lot of reassurance you're making a smart buy.

Alcott Explorer Pup Tent
The Alcott Explorer pup tent is quite literally just that: a tent for puppies or other dogs of various ages. This green tent only comes in one size and sports dimensions of 32 inches in width, 42 deep, and 30 inches in height. Overall this tent weighs less than 1.5 pounds by itself and features a waterproof base to help your furry four legged friends stay dry.
There are five mesh windows that can be sealed or unsealed to allow plenty of air flow and circulation throughout, and the tent package even comes with a travel bag and 4 ground stakes to further secure the tent while out camping.
This is good for most reasonably large dogs or a couple medium or small sized dogs. This means that whatever your pet situation in the family, this versatile tent has a strong potential to be able to handle it.
While there's a lot to like about this tent there are a couple important things to know about this particular model: it isn't waterproof. So you need the weather to be good or you should think of this as a potential "crating tent" that can fit inside of a larger family tent. In states known for lots of sunshine (Texas, California, Utah) this isn't an issue but in heavy rain states, there are better options.
The other important note: although not everyone has experienced this, some people have had issues with the tent poles being relatively weak construction and not holding up the way they hoped. While this isn't to the level of some of the cheaper models that didn't make the list, it's a genuine thing to think about, or you might consider preemptively buying replacement tent poles just in case.
While this is an issue a minority of buyers deal with, we wouldn't feel right about the review without mentioning it as a genuine possible issue that could crop up.


ESK Collection Exercise Pen & Pet Tent
Focusing heavily on creating a positive play pen type of experience for your dogs, this isn't your traditional outdoor tent per se, but for a sunny weekend it's a good setup especially for small dogs that like to play with each other or having one or two who need to be near the family because of separation anxiety.
The mesh set up allows a lot of air to go through, and this is a fully portable and movable playpen that weighs 4.5 lbs total even with the carrying case.
These can be anchored into the ground with 4 metal hooks for a little bit more stability outside, though this isn't the type of dog tent you want during rainy weather or if rain might be a potential issue while outside.
This ESK pet playpen and container is covered by an excellent warranty that has a reputation for being one of the best that you're going to find in the industry. One of the more interesting nicknames for this item is the "Pug Playpen" because of the large number of pug owners who have used it for mischievous pugs to keep them in one area while getting some outside time.

Zeckos Portable Pop-Up Pet Tent
A simple blue medium pop up tent for pets, the one offered by Zeckos doesn't have the same level of features as some of the higher picks on this list, but they also clearly step out above a large number of really poor produced pet tents that can be found online with incredibly shoddy fiberglass rods or poor drop-shipped quality.
This particular dog tent not only looks good, but it is an example of sturdy nylon construction that holds up fairly well for what it is made for. This is not a large dog tent, but it can be a very good choice for relatively relaxed medium sized dogs or energetic small ones.
The nylon mesh is perfect for letting in air, but not mosquitoes, and a zippered door allows for easy access. This comes with four metal ground stakes that are actually relatively solid so you most likely won't have to worry about finding replacement tent stakes, and this is a model that has often been cited as a good choice for a day at the beach.
This isn't as good a choice for large dogs or energetic medium sized dogs, but for smaller furry friend of the family this can be a viable choice for limited amounts of time.

Pet Tent FAQ
Are all pet tents designed for the outdoors?
No. Actually most of the pet tents we found online were indoor in nature, giving a softer kennel, crate, or dog bed feel to things as opposed to being designed for actual camping or outdoor use.
Why not use a regular tent?
Having animals sleep in a tent with you is doable if you don't mind letting them out at night when they have to use the bathroom, but one of the major things about tents is that most are not built to resist claws on the fabric while good outdoor dog tents will be made with materials that are resistance to damage from claws.
What size of tent do I need for my dog?
This depends on the size of your dog with larger dogs needing larger tents. Generally speaking if in doubt we recommend going a size big. Nothing's wrong with giving them a little bit more space and that's better than them not having enough.
Also very important: look at the sizes offered of every pet tent you're looking at. Some offer multiple sizes but there are those that only offer a tent in one size. In this case you need to look at the dimensions to see how they compare.
What about brand X that you didn't mention?
There could be a few reasons we don't mention a tent. It could be because it's a new model compared to the last time we updated this post (though we do try to update every single post at least once a year, if not more), that we're actually not familiar with it (we don't give paid or fake reviews), or that we didn't find it measured up to the others on this list.
There are a lot more than 5 brands of dog tents out there, but a lot of them had too many problems or weren't quality enough to meet our standards for this top rated list.
Is there really a big difference between different pet tents?
The answer to this question is a resounding "Yes!" Some are waterproof, some aren't. Some are built with high quality construction, others have incredibly cheap and breakable poles or poor materials from China. There are incredibly good dog tents like the ones at the top of this list and we went through two dozen designs we wouldn't touch with a 10 foot pole.
When it comes to outdoor pet tents you definitely need to do your research and still to the top notch designs to make sure you're not only getting a good shelter for Fido, but that you're getting your money's worth, as well.
In Conclusion
This type of camping isn't going to be right for everyone and it definitely requires a level of trust and training with your pet to make sure it's going to work, but this can be an awesome experience for you, the family, and the four-legged friend who mine as well be considered part of the family. While there is no doubt still more room for some companies to make more really high quality pet tents for dogs, the list in this article shows you our pick for the five best currently out on the market.
Expert Tips for Camping with your Dog Video