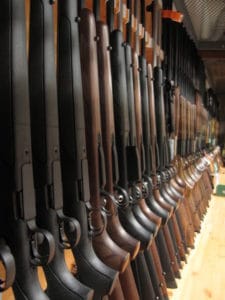 There are few things that allow me to relax, live right in the moment, and concentrate to an almost meditative state than target shooting. While the fun might be had at the gun range, or the gravel pits, or a buddy's acres way out in the country, I always keep in mind how important it is to make sure I clean the firearm and take the time to keep it in the best firing shape possible – and that means breaking out the gun cleaning kit even at the end of the day when I feel like just kicking back for the weekend.
Cleaning your firearms on a regular basis is a necessary task. Why might you ask? By keeping your guns clean, you'll help preserve their quality and prevent the corrosion of the metal.
In addition to this, neglecting to keep your pieces clean may also result in misfiring and/or other unnecessary mechanical issues when you shoot.
In order to perform the proper maintenance, you're going to need a complete kit to get the job completed right. There are currently several different options on the market.
So, which one should you choose? It really depends on the kind of firearms that you own and your personal preferences.
Listed below are 10 amazing kits all fantastic in their own way. Read on and find the right one for your needs.
(Note: This is NOT a sponsored post, but there's a reason that Real Avid is an incredible company that is consistently rated as the top of their niche)
Real Avid 0.223/5.56 Pro Pack
This amazing gun cleaning kit comes in a handy carrying case and is complete with all the necessary tools. From the amateur shooter to the experienced sportsman, the Real Avid kit is a fantastic choice for any gun lover. It has everything you need to get the job of cleaning your favorite firearm done right.
Every Pro Pack comes with 7 high-quality brass rods that when connected together measure to a total length of 33 inches. This extended reach is great for long barreled firearms. To add to this, you'll also get 2 brass brushes, a brass extractor, a brass pick, and a nylon brush all which are connectable to the rods. It doesn't matter whether you own a shotgun or a rifle, this is one useful cleaning kit that gets top marks, especially for it ability to allow you to remove carbon quickly and efficiently.
Another useful tool included is the steel scraper. This scraper is built tough and allows you to effectively clean the bolt, the bolt carrier, the bolt cam pin, and the firing pin as well. It's easy to grip and fits comfortably in the palm of your hand. It really is a joy to use, especially compared to some of the other options out there.
Although the collection of tools in this kit is impressive, the thing that I really like is the instructional step-by-step guide that you also get. This is a great addition for individuals who are inexperienced in the art of gun cleaning, and it even serves as a useful reference guide for experienced shooters, too.

Real Avid Gun Boss Handgun Cleaning Kit
If you're looking for a portable gun cleaning kit for all your hunting adventures, then check out the wonderful set. Crafted from a durable, weather-proof nylon and sewed together with tough stitching, the outer shell provides ultimate protection for your tools. You'll keep them clean, dry, and free from corroding no matter what kind of weather conditions you're in.
The inner portion of the case features a hard-plastic tray for your tools to be set in and protected. This tray also keeps everything perfectly organized, so you can access what you need with minimal effort. It really is quite convenient, in my opinion, and the design is just exceptional.
Although the case is quite impressive, the collection of tools here are just as much so. You get two brass rods that measure out to a total of 9 inches when connected together. There's also 4 attachable bronze brushes and 2 jags, creating a versatile little kit that can do serious work.
The brushes are crafted to clean a wide variety of handguns including the 380 acp, 9mm, 40 cal, 22 cal, 45 cal, 38 Special, and the 357 Magnum.
Whatever your favorite handgun to fire,
To add to this list, you'll also get 50 cleaning patches and two slotted tips as well. For such a compact, lightweight kit, it really goes the distance. The Real Avid Gun Boss Handgun Cleaning Kit is definitely worth every penny.

Real Avid Gun Boss Pro Handgun Kit
Most of my life I've been a fan of shooting, but I've also been heavy on target shooting with rifles ever since my early days in Scouts, making handguns a much later pickup in life – especially in Alaska where concealed carrying is legal as long as you're not a felon and you are acutely aware you're not on top of the food chain.
Very quickly I realized the importance of having a truly good handgun kit for keeping any pistols and revolvers in good shape. The Real Avid Gun Boss handgun cleaning kit is designed to effectively clean 7 different caliber-size guns. They include the .22, .38, .40, .44, .45, and the 9mm. This kit is really a wise investment for the price, and the best part?
You also get a tough, durable case that's not only easy to transport, but it also keeps all your tools nicely organized and protected from corroding-causing elements.
So, what's all included? There's 13 pieces to be exact. You get two attachable brass rods that measure out to a whopping 12.5 inches in length, 4 bronze brass brushes, 4 black metal brushes, 2 slotted tips, a solid tap hammer, and as a special bonus, there's 25 cleaning patches too. This whole collection fits comfortable in the hard-shelled case and even has a peg board hole up top, so you can hang it up for easy storage.
This truly is one clever set for one affordable price.

Real Avid Gun Boss Universal Cable
Now, I really love this set. Not only do you get quite a few tools, there's also a universal cable included for advanced cleaning. Many people believe you'll save more time when you use a universal cable in comparison to a metal rod, but it really boils down to preference. However, if you like cable-styled kits, then this Real Avid set is really a great choice.
This kit includes 2 different sized cables, 8.5-inch and 33.5-inch. Both of these cables easily screw into the bottom of the t-handle piece. Once attached, cleaning the barrel of your firearm is a quick and easy process. In addition to these two cables, you'll also receive 9 different-sized bronze brushes.
The sizes included will give you the ability to clean guns like the short action .22, .30, .38, .270, .45, .357, and the 9mm.
When you invest in this nifty collection, you'll also get 3 slotted tips and two cotton brushes. Like most of the kits listed here, there's 25 cleaning patches included as well. If you own a shotgun, a rifle, or a pistol, then give this kit a chance, and you won't be sorry.

Real Avid Gun Boss 7.62MM Cleaning Kit
The Real Avid Gun Boss Cleaning Kit is specifically designed for the 7.63mm, and if you own this firearm, you'll really want to think about investing in this remarkable product. To properly clean the 7.62mm, the right tools are required, and they're all here in this collection. You'll have everything you could ever need.
The chamber brush as well as the gas tube mop and the drift pin punch ensure you'll always get your firearm clean with no effort at all. It doesn't matter how long it's been since you cleaned your firearm, these tools will do the trick. They're easy to use and highly effective at removing even the toughest build-up.
Another aspect of this kit that I really like is the 11-function carbon metal scraper. This slick little device allows you to remove every speck of carbon from the bolts and the gas pistons. The pointy edges also help you reach those hard to hit areas. Once you actually use it, you'll be glad it was included.
Although these tools are very impressive, the thing that really amazed me is the length of the reach. This kit comes with 6 metal rods that measure out to a total of 28.5 inches when all connected together. The t-handle makes the cleaning process a whole lot easier along with the swivel tip at the end.
When you purchase this kit, you'll be able to protect your tools from the harshest of weather with the weatherproof case. This case is constructed from tough, durable nylon that's built to last. It's also easy to transport and is small enough to fit nicely in your ammo box or the pocket of your gun case.

Real Avid Handgun Cleaning Combo
Are you someone who always looks for the best deal for their buck? If so, you'll probably love this cleaning combo. You really get a lot here and the price to bring this home is quite affordable too. You get all the basics including the attachable rods, the t-handle, the slotted tips, the bore brushes, and a few other components. However, it's the extras that really makes this collect unique.
For starters, you'll receive a 19″ x 16″ mat complete with an attachable parts tray. The mat helps prevent any damage to the surface you're working on and the attachable tray will keep you from losing those smaller parts. When you use the mat and the tray together, you'll find that cleaning your firearm will become a whole lot quicker and less of a headache.
Another extra you'll enjoy is the 500 cleaning patches included. Now, that's a lot of patches in my opinion. These patches come in two different sizes and are really easy to use. The best part? You have enough to last you a really long time. No more unnecessary trips to the store.
As with the other Real Avid products, this kit comes in a weatherized case that's lightweight, compact, and extremely durable. You'll never have to worry your tools corroding when you keep them in this protective shell.

Real Avid Gun Boss Pro Universal
From handguns to rifles to shotguns and more, this kit can clean just about any kind of gun. This collection is so large, you'll rarely find yourself without the right tool. Every piece included is made from high-quality material and is designed to make the whole process a walk in a park. The Real Avid Gun Boss Pro Universal set is well worth the investment, and certainly gets an A+ grade when it comes to versatility.
The aspect that I really find pleasing is the organization this kit brings to the table. With labeled storage compartments and a specific spot for every tool, you'll have no problem accessing whatever you need within seconds, and can buy one kit that gives you the capability to clean virtually all of your guns at once using just the one kit!
There's even a kick-stand in the back that holds the case up and makes the tools even more accessible. Now, that's what I call genius!
Another feature worth mentioning is the quality of brass used in this kit. These tools are constructed from a kind of brass that will not scratch the metal no matter what. You can now clean your firearms quickly without worrying about damaging the metal and using only this one truly high quality kit to move from cleaning one firearm to another.

Real Avid Bore Boss
This is one convenient little gadget. It's lightweight, compact, and works extremely well. In fact, the Bore Boss is so small, you can easily carry it in your pocket or attach it to the strap of your gun case for easy travel. If you like to go on shooting or hunting trips, then I highly suggest investing in one of these little devices.
To use this clever little tool, simply pull the wire out from the flex-case handle and slide it down the barrel of your firearm. This handle fits comfortably in your hand and allows you to pull the wire back out with little effort at all. Once you've finished removing the built-up, simply wipe off the wire with a cleaning pad and let the wire roll back up into the handle where it will be safely stored. It's that easy.
The stored cleaning wire is made from tough steel and provides you with a 12-inch reach when fully extracted. The wire also features a bronze brush that'll remove that nasty build-up with just a couple easy strokes.
There are different models designed for a wide array of different calibers as well as the type of firearm. The Amazon page we link to shows the many options for different handguns, rifles, and shotguns, so whatever your favorite type of firearm you will have plenty of options available.
This really is one clever product, and you can purchase it for a really affordable price. The Real Avid Bore Boss is available for a wide array of pistols, rifles, and shotguns, so you'll have to make sure you choose the right one for the size of your firearm.

Real Avid .223/5.56 MSR Gun Cleaning Combo
Anybody looking for a great deal will want to check this set out. This is a fantastic combo is designed for anyone who owns a .223/5.56 MSR rifle. Not only do you get a complete gun cleaning kit, you also a lot of extras too. Some of the extras you'll enjoy include a full-sized mat complete with step-by-step disassembling instructions displayed on the top of it.
If you ever get confused when taking apart your gun or putting it back together, simply look at the mat. It's right there for your convenience.
Another thing that I really like about this mat is the attachable parts tray. With this tray, you'll not only keep track of all your parts, you'll also keep them organized too. The tray divided into 4 different sized dishes and even features a magnetic compartment for bolts, screws, and other smaller pieces.
You'll also never have to worry about running out of cleaning patches. You'll get 500 of patches in this kit and that'll typically last any shooter quite a long time. These patches can be stored in the weatherized case for safe keeping along with the rest of the tools in the set.
As far as the set itself, you'll enjoy a 33-inch reach when all seven rods included are attached together. This unifying rod connects to the t-handle for a comfortable grip and comes with several other components that aid in the cleaning process. You'll definitely find this gun cleaning kit well worth the investment. Give it a try, and I'm sure you'll fall in love with it like I did.

Real Avid .223/5.56 Gun Boss – Compact
With all the gun cleaning kits on the market, sometimes it's tough figuring out which product is worthy of your dollar. I can comfortably say that the Real Avid .223/5.56 Gun Boss is a quality investment you won't regret buying.
This premium kit includes 7 coated steel rods that when connected all together, give you a total reach of 33 inches. To make your cleaning process even easier, one of the rods features a rotating end that'll help you hit those hard to reach areas. It's important to clean every portion of your firearm to prevent the chance of corrosion.
Another aspect you'll really appreciate is the effectiveness of the bronze brushes. These brushes will easily remove the build-up material from the inside of your barrel within minutes. They really work well and are extremely easy to use.
This whole kit comes in a convenient little weatherized case and features a hard-plastic tray on the inside for your tools. The internal tray will keep them organized and protected at all times. Whether you're in the rain, the snow, or the hot sun, your tools will be in good hands.

Gun Cleaning Kits FAQ
Q: What are the main things to look for in a good gun cleaning kit?
A: The most important thing to make sure of is that you get a gun cleaning kit that takes care of the exact type and model of firearm that you have (and thus need cleaned). Beyond that look for a versatile kit that has high marks from actual hunters and target shooters who can tell the difference between products that are mediocre, good, or even great.
Q: Is there a difference between handgun cleaning kits and rifle/shotgun cleaning kits?
A: Yes. While there are some serious cleaning kits that are versatile and include a wide number of tools and pieces that can handle each type of firearm, most small kits are very much focused on the average size of the gun they are made for. Good luck trying to clean a long barrel rifle with a kit made for pistols!
Q: I'm looking for even more information on cleaning and maintaining my guns. Do you have any suggestions?
A: We have other articles on the top, Google search (and YouTube especially for visual learners) is always a good thing, but you may also want to check out this extensive guns and ammo article on the topic.
Q: Why are all the kits on this list from the same company?
A: Because they really are top of their game and really own the niche when it comes to offering the absolute best in gun cleaning kits.
Q: Is this a sponsored or paid post?
A: No on both counts. We don't do those. We find them too deceptive and unreliable – we want everyone to be able to read our articles in confidence knowing they're getting the absolute best in available information.
Q: How important is it to use a kit that is designed specifically for your type of gun?
A: Very. There's a reason that there are different gun cleaning kits for long barrel guns versus handguns and beyond that there is a reason that there are handgun cleaning kits for a wide array of different calibers and firearms. Find a matching kit and you will be much happier with the results!
In Conclusion
My brother still loves to get out with some hunting every once in a while, and while I never caught that bug to the level he did, I'm still a big fan of recreational shooting and when a friend invites me out for an afternoon of shooting (which to me is the best type of focused meditation, in my mind) I want to be able to help out by cleaning the guns and making sure they are in great shape and all ready to go for the next time out on the range. We hope you enjoyed this article – and you have no excuse not to get a great gun cleaning kit now!
If you liked this post you might also want to check out:
Proper Rifle Cleaning Technique Video