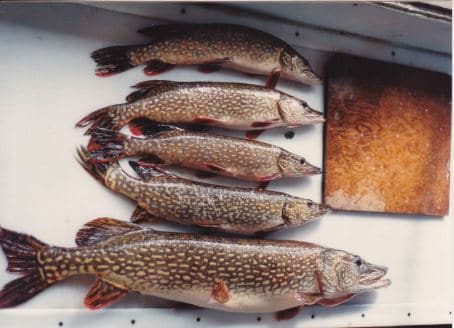 Northern pike fishing is one of my favorite things to do, and there are very few things more satisfying than battling a trophy pike.
Heck, even a 5 to 10 pound northern can put up an epic fight that few freshwater fish can match.
Each of us anglers have their own opinion on the best northern pike fishing lures, and I feel it is appropriate to share mine.
After all, I've caught big northerns fishing on lakes in Minnesota, Wisconsin, Ontario, and Mississippi River fishing in Iowa – so I might as well share the pike lures I've had the most success with!
Also, I should note that I am biased towards crankbaits because, well they are my favorite and I've had the most success with them.
But without further ado, here is my list of the best northern pike fishing lures reviewed – and if you don't mind sharing – we would always love to hear about some of the lures you have used to catch monster northerns!
Quick Lure Chart
Here is a quick overview of our top picks for the best northern pike fishing lures. We included a brief description, a picture, and a link to buy.
Beneath that table is a full product description of each lure (including personal stories, advice, tips, and a heck of a lot of information that you are going to want). So, I'm going to strongly encourage you to read more about each lure. But, if you are so impatient that you just want to see my top picks so you can get back to pike fishing – this chart should be very helpful!
The Best Northern Pike Fishing Lures
Rapala Magnum Lures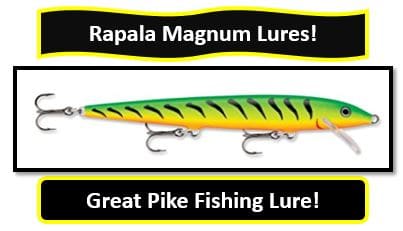 To me, the list of best northern fishing lures must start with the Rapala Magnum Lure line, and in particular the Floating Magnum Rapala.
I have caught more large northerns on the Floating Magnum Rapalas than any other lure I have used. The body length of this lure is 7 inches, which to me is the perfect length for big pike fishing (although I will admit I've caught a pike or two on these magnums that might have been smaller than the lure).
This lure will run at a depth of 9 to 11 feet. You can cast it and reel it back in – I've had success with this – but I prefer to troll with this one. When you are trolling with a Rapala Magnum and a northern hits it, you are going to know it's time to set the hook!
The design of this lure also gives that "wounded minnow" action that northerns can't resist – and the two treble hooks will help keep that fish on the line once they strike!
The best color of lure is always going to be debated, but I've had great success with the fire tiger, mullet, and silver options. These will always be my #1 choice for northern pike fishing!
Other Rapala Magnum Selling Points
Made from incredibly durable Abachi Wood (Rapala uses Abachi in their lures designed for big fish!).
Has sharp, rust resistant, Perma steel treble hooks.
Multiple colors to pick from.

The Original Floating Rapala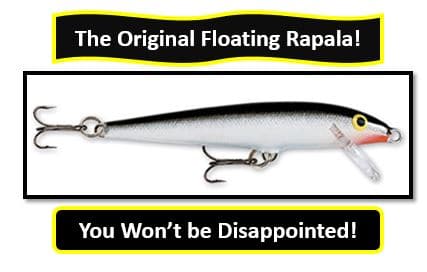 The second option on my list of the best northern fishing lures is the Original Floating Rapala. I have had a lot of success catching northerns -as well as bass, walleyes, large perch – with this line of lures.
There are two things I really love about original floating Rapalas. One, they come in 7 different sizes, and each of those sizes can be used at different depths. This gives you an incredible amount of flexibility to put the right sized lure, in front of the right fish, at the right water depth.
The second thing I really love about Original Floating Rapalas is there is like over 20 different color combos you can pick. You can't blame your lack of trophy northerns on not having enough color combinations to pick from!
Other highlights of these lures include a strong balsa wood construction, a great overall design to created that wounded fish action, and they are still hand tuned and tank tested to make sure you are getting an incredible lure right out of the box.
It is pretty easy to see why these fishing lures are number two on my list. I will recommend Model Size 18 for large northern fishing – because I like the 7 inch length and its ability to travel a little deeper.
Below is a quick reference chart showing the different Rapala Model Sizes, lure length, and water depth for each one – I did this for your convenience!
Original Floating Rapala Information
| Model Size | Length of Lure | Running Depth |
| --- | --- | --- |
| 03 | 1.5 inches | 2 - 4 feet |
| 05 | 2 inches | 3 - 5 feet |
| 07 | 2.75 inches | 3 - 5 feet |
| 09 | 3.5 inches | 3 - 5 feet |
| 11 | 4.375 inches | 4 - 6 feet |
| 13 | 5.25 inches | 4 - 6 feet |
| 18 | 7 inches | 6 - 11 feet |

1 oz. Rat-L-Trap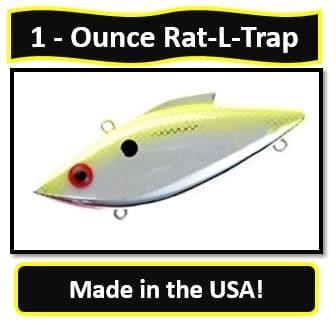 No big surprise here, but third on my list is another crankbait, and I'm going with the very popular Rat-L-Trap. There are numerous different sizes to pick from, but I prefer the 1 oz. size.
The big reason I use this for pike fishing is the noise it makes. In murky water, that little extra noise this lure makes seems to drive northerns crazy – giving them another reason to strike.
The reason I like the 1 oz size is because it gives me a little more depth flexibility to fish shallow or a little deeper. I have caught just as many big pike casting into reed beds and near shorelines in shallow water as I have deep water trolling with Rapalas.
Rat-L-Trap has about 15 different color schemes to pick from, with blues and silvers being my favorite. You are going to get some paint peeling on these lures from usage and damage done by big fish hitting them. That's okay, I feel these lures work just as well with a little peeling as they do right out of the box.
This is such a versatile lure – I have used them for bass & walleye fishing as well – I will always recommend having a few in your tackle box, even if you aren't pike fishing!
Other big selling points of this lure include:
They are made in the USA!
These lures do a fantastic job of simulating a wounded fish – which makes really large northerns strike!
There are multiple sizes to pick based on the type of fishing you are doing.

Musky Innovations Bull Dawg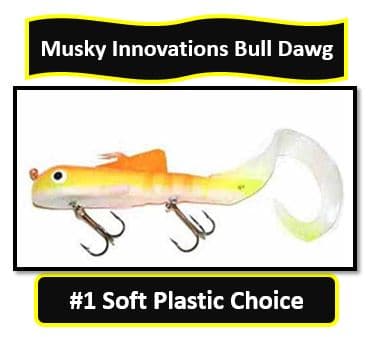 I will be the first person to admit that soft plastics are not my specialty. So, in full disclosure, I had to ask some of my fellow anglers about soft plastics they have used to catch big northerns – and the overwhelming answer came back as the Musky Innovations Bull Dawg.
The big factors that my fishing friends enjoy on this one is its ability to be used at any depth you need, and its action in the water. Its unique lure action makes it really attractive to big fish, and its large size also helps you land those lunkers you are looking for!
There are many different types of Muskie Innovations Bull Dawg lures and they come in numerous different sizes and hook designs. For Pike, you want one that is large and eye catching in color.
The one down side you often here with soft plastics is that big game fish like pike are going to do some damage to them with those sharp teeth. Don't expect them to last a remarkably long period of time.
If you are going to chase big fish with soft plastics, this is a great choice!
Lure Highlights –
100% soft plastic lure balanced with a jig head.
Swims down at a 45-degree angle on the fall and swims horizontally when being reeled in.
Can be used as a crankbait, jerk bait, or jig depending on your fishing style.

Heddon Rattlin' Spook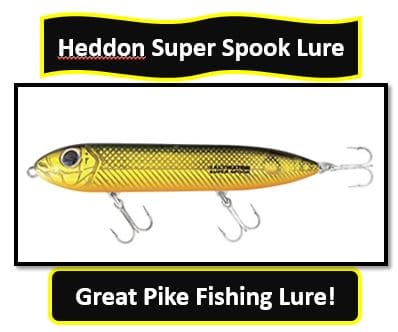 There are many pike anglers that are going to have the Heddon Rattlin' Spook on the very top of their list of best pike fishing lures. One of the big reasons why people love it is the noise it makes.
The sound this lure makes is intense due to the tungsten bbs located inside it that really amplifies the sound. This sound is supposed to emulate panicking baitfish, which of course is something that northern pike would love to eat. Fish that lure in grassy or reedy areas to drive large northerns crazy!
This lure does take a little bit of technique to use to maximize its effectiveness. While the Rapalas listed above are great for trolling and casting & retrieving – this lure is effective when using a "walk the dog" style retrieve.
If you have never fished using the "walk the dog" technique, you are going to cast the lure, and with your rod tip just a few inches off the water, you're going to sharply jerk or twitch the rod a few inches.
After that initial jerk, you are going to drift the rod tip back towards the lure creating slack. It creates major lure action to get those fish to bite. Watch a couple YouTube videos if you haven't done before and you will be an expert in no time!
Other Big Selling Points:
Over 15 different styles/colors to pick from!
Uses sharp, triple grip treble hooks to keep those fish from escaping.

The Dardevle 00 Spoon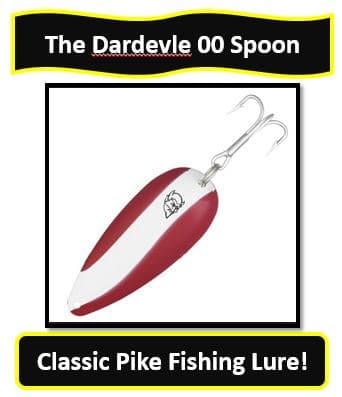 I have never been a huge spoon fisherman, but spoon lures have a very loyal following, and when used correctly they can catch a lot of fish. When it comes to pike fishing, I'm going to recommend the Dardevele 00 Spoon if you are going to go that route.
The 00 Spoon is the largest option from Dardevle that I would recommend for pike fishing – weighing 1 OZ and being 3 5/8 inches x 1 ¼ inches in size. I am also going to recommend that classic red and white color scheme – which is what I think most of us think of when they see a spoon lure.
What makes spoons so effective for pike fishing is the wobbly, swinging from side to side action that this lure has when being reeled in. That action flashes a lot of color, and makes a lot of commotion, which are important things to have if you want that large pike to strike.
There are a lot of different spoon colors and styles to pick from – so have some fun and explore some different combinations!
On a side note: Dardevle's online presence is abysmal. Their website is very outdated and hard to navigate, and the pictures they use on sites like Amazon are terrible. They are a company that built themselves on creating durable and successful lures, and have done that for over 100 years.
They may still be living off that marketing reputation from years past – but don't let that bad online presence scare you away. They make good lures that can catch some really big fish.

LIVETARGET Hollow Body Frog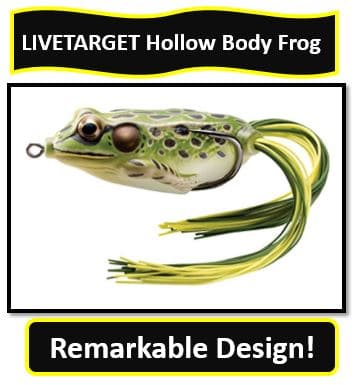 Frog fishing is something I will do from time to time, and it can be effective when pike fishing. If I'm going to frog fish for pike, my lure of choice is the LIVETARGET Hollow Body Frog.
This lure has a few different size options to pick from ranging from 1.75 inches to 2.625 inches in length. When pike fishing, I'm going to always pick the bigger lure to try and land the biggest fish, so I'll pick the 2.625-inch version.
Why frog fishing can be so effective for pike is it allows you to fish in weedy, reedy, and otherwise almost impossible areas to fish. Big northerns like that cover, and a good slow frog return while casting can drive big pike crazy.
The other reason I have this LIVETARGET fishing lure in my pike fishing tackle box is because of how realistic looking it is. The design is phenomenal, and there 7 or 8 different color schemes you can pick from.
Other Cool Facts:
This lure was the 2010 ICAST "Best of Show" Winner
Soft body construction with really sharp hooks!

LIVETARGET Jerkbait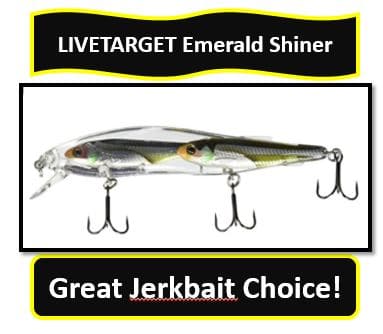 I am a big fan of LIVETARGET lures in general, and there are some different Jerkbaits that they make that I would strongly recommend for pike fishing.
My two favorite jerkbaits for pike fishing from them are the glass minnow jerkbait and the emerald shiner jerkbait. The emerald shiner jerkbait comes in a 3 ½ inch version and a 4 ½ inch version; the glass minnow jerkbait has a 4.25-inch version and a 4.75-inch version. Both versions will run at about 3 to 4 feet of depth.
As you can probably tell by now, I'm normally going to go with the larger version. Both the glass minnow version and the emerald shiner version have a really unique and eye-catching design. The emerald shiner version is supposed to mimic a line of shiners that are swimming, and the glass minnow version mimics a group of fleeing minnows (you could probably figure that out by their names – but wanted to add that just in case).
When using these jerkbaits, I use a cast and retrieve technique. I like to vary speeds to see what it takes to get those pike to strike, and these lures perform well when I'm doing a fast or slow retrieve.
I find these sharp looking lures perform best in cleaner water – and if you are a trolling fan, these lures are great at that also.
LIVETARGET Facts
LIVETARGET is headquartered out of Ontario Canada – Big Northern Country!
They have over 750 unique fishing lure models!
As bad as I said Dardevle's online presence is – LIVETARGET is great. Their website even lets you sort through their lures based on the type of fish you want to catch!

Booyah Pikee Spinnerbait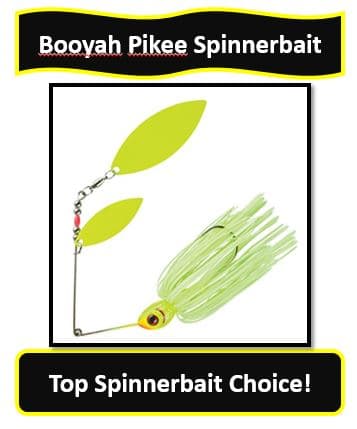 If you are like me, one of my favorite bass fishing lures is a spinnerbait. It took me a while to realize that spinners could also be an effective northern pike fishing lure.
And if I'm going to fish for northerns with a spinnerbait, I'm going to use the Booyah Pikee Spinnerbait.
When spinner fishing for pike, I like to use either a gold or silver blade because of the reflection it gives off in the water.
Booyah gives you 7 or 8 really good skirt colors to pick from – but I've always been partial to white or a very bright yellowish color.
Another reason I fish with Booyah Pikee Spinnerbaits is because they come with a 12-inch wire leader – which is very necessary to keep those sharp teeth and hard hitting pike from breaking your line.
This is a strong spinnerbait that is durable enough to take those hard pike hits, and the smooth action of these lures is hard to duplicate. They are also great for running near reed beds and shorelines, and the 1/2 oz size is large enough to catch some big fish.

Northland Buck Shot Rattle Spoon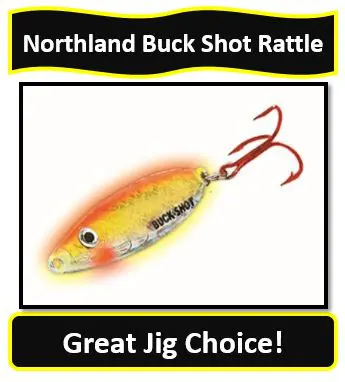 I am a decent jigger, having been taught how to jig in the waters of Ontario, Canada. I would say I was targeting more walleye when learning, but was amazed at how many northerns I caught while jogging with the right rig.
Now I didn't catch as many large northerns jigging as I did with other techniques, but the volume I caught using the Northland Buck Shot Rattle Spoon was impressive.
This jigging Spoon is made from metal to create a great underwater reflection to attract fish. The buck shot rattle creates that extra noise you want to attract fish. Those two features make this a very attractive lure to fish.
The Spoon is geared towards imitating minnows, and when used properly should provide you with an opportunity to catch some nice pike!
Northland Tackle Facts:
Created in 1975 in northern Minnesota.
They specialize in jigs, live bait rigs, spoons, and spinnerbaits!

Bomber Model A Crankbait
I personally couldn't make any list of northern pike or walleye fishing lures without including the Bomber Model A Crankbait.
For me, the first fishing lure I bought with my own money was what I called a blue bomber. I used that crankbait fishing in Canada, Minnesota, and Wisconsin walleye and pike fishing.
The other attachment I had to my "blue bomber" was it was part of my most surreal fishing moment. I was using it during the craziest fish feeding frenzy I ever experienced. For about an hour, every cast I made yielded me a walleye or northern. I must have caught 35 fish in an hour with it. I have never experienced anything like that before or after.
You can probably see why I have a little bias towards this lure, but also why I would recommend it!
The lure itself comes in a few different sizes ranging from 1 7/8 inches to 3 inches in length. Depending on the size you pick, it will run at a depth of 2 to 13 feet. You also have like 35 colors to pick from, so I'm sure you will be able to find something you like.
I never trolled with this lure, I always used a cast and retrieve technique with it. I ended up losing my blue bomber in a lake in Wisconsin when my line snapped fighting what I'm going to guess was a large northern.
I can only hope you have an experience with this lure that comes anywhere close to the fond memories I have fishing with this.

General Northern Pike Fishing Lure Tips
This probably seems straight forward after looking at my list of recommended lures, but here is my general advice on what makes a good pike lure – after all – we each have our own favorites and I'm sure there are some great lures that I missed.
1.) Large lures are best. Sure, I've caught some nice sized pike on smaller lures, but in general, big fishing lures = larger fish!
2.) Bright reflective colors are good. There is always going to be a debate on what the best color choices are. I've had success with white, blue, yellow, silver, black, gold, green – you get the idea. However, I like silver, gold, white, metal, basically anything that is reflective and garners attention in the water.
3.) Make a commotion in the water! Lures that make noise, splash, look like a wounded fish, and basically create havoc in the water are going to trigger that predatory instinct that pike have -and are going to get your lures pounded!
4.) Use durable lures. Pike hit hard and their teeth are very sharp. You need lures that can take that impact, and a wire liter may be necessary to keep your line from being snapped.


Final Thoughts
I've done a lot of different types of fishing, and have tried to catch numerous types of different species – but when you ask me what my favorite type of fishing is, it will always be those memories of big pike fishing!
Hopefully this list of northern pike fishing lures will give you some great recommendations on what to use to catch your trophy pike – and when you do catch one – make sure you share your success with us!
Here is to hoping your pike fishing adventures are as fun & memorable as mine!
Also: here is a great video with some tips on how to "walk the dog" – that fishing technique I mentioned above!
If you need more information on Northern Pike Fishing check out this other articles we did:
The Best Northern Pike Fishing Rods
The Best Northern Pike Fishing Nets
Quick Hitter: The Best Northern Pike Wire Leaders
The Ultimate Northern Pike Fishing Guide