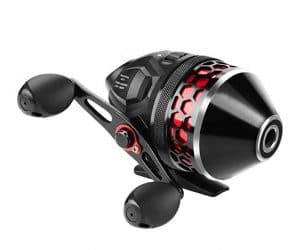 If you have been following our website recently, you have probably noticed I have been using a lot more spincast reels here recently since I've been teaching my youngsters how to fish. You also probably noticed I'm also a big fan of KastKing and their fishing gear. So, I was very excited to see KastKing starting to produce spincast reels!
What are the best KastKing spincast fishing reels?
The answer is the KastKing Brutus Spincast Reel and the new KastKing Cadet Spincast Reel!
And honestly, there isn't much more to the best KastKing Spincast Reels list because that is the only option currently. But KastKing produces about 18 different baitcasting reel lines and there are 15+ different spinning reel lines, so I would predict you are probably going to see some more great spincast reels from KastKing in the near future.
2020 Update: Sometimes I love being right with my predictions! KastKing has recently released the KastKing Cadet Spincast fishing reel – giving you even more great options from a great company!
The KastKing Brutus Spincast Reel Reviewed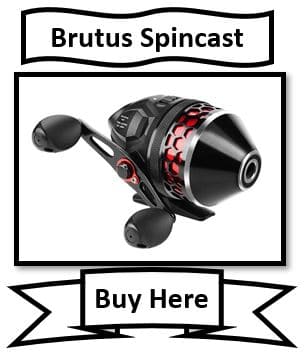 There may not be many spincast reel options from KastKing yet, but the KastKing Brutus Spincast Fishing Reel is one of the best spincast reels you can buy. It combines functionality with durability and a great price point to become a fantastic fishing reel.
There are some major highlights to this reel. Spincast reels depend on the line pick up system to provide solid casting and to pick up the line slack to allow you to set the hook. This reel has a stainless steel dual line pick up system that picks up slack quickly – which anglers will really like.
The ball bearings and gear ratio ensure great performance. These features give this reel a great line retrieval rate when compared with other spincast reels. It also has a smooth retrieval.
A feature that is unique to this reel vs. other spincast reels is the reversible handle. This reel has an aluminum, double-padded fishing handle that can be on the left or right side. All you have to do is remove the handle retainer cap and move the handle to whichever side you need it on. This is nice, since many spincast reels are only right-handed and I have a left-handed son.
This reel is pre-spooled with 10 lb. KastKing Premium monofilament fishing line, so you don't have to worry about spooling up this reel when you buy it. It also has really nice size, giving you the ability to hold a lot of fishing line compared to many other spincast reels.
KastKing Brutus Spincast Fishing Reel Quick Info:
Ball Bearings: 5+1
Gear Ratio: 4.0:1
Drag Power (LB): 11 lb.
Weight (oz.): 9.88
Inch Per Turn: 15.75
Monofilament Line Capacity (LB/YDS): 10/160 or 12/130
Pre-Spooled with 1o lb. KastKing Premium Monofilament Fishing Line
I recommend spincast reels for beginners or youth anglers – and if you fit those categories, you will like this reel a lot. If you are an experienced angler and you love spincast reels (I'm not going to judge you, although my spinning reel obsessed dad might) – you should also love a lot of the features these reels bring to the table. I could easily see you using this for bass, trout, or panfish fishing.

KastKing Cadet Spincast Fishing Reel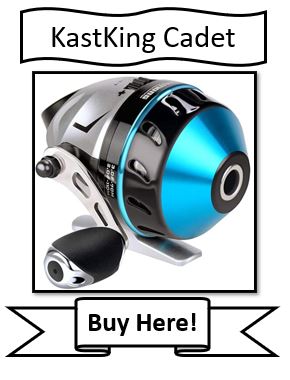 This is a really good fishing reel for beginners because it is ready to use right out of the box! You also got to love the clean look – KastKing designs some really good-looking fishing equipment!
This reel is made with a durable, lightweight graphite body and nose cone. It has a smooth drag – and a two-pin fishing line pick up system that reduces tangles and slack – which is so important with spincast reels.
It also has a low-profile design – which means it going to fit really well into the hands of youngsters – again making it a perfect beginner's fishing reel (something I'm learning a lot about right now)!
Here are some of the specific specs of the KastKing Cadet Spincast Fishing Reel:
Gear Ratio: 3.1:1
Weight: 7.4 ounces
Inch Per Turn: 11.4
Drag Power: 6.6 LB
Mono Line Capacity (LB/YDS): 6-140, 8-110, 10-100
Again, this is just a great fishing reel for beginners and youngsters!

Other Good Spincast Reel Options
If you are looking for some different spincast reel options, here is a list of other spincast reel choices that we have looked at.
The Best Abu Garcia Spincast Fishing Reels
The Best Abu Garcia Spincast Rod and Reel Combinations
More KastKing Fishing Gear Reviews
I'm a huge fan of KastKing and the great fishing gear that they are producing, so here is a list of some of the other KastKing fishing equipment that we reviewed.
The Best KastKing Fishing Rods
The Best KastKing Spinning Reels
Between all of these great fishing gear articles, I'm confident in your ability to find the gear you need. Please remember to keep checking back on this article from time to time, because as KastKing release more spincast reels, we will make sure to review them and add them to our lists!