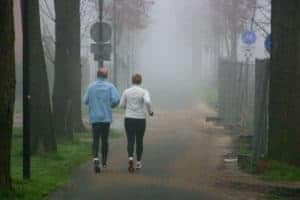 Hyrdration belts were always something that seemed a bit strange to me until I moved to an extremely hot climate. While these are extremely popular with runners (more on that in a minute), they are an excellent tool for hiking and backpacking, and a lot more convenient when you really need to put on those miles but don't want to stop, unpack the backpack, and pull a water bottle out. Not really efficient.
Then there's running…so unless it's metaphorical to the nearest hiking trail where I can then backpack for 20-30 miles again or faster than the slowest person in our group when a bear attacks (sorry – Alaska humor is dark), running for fun isn't something that grabbed me the way cycling or hiking did. Jon did a lot more of it, but he was also an athlete who played Division III football and although he preferred the weight room or working on that initial first step burst, he's ran quite a bit and the habit ended up rubbing off on me to some extent.
That being said, I have plenty of friends who run 5K races, half-marathons, marathons, or triathlons, and that means for someone who prefers the backpack and long trails I actually still get quite a bit of information and insight to the world of running, and the gear that makes this athletic past time much more viable.
In fact, there are some places where there is an obvious middle ground. With summer temperatures hitting serious all time highs, you need to make sure you can stay hydrated while out and about whether exploring a campground, trekking through some woods, or taking a shot at another summer backpacking trip or run – hydration belts are a great outdoor tool that I recommend for most outdoor enthusiasts.
While they might seem a little weird at first as you get used to them, soon they'll become an integral part of your outdoor activities.
Top Rated Water Hydration Belt Chart
Our top rated 13 best (or 12 + 1 depending if you want to count the odd ball choice):
Peak Gear Hydration Running Belt
Sometimes there doesn't seem to be a big difference between most the slots on a top 10 list, and there are other times where even in a group or niche (or sub-niche) of outdoor gear there are one or two pieces that really stand out as being beyond exceptional and the Peak Gear hydration running belt is a prime example of this.
There are many absolutely fantastic water belts for runners, hikers, and other outdoor enthusiasts but Peak Gear lives up to its name.
Developed by an experienced NYC marathon runner, this design takes a unique form from an experienced runner who designed and created this belt with runners in mind. The strong functionality of this belt makes it extremely popular even for many of us who love walking, hiking, or exploring but aren't into the running so much. The great design allows for this level of rare multi-functionality.
These peak gear marathon water hydration belts are designed to be comfortable with minimal bouncing, no chafing, and an even weight distribution that makes it easy to adjust to and run with. In addition to this there is an excellent adjustability built in as well as being equally useful for right handed or left handed individuals.
Just a few of the outstanding features:
Perfect loops for holding and securing gel pockets
Perfect pocket size for smartphones, wallets, and more
Allows a smartphone/headphone setup while securing phone inside the pocket
Reflectors to stay in view even when it is dark
Lifetime warranty and money back guarantee
If you really want top of the line, this is the one we unequivocally recommend starting with because it is also the hydration belt that you are most likely to finish with, as well.

Winneco Hydration Belt
Another very highly regarded water belt for runners is the Winneco Hydration Belt. THis beauty is designed for two water bottles, and in fact this belt comes with two high quality water bottles that hold 10 oz of water each, as well as 6 black caps.
Since it's common to break the cap to a water bottle over time, this gives you plenty of replacements up front so you don't have to buy an entire water bottle as a replacement.
The Winneco belt not only helps you stay hydrated during your run (or hike or backpacking, etc.) but it also comfortably fits the iPhone 6 and 7, is waterproof, and multi-functional. Whether you need a short run, medium distance run, or marathon solution, this hydration belt for runners can be the perfect fit.
You can use well designed elastic hangers to fully and safely carry around items like keys, a sweat towel, and more. Use the Velcro straps to fit the belt tightly without worry of slipping, annoying rubbing (that can lead to blisters) or even bouncing.
This exceptional water belt is good for waist sizes from 28″ up to 38″ without worrying about the exact fit or comfort. These belts even have special reflectors so cars will see you at night – meaning this belt can even help to keep you safe!
As you would expect, these belts come with a 100% satisfaction guarantee. If you aren't happy with the purchase, you can get all your money back. A great option for cross country and marathon runners!

BringIt Running Hydration Belt w/ Water Bottles
Built by long distance race runners with 5k, 10k, and marathon runners in mind, the BringIt hydration belt system for runners comes with two high quality water bottles, the perfect pocket set up for carrying your smartphone, and a reliable adjustable waist that allows for a comfortable fit for most runners.
There are multiple interior pockets for things like your license or a debit card – so you can go on that long run or hike and still stop in for a bite at one of those "hole in the wall" bars or grills that position themselves to be right there for the active crowd.
Add in the simple comfort of having water on you without the strain of backpack straps digging into your shoulders or having to hold your water supply in your hands – which just isn't feasible whether on a serious run or a major hike.
The BringIt belt for runners and hikers is an excellent choice that is going to be more than enough for most outdoor enthusiasts. These belts come with the reflective tags and even some reflective paint strips that will tell cars in the early morning that you are there and help to keep you safe whether you're moving pre-dawn or post-dusk.
The waist strap is soft to be gentle on the skin yet flexible and comfortable fits waists between 26 inches and 41 inches, though it can be stretched up to 47 inches if you don't mind a slightly tighter fit.
Make sure to wash the water bottles before use and while overall care is easy there is a warranty to support your purchase in case any issues may arise.

OutdoorsmanLab Neoprene Hydration Belt for Running Reviewed
Made from high quality neoprene, a material you'll also find in many other outdoor clothing items such as many high level fishing gloves, the runners' hydration belt from OutdoorsmanLab not only includes the high quality belt with adjustable nylon straps to help ensure a snug but comfortable fit for runners of multiple sizes, but also two BPA-free 10 oz water bottles, the full level of pockets that modern runners want (including one for the iPhone or smartphone), and a design that is anti-slip to keep you comfortable.
There are few things more annoying or frustrating than a belt that is too heavy, slips, bounces, and just causes overall rubbing and chafing. No one wants to deal with that during a challenging hike or run, and frankly it's a sign of poor design.
Thee top notch belts are adjustable and should easily fit waist sizes from 30 inches to 42 inches in size, and the buckle clip is solid and reliable, making this a snug comfortable fit that even most larger runners will be able to rely on.
This hydration belt even features a headphone port so you can enjoy your best "pump it up" song list for exercising and high visibility reflectors will help to keep you safe if you're running in the early morning or late evening.
Finally, the guarantee is one of the best in the business with 60 day full refund for any reason and you get to keep the belt. That's a pretty solid deal to make sure the customers using these running belts stay happy.

URPOWER Multi-Functional Running Belt
Rated by Amazon as the #1 top selling hydration running belt on their website, these belts hold two water bottles and offer a great solution to keeping yourself from getting dehydrated while running, hiking, climbing, cycling and more.
Not only does this belt get props because it is a best selling model, but this hydration belt for runners is actually one of the best models out there based on reviews, overall value, and delivering on what long distance runners or long single day hikers need.
In other words, this model from URPOWER fully deserves to be on this list. Lightweight, made from neoprene material, and both waterproof and resistant to tears, this belt even comes in at a mere 4.5 ounces – obviously before you fill the two water bottles but this shows how little weight or pressure it will add to you while taking on your specific challenges.
The pockets are zipper based and can hold your keys, wallet, smartphone, inhaler, and more. If you love running to music there is even a hole for a headphone cable so your phone can also function as your headphones during your next race or outing.
Finally, you can't argue with this belt's warranty, which is the best in the business. The company is so confident in the quality of their runner's pack that they provide a lifetime warranty for any issues that might come up.
You won't be disappointed with this option.

Running Buddy Hydration Pouch
The Running Buddy hydration pouch is definitely a bit different than the various running belts or hydration belt systems you've seen in this article so far, and in doing so they fill in a very nice niche that many outdoor enthusiasts are going to find useful. This simple pouch is large enough for one 7 oz bottle of water, and its design allows it to magnetically connect to the waistband of any pair of pants or shorts.
This means a a simple and secure hold that is lightweight, provides much needed water for a walk, day riding the bikes, or bit of a run, and the patented system means no need to adjust belts, no need to worry about waist size – this pouch should be workable with virtually any individual heading outside to enjoy a bit of exercise in their preferred way. While this pouch definitely isn't for a marathon runner, it is a great way to make sure you have a good amount of water on you for any hot summer day activity.
This is a very unique design, and in fact the way the magnetic flap works is even patent-pending. By setting it up this way, there's no need to worry about waist size or looking at extra accessories: you know exactly what you're getting with this inexpensive but wonderfully effective carrying option for your water bottle.
A great choice for active individuals who like to be out and about but definitely don't consider themselves ultra athletes.

Avantree Hydration Running Belt
Back to the highly designed running belts is an interesting one from Avantree, which develops a hydration running belt that definitely sticks out. This is a running belt that holds one bottle, held to the side and on the back, where it would be easy to reach for or place back, though not necessarily as easy as a pure side strap, but in theory this can put stress off the hips.
Good for jogging, hiking, or biking, you now have the ability to carry a high quality water bottle with you with this belt that fits multiple sizes of water bottles, which gives it a degree of flexibility that most other belts on this list will have a difficult time matching. From 350 ML to 700 ML in size, this hydration belt fits a wide array of water bottles which means most likely your favorite one will be a perfect fit for this belt.
This hydration waist pack from Avantree has everything else a modern runner needs: holder for iPhone or other smartphone, cable holder, and headphone outlet so your phone can stream music or podcasts right to you.
Made from ultralight nylon and with a very distinctive design, this very lightweight yet reliable hydration belt will take care of all your needs and then some!

X Fit Factor Running Hydration Belt
The hydration running belt from X Fit Factor is an adjustable water belt that has gained a lot of attention over the past few years and has earned a strong reputation among many runners as one of the best options out there. Designed to hold two 10-ounce water bottles, one on each hip, this belt that works for both women and men comes with two BPA-free water bottles in addition to having the space to fit your favorite smartphone.
This is an outstanding design for a hydration belt and is slightly adjustable to help you get the right fit depending on the size and shape of your waist. A clear orange stripe makes this one stick out, and the front pouch design has enough space even for the largest of smartphones that don't fit in most other hydration belts, as well as the obligatory hole for headphone attachments so you can listen to your music.
Add in the waterproof neoprene to keep your important things dry even if bad weather hits while you're out and about, and you can begin to see why so many runners and outdoor enthusiasts really like this runners' product from X Fit.

Nathan Trail Mix Hydration Running Belt
Coming in 11 different color combinations, from the traditional and basic black or green to very colorful and eye-popping colors like bright pink, purple, or even Andean Toucan, there are plenty of aesthetic choices when it comes to the Nathan Trail mix hydration running belt and fortunately the quality of construction matches.
Enjoying nearly 500 ratings on Amazon as of this writing, this is a running belt that generally receives very high marks and makes the top 5 or top 10 lists for top rated water belts for outdoor enthusiasts for very good reason.
The water bottles hold a full 10 ounces of water each, meaning you will have plenty of hydration for all but the longest runs in the harshest temperatures. The belt is designed to be ergonomically friendly and made from a soft and stretchable monofilament material that eliminates bounce, rubbing, and jostling while helping to create a better fit that will keep you smiling even as you're pushing yourself a little bit further.
The design is simple but effective, allowing you to carry the necessities, stave off dehydration, and keep your body running smoothly as you chase that next hill or that next mile.
This is an excellent choice and provides plenty of space to make sure you have everything you need as you keeping pushing through to your next goal.

World Voyager No Bounce Runners Hydration Belt with Reflectors
This is a long list because there are so many great options to choose from, and for you fans of World Voyager's contribution to the running community: here's your moment to shine!
A relative newcomer on the scene compared to many of the other options that populate this list, the World Voyager runners' belt is designed to outright eliminate bouncing or chafing, and to avoid the re-adjustment struggle that often comes from a belt that looked but but just doesn't fit right or have a way to properly adjust.
This one is designed to stay in the right place, to be easy to adjust, and to allow you to carry the water you need. Add in an anti-theft pocket that allows you to carry your iPhone while listening to your music without worry of someone picking it off of you and you can see why this design has so quickly caught on with many active runners.
This belt has reflective tags to make you easier to see in dim light or darkness, and the high quality of materials used helps make sure that your things are safe even if it starts raining, and that the bottles and belt are dishwasher safe so they can be cleaned easily and thoroughly, as well.
This premium belt comes with two 9 ounce bottles for water which of course are BPA-free. There are more than enough pockets to carry what you need and many people have been very happy with what this belt has brought to the table so far.

Maximus Running Marathon Water Belt Package
The Maximus hydration belt for runners is a little bit different since it comes as sort of a pocket deal that also includes very patriotic headbands and wrist bands in red, white, and blue stripes. These sweatbands are a nice addition that make sense when put together with a water belt for runners, and it's that overall combination that helps to make the Maximus package stick out as an outstanding value.
These belts are good for waists up to 43 inches in size and the bag is designed to stay into place and not bounce around too much. Created from black elastic neoprene and adjustable thanks to solid Velcro, and the 6.5 inch X 4 inch pouch gives plenty of storage space.
This belt has an impressive 6 reflectors that is good for safety purposes, meaning you can safely train early morning or even late evening because traffic will be able to see you from quite a distance.
Each side holds to equal sized water bottles (and this belt does come with two BPA free water flasks to start you off right), and that balance means you have the water you need while the belt remains balanced and comfortable as you run and train.
Made for marathon runners, these Maximus hydration belts have a reputation for being strong, durable, useful, and comfortable. That is a great combination, and there's a reason these have enjoyed extremely high ratings from experienced runners.

Fitter's Niche Hydration Waist Pack
Fitter's Niche has their own take on the hydration belt with their hydration waist pack, and there are a lot of things to like about their take on this extremely important piece of running gear. The first thing that sticks out is how much more adjustable this belt is compared to others, fitting waists as small as 25 inches up to a full 55 inches, making it one of the most versatile options out there by far.
They managed to do this without giving up any of the now standard design options that many runners expect such as a roomy zip pouch that fits a smart phone, wallet, keys, and more.
This particular water belt is made of Nylon, Lycra, and a special water resistance layer of materials in a 40/40/20 spread. The long adjustable belt means you will be able to easily find that perfect fit for you without having to worry about the most common annoyances that come from running belts such as bouncing, chaffing, and other related issues.
These belts are good for waist sizes up to a full 55 inches, showing just how impressive the adjustability of this lightweight hydration belt is. Add in reflective material so you can run any time of the day or night and it's easy to see why this newcomer has made such a splash in the world of water belts for marathon runners. This belt is versatile enough to be worn as a shoulder bag, as well, depending on your situation and preference.
It is important to note that the bottle isn't included with this belt, but you shouldn't have any trouble finding one that fits.
If you have any issues, you can always fall back on the 12 month warranty that is provided over by outstanding customer service.

Nathan Trail Mix Plus Insulated Hydration Belt
Rounding out our list of the absolute best hydration belts for trail runners out there is the Nathan Trail Mix Plus – an impressive insulated waist pack and water belt that combines solid material and design with the ability to carry two 10-ounce flasks to keep yourself hydrated while you're out and about.
Designed for easy one handed grab of a water bottle while still on the move, the belt has multi-directional stretch that helps to minimize, if not outright eliminate, annoying bouncing while the zip pocket is perfect for stashing your smartphone, keys, or wallet.
Reflective trim means plenty of visibility even when running in low light situations and you should have no problem getting in your exercise while carrying around anything you might need.
Cutting down on the bouncing and shifting means a more comfortable fit and more effective run, and the materials used in constructing the belt means you get to be comfortable while resting easy (mentally, anyway) because you know the materials will hold up to use over the test of time.

In Conclusion
As you can see, there is no shortage of great hydration belts out there. Whether you're a runner, a hiker, or a cyclist, if you want a comfortable and efficient way to keep yourself from getting dehydrated and getting the water you need during training when you need it most (without interrupting your race or session) then it's time to take a serious look at what a really good hydration belt will be able to do for you.
Also, if you're big on the hiking like I am, after you get yourself a good hydration belt consider checking out our post on tri-folding trekking poles.
Small store owner water hydration belt video