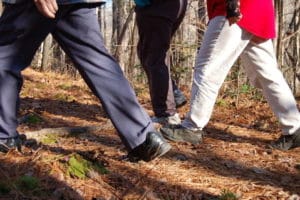 As good as a sturdy hiking boot can be for a solid day of hiking, especially over uneven ground or particularly challenging trails, sometimes you need something that is less concerned about a hefty weight and heavy duty ankle support that goes above and beyond, but is more about comfort to the foot and lightweight on the lower legs. Often times really long range hikers, especially through hikers, prefer to go with hiking shoes over boots because in those cases the extra support is important, but extra weight on the legs is a killer – especially over a long run.
A good pair of hiking shoes is designed to hold up to major wear, give your feet comfort, and have that little bit of extra space for swelling that is going to happen after hiking miles upon miles. The majority of trail through hikers are going to pick hiking shoes over boots.
There's a lot to love about a sturdy pair of hiking shoes, but not all hiking shoes are the same. You definitely want to do your research to make sure that you are picking out one of the best brands currently on the market.
Best Hiking Shoe Options
Merrell Men's All Out Blaze Sieve Water Shoe
This leather and fabric combination of the Merrell All Out Blaze is really top notch and has gained a lot of attention with avid hikers, backpackers, and trail runners alike. As someone who routinely wears out shoes from walking in as little as 6 months (and I mean literally wear them out until there are holes in the soles and rips in the sides), I appreciate a great shoe that can put up with a "Shane level" beating.
Merrell's passes with flying colors. In addition to being comfortable and incredibly durable, these shoes are built to be solidly water proof. This makes them an ideal option when walking in rainy weather, needing to make your way through a couple puddles, or even forging through rivers and creeks while on a major hike.
If you like to explore, the hiking shoes by Merrell are even more attractive because of the ability to go back and forth between different terrain types. Wet, dry, marsh or grass, dust or stone, these shoes give you everything you need to keep on moving. There's a reason they have an overwhelmingly high positive rating on Amazon.
They make our top list for a reason – these are incredible hiking shoes.

Merrell Men's Moab 2 Vent Hiking Shoe
Let's face it: Merrell makes an incredible pair of hiking shoes a they show yet again by taking the first and second spots on our list. The Moab 2 is an outstanding and popular model that combines a synthetic sole, suede leather, and solid mesh to create a stunning shoe.
The closed cell foam tongue is designed with special materials and specifically to keep both debris and moisture out. That keeps your feet dry, comfortable, and keeps annoying debris out. This is especially good when trying to avoid blisters or damage from rubbing.
Each individual part is impressive in and of itself but when you combine all of them together you get a complete hiking shoe that is above and beyond your run of the mill option. The sole is made from a popular Vibram TC5+ and the design seems to focus on doing all the small things right. Tie that together and you're feeling pretty good about this option.
With a protective rubber cap to protect the toes and a molded arch for proper foot support during a long hike, there's a lot to like about what this pair of specialty hiking shoes brings to the table. Add in a mere 1 lb 15 oz weight and it's easy to see why long distance hikers are big fans of what the Moab 2 has to offer.
The one drawback? Unfortunately at this time they are only available in the United States.

The North Face Men's Ultra 109 Gore-Tex Hiking Shoe
There are plenty of great hiking shoes out there, but the North Face Ultra 109 certainly stands out! This is one of the top rated hiking shoes you can find anywhere, and comes in both men's and women's sizes.
This leather hiking shoe features a well designed and strong sole designed for comfort and stability. The lace up is optimized for support while allowing a little bit of room for loosening up to account for swelling during those long range hikes. These shoes can even gently help with pronation correction.
In other words, the design of the Ultra 109 GTX from North Face really stands out. Both on the comfort front as well as the support and protection fronts.
The use of GORE-TEX material is outstanding and provides a breathable shoe that remains waterproof. All without sacrificing comfort.
These shoes are designed to keep the feet dry and comfortable during even challenging hikes. You get the traction and ankle support you want down slick, challenging, and uneven trails.
Pros:
They have a reputation for excellent fit, even for wider feet
Comfortable in wide array of terrains & weather conditions
Lighter and breathe better than hiking boots
Sole holds up to rough terrain fairly well (at least in the short term)
Cons:
There are several reports that if you put these under very heavy use they can wear out in 8-9 months

Merrell Men's Moab 2 Waterproof Hiking Shoe
Merrell is here again with the Moab 2. Let's face it: this brand is killer when it comes to hiking shoes. This popular water resistant hiking shoe has a breathable mesh lining, outstanding combination of leather, suede, and mesh, and gives a comfortable yet supportive fit. The EVA offers stability while the air cushion makes them comfortable. Especially on long hikes.
Merrell does a great job offering a wide array of features that hikers are looking for. They also avoid the common mistake of losing the magic that made them so popular to begin with. There's a reason Merrell Moabs are found in every hiker/backpacker store. They are an outstanding option and have a reputation for being surprisingly comfortable from the very beginning, even the initial break-in phase.
These are shoes that are comfortable, designed for actual real world hiking conditions, and can last the test of time. The soles are rugged. Only very high quality materials are used in construction. In other words, these are built the way hiking shoes should be. For real world use by actual hikers. There's no reason durability and comfort can't go hand in hand.
The one really common complaint. They are advertised as waterproof, but most hikers we've talked to agree that they are more water resistant. Even then, after a few years it's good to waterproof them once a year to make sure they don't spring leaks.
Even with that, it's not hard to love what they bring to the table.

Merrell Men's Moab Edge Hiking Shoe
Coming in multiple colors and designs, the Moab Edge hiking shoe is an extremely popular option that really holds up the Merrell brand well. Featuring a Vibram sole, 100% upper mesh construction for breathability, and a contoured inner foot bed that helps take care of potential odor issues after many days of hiking. A pull loop on the rear helps to ensure a tight and proper fit upon pulling the hiking shoes on.
In other words, this is a great shoe design that really brings all the features to the table you would want out of a truly top notch hiking shoe. Because of the design your feet stay more comfortable for longer periods of time. You foot is allowed to flex naturally, and that means better performance in the field. Whether you're hiking in ideal conditions or dealing with mud or slick surfaces, you get better traction and grip with these high quality hiking shoes.
Many reviews online rave about the fit although there is a caveat here. These seem especially well fitted size-wise for people who have regular arched feet but if you tend to have flat feet or extra wide feet (I'm one of those people in this camp) then there are a lot more issues. In those cases it's best to look at some of the other best hiking shoe options that are available on this list.
For hikers or trail runners on the other side of the spectrum with thin legs or "chicken ankles" are going to really like this shoe. It will fit better. They will get more support and less soreness & blisters. That's a quality fit in this particular situation.
Merrells is a trusted brand of hiking shoe for good reason and as long as you don't have big flat feet you are likely to love what this particular offering brings to the table.

Salomon Men's X Ultra Prime Hiking Shoes
Another great entry on our list of best hiking shoes for men, the Salomon X Ultra Prime is a fantastic looking hiking shoe that has received rave reviews from customers as well as many trusted review sources. Featuring a rubber sole as well as a combination of textile & synthetic materials and breathable mesh, the end result is even greater than the parts.
The X Ultra Prime from Salomon is all about getting the most out of quality design. This hiking shoe features a cushioned insole for comfort on the feet, a trademarked "Advanced Chassis" system to give stable foot support, and the classic overlay design to adjust fit.
In other words this isn't just all pretty aesthetics. This is a very well designed piece of outdoor gear that is going to give its wearers some awesome extended minutes in even the most challenging of outdoor environments.
These shoes come with a two year limited warranty. Bragging about its combination of comfort and performance, "play fast & sleek" is a common marketing phrase for these hiking shoes.
Finally, it's worth mentioning the "Contragrip Technology." It seems like every other piece of footwear brags about some new shoe technology that changes the game. In this case the grip combines design, materials, and build to give a strong grip regardless of ground conditions. Considering the wide variety of different textures and footing challenges you may find in winter this is an outstanding option for keeping your footing.
Outstanding addition to our list of top men's hiking shoes.

Adidas Outdoor Men's Ax2 Hiking Shoe
Hiking shoes can mean different things to different people. While some want extra thick shoes that give some degree of ankle and foot support, others are looking for something closer to trail runners. Adidas is known for making athletic shoes, and if you're looking for an Adidas hiking shoe the Ax2 is going to be the one you want to run with. Possibly quite literally.
A fully textile created shoe with a rubber sole, Adidas created a very popular shoe here that is good with runners and hikers. This is lightweight, features a molded sock liner, and has a very good grip. This is crucial for times when it is raining, there's some snow on the ground, etc.
These aren't necessarily designed for hiking, but it is a very high quality athletic shoe. Adidas is known for being a favorite of many athletes, and for good reason.
While these are often seen as a running shoe, or a trail running shoe, they are plenty good for any outdoor activity. While running isn't necessarily my thing, I love long distance hiking and Adidas holds up plenty well in those situations, too. The one thing that is definitely important is to take a look at sizing. Adidas is notorious for going a bit on the large side. If you tend to have really wide feet or do the type of long-distance hiking that results in swollen feet then this is probably fine.
On the other hand if you have normal sized feet then you will want to look at going about 1/2 a size smaller compared to most shoe sizes with other companies. Good for trails, good for keeping your feet in good shape no matter the outdoor challenge.

Adidas Outdoor Men's Terrex Tracerocker Trail Running Shoe
Hey, props to Adidas that not only makes a really good outdoor shoe in general, but they show up again on our list of the best hiking shoes currently available. While the Ax2 is a great design, there's no shame in looking at the Terrex Tracerocker trail running shoe from Adidas. These are an outstanding option when it comes to a firm yet comfortable outdoor trail running shoe.
Whether you love to hike, backpack, run trails, or fast pack, these shoes offer some serious support and comfort while you do it.
You don't have to be uncomfortable to enjoy the great outdoors in style!
The lightweight EVA material means you won't be straining your lower calves or Achilles, as some people experience with long-range hiking with boots. The material is very breathable, which is great on summer days. This is not a waterproof shoe, so don't go standing in large puddles, but there is some solid water resistance there.
This shoe has a particularly high "fit as expected" number. At well north of 85% this is a great number but as with many Adidas outdoor shoes you want to go half a size small. At least if your foot is small or normal sized. This is a commonly known trait of most (or at the very least man) Adidas shoes. If you have fitted Adidas in the past, just make the adjustment accordingly.
Finally the big thing: traction. The Terrex Tracerocker is famed for having an absolute incredible traction. The grip is good in mood, in snow, in slick situations. Traction at its finest!

Columbia Men's North Plains II Hiking Shoe
Columbia is a name that any hiker is going to be familiar with. This is one of the truly big names in the outdoor industry, especially for footwear. Columbia has long been synonymous with quality and style. Because of that, no one should be surprised that they appear on this list. These leather and textile blend hiking shoes also feature Omni-Grip traction on the rubber sole.
What does this mean? That means quality footing no matter what the weather or ground conditions. The kind of thing you definitely want while hitting those trails. In addition to the solid material construction and outstanding design, this is a very comfortable hiking shoe.
That gives the combination that every avid outdoor hiker or trail runner is looking for. Dependability, solid footing, and cushioning.
This shoe is very durable, lightweight, and has solid waterproofing. Bear in mind if you step into a puddle that is deeper than your shoe is tall, water will seep in from the top. Even a waterproof hiking shoe is still a shoe at the end of the day.
These are easy on the heel and Achilles, give solid ankle and lower leg support, and remain light enough for viable long-distance use. In other words, they are a great addition to our list of the most popular hiking shoes currently on the market. Considered by many to be one of the better budget-friendly hiking shoe options out there.

How to Pick a Hiking Shoe
One of the more challenging things about a good pair of hiking shoes is adjusting the fit. If you're used to a rather snug fit, the problem is that your feet will swell and grow over extended hikes. If you are a thru hiker, it is especially important to be getting replacement shoes that are much larger than your usual shoe size – all depending on how much your feet swell beyond the normal.
Sizing a hiking shoe isn't unlike the normal fitting process. Just be aware that there are more brands that will tend to go large to make room for padded socks, hiking socks, or any swelling that can occur in the feet. If you've done a lot of long-range backpacking like I have, you understand how much feet can swell. If you're a thru-hiker you understand that doubly so.
Make sure to wear the right type of socks
Sometimes the smallest of margins can make a huge difference between a hiking shoe that fits or doesn't fit. This is actually even true between an okay fit or a great fit. If you're doing serious winter hiking you'll be wearing thick socks, possibly even heavy duty wool socks. You need to wear these when trying on the hiking shoes (although we recommend boots if you're tackling snow).
The millimeters or centimeters that come from different socks can make a difference in figuring out the right fit. If I'm hitting winter hiking or know there will be a lot of cold weather then socks definitely matter and that needs to be considered with the fit. Thick wool socks are a lot different than basic compression athletic socks.
Make sure to wear any orthodontic adjustments
Whether it's just thick wool socks, or gel implants for comfort, whatever you are going to use you need to have with you while you fit your shoes. You want to treat the fitting like real world conditions for use. This will help make sure you get the best possible fit.
Different hiking shoe brands and styles will have their own reputation. Some tend to match your average shoe size, some tend to come a bit large to take swelling and heavy socks into account. There are a few rare ones that tend to measure small but that is very rare compared to the other two situations. Generally hiking shoes will be normal size or slightly wider/bigger.
Keep in mind foot swelling if you're a thru hiker
This is a big one. If you're going to be hiking 15, 20, 25 miles a day or more over an extended period of time, your feet are going to swell and stay swollen. It isn't unusual for someone who is a size 9 normal to end up needing size 10, 10.5, 10 wide, or 10.5 wide throughout the hike since the swelling just doesn't go down.
This swelling should be considered while doing a fitting. If you only hike 3-4 days at a time before taking weeks off then you're best served going with a regular size. If you are taking on a long-term thru hike then you need to look at the challenges of swelling and consider that when looking at your next pair of new shoes for hitting those trails.
Hiking Shoes vs. Trail Running Shoes
While there are a lot of similarities between these two terms, there are some notable differences, as well. Many people actually prefer trail running shoes to actual hiking shoes for thru hiking or truly long distance hiking. Hiking shoes tend to be a bit thicker, have a thick sole, and a bit of padding underneath. These are designed for additional side support.
Trail running shoes tend to focus on being lightweight and are made to be comfortable for runners. This doesn't mean they are any weaker than regular shoes, but some hiking shoes are thick and a touch heavier for support. Trail running shoes are less likely to focus on these issues. Speed is the name of the game there.
In some cases there is actually relatively little difference between the two.
Hiking Shoe FAQ
Q: What is the difference between a hiking shoe and a trail running shoe?
A: The differences are subtle in some ways, but there are a few main ones. Hiking shoes tend to be a bit thicker in the sole with a little bit more support in the back heel. Trail running shoes will tend to be a touch lighter and are a bit less concerned with ultra rough terrain (although they still take that into account). In their case weight and comfort are more important factors to look at.
Q: Why would you want a trail hiking shoe as opposed to a conventional hiking boot?
A: A lot of this depends on the length of hike and terrain. If you're just going on a weekend hike or taking on a trail with a lot of questionable footing, the extra stability and support that comes from a good hiking boot probably makes it a better choice. That being said, hiking boots add extra weight and if you hike 15 or 20 miles in a day, or are a thru hiker who hikes months at a time then suddenly those shoes make a LOT more sense.
Q: Do all thru hikers feel the same way about hiking boots versus shoes?
A: I can't speak for everyone, but pretty consistently you see shoes instead of boots for hikers looking to tackle an entire long trail as opposed to a section. When every single ounce of weight counts, and you're tackling thousands of miles, you don't want weighted boots pulling down on your legs all day with every single step.
Q: Can hiking shoes be used in snow?
A: They can, especially if it's only an inch or two, but that doesn't always make it the best idea. These are still shoes and with deep snow you'll want winter gaiters to keep snow out of your shoes. Usually you will want more of a boot in these situations.
Q: Are hiking shoes waterproof?
A: Some are, some aren't. This depends on the brand, though most often you'll actually find that hiking shoes will be water resistant, not fully waterproof.
Q: Can you use hiking shoes for running?
A: You can, and there is definitely some overlap between trail running shoes and hiking shoes, but trail running shoes might be the better option in many cases.
Q: What hiking shoes are best?
A: I mean, I feel like our list is pretty solid. These are relatively in order when it comes to the top rated hiking shoes currently available to hikers, backpackers, and trail runners alike.
Q: Are hiking shoes better or worse than hiking boots?
A: This actually depends on the situation. Hiking boots tend to be good for short bursts of incredibly challenging terrain where you want as much protection and support for your ankle, heel, and lower leg as possible. However when going on thru hiking or day after day of long hikes, hiking boots can add extra weight stress. Hiking shoes are often the better option in those types of situations.
Hiking Shoes vs. Hiking Boots
Heading out for a hiking trip can be exciting but it's important to have the right gear. This is where people have to understand the differences between hiking shoes vs hiking boots. This is a legitimate argument between the two and I know I actually have both (as do many other hiking and trail running enthusiasts I know).
As with so many outdoor debates the question often comes down to a combination of situation and preference. Both have their place in the active outdoor adventurer's closet, but how do you know when to use one over the other?
What are Hiking Boots?
Hiking boots are the traditional option. These are regularly used by avid hiking enthusiasts and it has a lot to do with the extra protection in rough conditions. Whether it is snow, sleet, or mud, hiking boots are able to get the job done.
They provide a robust ankle collar that sits higher up the foot as protection. Hikers can feel confident as they walk around without having to think about where their foot is going.
Benefits Include:
Great Ankle Support
Ideal for Rough Terrains
Keep Debris & Insects Out
If you purchase a pair of leather hiking boots, make sure to properly take care of them and pay attention to waterproofing. Our blog post on the best leather boot wax will help make sure your boots stay waterproof. Wet feet aren't great while hiking long distances, after all.
What are Hiking Shoes?
With hiking shoes, the goal is to provide a gentle or casual solution for hikers. In some cases, these are also called "trail shoes" or "trail runners" depending on the person and place. Hiking shoes are made to look like a combination of boots and tennis shoes where the ankle collar is removed and everything else is maintained (i.e. cushioned footbeds).
Numerous individuals prefer working with hiking shoes as they're easier on the feet. Hikers can feel in control of their feet as they move around tight areas.
However, there is more to hiking shoes than a sense of flexibility or versatility. These trail shoes are ideal for those looking to go through a day hike and don't want to put a lot of stress on their feet. As long as the trail is in good shape, these shoes get the job done.
Benefits Include:
Lightweight
Breathable
Made for Day Hikes
Final Thoughts
So, which option is ideal in this hiking shoes vs hiking boots comparison?
In the end, it's all about where a person is going and how the hiking experience is going to be. If the trail is long, rough, and full of surprises then hiking shoes are a horrible idea. It's best to save hiking shoes for gentle strolls through the local state park.
For everything else, you should stick to traditional hiking boots!
A Few Final Thoughts
There are plenty of good reasons to look at going with hiking shoes, which includes trail running shoes, especially if you are an ultralight backpacker who is going to be spending tons of time on the trail. Most ultralight backpackers I know go with shoes over boots, because the sheer number of hours on trail each day will simply demand it.
You don't want constantly building stress on the Achilles heel. In those situations hiking shoes are clearly a better option compared to heavier boot options.
We included a video below from Homemade Wanderlust (Dixie's YouTube channel is one of our favorites, as you can see from our Top 50 Outdoor YouTube Channels article) that is a great line of thought on this from a PCT thru hiking pro.
Great Trail Shoes vs. Hiking Boots Video