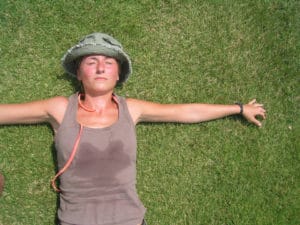 Yes, hiking hats are definitely a thing. Let's face it: there are many different pieces of gear you need to think about when taking a hike, and while it is true that the list of gear is going to vary greatly between a one-day day hike versus a multi-day, week, or month thru hike.
That being said, there are base pieces of gear that are appropriate no matter what type of hiking or backpacking excursion is being plan.
Of course a good day of hiking all starts with the right clothing. Comfortable shorts or pants if rough terrain abounds, good hiking boots (or shoes for truly long term excursions), hiking gloves for cold weather or winter hikers, and the important but often overlooked hiking hats. Yes, hats.
Whether referred to as hiking hats, sun hats, or by any other term, they are the same. These are hats that perform an important function and much needed protection for hours upon hours in the hot sun.
Read on to learn more about why picking out a solid hat for hikers is important and what our picks for the top options are.
Top Hiking Hat Picks
A good hiking hat is going to be more than just a baseball cap. A good hiking hat is going to have large flaps that offer additional shade for the forehead, the face, but also the ears and the back of the neck. Many of the most popular options have built in flaps or a set up that allows a light and airy, but protective cloth to come out from the cap and fully cover the sides of the face, as well as the back of your neck.
If you tend to be a bit susceptible to sunburn and are a light sleeper anyway (so you don't want more pain while trying to get to bed) like I am then a truly good hiking hat along with a good slathering of sunscreen can go a long way to make sure the most you get is a solid tan and you don't end up getting burned!
You can click here to check the Amazon listing on one of our best hiking hat picks, or scroll down for the actual reviews!
Columbia Sportswear Bora Bora Booney II Sun Hats Reviewed
The top rated of all the hiking hats, the Bora Bora Booney II sun hats from Columbia sportswear is an excellent model that is made from nylon, available in 6 different colors, and offers outstanding protection from sun and sweat, while the special Omni design also means there's mesh to allow breeze to go through and heat to go out. The hat also features an adjustable chin strap to let you alter the fit as appropriate. That's a solid hiking hat design all the way around.
Featuring a design that is rated as UPF 50 in order to block out up to 98% of the harmful UVA & UVB rays from the sun, the Bora Bora Booney is great as a hiking hat, fishing hat, or even as a general outdoor hat for when you're doing chores, tending a garden, or doing anything outside when the sun is beating down.
The trademarked Omni-Wick sweatband allows you to stay cool while sapping up any sweat that would otherwise drip into your eyes during a particularly hot day or challenging hike. The band has quick drying properties that means even when it does become extremely wet, which makes it the perfect sweat band.
This is an outstanding hiking hat that is lightweight, cool, and offers great ventilation in addition to the ability to adjust to the size of your head. At its core this is a lightweight sun hat with floppy adjustable brims, and there's a reason this is the model so many hikers and ultralight backpackers swear by.

iColor Sun Caps Flap Hats Reviewed
If you want to stand out on the trail or just have that personal sense of style where you have to stick out, then you will almost certainly like what iColor has to offer with their assortment of hiking hats. As opposed to going with the conventional base design of a wider sunhat with loose flaps for the surrounding rim, this hat is based around a baseball cap type of setup with forward bill, but has several great attachable side flaps and even a front flap to help protect your face from the wind.
This is also available in 15 different patterns and colors, some that are relatively basic, the bright but basic (as pictured), and some that are highly colorful and patterned. While designed more for a day out and about as opposed to a long distance thru hike, this is still a really remarkable design and definitely very unique among the many other options here.
This lightweight hiking hat with all its accessories can offer a full 360 degrees of protection from the sun, while remaining breathable so you don't overheat. Made from a high quality nylon, the coverage from damaging UV rays also helps with protection from annoying mosquitoes. The attachable/detachable sections offer a degree of versatility
This outdoor hat is rated up to a UPF 50+ sun protection which means you get the protection you need to parts of your neck, face, and body that often get overlooked when it comes to the sunscreen and protecting yourself from getting sunburn, or from the damage that comes from UV rays and can eventually cause damage that even includes cancer.
The fabric is water resistant, while the setup remains breathable so you don't have to worry about overheating. The back of the hat uses an elastic buckle to make adjustments easy and simple, and this hat is foldable to make it easy to fit and transport even in small bags or even purses and then it can easy be brought out and you can add whatever flaps or facemask you want to adapt the hat to your specific needs at that moment.
A great, fun, and versatile option.

Sun Blocker Women's Safari Sun Hat Reviewd
Available in five different colors, the Sun Blocker Safari Sun Hat is specifically designed for women, and creates an excellent sun hat that isn't just for gardening or general outdoor activities around the house but provides a high level of outdoor protection from the sun that is perfect for camping, fishing, or hiking.
In other words, this is a stylish sun hat that is designed in a versatile enough way that the design carries over to many other activities. While this is built for other activities, several friends of ours have used this as a hiking hat for a weekend or in one case a 5-day trek on part of Nebraska's finished "Cowboy Trail," and it worked well in those instances.
Now since it is not built as a piece of ultralight trekking gear, we can't swear by it if you're tackling multi-month hikes like the AT, CDT, or PCT, but for a weekend of camping or exploring local trails, this could be a really solid option for the short term while also offering something a lot of other hiking hats don't: a bit of style and aesthetic appeal for around the home.
This is a wide brim hat that runs a bit large in size but still comes with a 4″ head brim as well as being made for a head of up to 24 inches in circumference. You will want to make sure that you fit these measurements since the rim is not adjustable.
This hat is made from polyester, but it holds up well and looks good – making it more than just a weekend or hiking accessory.

Camo Coll Outdoor Boonie Summer Sun Caps Reviewed
Relatively simple in design, but wonderful in execution, the Boonie Summer Sun Cap from Camo Coll is an outstanding option. There are 12 simple but elegant looking colors available (we're fans of French Gray but to each their own), and the hats are made from a soft polyester that is comfortable, and won't irritate even during very long days of hiking.
This hat is measured as having a UPF 50+ rating which means it offers exceptional protection from the sun. The sun hat is vented to prevent overheating (a must for any modern design). The adjustable drawstring makes it easy to loosen or tighten the fit, and is a necessity for particularly windy days. Whether you are in the garden, checking out a sunny new place as a tourist, or tackling that long overdue hike, you'll be happy with how this great sun hat holds up.
The brim itself is a 3 inch brim, and being made from polyester means that it is very lightweight and easy to forget you even have it on. The fabric remains cool and many users rave about the exceptional ventilation.
This hat passes the mustard when it comes to durability, as well, holding up to extended conditions outdoors. This hat is very inexpensive for the quality and offers a level of quality that is fully worthy of this elite list of top rated hats for hikers and backpackers.

Lenikis Unisex Outdoor Sun Hat Reviewed
Available in 8 colors and offering some serious protection from the sun's UV rays while remaining airy and comfortable, the Lenikis Sun Hat might not advertise itself as being made for hikers, but you'd be hard pressed to convince them otherwise! Boasting of the full 50+ UPF fabric that blocks up to 98% of UV rays that you want from virtually any really good sun hat.
The brim is solid to help keep the ears, face, and even neck shaded and avoiding the plague of sunburn, in addition to the back and side flaps that offer that extra bit of lightweight, loose, and comfortable shade that spreads out and around even thick and long necks.
The polyester is water resistant, quick to dry when wet, and even stain resistant. These hats are sewn to be both sturdy and well-designed. There's room for a ponytail, and even an opening specifically for ponytails, which most hiking hats do not have, but this is in high demand from certain types of hikers.
These hats have an adjustable back band so you do have some leeway in case you have thick hair, pony tail, or just an unusually large head. While these aren't designed to be pretty or fancy for any type of fashion show they are built solidly for outdoor users who need long term coverage.
Adult and unisex in nature, there's a lot to love about this three season sun hat.

LETHMIK Sun Boonie Outdoor Hunting Hat Reviewed
LETHMIK's take on the Boonie Outdoor Hunting Hat has gained them a large loyal following, and it definitely isn't hard to see why! Available in 7 different colors and made from a 100% high quality polyester that is comfortable while remaining strong and durable.
This is a great unisex hat that offers a sleek style in addition to reliable coverage from the sun and heat. LETHMIK talks about taking pride in the quality of their products and even a small amount of time with these hats goes to show why.
They are built to be professional quality, and fit most average adult heads. Going even beyond really great quality materials, the top notch stitching and pattern design helps you take confidence in knowing this lightweight, comfortable, and durable hat gives outstanding protection that holds up to even the most challenging of long-term hiking conditions.
Practical, beautiful, and offering the full range of protection that an outstanding design can bring to the table, there is a lot to like about LETHMIK's sun hats and there's not a lot to speak against it. This hat can be folded up and easily stored, and although it isn't the cheapest option on the market, it is one of the best ones, which makes it a natural addition to our list.
Easy to pack, easy to wear, and offering solid style and outstanding protection, this is a practical hiking hat that will make your day hike, camping weekend, or long-term thru hike that much more comfortable. The wide brim on the hat can even be folded up or down to change the amount of shade directly on your face and upper body. An outstanding option for outdoor enthusiasts looking for the perfect outdoor sun hats.

Feeker Outdoor Wide Brim Sun Hat Reviewed
Feeker's wide brim sun hat is listed as one of the best selling options for outdoor hiking hats on all of Amazon, and this best seller might not be the very top of our list but it definitely belong on a list of the top 10 sun hats currently available to consumers online.
While the basic black hat is shown off to the left, the Feeker hiking hat is available in six different colors and includes a 3.5 inch wide bring that provides all the shade you need from the sun's harmful UV rays and more – all without blocking that all too critical line of sight.
These hats not only have the coveted UPF 50+ rating for blocking out harmful sun rays, but the crown of nylon fabric is interwoven in a way that helps make sure your head stays dry in the rain, while the mesh crown inside of the hat keeps your head both cool and well ventilated for maximum comfort.
The adjustable chin strap means your hat stays in place whether it is windy, rainy, or otherwise not as sunny as most warm summer days. Add in the natural sun protection that this hat offers and this is a great hiking hat that is going to meet a wide array of outdoor needs whatever the weather might be.
Add in the fact this hat is lightweight, foldable, and well-designed and you can see why it makes our best of list.

Ddyoutdoor Outdoor Fishing Cap Reviewed
Ddyoutdoor isn't a name you hear all the time, but billed as a great sun hat, fishing cap, or hiking hat, this cap is outstanding and aside from being available in 5 different colors it also provides the full range of options when it comes to full sun and weather protection while enjoying the great outdoors. The main sun cap is outstanding in and of itself, including a chin strap that keeps the hat in place whether rain or shine, and no matter how windy it gets.
Available in five different colors, this hat is incredibly versatile and has surrounding flaps that are attachable for the sides and back in addition to a front mask that is perfect if you are in a place with a lot of wind and dust. In fact, when fully decked out, as long as you have goggles you have nearly full head and facial protection from whatever the elements can bring.
These aren't just great hiking hats for conventional hiking trails through parks and woods but they can provide plenty of support for desert trails, mountain trails, and a variety of other environments. Whether you want to go camping, fishing, hiking, or simply get extra protection particular to your environment, this is a great option you will love.
This hat is made from a strong but soft nylon and is collapsible and easy to carry while offering a full UPF 50+ protection from UV rays. Comfortable and durable, this light weight hat is cool, and there is plenty of of length so you can tuck the back into the collar of your shirt, or do whatever to make sure you are fully covered and in good shape to boot.
The face protector can be added via Velcro while the back and side sections are attached via small sturdy plastic hooks that promise more durability especially when you find yourself on those incredibly long or challenging hikes.
Great value buy, and one of the most impressive designs we've seen out of all the hiking sun hats on this list!

Cuca Dunna Outdoor Bucket Sun Cap Reviewed
The outdoor bucket sun cap design from Cuca Dunna isn't going to win any awards for creativity, but this solidly made hat is a classic design offering big time protection from the sun while you get plenty of breath-ability. Made from a high end polyester and fit with an adjustable drawstring that allows you to match the hat to your head for a perfect fit, there's a lot to like about the simple yet effective design that Cuca Dunna brings to the table.
There are five different colors to choose from, but no matter what color you choose this wide brim summer hat is foldable, easy to transport from point A to point B, and will not only help keep you cooler but protect you from the sun's potentially harmful rays. Anytime you can enjoy a complete lack of sunburn, be a little bit cooler because the sun isn't beating down on you, and tackle any great outdoor activity with full gusto – you're going to be in great shape.
This hiking hat offers all of those things and is a great choice for keeping your skin safe and cool no matter how blazing the sun is. Whether boating, spending time at the beach, camping or hiking, you won't be disappointed by what the Cuca Dunna bucket sun cap brings to the table while you're enjoying the Great Outdoors.

LETHMIK Outdoor Safari Sun Cap Reviewed
LETHMIK shows up again with another outstanding hat design. Earlier in the list was the outdoor boonie hunting hat, this is the outdoor safari sun cap design, and it's a classic style made with modern materials and stitching techniques to create an outstanding option to round out our best rated sun hat list.
This classic design comes in three basic colors: beige, gray, or black. It offers an adjustable fit and is made from a high quality polyester that is waterproof. This is for the outdoor hiker, hunter, or explorer who wants function over style, and loves the "classic look" when the question of style comes into the picture.
This hat offers an adjustable fit and is unisex, making it a great choice for men or women. The wide brim offers plenty of protection from the sun while the high grade polyester and stitching means this very light weight hat is going to hold up to every single one of your needs.
Like the other design, this holds up when it comes to testing out the quality of material, the degree of fit, and the practicality of design. The company boasts often that their products aren't the cheapest, but they are among the best.
They show up twice on our top 10 list of summer hiking hats so who are we to argue?

Why You Need a Good Hiking Hat
I know a good hat isn't the first thing you think of when it comes to getting together the right gear for a good hike, but if you've suffered your share of sunburn on the ears, shoulders, face, or neck, you know just how important it can be.
Aside from your basic comfort issues, a good hiking hat is going to prevent sunburn which is crucial now that so many connections have been made to repeated sunburn and skin cancer. There's just the sheer comfort factor, as well, from having that portable shade but a quality hat that also has proper ventilation so you're not overheating.
Many of these hats have additional attachments or a perfect chin strap to tighten so you don't have to worry about wind or rain if the weather takes a sudden turn. In other words, it is a fantastic piece of clothing not only for hikers but for outdoor enthusiasts in general.
Trust us, this is a piece of clothing you don't want to go on trail (or even outside) without!
Related Hiking Articles of Interest
Hiking Hat FAQ
Q: What is the best hiking hat?
A: This is a matter of opinion to some extent as the best inexpensive option is going to be different than the best premium option. Obviously on our list we picked out the Columbia Sportswear Bora Bora Booney II as our #1 choice as of the original writing of this article, but we were really pleasantly surprised to find that there were so many outstanding options available and we would stand by any hiking hat on this list.
Q: Why are hats important to wear when hiking?
A: Sun protection isn't just for sensitive skin that sun burns easily (which can drastically raise cancer concerns later in life), but also helps protect your eyes from too much glare, help keep you cooler, and help keep your overall comfort level higher meaning it will be easier to enjoy your time out in the wild.
Q: Are all great hiking hats made from canvas?
A: Nope. While there are some good classic canvas hiking hats out there, the truth is that many modern manufacturers go with specialized polyester or nylon because it can increase softness while also providing sweat wicking materials that reduce skin discomfort, as well as keep sweat off of you so it doesn't roll down into the eye.
Q: Are there hiking hats with a ponytail hole?
A: Not necessarily, but many of the designs allow for adjustable or attachable flaps, meaning you should have no trouble finding one that gives the fit and space that you need, although a couple of the models up there definitely do take ponytails into consideration, especially the Lenikis model on our list.
Q: What's the best way to find a hiking hat on sale?
A: Check around online. There are often many models of these hats on sale on Amazon.com but you can also search local stores or you might even occasionally get lucky going used at a garage sale or flea market, but you will have a lot less warranty protection at that point.
Q: Is there a difference between hiking hats for hot weather versus those that focus on taking care of sun exposure?
A: A good hiking hat focuses on both of these things, and in truth they really go hand in hand. If you pick one of the models on this top ten list of the best hiking hats you are sure to be well covered – both figuratively and literally.
Q: Where can I find an orange hiking hat?
A: A couple of the more colorful versions on this list have the option of coming in orange – there are plenty of options if that is your thing!
Q: Why doesn't a normal baseball cap work?
A: While a normal baseball cap can be okay for a day out, this only provides shade for your forehead and does nothing to protect your neck, cheeks, nose, or ears. In addition to this, most baseball caps don't have high level sweat wicking materials at the forehead and they can be extremely irritating to the skin even during a day much less multiple days, weeks, or months in a row.
A Few Final Words
Bet you didn't think you'd be reading that many thousands of words on hats, right? While many times in my youth I would just head out without a second thought, and in my early twenties I had thick enough mountain man hair in Alaska to cover a lot of the ears and neck, but a little bit of time exploring the green belts of Austin Texas with short hair and I quickly gained an enormous appreciation for this useful and very necessary hats after several weeks of having to stay in and deal with major sunburn.
Even if you have generally gone about without a hiking hat, or have thick hair and worry about sweat and trapped heat (trust me, I get you on that one) look around for a good hiking hat and give it a chance. You'll be surprised just how quickly it will grow on you!
Good Video from Outdoor Labs on Picking a Good Sun Hat