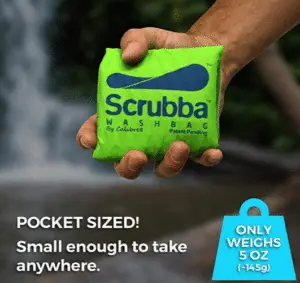 Okay, the long delay on this review is just on us. The Scrubba Wash Bag was one of the first one of those "videos on YouTube" that Jon and I saw around the time we started this site back in 2016, and having a site to review these sorts of outdoor inventions and to really boost up the outdoor entrepreneur was a major one of the reasons we even started Amazing Outdoor Adventures. Then somehow in the flurry of reviews we forgot to cover this one.
Despite having bought one. Oops.
Fortunately we're all about second chances. Scrubba Wash came out with a new design for 2018. This seemed like the perfect chance to re-visit this one. Look at the original, look at the new version, and give our review of what it looks like. While a portable washing bag might seem a bit far fetched to thru hikers or isolated hunting camps, there's actually a lot here to like!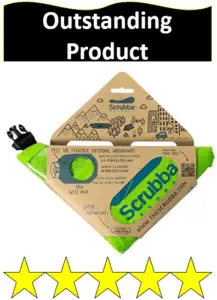 Looking at the New 2018 Scrubba Dry Bag
The idea of a dry bag is relatively new, although they have been around for a while. That being said, the Scrubba Bag has really worked on creating a design that rises above the competition. On that front, they've done a really nice job! The Scrubba wash bag has gained a reputation for being one of the best travel wash bags out there.
There have been some minor changes in other areas but the major shift from the 2016 design to the 2018 design has been the style of the valve. The original squeeze valve was generally be effective but it was also the most complained about feature. Some users reported it as being tough to use, and a pain in the neck.
That's not the type of review you want. Especially when everything else about the product is being met with rave reviews. So how much of a difference does it make?
Vast improvement
There's little question that the more recent twist style on the 2018 model is a definite improvement. A portable laundry system that is especially great for hikers, long-term campers, and RV travelers, there's a lot to love here. Advertised as the world's smallest washing machine (and lightest), it delivers big results in a small package.
Weighing only about 5 oz, the nobule technology in this design allows for a more thorough cleaning and scrubbing than other wash bags. While there are people who are looking for a cheaper alternative to the Scrubba wash bag, you won't find a cheap other option that cleans as well.
In other words, this model really sticks out. It is compact, pocket sized, and can even double up as a dry bag. The 5 oz weight makes it viable for thru hiking or any situation when you have to count every ounce.
Also a Versatile Money Saver
This Scrubba wash bag is the same one that appeared on Shark Tank in Australia, and their fortunes have only improved since then. This isn't only great on the road, but also gives other options. Travelers don't have to use expensive laundromats, and this can even be a way to go through keeping clothes clean without having to spend big stacks of quarters. Or buy a washing machine for your home or apartment.
Granted, it takes more work than tossing clothes into a washing machine and turning on cold water. But this is a viable option for those willing to work to save a bit of money. If you're on the road, you're going to have time eventually.
This really is an outstanding portable laundry solution that has done a great job in heads up tests of thoroughly beating the competition. The army of positive reviews online really speak for themselves.


New Scrubba Wash Bag Demonstration Video Review
How to Use the Scrubba Wash Bag Laundry System
One of the things we really love about the Scrubba wash bag is how easy it is to use. There are step by step instructions on the side of the bag itself. This is in addition to multiple online video reviews showing how to use them.
That being said, here's the simple step by step instructions for how to use the Scrubba wash bag:
Step #1: Fill the bag. Put in whatever clothes you're washing and add the water and cleaning agent, making sure that the bag isn't more than 40% full.
Step #2: Roll down tightly four to five times, and then clip the ends like you would with a regular dry bag.
Step #3: An important step, but twist the valve and then press down on the bag to get rid of any extra air that's stuck in the bag. You don't want that there, especially moving into the next step!
Step #4: Next is the scrubbing motion. You want to press down on the bag and rub the clothes against the internal washboard. If you want just a basic traveling wash, aka the "good enough" then do this for 30 seconds. If you want a much deeper cleaning then go for three minutes for that more thorough clean.
Step #5: Unclip and unroll the bag, pour out the water, rinse the clothes with fresh water to get rid of the soap or cleaning, and then twist out excess waters and hang to dry.
That's it. Five easy steps to clean clothes.


So What's the Verdict?
While the price for Scrubba wash bags are definitely a bit higher than the average dry bag options out there, the design is superior. You can visit YouTube for a whole flurry of other
The fact there's a pictorial step by step set of instructions on the bag that show exactly how to use Scrubba wash bag. That's definitely convenient! We also made sure to add two excellent YouTube videos we've found to provide you with more.
When looking at whether Scrubba bags work or not, it's not going to be a perfect hand held version of a modern washing machine. So set proper expectations up front.
This is a pretty remarkable portable washer but it's not a miracle worker. However, we really love the custom washboard design Scrubba's portable laundry system puts to use and how it gets that extra little bit of clean with your clothes. It's flexible, portable, easy to carry and easier to use than the earlier model.
All in all we like it immensely. Whether wanting to avoid paying massive amounts of money to laundromats while traveling by RV or needing to clean clothes in the middle of nowhere during a long thru hike, this opens up inexpensive options. We like the design and what they bring to the table and give it a pretty enthusiastic thumbs up.


In Conclusion
Personally I think there's a lot to like here. There have been multiple times camping in the middle of nowhere for a week or two weeks or on a similarly isolated long backcountry trek where I would have loved something to touch up the clothes a bit. I understand sometimes there's just going to be a smell – but if you can minimize that why wouldn't you?
These aren't going to work impossible miracles. But that being said, as a way to save money at home or stay clean on the road it is a great option. The Scrubba wash bag is one of the best options out there. We hope our review of the Scrubba travel wash bag has given you all the information you need to make a buying decision. It's not for everyone. But I'm personally a fan, and know many of you will be, too!
Check out more on this product, the company, and the outdoorsman behind it here at the Scrubba website.
The Original Scrubba Wash Bag YouTube Video Demonstration