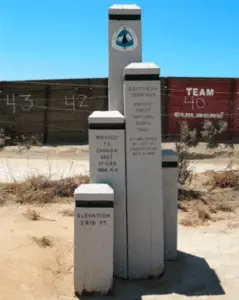 We are extremely happy to introduce our first official guest post that Amazing Outdoor Adventures has ever accepted! Warren is a serious camping enthusiast and the lucky guy lives in the northern areas of California, giving him access to some of the most beautiful camping country in the United States, not to mention being located so much closer to the Pacific Crest Trail (PCT), which I (Shane) will remind readers as often as possible, it is my dream to thru hike someday, hopefully 2019 or 2020.
So getting back on track (thanks a lot, Shane): Warren's share with us his top three favorite all time spots for camping with us, as well as some gorgeous pictures that will make you want to head there.
Check out his bio at the end for more information on Warren, his website, and learn about emergency preparedness and wilderness survival from the man who knows even more than we do. Beyond that, enjoy this article! I know we did.
Thanks again, Warren, and take it away!
My California Dream: 3 of the Best Camping Spots Ever
Ahhh, California – home to many natural wonders and one of my favorite places for adventures. I have many fond memories of this place, but some of my favorites involve a lot of camping.
There's also a lot of surfing, a lot of hiking, and a lot of just basking in nature. It's literally a wonderland for a nature lover like me.
I'm all for meeting new people and it's great that people are loving camping and nature. However, I also appreciate serenity, secludedness, and stillness.
So, if you want to camp with those conditions, you're going to have to work a little harder. This could mean backpacking to a campground, camping off season, or both!
Here are some of my favorite camping sites in California that I highly recommend:
#1 North Dome, Yosemite National Park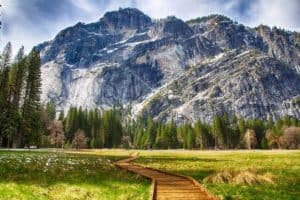 I can't talk about California and camping without talking about Yosemite. It's one of the first things that made me want to visit the state in the first place.
Generally speaking, all the campgrounds in in park are pretty excellent. If you have a wilderness permit you can camp almost anywhere. Click the link for the regulations of the wilderness permit.
Among the many places in Yosemite, North Dome is extra special for me. It's a backpacking spot, so don't expect to be anywhere near your vehicle.
But that's how I like it, so it's great. It's a long hike from the Porcupine Creek trailhead in Tioga Road (it took me about 5 and a half hours). You'll need special backpacking gear for this trail if you don't want to tire yourself or be uncomfortable.
What I did was park my car. The trail includes walks in the woods and some hills to go over. The elevation at North Dome is around 7500 feet, which is a slight decrease from the trailhead which is around 8,100 feet.
Once you reach North Dome, you'll have a spectacular view of the Half Dome, Yosemite Valley, and Clouds Rest. Truly beautiful.
When you plan your pack list, make sure to include a bear can. The park requires you to have one especially for backcountry camping.
You can also rent them from the trailhead. Another thing you want to bring is enough water for your stay. I did some reading before my trip and learned that there's no water up there but it wasn't really a problem for me since I regulated my drinking. But still, I brought water purifying tablets and a filter just in case.
#2 Sand Dollar Beach Big Sur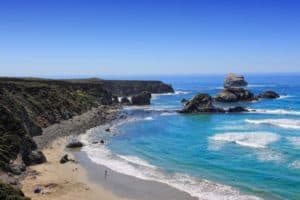 The first time I drove down from San Francisco to Los Angeles via 101, I was blown away.
The coastline is epic! It made me spot a few times to enjoy the view. I also went down to one of the beaches along the way, but I can't remember which one it was.
However, I went back to Big Sur a few months back, specifically to go camping and surfing.
Sand Dollar Beach is one of California's best beaches, in my opinion. The surf breaks are pretty friendly and it's not exactly a secret surf spot. However, since it's not exactly a short drive, there won't be many people with you in the water.
Plaskett Creek Campground because it's the closest to the beach. My buds and I went early in the week rather than a weekend so it was pretty hush. The campgrounds have the basic necessities – campfire rings, toilets, grills, picnic tables, RV sites, etc.
A generator can come in handy, but not exactly necessary. However, my buds and I decided to bring one just because it was available and we had room in our vehicle.
The great thing about camping in Plaskett is that it has access to many trails that lead to amazing views of the coastline.
Every morning for three days, my friends and I started our day early to hike and get a good view. Then we went surfing for a few hours since that was really the purpose of our trip.
However, we still wanted to make the most of our short stay. On our last day, we explored the redwood forests and hiked to McWay Falls since it was along our way. Three days is too short but we also know there will be a next time.
#3 Atwell Mill Campground, Sequoia National Park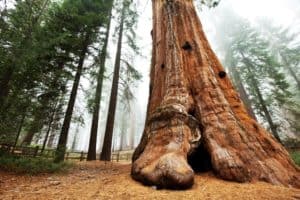 Finally, my last but not the least favorite campground in California, is Atwell Mill in Sequoia National Park.
For this particular place, I just go simply to be away. When I remember this place, I think of Bon Iver because their music is my exactly my mood. You can go hiking, wildlife viewing, or talk to the trees.
There's not much in terms of activities, but in a way, that's what makes it great. I hear there's horseback riding somewhere, so if that interests you, make your arrangements.
Fishing and rock climbing are also a thing, but make sure you have the necessary permits to do them.
Atwell Mill Campground is one of the more secluded campgrounds in the park. It's not easy to get to but again, that's why I love it. The closest town is an hour away, so make sure you pack well.
Make sure you read about the regulations of the National Park – fire, bear safety, etc. As with any other place you go to, do your reading, call up the place, make reservations or get permits if needed.
Other amazing places in California
I hope this encourages you to go for an adventure in California! Then you can see for yourself just how rich it is in terms of natural wonders.
I'm already looking forward to my next visit because there are still some places that I have to explore. If you have recommendations as to where I should camp next, let me know via the comment section!
Guest Author Bio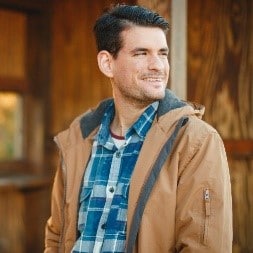 Warren Kuhn is an outdoor and camping enthusiast, always out to seek for the thrill and adrenaline that only nature gives.
He even took up survival training to prepare him for the worst-case scenarios while outdoors. With his background, you can learn a lot from him so you can get the most out of your camping trip at TheCampingTrips.