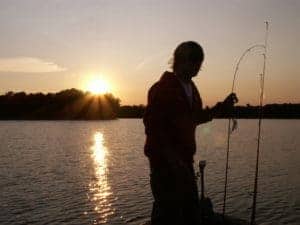 There's a mental shift that occurs when I put on a good pair of fishing gloves. Flexible for full finger movement, a little bit of extra warmth, especially with all the cold water splashing around, and if you're going to be hauling up the catch from ice fishing, you'll take every layer you can get. Good fishing gloves can make all the difference in these situations.
There are few experiences that have meant so much to me over so long a time as going fishing. There are several reasons for this, but the big reason I love fishing is the same reason I think many outdoor enthusiasts do: is a direct connection to so many men in my family from when I was young. Almost every visit to Grandpa in the summer meant trout fishing or heading out on the river at some point and many of my best memories with Dad growing up were from fishing trips. There's something inherently relaxing about it, and a great way to reconnect with friends as adults. Get away from cell phones, office jobs, and get out fishing.
However, you always want to make sure that you have the right gear on hand. This goes for obvious things like rods and reels (I'm an open-face guy all the way myself), a strong fishing net to haul in those monster sized fish, and also easier to forget equipment like plenty of hooks, clippers to cut old or tangled line, and of course, a good pair of fishing gloves that are appropriate for your particular situation!
Do You Actually Need Gloves for Fishing?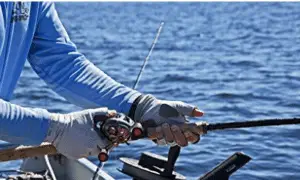 While many people consider these a luxury as opposed to a necessity, the situation dictates the answer for this quite a bit. There are several good reasons that an angler might want to grab some great gloves for all his or her fishing adventures. One of the obvious ones is whether the weather (and water) is warm or cool/cold factor.
During really cold fall days, rainy days, or cold spring times shortly after ice break it's nice to have a little extra cover on the hands and fingers without losing any of the mobility you need to work the line, lure, and reels. If you don't have them then the constant deluge of icy cold water constantly soaking everything is going to catch up to you quickly. It's hard to fish with freezing, shaking, numbed hands.
There are a wide range of neoprene fishing gloves, winter gloves, fillet gloves, and outdoor gloves to choose from depending on what your specific needs are. Make sure when you're looking at a pair that you understand their purpose. There are some big differences between fishing knives designed to give grip and keep hands warm versus those that are designed to keep fingers warm and prevent frostbite or cold related issues.
Many anglers have one pair of gloves for each situation, to make sure they always have the right equipment on hand for whatever their needs whether it's keeping the fingers warm and dry on a cold day, preventing sunburn, gripping the fish as it tries to shake away, or even protecting the hands when it is cleaning time. Make sure you are always prepared! Fishing gloves are an inexpensive investment that pay off in big ways!
Fishing Glove Styles: Many Available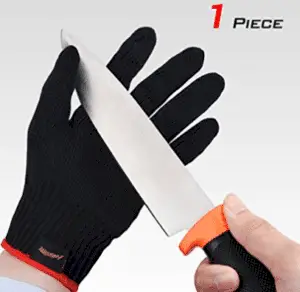 One of the first things you'll notice when you go searching for that perfect pair of fishing gloves is just how many styles and options you have to choose from. Colors come from popular basics like gray and black that are simple and sleek all the way to the other end of the spectrum with highly specialized color patterns like yellow, blue, or orange.
Some styles are very thin, using ultra-light and hard materials, while there are also older forms that use more traditional materials to construct the gloves but that also makes them look like normal winter gloves.
Some of these gloves have cut off ends to allow the tips of fingers to show and that design allows even better movement and touch while others stay in full on traditional form. Basically when it comes to looking for the perfect pair of fishing gloves you'll find that a hungry market combined with varying personal preferences means that there are an incredible number of options that are provided from a various number of companies who all produce them.
You Should Buy Good Fillet Fishing Gloves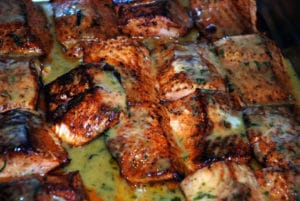 While these are very different from general fishing gloves that are used for keeping hands warm and protecting from sharp gills or spines that can happen from so many different species of thrashing fish or thrown hooks, having a good non-slip glove that protects your hands can be crucial to making sure you stay in optimum health. If you've ever sliced a finger open or had a fillet knife lay your hand open even on the slightest of mis-cuts, you understand how important good protective gloves are that give you a rock solid grip in addition to protecting you from accidental cuts.
These are a type of fishing glove although they're also considered quite different from your conventional fishing glove that focus on keeping fingers warm and giving some degree of protections from scrapes and cuts that are going to naturally take place if you go fishing enough. Fillet gloves are specifically designed to have a steady grip on the handle of any fillet knife you are using to avoid slipping or accidental cuts, and give at least some degree of protection from errant knife slices.
These gloves are often made with specialty materials like Kevlar, the same material used in bullet proof vests. This gives your fingers and hands the maximum amount of protection that you will want to make sure you're still in a good mood after the fillet work is done.


Glacier Glove Islamorada Gray Sungloves
When asking around for advice on really good fishing gloves, it didn't take long for Jon or I to notice that the same names kept coming up again and again, and there were plenty of friends and fellow anglers who were only too happy to recommend the Islamorada Sungloves from the Glacier Glove company.
These are in the classic fingerless glove design that many of the top fishing gloves fall under, and these have an interesting blend of materials like partial synthetic leather and poly-elastane to give a combination of comfort, snugness, and flexibility that makes these gloves ideal for an array of outdoor uses. They come in multiple sizes ranging from small to extra large, and they provide protection from the sun's UV rays for your hands and wrists without cutting into the flexibility and freedom of movement you need to have for your fingers.
As of this writing, these gloves are the highest rated on Amazon and clearly one of the top options when it comes to having excellent fishing gloves that can be used in either cold weather or in warm weather, giving them a versatility not every other glove on this list will be able to match and certainly not on this level. However, these are about the only gloves who consistently compete up there with Rapala's Marine Fisherman Gloves for the top spot.

Rapala Marine Fisherman Glove
No one should be surprised by the fact that one of the best fishing gloves for anglers out there is produced by one of the biggest names in the fishing industry. Known by anglers for their unique and classic lures, Rapala also produces one of the best fishing gloves currently on the market. These are designed to give the best possible grip to anglers who understand the frustration (and occasional danger of injury) that comes with losing grip when trying to free up the lure when unhooking the fish, dealing with sharp fish teeth, or even a good slice from a sharp gill plate while holding the catch.
These are not fillet knives, so they're not knife resistant at all but they are more than enough to help protect from sharp gill plates, fish teeth, stingers from catfish, and other similar and common threats to your hands during the course of a day of fishing. These are good for freshwater or saltwater fishing, and a durable coating of latex means you're getting a little bit extra protection.
A couple of notes: the reason they're not the absolute top on our list isn't because of what these gloves do, but what they don't do. They're designed to protect your hands, keep them from sunburn, and give you an awesome grip on any fish that you catch. In these areas, these gloves are absolutely top notch and receive an A grade from us.
However these gloves are not waterproof (nor are they designed to be) which means you might be looking at cold hands during a really cold and wet day, and there are some anglers who have reported that the large and extra large sizes both fit a bit tightly and recommend going one size higher than you're used to for a better/more conventional fit.
IMPORTANT NOTE: There is a latex coating so if you have allergies to latex or fish with individuals who do, then it is very important that you look for another pair of gloves that don't use latex. Otherwise, these really are great gloves as long as that is not a concern!

Berkley Lady Coated Fish Gloves
Berkley is another trusted name when it comes to high quality fishing gear made by a company that truly understands anglers and have a passion for the great outdoors. You can tell when a company is based around a passion and when they're not, and there's a reason that most fishermen (and women) trust Berkley. These pink and grey fishing gloves use high quality materials designed to be comfortable and tough at the same time. The ability to keep hands warm while improving grip helps you make sure you keep those fish that you grab and don't lose them when they start moving and thrashing around in boat.
These gloves use heavy duty top of the line materials that are shaped to contour to the hand while delivering the perfect grip. These tend to come in slightly smaller sizes that are more conventionally in high demand from women anglers, although it's important to note that there are often limited sizes available so don't assume one size fits all, especially if you have less conventionally sized hands.
These gloves allow for a much better grip on fish, help protect the hands from sun damage or UV damage of any type, and have an added bonus of reducing the fish smell that sticks to the hands after a successful day hauling in a lot of fish. These are excellent fishing gloves and one of the few designed specifically for use by women.

Berkley Coated Fishing Gloves
These Berkley fishing gloves are good looking gloves that go right down the checklist of what an angler is looking for: they're warm, offer a solid grip even with slick fish and water all around, and despite being heavy duty remain flexible to give you the full range of motion and finger dexterity that you want while casting, reeling, and doing all the other little things that help you catch more fish.
These gloves feature a textured grip that makes it extremely easy to grab fish and prevents most of the slippery issues that might otherwise be an issue on a normal day of fishing. These gloves are good at keeping hands warm when the air is a bit nippy, but they aren't waterproof so if the backhand gets soaked during a cold day, then they become a little less effective at keeping your hands warm. Having the entire hand covered does protect from the sun and the gloves are easy to take care of as they are fully washable when it comes to cleaning so you won't have to stress out about that.
One of the better options on this list – and worth a serious look if you're wanting to get one of the top rated fishing gloves at a reasonable price.

MadBite Fillet Glove – Fishing Glove
While most of the gloves on this list are general outdoor fishing gloves for experienced anglers looking for help with handling fish and giving their hands basic protection while out on the water, it's also important to take a look at some of the options available when it comes to good fillet gloves that offer a little bit more protection in case your knife slips while removing the ribs, cutting up fillets, or dealing with the infamous Y-bone of a northern pike. While there are many good fillet gloves out there (and admittedly this is one of those topics where many outdoorsmen swear up and down by one brand or style) from our research one of the best out there has to be MadBite's fillet glove.
Aside from the large number of positive reviews that can be found across multiple websites online, which is always an extremely reassuring sign, these gloves come in a small, medium, and large size to help reduce the "these don't come in my size" problem that many anglers have with other companies who only produce gloves in one middling size. A combination of Kevlar, thin steel wires, and synthetic materials that are used for bullet proof vests are blended together to give your hands as much protection against cuts and gashes as possible.
MadBite's gloves are designed so they can be flipped and still function fully, meaning every glove can be used either the left or right hand, giving a degree of versatility to go with top notch protection. If you're looking for a good fillet glove to make sure that razor sharp knife of yours doesn't slice open your hand in an accident, then the MadBite gloves are the ones that you want.

Shelure Anti-Slip Fishing Gloves
Coming in mostly large and extra large sizes, these black fishing gloves feature a very unique and eye-catching design that definitely sets them apart from every other design you see on this list. Each glove features covered pinkie and ring fingers, while the thumb, index finger, and middle finger of each glove is open to allow the maximum movement for those fingers so you don't lose any finger dexterity while casting, tying fishing knots, or doing any one of dozens of things that require nimble fingers.
The friction palm design with rubber blend materials are all about giving you a solid grip while protecting your hands from a wide array of different potential dangers like sharp fish spines (walleye anglers know about this), gill plates (northern pike anglers know about this), teeth, barbs from catfish, hooks, and a variety of other potential dangers. While these aren't built as fillet gloves per se, they are meant to provide at least a minimal level of protection from most fillet knife blades, as well.
These are also somewhat adjustable at the wrist allowing some degree of flexibility when it comes to fit around the wrist and palms, although there's not much that can be done if the fingers aren't a great fit.
While the unique design won't necessarily shoot them to the very top of our outdoor glove list for fishing enthusiasts, there's a lot here for anglers to love especially when it comes to plain versatility.

Glacier Glove Gray Sunglove
Very similar in many ways to one of the best premium fishing gloves on our list (the Islamorada Gray Sunglove from Glacier Glove), this is the more common or standard version that the company produces. While this isn't going to get quite the same level of ratings or attention as the premium Islamorada style, there's a lot to like about how Glacier Glove builds these outstanding examples of fishing gloves and good reason to consider looking at them when you want high quality but aren't quite willing to pay premium pricing.
These gloves are very lightweight, have Lycra as a major material that helps give them a firm flexibility, and strong UV protection are just some of the benefits that come with these gloves which are also open fingered. This may or may not be a benefit depending on which style of an angler's glove you actually prefer to wear while out on the water.
These are generally seen as being better as warm weather gloves, but while they may lack the truly premium or high end status, they are an excellent pair of standard fishing gloves and in fact more than deserving of being on our list of the top 10 best fishing gloves that are currently for sale on the open market.

Lindy Fish Handling Glove
The Lindy fish handling glove might not be flashy when it comes to design, but the bright yellow makes these gloves stick out and top notch materials are used to help protect your hands and give you the solid ability to grip fish firmly without having to worry about water, slick slime, or anything else that can make it hard for you to keep a firm grip on your catch.
The company loves to advertise these as "a bullet proof vest for your hand" and several company tests have shown them to be up to 800% more puncture resistant than the competition. The material was originally designed for medical use, offering protection from random hypodermic needles in a hospital or medical clinic type of setting.
It should come as no surprise that these gloves have formed a major following among many long time anglers who know the type of quality they need to protect their hands. These gloves are especially popular with many individuals who fish in catch and release areas and need the ability to firmly hold onto their fish so its shaking and thrashing doesn't cut up their hands with gill plates, teeth, or spines while they try to return the fish safely.

Stormr Strykr Neoprene Glove
Storm Strykr is a well recognized name in the outdoor community and these gloves are an outstanding addition that definitely belongs on this top ten list of top rated fishing gloves that are currently available. These are also among the best neoprene gloves out there for anglers, and seeing as how these are in increasingly high demand, especially as more companies are realizing the potential that neoprene offers as a building material for fantastic fishing gloves.
Fully black in color, these gloves come in six sizes that include: X-Small, Small, Medium, Large, X-Large, XX-Large. That is a lot of versatility to help make sure there's a fit that will work for you, while the high quality combination of materials offers plenty of warmth and protection. Above all else these gloves keep your fingers and your hands warm, which is crucial if you are going to be at your best while out on the water.
Whether freshwater or saltwater, these gloves enjoy solid ratings from dozens upon dozens of happy anglers who love how they have performed in the field. If you're looking specifically for a good pair of neoprene outdoor gloves then you will definitely want to give these a shot.

Glacier Glove Premium Waterproof Glove
Rounding out our top 10 list are a pair of great premium neoprene gloves that have hundreds of positive reviews and have proven to be especially effective in keeping hands dry. If you're doing a lot of fishing during the cold days of autumn or dealing with ice fishing in the winter, then you need to absolutely keep your hands (and gloves) dry so the water doesn't freeze and the temperature doesn't draw all the heat out of your fingers and hands.
These gloves come in six different sizes ranging from extra small to XXL, meaning you are going to have really unusual hands in order to struggle to find a good pair of these gloves that will fish. If you like late autumn fishing for fish that do great in cold weather settings or straight out ice fishing, then you want to make sure you have gloves like these that will prevent serious cold & water issues.
These are made from a premium style of neoprene to guarantee a high quality level, and since this material can be a bit tough and less flexible than most cloth options, the knuckles of the fingers on these gloves are a bit pre-bent to help minimize the amount of fatigue or exhaustion that can come from non-molded neoprene.

Look for the Perfect Fishing Gloves Right Here!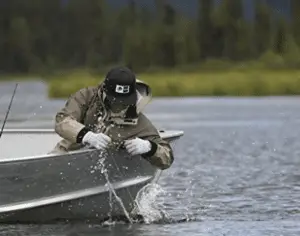 If you're going to spend a lot of time on the water chasing that trophy fish, or you have a friend or family member who is going to, then you might want to consider a pair of good fishing gloves. These are not only good for warmth and keeping your hands dry with water and rainy weather all around, but many of these gloves are also designed to be resistant to hooks – making them good overall hand protection as well.
While these won't guarantee that your hand won't get hooked, they increase the protection by quite a bit.
One of the nice things about these popular fishing gloves is that they still allow your fingers to be mobile and fully functional while adding warmth and protection. This makes them great not only for a day on the water but also for just general usage. While many anglers are fully prepared with rods, reels, and lures you might be surprised how many are using just normal gloves or inferior hand gear. If you want to give an angler a gift he or she will appreciate, then consider a pair of high quality fishing gloves to set them up the way they deserve!
Not only can these help keep hands warm while allowing the fingers to stay far more functional than in traditional gloves or mittens, but there are also fillet gloves that are specifically designed to protect the hand against slips of the knife. They might save a trip to the emergency room! There are many different designs and styles available, so there's plenty to look at when you're considering which type of gloves are right for you or for the outdoor angler you're shopping for!
All Purpose Outdoor Gloves
All-purpose outdoor gloves can be used for fishing as well as camping or a variety of other outdoor events or situations. These gloves tend to be a little thicker and not quite as specialty based as what many other outdoor companies make them like. However when it comes to keeping your hands warm and dry they serve their purpose and can be especially good during colder times like late fall or very early spring like right after ice break.
These gloves may not be as flexible or allow the complete range of movement as others but they will work in a pinch as opposed to going bare handed and having to deal with the elements without help.
If you're looking for specialty neoprene fishing gloves or waterproof fishing gloves then you might want to find a more specific pair of cold weather fishing gloves that are designed for those situations. Whether or not regular all-purpose gloves work for you depends on what you are specifically looking for, but most anglers by far and away prefer to go with one of the examples of best fishing gloves that you can find on this list or similar ones that have the same basic design or serve the same purpose.
Reasons to Buy Gloves Just for Fishing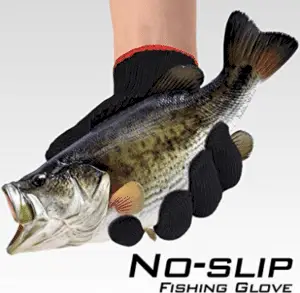 While many people who aren't into the outdoors so much might think of fishing gloves as something ridiculous, there is a really good reason why there is an entire market dedicated specifically to gloves for outdoor anglers. The other important thing to remember is that there is more than one type of design or function that falls under the general umbrella of "fishing gloves."
Fillet gloves, like the ones in the picture to the right, are a prime example. These gloves are strong, built from material that is designed to make it hard for a knife to cut through.
These gloves work to not only help you hold down a fish that can be wet or slimy, but also offer at least some level of protection when it comes to a knife slip. If these can prevent a deep gash, serious injury, or infection then they are definitely worth the purchase. Similar to many types of outdoor activities, fishing has equipment that is easy to remember about and others that aren't. While many people might not think about grabbing a pair of gloves before fly fishing or boat fishing, that doesn't make them any less important.
What Are Neoprene Fishing Gloves?
Neoprene is a synthetic rubber that has gained rapid popularity among anglers and other outdoor enthusiasts because of its tight fit allowing for great hand movement while also keeping hands warm and completely dry. This style of rubber was originally discovered by Dupont scientists and is used for a wide variety of uses. Several different companies use this material to make warm water proof fishing gloves.
In fact, there is definitely a reason that neoprene gloves are among the most popular around!
Because of the insulating effect of neoprene, these gloves are extremely popular as ice fishing gloves for anglers because they will serve the purpose of keeping the hands warm, dry, and completely functional. Not everyone likes the tight fit, but if you don't mind that then these could be the ideal gloves for your next fishing adventure.
Never be afraid to try pairs on to figure out fit, or go to your favorite fishing forum to find out if these particular gloves are exactly what you're looking for or whether a different style of fishing glove is better for your particular needs.
Winter Fishing Gloves
A good pair of winter fishing gloves tends to be a little more expensive than many of the other all season gloves that are also available to outdoor fanatics. These often run around $30 or higher online, not including the shipping that also needs to go with them. Styles vary widely from gloves with the ends of fingers cut off to still allow full movement, to pull over mitten sections that cover the finger ends but can be pulled back to reveal the same.
Some neoprene winter gloves are simply tight gloves, but made to keep the hands especially warm and help protect from frostbite or just plain cold from the elements. Wool winter gloves used to be a popular option, but they fell out of popularity as newer materials did a better job keeping fingers and hands warm and protected while also keeping hands dryer and allowing for better mobility.
Obviously the degree of glove you need for appropriate winter fishing depends a lot on climate, on what type of fishing you're doing, but in winter never be afraid to go a little bit thicker to make sure your fingers and hands remain warm and functional. This is part of the reason that waterproof neoprene gloves are often touted as a good ice fishing or winter fishing option.
Finding the Best Fishing Gloves – Thoughts & FAQ
So at the end of the day, what makes the best fishing gloves? As annoying as the answer is, "it depends" is the right answer. There are some general rules of thumbs or guides that we can follow. Wool gloves will be less useful than many of the other options, and the material of choice seems to be neoprene for modern hand wear. When you're talking about great gloves for the outdoors, you want to look at real warmth, total movement, and overall protection.
What's most important? For fly fishing having the ability to tie knots, work with flies, and keeping nimble finger movement has to be a high priority. If you don't like cold weather at all or have circulation issues then the warmth problem becomes absolutely huge. In that case you may want full gloves and eschew any designs that keep the fingers uncovered at the end.
While price may be somewhat of a consideration, it might be worth knowing that there isn't a huge difference between the prices of fishing gloves in most cases so why go for cheap ones when for $10-$20 more you can get the best out there?
Fishing Gloves FAQ
Q: What's the most important thing to look for in a fishing glove?
A: Aside from looking at the materials used and how that affects which gloves will help you out the most for your environment. Neoprene, for example, is crucial for winter fishing and a lot of cold weather angling while in warm weather places you want a breathable material and ideally a finger-less glove design.
Beyond this make sure you can get gloves that fit. Not all companies make up multiple listings.
Q: Are fishing gloves and fillet gloves the same thing?
A: They are not. While fillet gloves can be considered fishing gloves, the opposite is not necessarily true. Many anglers have two pairs – one based primarily on their main type of fishing and the other offering protection when they fillet a catch.
Q: Which grip style is the best?
A: There isn't necessarily a clear answer to this one. Some anglers find one material better than another, and the same goes with specific easy grip designs. Try out a few to find the ones that seem to work best for you and your specific situation.
Q: Where can I learn more about some fishing gloves that I'm interested in purchasing?
A: Look at a company's website if you want to know about a specific pair, but if you are looking for more information in general then you will also want to check out some of the many top notch online fishing forums out there.
In Conclusion
While there are many anglers who just go without, especially in warmer weather climates, in most places it is definitely worth having some good fishing gloves. Not only can they help keep your fingers warmer and a bit more functional, but they offer at least some basic protection to avoid hand injuries like cuts, slices, and other small injuries like that.
Sometimes every little bit of protection helps and it can make all the difference. We hope you found some gloves you really like, and you can check out this small store video to get more information on comparing some popular options! Don't go fishing again without your new favorite pair of high quality and reliable fishing gloves.
Great small store review of fishing gloves