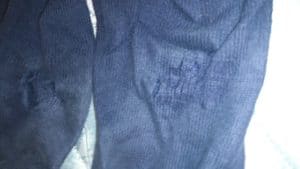 Going into Christmas last year I had a little bit of extra cash to spend so proving both that outdoor enthusiasts can get excited about weird things and that adults don't Christmas as well as kids, I decided to splurge a bit on some high quality socks. Being someone with large lower legs and giant feet, I know the difference that a great pair of comfortable socks can make.
Remembering some recommendations from my Austin days, as well as a couple from a few years ago, I looked up the Extra-Wide Sock Company and found their "Extra Wide Comfort Sock." Advertised as knit, good for giant feet, and comfortable, I liked the idea of upgrading my socks with some actual premium socks as I went through about 20-25 pairs of athletic socks this year.
I tried the quantity route and was willing to drop serious money on just a few pairs of good socks to avoid having to do the same again. My initial impressions when they arrived was actually really good. They were comfortable, fit really well, and looked very nice…but damn was I about to be disappointed.
Quick Grade:
F – 2.0 out of 10 stars
Wouldn't recommend under any circumstances – current product does not reflect the quality past, they're terrible junk pricing like they're still premium. The link to these is included not to encourage buying, but so you can see the listing and stay away from it.
Listing of these disappointing socks
Why Did the Extra-Wide Sock Company Fail?
At the time I made the purchase they had well over 600 reviews and ranked really high across the board ratings wise, averaging well above 4/5 stars. So imagine my disappointment when after putting them into the rotation for just two weeks and after their first wash and dry, I saw this: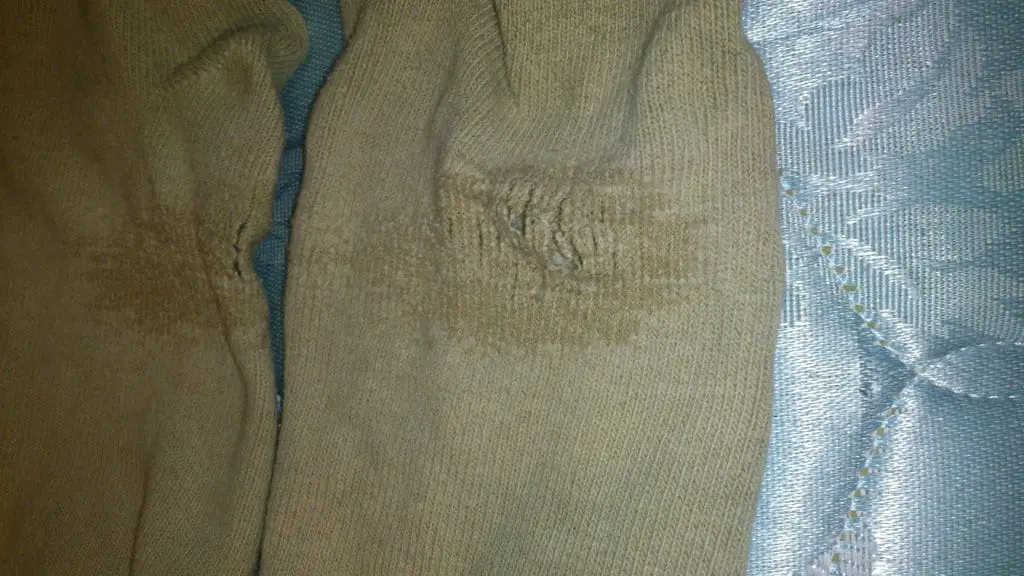 After dropping $25 on three pairs of socks, I wanted to know what the heck was going on. Looking closely at the black pair of socks, there was some wear though they weren't nearly as bad as the tan and purple socks (although still too much wear for one single wash after a couple days of use).
Upon digging in and double checking the reviews (Which I should have done anyway – broke my own rule in the eagerness to find a truly good pair of socks) imagine my surprise to see a long list of one star reviews that included pictures of multiple holes, tears, and the like which appeared (drumroll please) after a single wash.
Customer Service Failure
Obviously I tried contacting the company about a refund or a replacement (benefit of the doubt at all) and received no response. Despite multiple attempts. So these apparently used to be premium socks – and for the premium top of the line socks I'm willing to shell out decent money. These were complete fucking junk.
I generally don't like to swear unless I feel like the situation really, REALLY deserves head-snapping attention and/or emphasis. So I'll repeat: the three pairs of socks I received were complete fucking junk and I can't even say that customer service told me to go F myself because they would have had to respond to me first.
Instead, the company promised me premium socks, delivered crap, and ghosted me with my money.
Needless to say, I'll never be doing business with them again.
Why Spend $30 on Socks?
Some people might be asking why you would spend $30 on a pair of socks or a few pairs of socks. That's a fair question. The truth is that a sock isn't a sock. Really well-made socks designed to give lower leg compression, fit massively large feet, and hold up to daily hikers, backpackers, or walkers like me – those are incredibly hard to find.
I can straight wear out a 6 pack of socks every month or two easily – and that's even with other pairs in rotation. Big sharp toe nails that can break toe nail clippers, major wear from hiking/walking 10-15 miles a day for fun/relaxation/thinking, plus large lower leg muscles and huge feet mean that finding good socks is hard.
When you go through as many socks as I do, it's worth paying serious money per pair if they will last even a moderate amount of time.
I'm willing to pay a premium for really comfortable quality socks that can last.
So What Premium Hiking Socks Should You Buy?
Darn Tough Socks are the name that comes up again and again among hikers, backpackers, and other outdoor fanatics. There's a reason for this. While a single pair can easily cost $25-30 (admittedly I was hoping to get three good pairs for that price), they are extremely well made and come with a literal life time warranty, which you can see HERE. Darn Tough Socks have earned their reputation, and they haven't outsourced to cheaper materials and construction like Extra-Wide Sock Company has.
So while you may not have the budget to drop $200 for 7-8 pairs of Darn Tough socks at once, at least you know these will last one at a time as you build up the rotation.
I've learned my lesson and am writing off the Christmas purchase as a stupidity tax – lesson learned – and started to re-build my wardrobe with Darn Tough socks instead. You can click on the following link if you have been looking for the same.

Final Verdict
I can't recommend the Extra Wide Comfort Athletic Crew Socks under any circumstances. They still have the reputation as a premium provider and they will still get an undeserved high number of high reviews because those socks are indeed comfortable and fit a wide foot well in the beginning. But the fact you have to sorely limit wearing them and can't wash without wearing them out – just terrible. Especially at a premium price point.
As tempting as it can be to look at other premium sock options, learn your lesson like I did. Don't make the same mistake. Stay away from the Extra Wide Comfort sock company.
Go with Darn Tough and just buy one pair at a time if you have to. At least you know those will last and get replaced if they somehow don't.
Darn Tough Sock Video Review