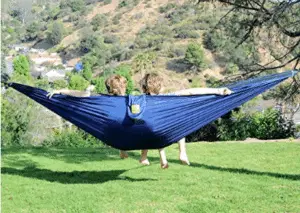 There are a few names in the camping hammock niche that simply rise to the top, and while almost everyone has heard of ENO hammocks, not nearly as many outdoor specialists are as aware of Wise Owl Outfitters camping hammocks, which are also renowned for their exceptional quality and construction which has held up admirably in the field.
While it's hard to point out any camping hammock brand or company as being able to remotely compete with the long-established reputation of Eagle Nest Outfitters (ENO) when it comes to making the best and most reliable camping hammocks around, Wise Owl Outfitters hammocks by far and away stand out as one of the best out there. In fact their camping hammocks, along with ENO, are consistently the only two brands that are consistently within .1 or .2 of a perfect score from hundreds upon hundreds of reviews whether at Amazon, online sports stores, or hundreds of other outdoor based blogs. The reason these hammocks from Wise Owl Outfitters are so good is this family owned and operated company's fierce dedication to the highest of quality and focusing on what they know: a few solid camping hammock designs.
While there are dozens of colors to choose from, currently there are three basic designs that all Wise Owl Outfitters camping hammocks fall under:
Wise Owl Outfitters Double Camping Hammocks
While all the hammocks put out by Wise Owl Outfitters have won high marks with dedicated hammockers out in the field, there's no question that the double camping hammocks in particular have received a lot of positive well deserved attention. These are the highest rated of the three designs that Wise Owl Outfitters features and are available in a variety of color combinations.
These might be a little more expensive than your average hammock but that's because the quality is so much higher both in design and in the type of materials that are used. These WOO camping hammocks are made from premium 210T parachute nylon, which is the same type of nylon that skydivers use. This material is extremely soft but remarkably strong. This combination lets you rest in confidence stress-free while you relax in an ultra comfortable hammock that makes sleeping in the great outdoors all the easier and all the more enjoyable.
These hammocks are extremely lightweight to boot, making them easy to carry whether you are backpacking, hiking, or simply searching for an out of the way couple of trees to set up your camp for the night. Despite being an impressive ten feet of material long by 6.5 feet wide, it weighs a mere 26 ounces or less than 2 lbs. This makes it an outstanding option when it comes to packing up a light pack and still enjoying a fully functional campsite.
These hammocks come with carabiners and ropes so you can set them up right off the bat, although many campers definitely recommend trading in the ropes for hammock straps, which are made by most companies and are much safer/kinder on trees than ropes. In fact, you can scroll down this article to see the specific high-quality hammock straps that are even made by Wise Owl Outfitters.
If you like making sure you have plenty of space, the double nest hammock is definitely the way to go.

Single Camping Hammock By Wise Owl Outfitters
While many people will jump for the double hammock, because plenty of us camp as couples and plenty of us are big fellas who just always err on the side of having a little extra space, if you prefer to go with a more traditional solo hammock you won't be disappointed with the premium single camping hammocks that Wise Owl Outfitters have to offer. Coming in a stunning 9 different color combinations and featuring the same level of quality as their famous double camping hammocks, multiple outdoor publications have rated these as among the top rated gear for the outdoors. That is extremely high praised and in this case it is also very well deserved!
These are made from the same outstanding parachute nylon as the other hammocks produced by Wise Owl Outfitters and you will save money on carabiners since they are included, and ropes (although you may want to trade off to hammock straps). These measure 9 feet long by 4.5 feet wide and are more than enough space for the majority of outdoor campers. This portable and lightweight material means you won't be weighing down your pack and this hammock supports up to a remarkable 400 lbs.
That is a lot of weight for a single designed hammock and goes to show what type of premium quality this company produces with each and every single outdoor camping product that they manufacture.

Camo Hammocks by Wise Owl (Single & Double)
While in many ways not technically different than the first two, seeing as how the camo designs are made available in both single and double size, but this is often sold separately as a pack and sometimes even with WOO's own specialty hammock straps as opposed to basic ropes. Because the camo is such a different design and sometimes comes in different combinations, it was worth its own entry on this short list.
Featuring the same top of the line premium construction materials, the parachute nylon these are made of is incredibly soft and comfortable while demonstrating the type of toughness you would demand from any material that was going to be used in an actual parachute. Sky diving – another thing that's not quite my thing but hey, to each their own and I'll gladly take that material to get a hammock that will hold my large frame without an issue!
In the example linked from this picture, not only are the carabiners included but so are the hammock straps so you won't be using ropes that can dig into trees and cause damage when you use a hammock. This makes the offering a particularly interesting option since you won't have to buy any popular accessories like hammock carabiners or hammock straps separately since they are already included, saving you the hassle of doing more shopping down the line.
Many people also simply love the camo design, even if there isn't necessarily a practical reason for it in this particular case. The Wise Owl Outfitters' dedication to quality is on full display here and you won't be disappointed if you go in this direction.

Wise Owl Outfitters Talon Hammock Straps
If you're going to buy hammock straps for your new Wise Owl camping hammock then you probably want the highest quality you can get, right? While Wise Owl doesn't make much beyond the hammocks they do make accessories that go hand in hand with the gear used for their favorite type of outdoor camping.
Obviously if they're passionate about hammocking, it makes sense that the professionals at Wise Owl Outfitters would also manufacture hammock straps as well, and going with the them of the ultimate wise bird of prey, they produce Wise Owl Talon Hammock Straps which help to get the job done not only with their own hammocks but can be used with other hammocks effectively, as well. When you focus on using high quality materials, you can rely on your gear to work whenever it is properly used in the field.
These hammock straps are strongly made, can take the weight of any individuals up to the approved weight of the hammock, and they are built to last the test of time. If you are looking for new straps to make sure you're all set to go, you can do a lot worse than the Talon straps for camping hammocks!

In Conclusion
You have to appreciate a company that doesn't try making a little bit of everything, but really focuses their efforts and passion on one specific product or set of products to become one of the big names in the industry. While there's no telling where Wise Owl Outfitters will expand to in the future, or if they will, there's no denying the incredible level of quality they are putting out. If you want to get a premium hammock that is lightweight, holds up to daily use, and still provides plenty of comfort and support, then you will definitely be happy going with a top rated hammock like those commonly produced by Owl Outdoor Hammocks.
Good quick video on Owl Outdoor Hammocks