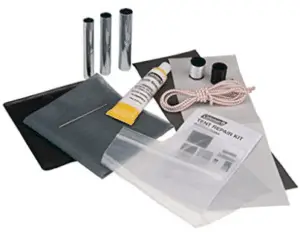 No one loves the idea of having to deal with a tear or damage in their tent, but rather than jump right to buying an entirely new one, it's worth seeing if the small hole or tear you're dealing with can be fixed with one of our top rated tent repair kits. These haven't caught on quite as much as things like replacement tent stakes or tent pole repair kits where the need is major and immediate or more common, but they are an awesome bit of equipment that can often save you the dozens or hundreds of dollars a new tent can cost by letting you create an extra strong repair seal with the materials in the inexpensive kit.
Not every rip or tear in a tent will be fixable but if the choice is between a $10 repair kit and several more years of life for your current tent or dropping several hundred dollars on a brand new tent then why not give one of these kits a chance? This list has our 5 top rated tent repair kits we're seeing on the market right now, as well as a Coleman accessories kit that is good to have whether as a back up for your next outdoor adventure or even as a nice kit for your kids' pup tents out in the backyard.
Gear Aid Tenacious Tape for Fabric Repair Review
Gear Aid doesn't necessarily advertise this as a tent repair kit, but it is a specialty tape that is ideal for sealing up tears in a wide array of fabrics and materials. This extremely strong adhesive is similar to duck tape in many ways but is designed to work on a variety of surfaces and create a strong solid seal that is just as strong as the rest of the surrounding fabric and will prevent leaks.
The tenacious tape by Gear Aid is far stronger than your conventional tape and is designed to instantly seal and connect on contact. This makes repairs in the field possible even under less than ideal conditions with a lot of rain, moisture, dust, and more. In other words, this is the ideal piece of equipment to have on hand when you need to fix your tent in the field quickly.
The tape is strong enough that when properly applied it should hole for an extended period of time, allowing you to expand the life of your tent and get the most possible out of it. You will need to prepare the tape, remove the backing, and then get the placement done the first time because when that adhesive sticks, it sticks!
There are many customer reports of Gear Aid's fabric repair tape for tents that has lasted not only weeks or months, but even for years afterwards making it an incredible first response to seeing if any damaged tent or other fabric is salvageable.

Gear Aid Seam Grip Field Repair Kit Review
This is the full field repair kit that includes not only tenacious tape for fabric and other materials, but also comes with tenacious tape patches. This kit is the closest thing to an all in one tent repair package for campers that Gear Aid provides. This repair kit for campers comes with 2 "Tenacious Repair" patches, a tube of seam grip sealer & adhesive, an application brush, and even a repair guide to help you get the absolute most out of your Gear Aid kit.
These are designed to work with as many different fabrics and materials as possible to give a user some versatility in the repairs they can pull off. This allows for repairs to coats, sleeping bags, tents, tarps, and many other items. This type of versatility is hailed by many individuals although this does get a slightly lesser rating compared to the standard Tenacious Tape pack simply because the TT has more material dealing specifically with tents.
These kits are still extremely highly rated and well thought of among outdoor DIY adventurers who love their reliable tent and want to keep it in circulation for as long as possible. Definitely worth a look for the price.

Coleman Tent Repair Kit Review
This Coleman tent repair kit is an exceptional kit that gives the constant camper the tools needed to repair small amounts of damage while out enjoying the great outdoors. There are four patches in this kit, two screened and two solid adhesive based for issues with the material that makes up a tent or tent screen, but there are also other materials that can be used for repairing more than just the tent sides, which is all most tent repair kits focus on.
One needle with two spools of thread add a lot of versatility for those individuals who have the skills and training to use them. The 3 tent ferrules and 45 inches worth of 2.5 mm shock cord means on certain tents even a damaged pole has the ability to be repaired and made structurally sound once again.
There is also a tube of seam seal to help make sure the waterproofing stays and keep the seams at their strongest, shoring up any weak spots that might be a result from time, damage, or the unfortunate occasional shoddy construction.
These additional items are a major reason why the Coleman Tent Repair Kit is so popular, because it gives a camper with even basic skills the ability to tackle a wide array of potential issues.

Coghlan's Nylon Tent Repair Kit Review
Coghlan is a name that many outdoorsmen will be familiar with, and they produce an excellent repair kit for nylon tents, as you can see from this review. This is obviously more of a niche product when it comes to tent repair kits since it focuses heavily on nylon tents, and might not be appropriate for tents made of any other material.
That being said, the sheer number of tents that go with the convenience and versatility that high quality nylon has to offer.
The ability to mend damaged nylon or very similar synthetic fibers on text makes this an outstanding investment that can help keep a nylon tent stable for another camping excursion and another after that, and hopefully many more to follow! This kit includes a variety of important items that all help to take care of a variety of potential issues including sewing up screen patches over a hole in the screen of a tent, seal a hole in the nylon, or even repair a tent pole.
This is an exceptional kit that is small, comes in an easy to seal waterproof plastic bag, and helps you tackle a wide variety of issues. The lightweight plus versatility makes it a great kit and one that is even light enough to be considered on a long thru hike or a camping excursion that is 1-2 weeks out away from the nearest gear shop.
Definitely a worthy addition on our top five list.

MSR Tent Fabric Repair Kit Review
These fabric repair patches are far less tested than the others on the list, as they are a relatively new arrival on the scene. However, in the limited reviews that have been put out it is worth knowing that the general feedback has been overwhelmingly positive. While we want to see more reviews before we decide to push this up the list, the early feedback has been strong and we are definitely going to be keeping an eye on this option to see how it stacks up as more and more people use it.
Not a full kit, but this is meant to be fast and easy fabric repair that can be done in the field and creates a permanent fix to whatever fabric issues you are having to fix up while out and about in the wild. Depending on the type you get you'll be looking at 2 mesh patches and 4 colored fabric patches. They are designed to adhere to both coated fabrics and un-coated fabrics which helps maximize the number of tents that you can effectively repair damage to.
These are very inexpensive, can be incredibly effective in the field, and we hope that the high positive ratings continue to come in to allow us to bump this one even further up the list!

Coleman Tent Kit Review
Right off the bat we need to make one thing clear with this best selling Coleman Tent Kit: this is NOT for repairing a damaged tent. Those were the five choices above it in this list. The Coleman tent kit is a best selling camping kit that features four steel metal pegs that can act as a replacement for any damaged or lost stakes and a rubber mallet that makes it much easier to hammer into the ground.
The kit also contains a small dustpan and broom, a great tool for pulling out the stakes without having to risk losing a fingernail, and lightweight bag that carries all of the pieces of this tent kit reliably. This is a great combination of tools and it's easy to see how they have acquired many hundreds of positive ratings from customers over the years.
While this isn't meant for repair, it is a great little kit that has multiple useful tools and can be used with older pup tents, small tents, and help keep introduce kids to camping, replace the random lost stake, and clean up before taking the tent down and rolling it up for another day. Just an all around great option to consider, especially for the price.

When Should You Go New Tent Over Repair Kit?
Putting aside all the obvious answers to this question like a growing family or needing a specialty tent that is designed specifically to handle certain types of conditions like extreme wind or cold. Focusing on the repair kit versus new tent argument, generally any time there is a small rip or tear, especially if it is a first or second one, then in that case you are usually in a place where you should definitely look at giving a tent repair kit a chance because that can save you some serious dough if it works – and it's only about a $10 investment that could end up saving you hundreds.
There is a certain point where the cons may outweigh the pros. If you have an extremely old tent that has gone through multiple repairs or even multiple repair kits and it seems like every time you go out you need to fix up something else, then that is definitely at a point where it's time to at least start contemplating going with a brand new tent instead of yet another repair.
The truth is if you're contemplating going for the new tent then it's probably time to at least start price shopping. However if you have one small tear or one leaky seal on what is otherwise a fabulous tent that has served you well, then there is no reason to jump the gun without giving one of these outstanding repair kits for tents a shot to see if that is an inexpensive way to bring your current outdoor shelter back up to full speed once again!


In Conclusion
There are many different repair kits for tents out there and while you might not be able to fix every tear or bit of damage on a tent, and while sometimes the problem is having too much sand in the tent or needing another tent stake, there's no question that with the low cost of these kits it is always worth a shot to see if you can fix a tear to make it good as new. These are some of the best tent patching kits available and with them you should be able to find the perfect one to help you fix up your tent to get months or even years more worth of adventure out of it!
Video tutorial on using a tent repair kit