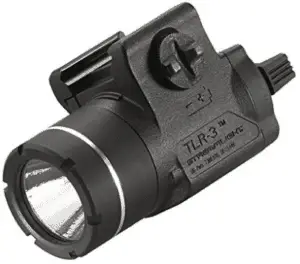 Whether trying to squeeze in a few extra rounds as the light is fading, or looking at the need to see things at night when you have a firearm out, a good tactical handgun flashlight makes all the difference.
Then there's also the fact they just look really cool and add a practical function that allows you to have light and see what's going on without needing to go one hand for a pistol and one hand on a flashlight, a much more tenuous position in many ways.
Tactical pistol flashlights are very useful tools when it comes to shooting in the dark. They also are great tools for emergency situations like scaring your attacker, flagging down help, and blinding whatever is standing in front of you.
When choosing the right product for your needs, you'll first want to choose  a model that fits your specific piece. Then you'll want to consider what exactly you need it for, and finally, your personal preferences. The 5 flashlights listed below are all fantastic devices with high ratings. Check them out.
Streamlight TLR-3 Weapon Mounted Tactical Light
The Streamlight tactical mounted light for handguns is an excellent option and this particular model is the TLR-3 (69220), and also includes rail locating keys. If you are an experienced shooter it will not take you long at all to see why this particular light is so popular among experienced shooters.
The thing that truly makes this pistol flashlight standout from the rest of the choices on the market are the rail locating keys. These keys provide you with quick access to all three lighting modes, wide beam illumination, long-distance illumination, and a combination between long distant and wide beam illumination. However, it's important to point out that the rail locating keys can only be used with Picatinny or Glock style rails.
Superior illumination isn't the only quality feature, the Streamlight 69220 model is also waterproof up to a limit of 1 meter for 30 minutes. This means that rain, snow, and sleet won't affect its performance. In addition to this, the battery life is also something you'll also appreciate. This remarkable tool runs on one lithium batter and can provide continuous light for 1.5 hours.
The body is constructed from nylon polymer that's extremely resistant to wear and tear and super lightweight for accurate shooting. The lens are quite durable as well. They're made with borofloat temperature glass and very hard to break.
This is one tough tactical pistol flashlight that fits a wide range of different sized firearms. There are three different packages available, one with rail locating keys, one with a USP compact clamp, and one with a USP full clamp. Although all three choices come with a different price tag, each one is a definitely worth the buy.

Streamlight TLR-6 Tactical Pistol Mount Flashlight (Model 69270)
100 Lumen with Integrated Red Aiming Laser
If you've never had the opportunity to shoot a gun with an integrated red aiming laser, then you're really missing out. The Streamlight 69270 has a very powerful aiming laser with three different settings: laser only mode, laser/LED combo mode, and LED illumination only mode. You're basically getting three flashlights in one device.
The three different modes can be easily accessed by two different push-buttons, one located on the right side and the other located on the left. These easy-to-access buttons are convenient and make turning these modes on and off a very simple task.
Another really cool feature about this pistol flashlight is that it's water resistant. Some people love to shoot in the snow or rain. If you're one of these individuals, you won't have to worry about damaging your new device. You'll be able to shoot in all kinds of weather conditions.
This flashlight custom fits the Glock 42/43 and only comes in the color black, so definitely keep this in mind when shopping. If you own a Glock, then this is a product you'll want to think about investing in.

Streamlight TLR-6 Subcompact Tactical Pistol Mount Flashlight
This is a really impressive option for individuals with the right model of handgun as the TLR-6 tactical pistol mount is a gem that features 100 Lumen-strength light along with a fully integrated laser sight for aiming.
People who own either a M&P Shield 40 or a M&P Shield 9 gun will want to think about adding this flashlight to their collection. The Streamlight 69273 is made to custom fit both of these models and attaches securely to the trigger guard of the weapon. It can also be easily removed and attached with ease.
This flashlight is equipped with a C4 LED illuminator and a 640-660nm red laser too. There's three modes, laser only mode, Laser and LED combo mode, and the LED illumination only mode. All these modes can be easily accessed by either of the two push-buttons on the side.
Other quality features that you'll appreciate include 100 lumens, a beam distance of 89m for long distance shooting, and an 11-hour battery life when the laser is used alone. When used together with the LED, the battery will last approximately an hour.

DefendTek Rechargeable Tactical LED Gun Flashlight
Featuring an impressive quick release that many shooters love, this tactical gun flashlight is designed to be used with pistols, shotguns, and even rifles. It really doesn't matter what kind of piece you own; this device will more than likely fit it perfectly.
However, the only kinds of weapons it doesn't fit are subcompact models.
There are two useful modes built into the DefendTek. They include the steady light mode and the strobe light mode. The steady light mode is used for pinpointing your target, and the strobe light mode allows you to disorient whatever's standing in front of you.
This is very useful when faced against an attacker or a wild animal. Switching between these two modes is quite easy and can be done by simply pushing the button located on the side.
For durability, DefendTek designed this amazing tool out of aircraft-grade aluminum. This design is tougher than most of the rail-mounted flashlights sold today. They also made this device dust and water resistant too.
The thing that I really appreciate about this device is the rechargeable battery and the battery charger that comes with it. This is great for emergency situations. If the battery runs out, just plug in into your outlet or your cigarette lighter. It's that easy.

Aimkon HiLight P10S Pistol LED Strobe Flashlight
The Aimkon HiLight pistol flashlight brags about plenty, starting with a popular quick release and a high level light above and beyond the average pistol flashlight. The truth is that if you're looking for a pistol flashlight that has a brighter than average LCD light, then this is definitely a product you'll want to check out.
The 500 Lumen is on average two times brighter than most similar models on the market and has two modes, regular high and strobe. The strobe mode is a fantastic tool for emergency situations like facing an attacker or flagging down a vehicle for help. You never know when this might come in handy.
Attaching and releasing this device to your pistol is also another feature that I really like. It's fast, easy, and convenient. There's nothing worse than having to deal with screws and odd tools just to attach it. You won't have to worry about that with this model.
Another great feature worth mentioning is the construction of this device. This Aimkon flashlight is made out of aluminum for a lightweight design. It won't weigh down your pistol and affect the accuracy of your shot. In fact, it's so light you will barely even know that it's attached to your piece.
The HiLight P10S 500 is only available in the color black. It can be used with an array of different pistols including the Glock Series, Sig Sauer, Smith & Wesson, Springfield, Beretta, Ruger, and Heckler & Koch guns. It's one amazing product.

Final Thoughts
There are many options when it comes to tactical flashlight mounts for handguns, and that's not even going into the specific flashlights and mounts that are made for rifles. While we would have loved a top ten list, as of this first publishing we're definitely believers in these five options, but you can believe us when we say we will be keeping an eye out for new innovations, new designs, and new models.
Until then, take a look at this excellent video from The Glock Guy to learn more about what type of light is best for you and your specific needs.
Great video on picking out the right pistol light

Other articles of interest: