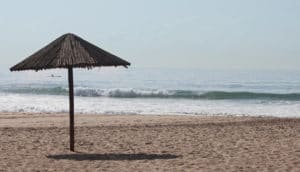 The sun is coming out, the temperature is rising, and the beach is looking more beautiful as a destination by the day. Whether you live just a stone's throw away from a nearby beach or if you need to book plane tickets and fly across the country for a really good beach scene, you want to be prepared to enjoy the day without ending up with a severe sunburn. While we talked about beach tents relatively early on, we definitely need to talk about portable beach umbrellas as a solid option that can provide some serious shade and shelter from potentially harmful UV rays while also allowing you to claim a small section of beach that is perfect for you and anyone you're enjoying the day with.
There are many great beach umbrellas out there, but few companies can match the extremely popular Sports-Brella brand and even the most preliminary of examinations quickly makes it apparent why they have become the top brand in the field.
Our Top Sports-Brella Picks
The focus here on the offerings from one main company isn't a coincidence. They are top of the line when it comes to beach umbrellas and portable beach shelters, and that is a huge part of why they get their own article on this blog (once again we do NOT do sponsored blog posts so these are here because we believe they're some of the absolute best options around and not because of any payment or advertising agreement).
This is a strong brand and while there are rumbles that there might be more options in the future, at the moment the following table is our list of the absolute best Sports-Brella portable beach umbrellas currently available online.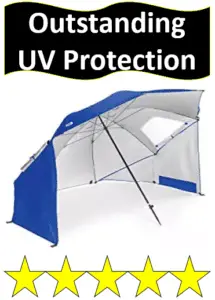 Sport-Brella Portable All-Weather & Sun Umbrella
This standard high quality model is not only the blue beach umbrella itself but it also comes with a couple of sidings that helps to create a full 8-foot canopy that gives plenty of space for some nearly UV shade during the hottest part of the day during your beach outings.
Rated with a remarkable UPF 50+ Protection, this umbrella provides astounding shelter while helping you keep your skin safe by offering a safe beach shelter so you're only tanning/baking a bit here and there intermittently.
What does a UPF 50+ Protection mean? This means that a stunning 99.5% of all UVA and UVB rays are blocked to offer truly protective shade on the beach and this is despite the fact the design comes with wind flaps to provide the perfect ventilation every time a cool little breeze decides to kick up. Protection, shade, and comfort – the best of all worlds!
Weighing 9 pounds total and coming with a carrying bag as well as basic metal stakes for securing the edge of the shelter on even the windiest of days, this is a relatively lightweight beach shelter package that allows you, your company, or your family to truly enjoy getting the most out of each and every moment you enjoy on the beach.
With literally thousands of positive reviews online, it's not hard to see why the Sport-Brella is one of the most popular options when it comes to portable beach shelters.

Super-Brella – Portable Sun and Weather Shelter
One of the most popular options from this company, the Super-Brella is a slightly larger and more encompassing version of the original Sports-Brella design that took beach going enthusiasts by storm. Currently available in either blue or red, and still with the extremely popular and powerful UPF 50+ protection to take care of over 99% of all UV rays.
This also comes with a convenient carrying bag and stakes, and with a 96 inch spread this 210 polyester quality material gets the job done while also including interior pockets for additional tent stakes, glasses, wallets, or any small odds and ends that you need to store and want to make sure they don't get lost in the sand. Nothing ruins a great relaxing day like losing some valuables.
This beach umbrella shelter weights a mere 9 lbs and yet provides everything that you need to be fully covered by creating your own nice little shelter area during any beach excursion. This is an exceptionally constructed model and while the ratings aren't quite as high as the original, they're both up there in the exceptional range.

Sport-Brella X-Large Shade Umbrella
The X-large Sport-Brella umbrella definitely lives up to its name. Weighing a mere 10 lbs, this extra large sized beach shade provides a stunning 108 inch width when fully setup. Blocking out the far majority of UV rays, this large shade gives many people that much needed extra space to offer shade to larger groups.
These aren't only good for shade but they are still 100% water resistant, as well, meaning if it starts raining they still work perfectly fine as a shelter from getting soaked. Once you find the little section of beach that just feels right for base camp you can set up and then let everyone take off and go, knowing there's shelter to keep on coming back to.
This is an extremely popular option among the various Sport-Brella beach umbrella shelters and it isn't hard to see why. The extra space is definitely a major benefit and for slightly larger families or groups of beach-goers, this is exactly the right choice to make sure everyone gets the maximum coverage while also keeping up the high level of quality that you expect from a top of the line brand like Sport-Brella.
Plenty of options, high quality material, and a solid design make a portable beach umbrella that truly meets even the most rigorous of standards.
Currently available in 5 colors:
Hunter green (as pictured)
Deep red
Steel blue
Orange
White
If you're looking for a little bit of extra shelter this is the choice and nearly 1800 positive reviews aren't likely to lead you astray. Click on the button below for the most up to date pricing available from Amazon.

Sport-Brella Versa
The versatile Versa from the Sport-Brella line is a much different design from the others on this list as it is much less a heavy duty beach umbrella spread and is the truly mobile version that can be carried about for shade and works for one or two people throughout the day. The design is a bit unconventional in appearance but also comes with an attachment that allows you to walk around with it or attach it to a variety of poles, circular or cubic in nature.
These have a 44 inch by 44 inch area of coverage and block over 99.5% of all the UV rays that would otherwise come right down on you. This is despite the fact that it weighs a mere 1.8 lbs, making it both very lightweight as well as quite versatile and surprisingly effective.
Over 2500 positive reviews have come in for the unconventional yet excellent design and the feedback has generally been extremely positive when it comes to the functionality and effectiveness of this particular design.
If you are looking for something relatively small for proper shade coverage at a beach then you will definitely want to take a look at the Versa model.

Current list of Sports-Brella options:
Super-Brella
Sport-Brella
Sport-Brella XL
Sport-Brella Plus
Versa Brella
There might be more in the future but for now those are the main options, with most normally available on Amazon although once in a while one of these will run out of stock temporarily. The good news is these are all excellent options for enjoying your beach time.
In Conclusion
There's a reason going to the beach is so popular, and while the experience can be incredibly enjoyable whether you go there alone or with friends and family, you always want to make sure you give yourself the proper protection. While sunscreen is a huge part of that, and sunglasses and a decent hat can help, at the end of a day having a shelter right on the beach makes a huge difference. You need a place to be able to retreat into solid shade every so often and know that you're properly protected from UV rays. Even a small break here and there can make all the difference in feeling comfortable and avoiding sun burn.
So get a top notch portable beach umbrella and enjoy a beautiful day on the beach. If you want the perfect 1-2 combo for a group, consider adding one of these to one of our top picks for beach tents and you'll be completely covered for any type of sunny day just off the water excursion.
Good Beach Umbrella Safety Tip Video