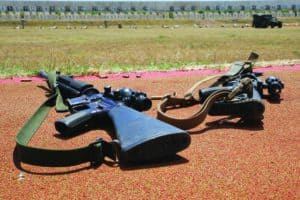 Every serious shooter or hunter knows the importance of a gun sling. Not only do they make carrying your firearm a much easier job, but they also allow you to shoot much more accurately as well.
They're really a useful tool, especially if you need to hike long distances from a hunting camp to actually finding game. A good sling can really make a huge difference for hunters in that situation.
If you've never used a sling, it's time to start thinking about investing in one.
There are many different kinds of slings on the market. Some are made from nylon and others are made out of leather. Some are standard, and others come with fancier features. The important thing is to find the style that fits your specific needs.
The slings listed below are all amazing products and definitely worth the buy. Take a look and find the right one for you and your personal needs!
STI 2 Point Rifle Sling Reviewed
This is an incredible adjustable gun sling with a fast loop development and easy adjustable movement to create the perfect fitting sling for your specific carrying needs.
This is one convenient gun sling. The fast loop allows you to adjust the length to your liking without even taking it off. In fact, you can even do this with one hand. By not having to remove the sling, you'll minimize the chances of dropping your fire arm while also making your life a whole lot easier. It's fast, simple, and remarkably effective.
Another thing that you'll absolutely love about the STI Point Sling is the durability. This rifle sling is made of tough webbed nylon, which is sewn together with heavy stitching, and features high impact polymer buckles that won't break or fall apart no matter what.
If that's not enough to impress you, the 100% unconditional guarantee should. If anything should happen to your sling, you'll get it replaced with no questions asked.
There are 4 colors available, one being higher priced. The higher priced sling comes with extra parts including a sling swivel and a sling swivel adapter. I highly suggest this useful gun accessory to anybody who is an advocate hunter or shooter. The STI rifle sling really is one truly outstanding product.

Ace Two Tactical Sling
The thing that's absolutely great about this gun sling is its versatility. It has so many uses and is the perfect choice for anyone who enjoys camping and going on hunting trips.
The Ace Two not only makes carrying your firearm much more comfortable, it can also be used as a rope, a fishing line, a clothesline, a tourniquet, and a dozen other things as well.
If you ever find yourself in a dire situation, this sling might just save your life.
The functionality is also impressive. The two metal latches located at each end allow you to attach and detach your firearm from the sling quickly and without a problem. This sling is constructed from 550 paracord and is so strong that it can even be used as a tow line. Now, that's what I call tough.
This tactical sling is available in 9 different stylish colors and sells for a very affordable price. The sling can adjust from 33″ to 44″ in length making it a great choice for any rifle or shotgun. From design to materials used, this really is one unique sling and one that has won a strong number of fans for good reason.

10 Point Gear Paracord Gun Sling
Using the power of top notch 550 Paracord, this adjustable gun sling (with swivels) is an outstanding option for your preferred weapon of choice. Whether you own a shotgun, a rifle, or even a cross bow, this gun sling is a fantastic accessory for any serious hunter or recreational shooter.
Handmade from high-quality paracord, the fine high level material ends up making this one of the toughest slings on the market and is extremely comfortable no matter how heavy your firearm is. We've written about paracord before as a material, and it makes for quite a good sling, as well.
This 2-point sling also features convenient swivel mounts that make holding and firing your weapon much more enjoyable. You can adjust it anywhere between 33" to 44" in length, and connecting and disconnecting your bow, shotgun, or rifle is quick and easy.
The best part? There's 8 different colors to choose from including black, dark green camo, tan camo, olive drab green, and coyote brown just to name a few.
That's plenty of options available for the aesthetically minded hunter or recreational shooter.

Braudel Rifle Sling Reviewed
An uncomfortable sling can make your back, your shoulders, and your neck hurt. This takes all the fun right out of your day. Why deal with problems like this when you can use the Braudel rifle sling?
This remarkable product is designed for comfortable and could quite possibly be the most pleasurable sling to sport on the market. So, why is it so comfortable?
The Braudel features a 2-inch stretchy neoprene pad that's specifically designed to rest easy on your shoulders and spread out the area of pressure. In addition to this, you'll also appreciate that it's made from a lightweight, cushy nylon for advanced comfort and the length can be easily adjusted depending on your height, your weapon, and your needs as the sling can be adjusted anywhere from 33" to 43" in length.
The nylon used in the design of this sling is not only soft, it's also extreme strong as well. In fact, the nylon is chafe resistant and webbed for superior strength. All of the buckles on this sling are high-impact resistant and built to last for several years to come.
If you're looking for a lifetime investment, this is definitely a product you should think about buying whether you are just a recreational shooter or a serious dedicated hunter.

Mossy Oak Mason Creek Leather Sling
Do you love leather? Are you a fan of traditional gun slings? If so, then you should really check out the Mossy Oak Mason Creek. This sling is made from 100% top-of-the-line cowhide and features a very basic design. Don't let that fool you though. This is one fantastic accessory.
You'll find it comfortable, easy to adjust, and just an overall pleasure to use.
The swivel buckles located on each of the ends are high-impact resistant and give you a wide range of movement. Attaching and detaching your weapon are also quite easy.
Nobody wants to struggle removing their firearm, and that's just not something you'll have to worry about when you use this rifle sling.
The Mossy Oak is adjustable up to 36" and is only available in one color. However, the custom stitching and the stylish design definitely make up for it. This is one good looking sling for a very reasonable price and there is a reason that it is going to be so popular among buyers.

Outdoor Connection Super Sling 2
The Outdoor Connection Super Sling 2 includes Talon Swivels to increase the versatility and usefulness of this outstanding sling design that has quickly won over many hunters.
This nifty rifle sling has a convenient little thumb loop built right into it. If you're wondering what the thump loop is for, it's designed to make wearing the sling much more comfortable by eliminating a lot of the pressure while also providing you with full control of your firearm.
By having more control, you'll get a more accurate shot every time. You can even adjust it with a single hand. This eliminates the frustration of having to take it off anytime you want to change the length.
Another aspect that's worth discussing is the overall quality. The Outdoor Connection is constructed out of durable 1 1/4″ wide webbing and features 2 impact-resistant talon swivels. If you're looking to invest in a sling that'll last you for years to come, this is it.
Every purchase comes with a lifetime guarantee, so you can rest easy knowing that your purchase is fully covered and backed. That is a lot of peace of mind.
You can feel comfortable knowing that if anything should happen to it, you'll be taken care of. This is an excellent option for someone looking for a gun sling for their shotgun or rifle, and provides the convenience they are looking for.

Butler Creek Comfort Stretch Rifle Sling with Swivels
What happens when you cross comfort, style, and performance? You get the Butler Creek Comfort Stretch Rifle Sling. This clever device is easily adjustable and even stretches for advanced comfort.
You'll truly love the lightweight design and the foamy pad. They make using this sling a real pleasure. You'll barely even know you have it on.
The range of motion you'll get with this sling is also impressive. The two swivel buckles located on each end allow you to have full control of your firearm at all times.
They're constructed from quality material and won't break or crack with regular use. Attaching and detaching your rifle from the swivel buckles is also fast and easy to do. This really is one convenient, high-quality product worthy of your money.
When you purchase this Butler Creek sling, you'll have a choice between 4 different styles. There's Mossy Oak Break Up Country, Mossy Oak Obsession, Realtree Xtra, and for the ladies, there's the Muddy Girl.

LimbSaver Kodiak Air Rifle Sling
The LimbSaver Kodiak sling is designed specifically for air rifles but has been used by recreational shooters with other weapons, as well. This is a tough built sling that also (rightly) brags about the universal quick release feature that makes it stand out from competitors.
Anyone who enjoys going on long hikes or wilderness adventures with their rifle will really appreciate this well-designed sling. The LimbSaver Kodiak sling features an air-web pattern that's not only breathable but also extremely flexible as well.
You'll absolutely love how it forms and molds to the shape of your shoulder while also reducing the pressure from the overall weight of your firearm.
The quick release is another really cool feature. You can securely connect and disconnect your rifle from the sling by simply pressing a pin. Really it just is that quick and easy. The quick release buckles are designed from impact-resistant metal and are 100% weatherized.
These slings are specifically designed to be resistant to weather and outdoor use. In fact, it doesn't matter what kind of conditions you're in, they're made to withstand the most adverse temperatures. In addition to this, the sling itself is made from a non-slip material that'll help keep your rifle in place for increase accuracy.
There are 3 different styles available. They include solid black, Loden green, and standard camo. Although each of the styles come at a different price, they're all high-quality products definitely worth the cash in your wallet.

Traditional 2-Point 550 Paracord Rifle Sling
Anyone who considers themselves to be a true survivalist or enjoys tactical shooting will want to check this package out. You'll not only get one fantastic sling, you also get a survival bracelet to go with it.
Both the sling and the bracelet are made from a top of the line paracord material and weatherized for superior durability. When used together, they work well for getting out of emergency situations.
You'll also enjoy increased mobility when you use this tactical sling. Whether you're laying down, leaning up against a tree, crouching down, or climbing a steep hill, you'll always be able to properly line up your shots and shoot with accuracy. It really is that amazing.
If you find yourself in a position in which you need to detach your weapon quickly, the quick release clip will definitely come in handy.
Every purchase is 100% risk free and comes with a 1-year warranty. If you are unhappy for any reason, you'll get a full refund. However, once you use it, I don't think you'll every want to send it back.
This is one impressive product that really is built with the picky outdoor shooter in mind.

A Few Final Thoughts
Getting the right strap or sling for your particular long barrel weapons and your particular needs is important, and can be an absolute life saver in the right situations. If you need to hike miles through tough country while hunting or take a good long walk to a quiet isolated part of the country property for target shooting, being able to use a good rifle sling will help ease the arm muscles and make it much easier to move around and keep fresh.
There are plenty of great options out there when it comes to finding the right sling for your needs, so take a look at the best rated out there and find one that is going to make all of your recreational shooting-related activities better!
Other resources of interest:
Great Video Review on 4 AR-15 Rifle Straps/Slings