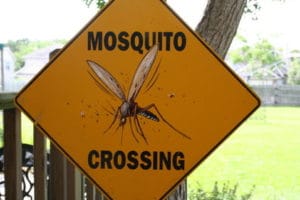 While we absolutely love summer, there's no denying that mosquitoes can ruin even the finest of views or the most enjoyable of days. There are many different strategies to help keep this little winged bloodsuckers at bay, and while bug spray with Deet is hard to beat, many people don't like the idea of being overexposed to these chemicals.
And then there are some of us who have no issue with that, but have skin that gets irritated easily.
Jon doesn't mind this but it's an issue for when we camp together because he has on the Deet and I have salty sweat that mosquitoes love.
Add in living four years in Alaska and yeah – you bet I had to learn really quickly what my options were when it came to keeping those little bloodsuckers at bay or at least reducing a ravenous flood to a hungry trickle. While getting 100% protection from mosquitoes outdoors is just something that isn't practical, there are many practices that can help reduce the irritation.
While I've had a particularly difficult time with finding a consistently good non-bug spray solution (or a mosquito repellent that works without irritating my skin – it's not sensitive shut up), a combination of things has often worked well and that even includes the occasional mosquito patch if someone I trust is willing to recommend one.
While I'm naturally more than a bit skeptical of many of these, they are worth a shot as opposed to simply getting eaten alive, and plenty have found them to work – particularly the top choices on this list.
Best Mosquito Patches Chart
We did the research to put together a best of based on personal experience, talking to some local outdoor outfitters, and relying on the experience and reviews of others (like this exceptional mosquito patch review)who have tried other brands and compared them first hand. While there are many options out there, here's our short list of the best mosquito patches worth trying.
SunSmiler Mosquito Repellent Patch
These mosquito repellent patches are among the highest rated. These aren't just from laboratory studies but when it comes to reviews on many different sites online that come directly from campers, hikers, and other outdoor enthusiasts. In fact, the reviews are unusually high both in rating and in the consistent number of ratings that are extremely high. This isn't a score that comes from a wide spread with a burst of 5* ratings – it actually consistently gets rated with a top score by users.
This daily bug protection patch from Sunsmiler promises 12 solid hours of protection from mosquitoes and many other similar related summer pests. These patches also get high marks for meeting the needs of the non-chemical crowd by using non-toxic natural ingredients to create that high level of protection.
Coming in counts of 60 and 90, and with some people claiming an effectiveness of closer to 24 hours as opposed to 12, there's a lot to like about these as an option. While not everyone will want to rely on a patch alone, having one as part of your overall mosquito repellent defense is never a bad idea and this is the one that consistently gets the highest marks, and is also considered the best essential oil anti-mosquito patches.
One comment that does come up is that this works best when using at least two patches, either one on each arm or one arm and one back, just some type of setup that gives you more coverage.

Hip2Cart Deet-Free Insect Repellent Patches
These are another example of high quality Deet free anti-mosquito patches that tend to get consistently high marks from users who have bought them and then used them first hand. Made from natural ingredients and Deet-free, these patches are designed to offer the best in natural protection over a long period of time.
While they are labeled as being good for 24 hours many people have claimed that the strongest noticeable effects tend to be limited to the first 12-16 hour in most cases. Designed specifically by Hip2cart these are designed to look fun for children while helping to keep those insects away while playing in the great outdoors.
These can be applied directly to the skin but for those with really sensitive skin, applying the sticker to clothing might be a better call (this is something that sadly, I can relate to).
These patches have a one year warranty from the manufacturer and come in packs of 60. This means that each purchase offers plenty of  of these small but effective patches so you can spend most of the summers outdoors without having to worry about mosquitoes. The patch colors and random, and for storage purposes these are best not heated in an ultra hot environment as there are oils used to keep mosquitoes away that can react to extreme heat exposure over time.
This isn't a problem outside in summer – but in a car that gets up to 140 or 150 degrees for long periods of time, it could be. An excellent choice when it comes to picking a mosquito patch to help with your outdoor protection.

Belursus Mosquito Repellent Patch
Belursus has come out with their own quality mosquito patch. Made in Japan, and following the recent tradition of using a well recognized combination of all-natural essential oils for a non-spray and non-Deet solution to getting outdoor mosquito protection, these patches are non-toxic, a mere 3 cm in diameter, and yet offer 12-24 hours of protection.
Combing oils from citronella, lavender, peppermint, and eucalyptus, these ingredients are mixed in a way that give the maximum protection while keeping them from irritating most people's skin (for people with extra sensitive skin try using these on clothing instead of attaching them directly).
Every bag contains 10 sheets of 6 patches each, meaning each bag provides an excellent value with 60 all natural anti-mosquito patches that will hold up whether hiking, biking, hitting the parks, or even competing in various outdoor sports.
These are safe for children and are Deet-free for people who are looking for the most organic or natural solution possible.

AEDES Mosquito Repellent Patches
AEDES is another company offering a natural Deet-free patch made from an array of popular natural oils that have a reputation as being a combination that can help keep all but the most aggressive of skeeters at bay. These patches are designed to stick easily to t-shirts, shorts, clothing, hats, or even backpacks and in theory create a strong radius effect that will help reduce the irritation and annoyance that comes form mosquito infestations.
Every package of these patches from AEDES contains 60 individual patches for outdoor use and are advertised as safe for use by young children and infants. The manufacturer offers a full 100% money back guarantee if you aren't happy with them or decide to go back to another brand.
Like most organic or "all-natural" mosquito patches, these use a combination of potent essential oils that include:
Citronella
Eucalyptus
Lavender
Peppermint
Another solid option for that extra little bit of protection from the little blood suckers of summer. In fact, they are consistently one of the highest rated options out there.

Comfort Road Mosquito Repellent Patch
Value shoppers will notice right off the bat that the mosquito patches from Comfort Road offer. These are set with designs meant to be fun for kids while being manufactured with the correct oils and ingredients that are Deet-free while providing excellent protection.
These are useful for things like fishing trips, camping, and hiking while they can also be good for doing lawn work or gardening – stuff that is outdoors but closer to home, yet still puts you at issue with the local skeeter population.
If you don't want to be a buffet for these winged blood suckers, this is a good option to help keep you free from chemical heavy sprays or unpleasant smelling lotions. They are an option many people like, though this particular brand does have some mixed reviews. Some people think very highly of these anti-mosquito stickers while some others say they don't compete with the best options on this list.
These are made with a special adhesive that means they not only work on skin but are designed to be attached to clothing and create a little mosquito free zone that you can enjoy while you are out and about.

AgraCo Mosquito Patch 2-count (pack of 10)
These were some of the first mosquito patches on the scene, and among all the various options out there often rate as one of the most reviewed mosquito patches that are currently out there in the market. The anti-mosquito bite patches by AgraCo come in a very distinctive yellow wrapper.
There are a mix of reviews on this particular patch with some praising its effectiveness, others saying straight out these don't come close to competing with Deet, and others saying they work good, but not great. While reading through dozens upon dozens of reviews one common theme that seems to come up is that these work great for general outdoor activities like grilling in the backyard, gardening, or going to the park while more heavy duty activities like hunting or hiking through the woods put up too much of a challenge for this patch alone.
This is one of the original mosquito patches that were put on the market, and they do advertise a new and improved formula to make them stronger while keeping them non-toxic and providing an impressive 36 hour time frame of protection.
These patches are designed not only to repel annoying mosquitoes but gnats and biting flies, as well.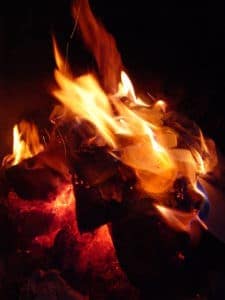 How Else Can You Keep Mosquitoes Out of Camp?
There are so many ways to help keep mosquitoes out of your campsite, although the most common techniques that are available can vary immensely based on the area you are camping in. The video at the end of this article, for example, works plenty good in the outbacks of cattle country.
On the other hand woods that have an overabundance of cedar trees are going to be able to offer you plenty of options in the form of this outstanding firewood, which not only smells great but has long been seen empirically as a great mosquito repellent. By far and away one of my favorite memories of working in the family sawmill was freshly cut cedar – just magnificent.
Add some cedar firewood to the fire and not only does it smell great and add some interesting flavor to the barbecue, but the old wives' tale says it helps keep the mosquitoes away and in my personal experience camping that definitely seems to be the case.
There are all kinds of products out there for securing a campsite. Mosquito candles, various sprays or lotions if you don't mind using those (Skin so Soft by Avon was a big one for us) are all options, and if you have 2-3 things going at the campsite to keep the skeeters at bay and 1-2 things going on you to keep them away then chances are you're going to be much happier overall with your outdoor experience.
Try a little bit of everything. While some people want to know precisely how well something works, I just don't want my apparently sweet and savory high class blood to attract every blood sucking mosquito within ten miles. Try these out, see what works and what doesn't, figure it out for yourself, and go from there until even better solutions are developed in the future!
As testing for more and more advanced and effective anti-mosquito patches continues, the interest will stay strong. This Wired Article is one example of how development on an even more effective cheap and natural treatment continues with hopes of not only using them just for convenience but also for helping areas of the world afflicted by disease carrying mosquitoes to have treatment and prevention options currently out of reach.
In Conclusion
There's no reason that the height of mosquito season should keep you from enjoying your favorite parts of the great outdoors. Keep some mosquito candles at the camp, cedar wood for the campfire, and a great mosquito patch to help keep you as free of these very annoying, and sometimes even dangerous, unpopular insects.
Everything we've seen seems to indicate that these mosquito repellent patches actually do work and make a noticeable difference when it comes to reducing the number of bites. For long-suffering outdoor enthusiasts like me that is a breath of fresh air and some truly good news. We are always happy to introduce one more way to keep the mosquitoes away!
Keep Mosquitoes Out of Camp Video