Introduction to Mares Spearguns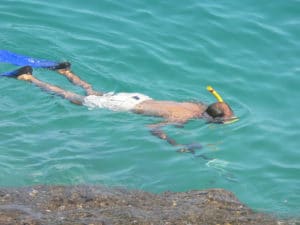 In addition to top of the line scuba diving gear, Mares spear guns provide an excellent source of adventure for experiencing the thrill of an underwater hunt. Employing spear guns to secure an underwater catch is not easy, whether you're going fully bulked up in diving gear or a snorkel and flippers near the surface.
Learning to move underwater is the first challenge, as any scuba diver can attest to. A wetsuit or dry suit, a buoyancy compensator, air tank and diving belt adds some bulk. Even a stripped down version with snorkel and flippers still requires you
Additionally, looking through the lenses of a diving mask at a fish even ten or twenty feet away is going to be distorted. Like any other hunt, (and this type of fishing is very much like a hunt) you also have to learn about your quarry. Sound, vibrations, and scents can all travel through water and alert your specific prey.
Don't think you will pick this up overnight. You will need time to learn the equipment, get comfortable swimming underwater, and learning how to put that together to fish effectively with your choice of a Mares spear gun.
Top Rated Mares Spearguns
There are many decent spearguns out there, and the Mares brand of spearguns holds itself to a high standard that is fairly widely recognized among outdoor adventurers in this niche. Even so, it's true that not every one of these fishing tools is going to be the same standard of quality or same level as another. We've done our best to really dig in and find out which specific models rise head and shoulders above the others, and hope this fishing speargun buying guide helps if you are looking to go out and make a purchase.
Mares Sten Mini Mini Speargun for Scuba Diving & Spearfishing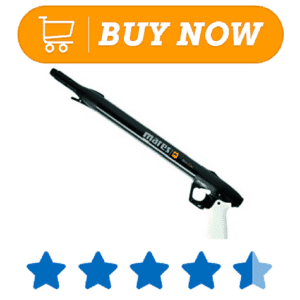 While the Cyrano and Sten models might get the most attention, there's little question that the Mares bandit sling band speargun is right behind those main two.
There are a variety of patented design choices on this model that makes it a favorite with many speargun fishing enthusiasts, and these are major selling points for this model.
Some of the most well known include:
A rigid yet ergonomic handle
Patented unique side line release
Harmonic steel shafts
Special side line released (also patented)
Special safety catch and more!
This particular speargun has some shock absorbing components that combine with a high capacity air tank, leg holster, and all the necessary accessories to get started out in the water and not spend too much time searching for additional accessories and add-ons that should come with the original model.
This is a quality option and has earned it's well deserved place on this list.


Mares Bandit Sling Band Speargun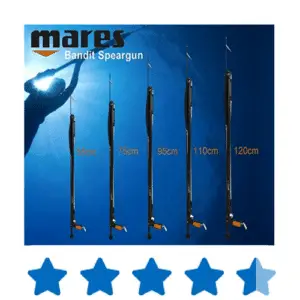 The Bandit Sling Band model of speargun has a very different look and feel than many of the other popular models offered under the Mares brand name. Long, slender, and boasting a simple yet elegant design, these spearguns come in five different sizes ranging from the smallest at 55 cm all the way up to the long 120 cm model to give you every bit of power and distance needed for longer underwater shots.
This simple and sturdy design not only makes the model reliable, but in the eyes of many professionals it also make these models ideal as an excellent starting design for true beginners.
There is a clip design on this speargun that allows for easy attachment, and there is a big and obvious safety catch that keeps safety as one of the most important parts of enjoying the benefits that spearfishing offer.
Great starter gun, some questions about long term durability especially with frequent uses. While they aren't the highest end, they are very solid for beginners.


Mares Sten Speargun Reviewed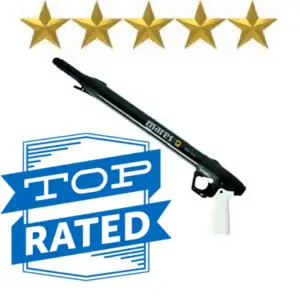 Available in seven different sizes based on your specific spear fishing needs, the Sten version of the Mares brand holds up to extreme use and has gained a solid following as a result. At 4.3 lbs, this spear fishing gun is lightweight, but made solidly enough to be durable even with long term use.
The Sten is considered by many Mares fans to be the best style/type of speargun they produce ever since they first came out all the way back in 1967.
This model is based off the classic Sten 11, and contains many different characteristics that have long been seen as some of the best possible. The two-piece head, connecting piston, cog-trigger connection, and high quality arrows ("spears") guarantee that this particular style of a speargun will function at a high level over a long period of time. This style comes in multiple sizes like 100 cm, 84 cm, 70 cm, and 58 cm.
This creates a degree of flexibility that makes the sten spearguns a favorite among underwater fishermen who like to change things up once in a while and not always go after the same exact fish in the same spot every single time.


Mares Viper Pro Spearguns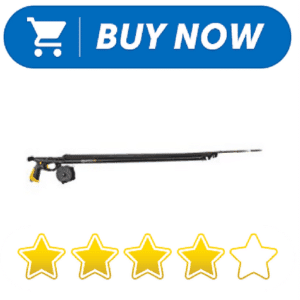 While it doesn't get quite as much attention as some of the other more popular models of spearguns produced by Mares, Viper models do offer plenty of options and a solid functionality that has won plenty of fans.
Mares spearguns focus on quality, and the Viper series offers a trigger with adjustable sensitivity to make it more or less sensitive based on what your specific needs are. Available in five different lengths ranging from 75 cm to 120 cm.
To a degree, this style of speargun can be customized in such a way as to even alter the distance between the trigger and the handle. This allows the proper adjustment based on what your actual hand size is. Small hands, normal sized hands, large hands, it doesn't matter.
There is an option for everyone.


Former #1: Mares Cyrano 700 28″ Speargun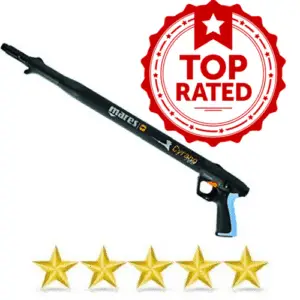 2018 Update: While this was definitely my favorite pick when it came to Mares spear fishing guns, as of early 2018 this particular model is no longer available, but it you will want to keep an eye on if this model is re-introduced as it was a top notch design.
This is the most popular of the current options available. Weighing a mere 4.4 lbs, this easy to carry 28 inch pneumatic Mares speargun is known for propelling the spear at top notch speeds that also include high power.
The Cyrano specifically has a reputation for being very manageable, fast, and an outstanding choice for hole fishing. The Cyrano also comes in a 970 and 1100 model that are both well received but not to the same extent as the original 700.
When it comes to stalking game fish, it takes a fast and powerful speargun to make sure you can actually catch your preferred underwater ocean sports fish. In this form of fishing, which is a lot like underwater hunting, you want to make sure that you have the right equipment to make your underwater fishing session a great one.
These come with the 70mm Tahitian shaft which are pretty much considered standard among your average spear fishing guns regardless of what companies they come from. Consistency is important, and knowing you are working with standard measurements and equipment is definitely reassuring.
These is pretty appropriate seeing as how the Mares Cyrano 700 speargun for fishing sets the absolute standard for Mares models.
More Information on Mares Spear Guns
Mares spearguns offer a wide variety of both pneumatic (air-powered) and band-powered spear guns. The larger band powered spear guns can accommodate one to three bands and are typically sold with the 16mm or 19mm bands. Varying the number of bands used generates a variance in power and range making these Mares spear guns more versatile, but due to their length they are still best used in open water.
The pneumatic spear guns vary greatly in length. The Mares Sten Mini Speargun boasts a total length of 16.5 inches while the Mares Cyrano 970 Speargun boasts a total length of 39 inches. As you can see, that's a pretty massive difference between the two but that also means a wide range of options based on height, experience, and the type of spear fishing that is actually being done.
Variety for its own sake doesn't mean much, but when it's offered by a renowned brand like Mares then there's a lot to like about the offerings.
Speargun Fishermen Respect the Water
As a word to underwater spear hunters it should be understood to respect the fish and the underwater ecosystem. For this, learn to use the spear gun correctly and how to configure it to match the conditions you are hunting in. If the spear head falls out of the fish, you then leave a mutilated fish to dart off in even greater danger of falling victim to other underwater predators later anyway. The object it to kill as few fish as possible with human error.
Knowing that there are a variety of unique conditions that arise in underwater hunting, Mares spear guns develop their spear guns and spear gun accessories interchangeably to closely match your hunting ground. For open water and long range spear fishing, choose a longer length. For hunting in confined spaces or in kelp beds where range will be shorter, choose a shorter length. As a general rule, the longer the length, the greater the range.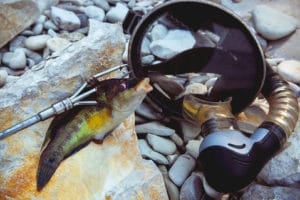 Note on Speargun Rules & Regulations
Remember to check with any local regulations before you get your gear underwater. Certain locales place bans on a variety of spear gun accessories, will place restrictions on which waters are open to underwater spear fishing, or will limit the number of licenses granted for underwater spear fishing.
With due respect for gaming laws and the underwater habitat, Mares spear guns can open up a whole new world of underwater adventure for divers. If you are very concerned about the local regulations for speargun fishing, check the link further down the page for more info on speargun fishing regulations and where to find more information on this topic.
If in doubt, always look at contacting the local DNR or wildlife management services as they will be able to give you the most location specific information that is important for your particular area and/or situation.
Spear Fishing FAQ
Q: How do you go speargun fishing?
A: As long as it is legal in the area you can get the right equipment and go, but we strongly recommend if you're a true beginner finding others in the area who are more experienced and going along with them to help show you the ropes, get great advice on accessories you'll want, and be there to make sure you get used to fishing safely.
Q: Is fishing with a speargun legal?
A: In most places, yes, though the rules, regulations, and seasons are going to vary immensely from one location to another. There's way too much information on those sorts of things to cover it all here, but check locally to make sure you're on the right side of the law before getting started.
Q: Why Mares versus a different brand?
A: I'm sure there are many great brands out there when it comes to making a top notch speargun for fishing, but Mares is the one that I'm personally familiar with so that's the long-time brand that I'm most comfortable recommending so that's what we're running with here. They're a respected company in the community, and that helps.
That doesn't mean there aren't other good ones but these are the particular models that I am most familiar with and most comfortable recommending.
Q: How do I get started with speargun fishing?
A: The best advice we can give is to start with speargun fishing basics. From watching videos early on to talking to locals who practice this style of fishing to practicing getting used to your gear in open water, make sure to spend enough time to have all the basics down before you really go out actively fishing.
There are a lot of little skills to learn and perfect, and the sooner you have all these little things done right, the sooner you'll have the skills and confidence to really get things done.
Q: Where can I find good speargun fishing videos?
A: It's hard to argue with YouTube, especially with the sheer amount of channels out there, but there are also plenty of fishing websites that have videos of these. A simple Google search will find more, although if you scroll down just a little bit more you'll find a video about how pneumatic fishing spearguns work that we think very highly of.
Tying It All Together
Each individual person is going to have their various needs and concerns when it comes to diving into speargun for the first time, and Mares is a very well known brand. These are great starter options that provide high quality gear, perform when put up to the test, and can help you go out with confidence knowing that these spearguns are going to hold up in the water as you are getting better at mastering everything else that comes with this awesome and very unique aquatic sport.
Other blog posts of ours you may find interesting: