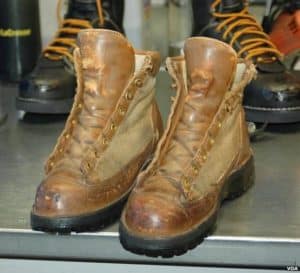 There are several options when it comes to picking out a solid wax that can be used for waterproofing your leather boots.
Whether you have an old reliable pair of hunting boots that has served you well but seems to be sprouting a leak, a reliable pair of snake proof boots that have kept you safe in snake country but whose waterproofing has become suspect over the years, or a pair of hiking boots you just want to give a solid once over, there are many reasons to look to waterproofing wax and what it can do for you.
No one wants a pair of boots that leaks when the water becomes an issue, and this is where having the right type of waterproofing wax can do wonders for the right type of footwear. Its not going to help leaky rubber boots but if you have a good reliable pair of leather boots, then this might be the ticket to getting them back up to snuff for everyday outdoor use once again!
The good news is that it is relatively easy to learn how to properly waterproof your old leather boots (or new leather boots) using wax to make sure those seals hold up tight. Read on for our picks for the best waterproof leather wax options on the market, how to learn how to apply it properly, and get you all the information you need to get back out and in the wild with warm and dry feet once again!
Top Rated: Obenauf's LP Boot Preservative
One of the top leather waxes out there, Obenauf markets itself has a heavy duty leather preservative, and they back it up. Available both in 4 oz and 8 oz containers, this wax is made in the United States, good for leather and synthetic materials, and gets incredibly high marks for not only making your boots look great but this wax is renowned for repelling water and airborne particles like dust.
In addition to this, Obenauf receives high marks because it helps the leather resist scuffing, cracking, or dry rot. Add in the extra resistance to mold, mildew, and the building up of potentially harmful bacteria, and it becomes easy to see why so many outdoorsmen love what the heavy duty wax and preservative from Obenauf has to offer.
This high quality leather treatment has earned its incredible reputation as the best of the best when it comes to active leather treatment. The wax combination that is used for this product was the original idea of a wildland fire fighter from the state of Idaho, and plenty of experimentation created a protective leather treatment that did the job against anything and everything that came its way.
One application is often enough for most needs while two applications will create a stunningly good barrier against even the most severe of wet conditions. The overwhelming number of perfect or near perfect ratings shows just how remarkable this treatment is and why it is the top rated leather wax boot treatment here.

Atsko Sno-Seal Original Beeswax Waterproofing
Offered in 8 oz tins, the Atsko beeswax enjoys a very strong reputation among hunters, hikers, and other outdoor enthusiasts who have an old reliable pair of leather boots they can't enjoy their own great outdoor adventures without. Clearly one of the top rated leather seals and waxes out there, Atko Sno-seal is made from traditional bee's wax that gets the job done to keep your leather strong and waterproof.
There isn't anything fancy or new about this mix: it goes with the traditional use and ingredients, as well as the traditional application that creates a thin surface layer to last longer. This is how it conditions and lubricates the leather for longer times, and many cold weather outdoor enthusiasts have raved about its ability to maintain quality flexibility and waterproofing even in freezing temperatures.
You feet are dry, they are comfy, and the leather remains breathable after treatment. That's a lot of benefits for Sno-Seal, and the fact there is a thin solid layer can be a very good thing – it prevents the leather from getting clogged, which can happen with certain leather oils.
While also a top notch treatment for leather boots, Sno-Seal also has a reputation for being an outstanding option for waxed cotton or tent seams: making it a versatile treatment option for the right outdoor situations.

Kenetrek Waterproofing Boot Wax
Kenetrek's boot wax for waterproofing & leather treatment. Made in the United States of America, this product is renowned for providing serious waterproof protection on a superior level – making them frequently one of the most popular options when it comes to waterproofing a good pair of leather boots.
The wax is water resistant, keeping rain, standing water from major mud puddles, and water from marshlands out of your boots and off of your dry socks and feet. Acting as both water resistant and water repellent, there's a reason the Kenetrek name has had a solid place with hikers, hunters, and outdoor enthusiasts of all types for many decades.
The wax formula is both odorless as well as non-toxic, and the known ingredient list includes beeswax, vegetable oils, and natural ingredients that are safe and don't give off dangerous fumes. In fact, the wax is made with hunters in mind, making sure the treatment does not give off any smell that could scare away big game during hunting season.
Coming in tins of 8 ounces, this leather waterproofing wax is safe to use and can even be applied from an enclosed space. It is very easy to apply no matter where you are at, and that long lasting waterproof barrier is easy to apply and stays on the boots longer than most treatments.
One important note: While safe for use on all types of boots and footwear, the leather will darken in color after application.

Nikwax Waterproofing Wax for Leather
Sold in 100 ml bottles (which comes out to approximately 3.4 ounces) the waterproofing wax developed for leather by Nikwax makes out top list because they create an outstanding repellent that drastically reduces the amount of water that leather absorbs, often making them effectively waterproof for most given situations.
If you want dry feet and you want to really enjoy your outdoor experiences then this is a great option. Able to be applied to leather that is wet or dry it will create that seal after proper application via sponge or manual application, but it won't dry out leather that is already wet.
The formula is made from water-based and biodegradable ingredients, and this leather treatment has none of the negative ingredients some of the more mainstream off the shelf treatments have.
This is used for all types of leather and that includes footwear, though it is definitely important to mention that this treatment does darken the leather quite a bit. For some people this might be an issue, for others this is actually a boon that they believe makes the footwear often look even better than it did before.

Otter Wax Boot Wax Reviewed
One of the things that really jumps out at me when looking over good old fashioned boot wax is when you spot one that is still in the tin, the way they used to be. It's a classic look, and while admittedly it should make no difference as long as the leather waterproofing wax works, you have to admit there's just something about that classic tin.
Otter wax is an all-natural leather treatment that comes in a five ounce tin (5 oz) and is made right here in the United States. This is a heavy duty protective beeswax that is all natural, made from safe ingredients, and gets the job done.
They use old school materials for true old school results. Aside from beeswax lanolin is another major ingredient and this combination means the treatment is excellent at sealing leather footwear, and Otter Wax in particular has a reputation for being really good for sealing seams on hunting boots or hiking boots. This is a versatile treatment that can also be great for boots, shoes, hats, bags, and more.
Repelling water and stains, this is an outstanding option and deserves its place on our list of the best leather waterproofing wax options for outdoor leather boots.

JobSite Snow Shield Waterproof Beeswax Paste
Rounding out our list of the 6 top rated beeswax treatments for leather boots is the popular choice from JobSite Snow Shield. Aimed at offering full protection from leaky boots while walking or hiking through the snow, this leather protection treatment comes in a 6 oz container and not only makes your old boots look good again after treatment but keeps your feet nice and dry, rain, snow, or shine!
In addition to the normal protections that help keep your feet dry and prevent water from making its way in, the formula used in snow shield is also designed to help prevent dulling from the sun as well as damage from salt – a big deal for those of us who live in winter climates when the trucks are out salting and sanding the roads.
This mix penetrates deep into the leather, which lubricates, seals, and protects the leather (and also generally darkens it) while protecting all your leather goods no matter what form they are in. Although obviously as active outdoor adventurers we are big fans of using this on the boots.
This also comes with a 100% money back guarantee from the manufacturer, which adds a solid bit of comfort and confidence to your purchase.

Leather Waterproofing FAQ
Q: What is the best wax for waterproofing your hiking boots or hunting boots?
A: This is going to depend on a variety of factors, and obviously there isn't complete agreement on this but the choices in this article are the names and products that consistently pop up as some of the absolute best currently on the market.
Q: Will waterproofing wax work for any type of boots?
A: No. These products are specifically designed to work with leather. Leather hiking boots or leather hunting boots can receive a serious boost from this wax. Other types of boots: not so much.
Q: I'm a novice – how do I waterproof my leather boots correctly?
A: There are a few good ways to go about this. All leather waterproofing wax products will come with directions you should follow closely, and YouTube is a great tool that allows you to visually see how it is done.
In fact, we have a video at the end of this article that does a good job of showing how it is done.
Q: Is waterproofing really all that important?
A: Yes, yes, and yes. There are times to be wet (water sports, summer beach trips, water park in the summer) and the rest of the time is not so much. Aside from keeping your feet warm and healthy, according to Sno-Seal a leather boot can absorb up to one pound of water, which means walking a single mile adds another 2,212 pounds your legs need to lift.
You'll not only be much more comfortable with waterproof boots but you'll be able to stay out longer and be happier before, during, and after with properly sealed leather boots!
Q: How do I prep my boots before applying the wax?
A: You should clean your boots prior to applying the waterproofing wax. Thoroughly clean them with a brush, get any loose dust and debris off, and follow any additional instructions before applying the actual wax to waterproof your outdoor boots.
In Conclusion
Just because your favorite pair of boots show some signs of leaking doesn't mean that it is all over. This waterproofing wax can do wonders to help return your favorite old pair of leather hunting boots back to normal, or to shore up that new pair that didn't hold up to the hype. A good leather boot sealant will have your feet warm, dry, and allow you to be a whole lot happier when you're out hunting, camping, fishing, or exploring your local batch of wetlands.
Good video on waterproofing your leather boots with wax