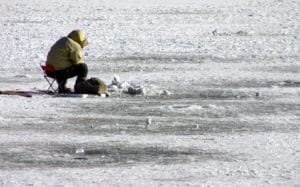 Just because the lake is iced over doesn't mean that the fishing is done. While this might not be anything a Southern or even certain Midwestern anglers will ever experience if you head far enough north, you'll eventually hit the realm of the ice fisherman. Just because it's 20 below zero doesn't mean you can't hit the water for some quality fishing! At least not if you're of a certain mindset.
Ice fishing is a great hobby to take up, and one that really gets you out and trying something new in those months where all too many people hole up inside and waste so much precious time. Why not grab some ice fishing gear, get the perfect set of winter gloves to keep warm, and get going!
Whether outdoors or in temporary ice fishing shelters (or more "permanent" seasonal shacks), winter can be a great time to get out and fish.
But you better have some dang good ice fishing gloves!
Quick List Top Rated Ice Fishing Glove Options
Water Proof Vs. Water Resistant
We'll jump right into reviewing our top ice fishing glove picks in a moment, but there's one really important point that we need to make right off the bat and that deals with the difference between water proof and water resistant. When you're looking at operating in cold weather and winter activities like ice fishing – that's a really important distinction.
Water proof is just that: 100% water proof so water and moisture from the outside are repelled and never soak through to hit the skin. Water resistant works to bead water to the outside, but it isn't going to be perfect. The first type of material is usually made from neoprene and look (or are) like diving gloves.
Many of the best options use a combination of water proof and water resistant materials to create a great pair of winter fishing gloves that give the best combination of warmth, flexibility, and usefulness when it comes to meeting the particular challenges that ice fishing provide.
It's never a bad idea to have two pairs, just in case, but if you're going to be fully outdoors without a shelter or without any way of warming yourself, then you definitely want to have fully waterproof gloves at hand. If you have some shelter then in many cases water resistant will likely be good enough.
Neoprene vs. Non-Neoprene Glove Options
The far majority of ice fishing gloves are going to fall in one of two camps nowadays: neoprene gloves or non-neoprene gloves. Neoprene is the material used to make wet suits for scuba diving. The material is designed to be completely waterproof and while not designed like a traditional winter glove, it does a great job keeping the moisture out and natural body head in.
On the other hand water resistant gloves will usually be made from a combination of materials that will also include some materials designed to keep out more cold and keep in warmth – adding some traditional winter function on top of being resistant to water.
Neoprene gloves are great for keeping the ice water off, but they tend to be a bit stiffer, aren't designed for outdoor use in the cold, and can be more prone to tears or punctures. The combination fishing gloves usually allow better finger movement, and personally I prefer these however I can also tolerate a lot of cold (and dampness) for a very long time.
Understanding these materials and how they work will help you determine what types of gloves are a good fit for you, and which ones you need to pass on.
Best Overall Pick: Glacier Glove Pro Angler Ice fishing Gloves
Choosing a top rated pair of ice fishing gloves was no easy task, and honestly Glacier Bay makes two different pairs of ice fishing gloves that we pretty much have as 1-A and 1-B and even then, they're pretty interchangeable. In other words, both are outstanding. It all comes to taste between Glacier Glove Pro and Glacier Glove Ice Bay beyond that.
We're running with the Pro fist, and there's a lot to really love about the design of these gloves. Available from size small to the XXL that larger anglers like me need, plenty of anglers will find the perfect fit.
These are gloves that are designed to fit tightly, includes some padding underneath the waterproof neoprene for better warmth, as well as superior comfort. They are waterproof, and well designed as the thumb and forefinger can be pulled back to give you a better and more precise grip before going back into the warm waterproof padding.
Coming in sizes from small to XXL, even big guys like me can find a pair of these that fit and get the job done. There's a reason these are among the most popular options. The outside is neoprene, interior lining is fleece, and the freedom of movement really makes these a winner as our top rated ice fishing glove.
Pros:
Slit finger and thumb
Fleece-lined neoprene for optimal warmth & water proofing
The wrist straps are great
Very good grip allows dexterous use
Cons:
Finger slits may let in some cold & snow
Would be nice to have more grippy palm
No reinforcement in high use areas


Best Overall Pick #2: Glacier Bay Ice Bay Glove
Let's face it: Glacier Bay knows how to make a truly amazing ice fishing glove. Part of this is simply from the fact that they understand the importance of developing gloves for those specific uses. While the right thick winter mittens are the best when it is 40 below zero (speaking from experience in Alaska here), they don't leave room for doing much of anything else.
If you want hands that are warm, dry, and fully functional while ice fishing in or out of a shelter then you need a pair like the Glacier Bay Ice Bay Gloves.
These gloves clearly are designed with the serious ice angler in mind, and there's a lot to love about what they bring to the table. The serious ice angler understands how with all the cold, all the ice, all the water and changing of lines and (hopefully) netting of fish, ice fishing can be a serious test of endurance. That means you want specialized gear if you're going to get the most out of your time out on the ice. The Ice Bay gloves are built with this in mind.
They are fleece lined for warmth and layered with a thin 2mm of neoprene for waterproofing. The obvious grip friendly design means you don't have to worry about dropping the slick fish right back into the hole in the ice. These are easy to put on, easy to take off, and fit well.
In other words, they bring a lot to the table. Your hands stay dry. They stay warm. And your fingers are fully functional.
Pros:
Cozy and comfortable
Very warm and dry – waterproof and fleece-lined
Great grip from textured design
Easy to put on/take off
Cons:
Can be some gap issues for people with smaller wrists
No notable reinforced areas means some wear can take place over time


Best Big Brand Glove: Rapala Marine Fisherman Glove
Some people love searching out for the best brand that is focused mostly within one outdoor niche, but in other cases there are plenty of anglers who just want a big brand name they recognize. Because of this we like having a "best big brand."
This doesn't speak down to the entries before this. We very much have those as our #1 and #2 choices. However, there are many good options out there. If you really insist on the big brands then you'll want to check out Rapala fishing gloves.
Rapala's fishing gloves for winter weather give great finger flexibility, a great grip, though it goes with a latex coating for water proofing and protection versus neoprene. These gloves definitely emphasize grip and control versus keeping your hands warm and dry.
Some would argue these make better fishing gloves than ice fishing gloves. Actually I'm inclined to agree. While these are better as general fishing gloves, if you're looking for a big brand name for ice fishing, Rapala is still the best option that's going to be here.
These are great as fishing gloves, very good as ice fishing gloves, and as a side note: we have it under good authority that they're excellent for collecting crawfish.
The one big downside to these Rapala fishing gloves? They do have a bit of the reputation for being smaller than the printed size. Not a big deal for anglers with small hands, but definitely a problem for larger guys and gals.


Most Versatile Option: POSA Palmyth 2 Cut Fingers Fishing Gloves
POSA Palmyth fishing gloves are our pick for the most versatile. This is due in part to the fact that they were designed as versatile fishing gloves first. So it should come as no surprise that they hit this spot.
The first thing that will jump out at you about the POSA Palmyth gloves is the unique design. These blue and black colored gloves allow you to take the cover off the thumb and forefinger for better flexibility when you need it most.
This is great for when you need to deal with your hooks, set up some bait, or even pause to answer an emergency phone call.
Once done with whatever task needed the extra finger dexterity, you can pull the cover back on for padded warmth from the cold as well as water resistant. The blue back is made from neoprene, and these are gloves that are so versatile they are often used for summer water sports, as well.
The solid grip design on the front of the gloves helps to assure you won't have any fish slipping out of your hands. Your grip will be solid with these gloves, which also enjoy a reputation for being breathable, comfortable, and even scratch resistant. The bottom uses Velcro to adjust the fit to make sure they're firm without being too restrictive.


Best Low Budget Option: Memphis Ninja Ice Fishing Nylon Gloves
That old axiom "you get what you pay for" is generally true, and especially so when it comes to finding true quality outdoor gear. That being said, sometimes you need good gear and you just don't have any money to burn. We get that. The good news is, if you find yourself in that scenario with ice fishing there are some budget ice fishing gloves worth a look.
Our choice if you need to get good ice fishing gloves cheap is to go with the Memphis Ninja double layer fishing gloves. These are a flexible waterproof option that are available in sizes Medium through XXL on Amazon.com (apologies to the small handed anglers out there). They are very cheap, made with nylon and a polyvinyl chloride foam. This combination leads to a comfortable but flexible glove that is more than acceptable for short term ice fishing, or ice fishing within a warm shelter.
This is especially true for the price as these aren't just a buck or two cheaper than the high end ones on the top of the list, but generally speaking they are about half the price. That's a lot of savings for the especially budget conscious.
While not completely waterproof they are very heavily water resistant and are designed to be functional in extreme cold temperatures, making them ideal for a wide variety of winter activities. Very solid choice. Might not be the fanciest or top of the line, but one of teh best values for the money paid, especially since you can often get two pairs for roughly the same price as one pair of premium ice fishing gloves.
One thing to note is that you will need to break in these gloves. They are likely to feel tight at first so give them some time. They do get more flexible over time. If your hands tend to be on the larger side, it's not a bad idea to size them up one size higher than you're used to. Chances are you'll get a better fit that way.
Finally, watch out for tears between the thumb and the forefinger. This is the area where the gloves tend to get damaged and wear out the quickest.


Honorable Mention: WindRider Rugged Waterproof Winter Gloves
These are going to look a lot different than your regular ice fishing gloves, and for good reason. These are general winter gloves that focus on a wide array of winter activities like sledding, skiing, working, and more. That being said, if you're using an ice fishing shelter so have a place where you can occasionally stop and warm the hands, these work well as premium winter gloves that also work to meet your ice fishing needs.
They are advertised as rugged and waterproof and while water resistant for sure, because of the material and build it's just not the same as having neoprene on you where the water just doesn't have a chance.
However there's a lot to like about these. They are ruggedly built and do feature good materials: a codura shell on the outside and thinsulate insulation on the inside. They come in sizes ranging from small to double XXL and the tips of the gloves are actually made to be fully compatible with a phone or smart pad's touchscreen interface.
These hold up surprisingly well and although they are one of the pricier options they work well for most fishing glove needs. In addition to this they actually work for things other than ice fishing. That makes them great versatile winter gloves for the active outdoorsman.
These are made in Minnesota and Michigan, meaning they know how to make winter gloves so there's no worry about how these will do in the cold. They might be one of the priciest options on this list. Let's face it: gloves like this just aren't going to be cheap. But they are quality winter gloves and will do in a snap when it's time to pull some walleye out of the ice!


Honorable Mention: Drasry 3-Cut Fingers Ice Fishing Gloves
This is another glove that stands out because of its unique design, solid materials, and smart use of neoprene with other materials to create a flexible yet waterproof glove that is ideal for common ice fishing conditions.
The Drasry glove allows the removal of the top of three fingers giving increased flexibility while also featuring a solid grip so any fish you catch aren't going to slip off your glove and back into the icy water below. These gloves do a good job keeping your hands warm and dry.
They're a rock solid choice. They are designed to give a little bit of flexibility when it comes to fit while providing everything you need in warmth and grip. The protection is great, the functionality gets the job done, and these should do the job.
They make for good ice fishing gloves. Might not be anything spectacular that shoots them above and beyond the competition, but there's plenty here to make them a solid choice. What's the downside? They're not great at extreme cold temperatures and they are very much water resistant – not water proof. If you sit outside in -20 weather without a shelter, these won't be good enough.
Better for moderate temps or sheltered fishing.


What to Look for in Ice Fishing Gloves
There can be major differences between various pairs of ice fishing gloves when it comes to material, design, and overall use/feel. While there are plenty of options out there, the best way to find gloves that work for you now and in the future is to look for certain traits or characteristics.
These are just a few of the considerations. Adapt as needed and find yourself the pair of ice fishing gloves that will work best for you and your specific needs!
Insulation
One of the major things you'll want to look for is the insulation. Any good winter glove should not only tell you what materials are used for insulation, but also what temperatures they are rated out to. You will find there can be really massive differences between different pairs of gloves and what they can protect you from.
There are some that are good at 0 degrees while others are only good right at the 30 degree/freezing mark. Then you have some crazy good winter gloves that are good for -40 below zero or more.
In other words, you really need to pay attention to the insulation of each pair to make sure you're getting something that works as opposed to an absolute dud. Take this from a guy who lived in Interior Alaska: you don't want 0 degree gloves when it's -44 out.
The amount of insulation you need depends on whether you are ice fishing with a shanty or without a shanty, but this is still a consideration that needs to be made. Warmth and insulation go hand in hand, and you want to make sure your hands are warm so you're not cutting your fishing time short.
Waterproofing
This is actually a pretty simple concept. When the temperatures are well below freezing and you're ice fishing, your hands must stay dry. Frostbite and hypothermia are nothing to sneeze at. You need to know that your ice fishing gloves will repel water, not soak it in.
Make sure when you're looking at gloves you go for "waterproof." Many gloves are labeled as "windproof" and these are separate entirely.
Finger Movement/Dexterity
This isn't just about keeping the hands warm and dry, but you also need to make sure that you have the ability to move your fingers to take care of the many things anglers need to take care of. Baiting hooks, tying hooks onto line, hopefully taking hooks out of the fish's mouth, and so much more.
While staying warm is crucial, you still need to be able to move your fingers as needed to tie knots and take care of all the little things that you do as an angler. Might not be a big deal during the summer, but in winter it does matter.
Look for gloves that give you some degree of finger movement.
Comfort
Hey, no matter what you're using them for it's important to make sure you get gloves that you find comfortable. After all, if they are tight, don't fit well, or even hurt from cutting off circulation then not only are they not doing their job, but you're not going to keep them on. Sort of makes them worse than useless.
There isn't necessarily going to be a best choice here. A lot of it is going to depend on each ice angler's specific preference. Some people don't mind the really tight gloves that are made of pure neoprene and clearly designed to be completely waterproof. On the other hand, some people absolutely hate that feel.
So it really does come down to preference and choosing one versus the other.
Durability
What good is a pair of fishing gloves if they can get tore up after just one outing? You want a pair of gloves that is going to be durable and last through many outings. Ideally they'll last year after year. These gloves need to be able to hold up to hooks, scales, fins, teeth, and the wear and tear that comes from a really successful day out on the ice.
In other words good materials, double stitching, and avoiding "Wal-Mart quality" like it's the freaking plague. Durable winter ice fishing gloves are the only way to go. That's why we only review quality options on this list – we want you to get something that will last.
Fit and Size
This is a simple enough process to figure out: get gloves that fit. That being said, many of us buy our ice fishing gloves online. If you've bought any type of clothing online enough times, it's only a matter of time before you get disappointed with the fit. Even from the same company it's not unusual to have two or three examples of something fitting and then you order something the exact same size and next time it's a little loose or a little tight.
There's only so much you can do about this, but having a measuring tape to measure the exact dimensions of your hand and knowing where your size usually sits are two good pieces of information to use. After that do a bit of research to see which brands tend to fit small or loose and make your buying decision from there.
A good fit helps you to get the most out of any pair of ice fishing gloves.
Price Range/Affordability
Let's face it: budget matters. While most of us would all like a home and garage full of the absolute top of the line outdoor gear, many of us don't have the budget to pull off such a thing. Whether you like it or not, price range matters a lot and you need to be able able to load up on gear you can afford.
That's why each of our articles tries to cover the best choices ranging from top of the line premium options to the budget friendly options that still hold up over time. While premium ice fishing gloves to tend to cost more, there are solid options at each price range.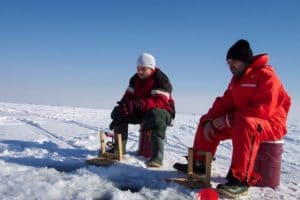 Types of Ice Fishing Gloves
While our top list doesn't have an example of all of these, you'll actually notice most of them up there. However we pride ourselves on giving full information is that helps you know what you're getting into whether you're shopping online, at a store, or somewhere else entirely.
Fingerless Gloves
During the summer these are clearly a favorite because they give a combination of warmth in the hand itself while keeping your fingers clear. In other words, you really get the best of both worlds. This is why several of our top picks for ice fishing gloves have one or two fingers where the tops can be removed to offer that little bit of extra finger room.
This gives the protection of warm waterproof gloves while also allowing you to tie knots, bait hooks, and take care of anything that requires finger movement. These can be called caps, removable fingers, or many other things.
If you don't have the most flexible fingers, you'll want a design with at least one or two removable finger caps. This is generally the best compromise in that situation for finding the ideal "fingerless" gloves that work in winter and not just summer.
Rubber or Rubber-like Gloves
I know there are chemists out there who will scoff at the "rubber-like" description. I get it: neoprene is not rubber. It isn't close. However, you get the sense of what I'm talking about here. This can be rubber, neoprene, or anything that is non-leather, non-fabric, and gives that tight fit and waterproof exterior to protect your hands during even the most intense of weather situations.
Many of the best options on here are either going to be made of a rubber-like material (especially neoprene) or be a combination that uses some form of it. These add grip. They help make parts of a glove waterproof. They are a popular choice for good reason.
Neoprene Gloves
Neoprene is everywhere. Originally used for wet suits for diving, it's found life in many other materials, as well. Neoprene is a popular choice for winter gloves for a reason. They are great at keeping your skin dry. They're also great at trapping heat inside the suit itself. When diving this helps keep the cold water on the outside from seeping out your body heat.
In ice fishing gloves it does the same while also giving more flexibility to your fingers. This is one of the most popular materials, and chances are just about every pair of top rated ice fishing gloves you find will have at least some neoprene in it.
Leather Ice Fishing Gloves
Leather gloves are great for many things, but ice fishing is honestly not one of them. While it is possible in a warmed shanty to use leather gloves that come on when needed, it's not the best option. While good leather gloves are durable and familiar, that's where the pro points end.
Leather is susceptible to taking on water. In addition to this, they aren't going to protect your hands from extreme winter cold. Look, I'm not bashing leather gloves. They're great. I have several pairs myself.
But they're not for ice fishing.
Your Ice Fishing Checklist
While the gloves are definitely an important piece of equipment, any good ice angler can tell you there's plenty of other gear to look at. We've gone over some of the big ones in other articles, but it's still worth taking a look down the checklist to make sure you're all loaded up to go next winter.
This is a brief overview of some of the more important pieces of gear you'll want before your next outing. There are even links to point to more detailed articles on each on.
Portable Ice Fishing Shelter
While it certainly is possible to go ice fishing on a decent enough day without a portable ice shelter, why would you want to? Not as good as your seasonal shanty, a temporary ice fishing shelter still provides cover from wind and snow. This also helps keep your body heat in a more contained area, which creates a small area warmer than the outside.
In addition to that, there's just something psychologically reassuring about having that bit of shelter. This gives you the ability to really set up the way you want, as well. Maybe even have a small lantern or something like a portable cooker to get some heat going without worry of flame.
In other words, it's how you ice fish in style when you don't have a seasonal shack planted on your favorite section of lake.
For more information on the best portable ice fishing shelters out there, click on that link to check out our review article and pick out the one that's right for you!
Telescopic Fishing Rod
Ice fishing is a different animal from your spring, summer, and fall fishing. You want the right type of fishing rod that will help you handle those challenges. The good news is there are plenty of telescopic fishing rods to choose from. More compact than your average spring or summer rod, they are easier to pack and carry.
Telescopic fishing rods are there to get the job done. If you want to fish during winter, this needs to be the tool of your choice.
Just click on this link for our in-depth review of the top rated telescopic fishing rods for ice fishing currently on the market!
Ice Skimmers
Also sometimes referred to as ice scoopers, these are simple but important pieces of equipment. Think about it: in the cold that water is going to want to slush up then ice up then freeze over. That's going to make it a bit hard to keep on fishing!
You certainly don't want to soak your gloves and freeze your fingers taking care of that. This is where a good ice skimmer or two comes in, letting you break up and clear up the ice as it forms. A clear hole means better fishing.
For more information on your best ice skimmer options, click on that link to learn more!
Ice Fishing FAQ
Q: Do I really need separate gloves for ice fishing?
A: Yes. Ice fishing isn't just challenging because of the cold (even in a good shelter) but because of water, of ice, of having the two combine to make things quite reasonable in the wrong winter circumstances. Trust us – you definitely want a separate pair of gloves just for fishing on the ice.
Q: Should I go with neoprene ice fishing gloves or non-neoprene ice fishing gloves?
A: This is a bit of a choice but we recommend that any gloves you go with at least be lined with neoprene at the very least. This gives a level of waterproofing you'll definitely want while ice fishing.
Q: How important is it for my ice fishing gloves to be waterproof?
A: Very. In fact it's arguably the single most important trait. While being warm is up there – you expect any winter gloves to be warm. Get your hands wet when it's 20 below and you're in for a really bad time. At the very least you want water resistant gloves and ideally waterproof. If worst comes to worse, it's even worth getting two pairs – one waterproof to handle the fish and one built for winter to warm the hands.
Q: How should I size my ice fishing gloves?
A: Generally speaking if in doubt we always recommend going one size larger than you think you need. That way if the gloves tend to be on the small side you're still good. If they turn out to be a bit large, there are plenty of really thin yarn gloves that hug to your hands without taking up much space and help keep you warm to boot. So if in doubt, go a touch large.
Q: Do I need a shelter to go ice fishing?
A: Depends on the situation. If you're in place like Alaska where it's -20 or -40 you definitely need a solid shelter with the ability to warm it. Many ice anglers I know in more temperate winter climates love the convenience of portable fishing shelters, but in the end you don't need to have them. They can be nice, especially when it's windy, but it's actually angler's choice.
In Conclusion
There's no reason to let a northern winter stop you from letting your inner angler out. Winter fishing means there's always a time to head out to the water for another shot at a trophy fish. Ice fishing is obviously quite different from conventional fishing seasons. However with the right gear, including warm waterproof gloves, you'll be set to have a blast!
Great Ice Fishing Video