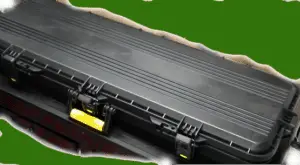 Whether you are a serious hunter or a marksman/recreational target shooter, you want to make sure your favorite rifles are always properly taken care of. Gun cases are an absolutely essential tool for any hunter, shooter, or gun collector. They protect your weapons from scratches, dings, corrosion, and even theft.
When choosing a case for your rifle or shotgun, you should consider the size of gun, how many guns you'll be carrying, and how and where you'll be traveling to. The good news is that there's a healthy industry responsive to hunters and target shooters and who understand the various limits that the available travel options offer.
Other things you'll also want to consider include how easy the case is to carry, the material, whether it locks or not, and the durability of it. Check out the quality cases below. They're all amazing in their own unique way and offer a wide array of options when it comes to finding your perfect protective gun case for your favorite rifles.
Flambeau Outdoors Tactical AR Case
If you're looking for a stylish yet effective way to protect your favorite rifle, then you'll absolutely love the Flambeau Outdoors Tactical AR Case, Large. It's crafted from lightweight, durable plastic, and features Zerust, which is their patented inhibiting vapor. This is used specifically to help protect the hard plastic from any type of damage or corroding.
This combination means Flambeau is dedicated to serious heavy duty long term protection of your rifle.
Another thing that I absolutely love about this hard-shell rifle case are the four safety latches. These latches create a tight seal that'll ensure dust, dirt, and moisture won't seep its way inside. You won't have to worry about your rifle corroding when you carry it around in the Flambeau.
The base and the lid are crafted from an extremely strong polypropylene material that's made to take a beating. Your typical bumps, drops, and scraps won't phase this case. The inside consists of high-quality padding that holds your weapon in place and keeps it from bouncing around. Dings and scratches are simply not an option.
With a total size of 40″ L x 12″ W x 4″ D, you can carry a wide array of different sized pieces. It's definitely a useful tool for any gun lover. There's a reason my buddies recommended this hardcase to me, and it's one that other shooters frequently tell me is one of the top options out there no matter how you are traveling.
Give it a try. You won't be disappointed.

Allen Tejon Scoped Rifle Case
When asking around for good protective cases, the Allen Tejon case for scoped rifles is another one that gets a lot of attention. Featuring the Mossy Oak Break-Up Country design of camouflage, this very popular camo carrying case is made from strong, weather resistant material and is large enough to accommodate to rifles with bi-pods and large scopes.
In fact, the Allen Tejon Scoped Rifle Case can fit guns up to 50″ in length and 10″ in diameter. Now that's what I call extra room! I'm not the only one who has noticed, either. In fact, many hunters use this case for their shotguns, as well!
The inside of the Allen Tejon features thick, durable foam padding that'll protect your piece from your basic wear and tear. There's also three convenient pockets where you can store ammo and other necessities.
Carrying your rifle with this case is an absolute delight. The removable shoulder strap is padded for your comfort and is constructed from stitching that won't tear under pressure. There's also a carry handle located on the side for advanced convenience.
This is an amazing carrying case for any hunter or gun lover and is surprisingly strong despite its soft case look.

Plano Pro-Max Single Scope Contoured Rifle Case
The thing that really makes this case stand out from the rest of the choices on the market is the patented PillarLock system. If you're concerned about finding a rifle hard case that will be acceptable by the TSA and can be solidly locked down, then these four, well-designed latches provide your rifle with the highest level of protection currently available on the market.
Once you click them closed, nothing is getting inside without your keys.
For increased protection, The Plano Pro-Max also features thick, inner walls and a hard, outer shell. The inside is decorated with a soft, interlocking foam that molds to the shape of your weapon and holds it place at all times. This brings the perfect combination of protection from the outside as well as soft insulation to protect the gun itself on the inside.
Traveling with this contoured case is quite convenient. Not only is it lightweight, there's also an easy-to-carry handle up top and two durable, metal loops on the side for a shoulder strap.
The best part? It's airline approved. Whether you're headed on an exotic hunting trip or you're just going camping for a few days, this is an excellent choice for any gun enthusiast and will keep you traveling safely without issue from point A to point B!
Interior: 52″ x 3.75″ x 10.25″

Plano Gun Guard SE Single Rifle Case
Traveling on a plane with a rifle can be a little sketchy sometimes. That is unless you're carrying your piece in the Plano 10470. Not only is this gun case airline approved, the PillarLock system built features recessed latches and padlock tabs for ultimate security. No one is getting inside without your consent.
Another amazing thing that I absolutely love about this case is that it can hold a rifle with a 50mm scope comfortably and securely. The inside is coated with a very dense foam, the body is constructed from a very durable, rigid plastic, and the whole thing is held together by steel hinge pins. You want to talk about tough, this case is it.
The recessed handle located on the top is smooth and fits comfortably in the palm of your hand while the lightweight construction allows for easy carrying.
If you're looking for a better way to travel with your rifle, this gem is an excellent choice that will get the job done and let you travel with a mind at peace.

Plano Gun Guard DLX Double Scoped Rifle Case
Traveling with more than one gun can be quite a challenge sometimes, especially if you have other supplies you're carrying with you. This is why the Plano 10252 is such a fantastic choice. This convenient case is large enough to carry two scoped rifles or shotguns and is light enough to be carried with one hand.
Convenience isn't the only attractive feature. This double scoped case is constructed out of durable, hard plastic, coated with a really striking alligator texture, and features a heavy-duty aluminum valance for ultimate protection. Some guys I know like the simple classic look because it's not eye-grabbing – they feel in a way that's more protection because any would be thieves are going to pass up this one for a fancier looking hard case.
If that's not enough, the two key-lock latches located on the side secure your weapons and prevent moisture and other corroding elements from getting inside. It's 100% weather resistant.
The foldable handles are another aspect that I really appreciate. By folding them downward, you'll be able to pack your vehicle easier and make use of all available space. They also make traveling on an airplane much easier too. If you like to travel with more than one gun, then this case is definitely worth the buy.

Ruger Scoped Rifle Soft Case
Okay so admittedly this is much more on the soft case side of things for carrying and protecting your rifle, but it's so popular that I was going to have a hard time keeping this off the list. Trust me, it's worth checking out.
Not only will this Ruger rifle case protect your rifle, but it cushions it inside and the aesthetic is good so you will look great carrying it, too. This premium case is decorated with a classic black fabric, outlined with bright red accents, and embroidered with the 10/22 logo. It's truly one of the best-looking products on the market.
Besides looking great, the Ruger 10/22 will also provide your weapon with superior protection. It's made from a weatherproof fabric construction that won't rip, tear or unravel overtime.
The inside is coated with a thick, foam padding that protects your gun from scratches and dings resulting from being bumped and dropped.
In addition to this, the self-healing zipper is also another amazing feature. There's nothing worse than not being able to close your case properly, and that's just not something you'll have to worry about. The zipper will literally heal itself when it gets off track. Now, how cool is that?

Plano Gun Guard SE Double Scoped/Shotgun Case Review
The Plano 10586 gives you the room to not only hold two 50mm high-mount scoped rifles or two full-sized shotguns, but there's also extra room on the inside to carry ammunition and other supplies as well. This will make your hunting trips a whole lot more convenient.
The outside is constructed from a tough, durable plastic that's designed to take a beating. On the inside, you'll appreciate the thick, dense foam. This foam molds to the shape of your weapons and holds them in place at all times. It doesn't matter whether you drop or bang your case against something hard, your weapons will always be protected.
Are you a hunter or shooter that travels frequently? If so, you'll also appreciate the padlock tabs. These tabs provide a high-level of security and come in handy when traveling by plane, bus, or train. Nobody is getting inside with out your permission.
The contoured recessed handle is another attractive feature. This handle fits comfortably in your hand and makes carrying this case quite easy. I highly recommend this case for anybody who seeks adventure and loves to hunt or shoot.

Hunting Rifle Hardcase FAQ
Q: What hardcases are allowed for transporting a rifle or shotgun via commercial flight?
A:The key here is to have a hardcase that can be thoroughly locked. This means you're looking for a case that is locked to the point it can't be pried open. Having a padlock over the handle isn't enough. Almost every modern case comes with heavy locks and if you have any questions check out this TSA page about flying with guns.
Q: What materials are used to create a reliable hardcase for rifles?
A: Most use a modern composite plastic that is extraordinarily durable and at a fraction of the weight of metal. Even most soft cases nowadays have a plastic skeleton as the hidden base.
Q: Can rifle hard cases be used to transport my hunting shotgun, as well?
A: As long as the case is long enough and wide enough, absolutely! The main point is that these cases are perfect for protecting long guns like rifles, shotguns, and more.
Q: "Hardcase" or "Hard case?"
A: Ah, an English major question if there ever was one? According to most spell checks it is two words, most hunters I've talked to say one, and major producers split the difference. So sorry to those of you who are a bit obsessive like I am – there is no finalized answer on this one.
Q: Is there room for my accessories?
A: This all depends on the type of case you have and how much space. Some will be tight fits, while in other situations you may even have room for a good gunsmithing kit!
Some Final Thoughts
If you're going to invest in a top notch rifle, a great scope, and the accessories that help you customize your firearm, then you want to make sure you have a fully insulated and cushioned protective case that will help you to guarantee the safety of your rifle and all the accessories you've bought to maximize its effectiveness. Every serious shooter, just like every serious outdoor enthusiast, understands the importance of taking care of your equipment and the outstanding rifle hard cases in this post will help you do just that!
Don't forget to get that perfect rifle strap before hunting season, as well!
Great Plano Rifle Hard Case Video Review