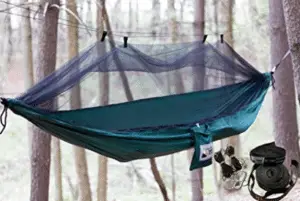 There are many camping hammocks out there, and the right one for your specific needs will depend on a wide variety of factors. ENO and Wise Owl Outfitters are the two big names when it comes to premium camping hammocks, while there are single hammocks, double parachute hammocks, and even hammock-tent hybrids. In other words, you have plenty of different options when you are looking to make the move from tents to hammocks and finding hammocks that come with their own attached (or attachable/detachable) mosquito nets. What if you want one of the best hammocks with a mosquito net attached?
The truth is that you have several options to choose from depending on your specific tastes and needs. There are many great camping hammocks with mosquito nets out there so take a look at our list and find the one that is right for you!
Long List of Top Rated Hammocks with Mosquito Nets
This isn't going to be one of those mere 5 option lists. Many people are surprised to see how many options there are when it comes to finding high quality camping hammocks with mosquito netting, but they really shouldn't be. There's a lot to like about the following options and anyone who has been out in the wilds while the bugs were out in full force understand how useful and important that proper bug protection can be.
ENO JungleNest Hammock (Mosquito Netting Included)
No one should be surprised to see the ENO brand at the top of any list when it comes to camping hammocks and sure enough, they have the highest rated hammock with attached bug netting with their outstanding JungleNest design. Quality is quality, and while the next two in the list certainly give the JungleNest a run for it's money, right now we have to give them a nod as the best mosquito netting hammock currently on the market.
Anyone who has dealt with endless swarms of gnats and mosquitoes knows just how irritating they can be and if you're unfortunate enough to camp somewhere with a lot of aggressive biting flies, my sympathies. That's harsh. In my case, I tend to sweat and there must be a lot of salt there because the sweat bees are just drawn to me like flies to honey.
No matter what bests you are dealing with, the JungleNest hammock should be one of your top choices in dealing with your particular insect onslaught. This hammock holds up to 400 pounds and is made from the famed 210D nylon faffeta which means you know it is built to hold. At a little under two pounds in weight the ENO JungleNest with mosquito netting holds up well while not weighing down your pack.
There's no question that this model is an incredibly well-designed and well-made hammock that sticks to the ENO level of quality by using triple heavy stitching, great materials, and pulls together with a solid design. For now this is our top choice for a camping hammock with bug net already pre-attached.

G4Free Portable Single Camping Hammock with Mosquito Net
One of the best camping hammocks to come with attached mosquito netting, this single hammock is designed to hold up to 400 pounds and comes in green, deep green, or camel colors. If you love hammocking in an area that has its times of being infested by mosquitoes, you'll want the quality construction and solid netting that the G4Free single hammock brings to the table.
Made from a high quality quick drying parachute nylon, the hammock is both mildew and rot resistant and is designed to hold up to heavy outdoor use. The hammock is 118 inches in length and provides the level of quality avid outdoor enthusiasts expect from a top rated hammock with mosquito netting. The entire setup is only 28 ounces, making it very easy to pack up and carry along during a backpacking trip and a lifetime warranty from the manufacturer helps offer a level of mental security and assurance that makes it much easier to enjoy your days out.
This top rated hammock also comes with a carrying bag, two carabiners for hammocks, and two lengths of rope. While this is enough to get started right off the bat, we do heavily recommend making the switch to a good pair of hammock straps since these are just as reliable as rope (or more in some cases) and won't damage the trees by cutting into the bark.
The G4Free portable hammock has overwhelmingly positive reviews and it's hard to argue with such a good design that is fully backed by the manufacturer's warranty. This is a great option when it comes to getting some quality time out in the wild!

Adventure Gear Outfitter Backpacking Hammock with Mosquito Net
Ultralight in weight, and made from the especially strong and well recognized 210T parachute nylon, the Adventure Gear Outfitter backpacking hammock is one of the top rated hammocks that come with bug netting, and for good reason. We're not surprised that a company with this level of reputation has made a strong foray into this niche area of camping hammocks, and fans of this company will be glad to know that not only do they get a good looking and well made hammock but Adventure Gear Outfitter includes hammock straps instead of rope, making them environmentally conscious of the negative effects ropes can have on trees.
This also saves you the expense of having to buy replacement hammock straps in order to replace the ropes you would otherwise be using. In addition to this, the elastic stretching material that makes up the bug netting is exceptionally designed for flexible setup that does the job and still allows you the full range of normal flexibility when finding the ideal place to set up your hammock.
At a mere 1.7 pounds this lightweight hammock is easy to carry along for long-term adventures and there's no denying the quality of the materials used. The hammock is approved for up to 400 pounds of weight, the straps at 500 pounds, and the carabiners at 700 pounds. In other words, you are set up to be able to relax in peace, with all the mosquitoes, gnats, and other annoying insects outside of the hammock thanks to your top notch netting.

Out Topper Camping Hammock w/ Mosquito Net
The classic camping hammock with mosquito net from Out Topper comes in army green color and offers a camping hammock that is both lightweight and strong. Made from classic parachute hammock material, this portable hammock is excellent for hammockers looking to sleep outdoors while keeping the bugs at bay or even as a side setup for relaxing and enjoying leisure time during the summer months.
These hammocks can safely hold up to 330 pounds and they come with some basic carabiners, although as many people have noted they seem to be a cheaper design since they're not marked the way conventionally sold carabiners are. If you're using them casually it might not be an issue at all but if you plant to do a lot of hammock camping then it's not a bad idea to look at our list of best hammock carabiners for an upgrade, in our opinion.
That being said, this is a really solid beginner hammock, although we'd say based on the length this is definitely more of a single hammock as opposed to your conventional and comfortable double, no matter what the advertising says.
Generally speaking, this is a great starting tent although there are some concerns. This model is better for shorter people so if you're standing at six feet tall, you'll be pressing up against the netting which kind of defeats the purpose. Great for shorter or average height people, for leisure hammock camping, or for getting used to how these hammocks work before going with another high level option. The ratings are generally very high here for a reason so we are nit-picking, but we want you to have the full story.

Krazy Outdoors Mosquito Net Hammock
Dark green is a popular color among many of these hammocks, which can make one blend into another, but the mosquito net hammock produced by Krazy Outdoors is a high quality model that doesn't just blend into the crowd but it makes this list of top options for a good reason – and is one of the hammocks on the list that has most often been rated by outdoor enthusiasts and hammock campers, showing you that this is one mosquito net attached hammock that has definitely held up to serious testing and has proven itself to be a top notch option that truly belongs on this list.
Designed to be portable and ultra lightweight, this extra strong nylon hammock is compact, handles well, and the attached mosquito netting will help keep you free of itchy bites and the constant pestering of insects while allowing you to enjoy the best that the great outdoors have to offer. Whether setting up in the backyard, out in the woods, or for long distance hikes and backwoods travel, this reasonably priced product is definitely a top rated outdoor hammock for campers and will hold up to any further investigation.

BELIESAFE Hammock with Mosquito Net
This is one of our favorites on this list, although because of its relatively new appearance on the market, it hasn't acquired the large number of positive reviews that more established hammocks on this page have however we do firmly believe that over time the quality of these mosquito net hammocks will hold up and prove that we were right to put them on the list so early on.
These portable nylon hammocks from BELIESAFE come with a pair of solid carabiners, hammock straps, and the mosquito netting to keep you free of mosquito bites or an annoying army of gnats coming down and ruining your outdoor experiences. Well-designed using high quality material, this is a solid double that is surprisingly inexpensive considering the quality of material and design – and that includes the steel carabiners and quality hammock straps. This attention to detail is part of the reason even as a relatively newcomer to the mosquito camping hammock group, they earn a solid place on this list and a 5 star rating from us.
We only hope their dedication to top notch quality work and affordable prices continues so this spot will continue to move up over time.
PACKGOUT Anti-Mosquito Portable Camping Hammock
The anti-mosquito portable camping hammock from PACKGOUT is one that has jumped into this list because of an extremely strong showing in recent weeks. When the original draft of this post started it was right on the borderline of making our list of top choices, and the reviews kept on coming in and so many were positive that it was impossible to keep it off the bottom of this list.
This is a double-sided use design, with the net coming up easily over the hammock as you hang it up like normal.The hammock is a mere 23 ounces and folded up saves an incredible amount of space if you are backpacking, otherwise it can still be easily rolled and stored in the bag that comes with it – along with a couple of carabiners and hammock straps, as well. The hammock straps are an especially nice addition, although some people have reported feeling more comfortable with a more advanced brand. At least the option is there right off the bat.
The hammock itself is built out of a durable parachute nylon while the aforementioned hammock straps are made from 70D nylon. The carabiners are an aluminum alloy and the combination should be more than enough to take care of any solo camper looking for a solid hammock. One important note: there is some disagreement on whether the maximum weight is 300 lbs or 400 lbs, so if you are an especially large fella it is worth looking at one of the higher up name brand hammocks just to be on the safe side. For most campers this will suffice but always better safe than sorry. The official note seems to be 400 lbs, but as I said, there's been some confusion in discussions on this model.
The warranty is unconditional return or exchange for 30 days and 60 day purchase guarantee, which is pretty solid.

Eastern Ridge Bug-Free Parachute Camping Hammock
Certainly one of the best looking of all the camping hammocks with mosquito nets attached, the Eastern Ridge hammock is ultra lightweight, compact, and built with a solid design that sees no reason comfort, bug proofing, and style should be contradictory. This hammock is easy to set up, allows you to ignore rocky ground, and with a pair of solid hammock straps you will be several steps up when it comes to leaving no trace behind.
Backed by a 100% no risk guarantee, this hammock protects you from bugs, allows for comfortable sleeping, and let the tent campers worry about hard cold ground, sticks, and stones while you may simply enjoy the best of what the outdoors. This particular hammock has a pretty impressive guarantee, as well, with the warranty lasting for one full year, giving it one of the best coverage plans of any of the hammocks on this list. Eastern Ridge likes to brag that they provide performance you can count on, and that type of a warranty tells you they fully believe in the quality of their work.

Why Mosquito Nets?
Okay, not going to lie, it's really, REALLY hard for me not to be really sarcastic with the answer to this heading. If this isn't the definition of a DUH answer then I'm not sure what is. While this article is about the camping hammocks that come with bug netting already attached, there are also plenty of options to get bug netting separately that you can then use in conjunction with a tent, a hammock, or even a bed.
While most people imagine these only being around beds in old school movies in places like Africa or jungles of the Caribbean or the Americas where there are large populations of mosquitoes and diseases that come with them, the truth is that if you have ever been in the wilderness in the right time of summer, you will have plenty of mosquitoes feeding off of you. Protecting yourself is essential, and that's even before looking at the practicality of trying to go to sleep when you have hundreds of mosquitoes feeding off of you.
In Conclusion
There are many remarkable camping hammocks out there, and a wide array of designs and companies to choose from. One area that seems to get overlooked quite a bit are hammocks that come pre-designed with mosquito netting. While this isn't nearly as big a deal if you're camping in cool to cold weather, or early enough in the spring before the bugs really get out and about, it is a really important factor after that. One of the quickest ways to get uncomfortable in the woods is to get swarmed by mosquitoes.