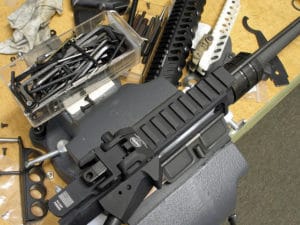 I love shooting. In fact, I've been shooting since I was a kid, but one thing that I've learned over the years is that cleaning your guns is a necessary task. Why might you ask? Overtime, dirt, grime, and gun powder will begin to accumulate on the inside and the outside of the barrel in addition to the other parts of your gun. If neglected, this build-up can corrode the metal and affect the accuracy of your shots.
One of the difficulties of the cleaning process is the awkwardness of holding your gun in place while you clean it. This is why investing in a gun vise is such a wise decision. Not only will this investment make your life much easier, it'll also help prevent drops, bumps, scratches, and dings.
When purchasing a vise, it's important to choose a model that's right for you. Some of the vises listed below are designed to help with the cleaning process where others are more designed to aid in the art of gunsmithing. All the vises reviewed here are quality devices each with a unique set of features.
Tipton Best Gun Vise
This versatile tool is constructed from durable aluminum and will make any cleaning job a wiz. The central channel gives you the ability to adjust any of the moveable components to your desired position, so you can firmly hold and clean any size gun in the most efficient manner possible.
To prevent slippage, this contraption has two, well-designed adjustable offset clamps located at the base of this vise. These clamps allow for an extremely tight grip and will help prevent any unnecessary accidents from ruining your day.
Another fantastic benefit that I absolutely love are the side compartments. These nifty, little dishes provide you with a place to put your screws, springs, and other smaller parts, so they don't get loss. Now that is an awesome feature.
The thing I really like about the Tipton Best Gun Vise is the non-marring contact surfaces that prevent unnecessary scratches and dings so your gun still looks its best after any work. This is definitely a vise worth purchasing.

CTK P3 Ultimate Gun Vise
It doesn't matter what kind of firearm you own, the CTK P3 Ultimate Gun Vise is created to accommodate to guns of all sizes. The base of this vise is exceptionally wide for increased stability and really works well for larger and heavier rifles.
Don't let that fool you though. The adjustable components can also hold the tiniest firearms tightly in place as well.
To prevent scratches and dings, this gun vise features a thick layer of solvent safe closed cell PVC foam padding and will form to the size and weight of any firearm you own. This PVC foam also helps eliminate any chance of slippage during the cleaning process, which is a concern with many cheaper gun vise models that are mass produced without as much attention paid to quality.
For stability, all 3 ends of this vise have adjustable clamps that are made to hold your component in place firmly at all times. If excellence is what you're looking for, this gun vise definitely has it.

Tipton Gun Vise (Standard)
Whether you're just trying to clean your firearm, or you're wanting to do a little gunsmithing, the Tipton Gun Vise is an intelligent choice. This gun vise is constructed from hard, solvent-resistant polymer that's designed to last for several years.
This vise has all the characteristics you would want to see from a top notch design. It's tough, durable, and made to hold up against your basic wear and tear.
Another aspect that adds to the quality of this vise is the non-marring contact surfaces. You can feel comfortable knowing that your firearms will never get scratched when you're cleaning or working on them. This non-marring surface also helps hold your gun firmly in place, which needs to be the top priority whenever looking for a vise.
Like with the Tipton Best Gun Vise, this vise also has little dishes to put your smaller parts in. There's nothing worse than trying to put your gun back together only to realize that you just lost a screw, spring, or another little part.
This is an excellent budget friendly option if you need a quality gun vise but don't have the money for a premium model. It is a solid buy.

Hyskore Cleaning & Sighting Vise
If you're looking for a gun vise that is perfect for scope mounting, then the Hyskore Cleaning and Sighting Vise is a wise purchase. This vise features 3-shot sighting system, so you can mount your scope with accuracy and precision.
In addition to this, the Hyskore vise also accommodates to guns of all sizes. You can now clean your whole collection with just one tool, and the best part?
The design is really well done and creates a little work station for your gun needs that is small, compact, and doesn't take up much space. This is perfect for rooms with limited space.
You'll also be happy with the construction of this useful contraption. Made from welded tubular steel, this cleaning and sighting vise is durable, well-built, and made to withstand the toughest use. When you purchase this, you'll also receive a parts tray too.
This is a very impressive model and we have no problem saying that we highly recommend this high-quality vise for gun lovers of all kinds.

Lyman Revolution Gun Vise
Have you been wanting a gun vise that fully rotates? Well, you're finally in luck. The Lyman Revolution Gun Vise is the only one of it's kind that rotates to give users the best position possible. This makes cleaning those hard to reach areas much easier now.
To keep your firearms in great condition, the clamps on this devise are padded to prevent scratches and hold your gun firmly in place. Another great thing about the clamps is that they're adjustable.
This means you can adjust it to hold any size gun you want, and that additional versatility is one of the major factors that makes this particular model so popular with so many hunters, recreational shooters, and other firearm enthusiasts.
The parts tray mounted below is another useful feature. This tray is large enough to hold all your parts and has a durable plastic cover to help prevent items from getting lost. The plastic parts tray can also be detached and set aside as well, letting you set up your particular work area the way that works best for you.
The Lyman vise is definitely a worthy investment and you're not going to be disappointed if this is the route that you go.

MTM GV-30 Gun Vise Cleaning Maintenance Center
This really cool vise is not only a quality tool for cleaning your guns, but it also works wonders for people who enjoy the art of gunsmithing. With an easy-to-use cam activated lever, you'll be able to clamp down your firearm securely and with ease.
Another feature that I absolutely love about this gun vise are the numerous compartments for all your parts and tools. These compartments are great for holding items like cleaning rods, screw driver bits, brushes, and many other items.
In addition to this, there's also a removable tray with 3 separate dishes for additional convenience and comfort.
The MTM GV-30 Gun Vise is made here in the U.S.A. and constructed from chemical and solvent resistant polypropylene plastic. This material is strong, dependable, and won't scratch-up the surface of your firearms.
The 4 skid-resistant rubber feet located below allow you to use this device in any part of the home you want without having to worry about slippage. If you're wanting to bolt this vise down in a particular location, you have that option too.
This is truly a gun lover's best friend.

Tipton Compact Range Vise
If you're interested in a smaller vise, then the Tipton Compact Range may just be the right tool for you. This beautiful little contraption measures out to 2.75″ tall, 11.25″ long, and is 5.5″ wide.
This model is perfect for areas of your home that have limited space. You can practically use it anywhere. Do you like to travel? It's a great choice for people with motorhomes and full-sized campers.
Although this gun vise is small and compact, you can feel confident knowing that it can still securely hold a variety of different sized firearms. In fact, the Tipton can expand anywhere from 11.25″ to 17.75″ for your convenience. Now, that's a versatile tool.
Another thing that you'll absolutely love is the durability of it. This compact device is constructed from a tough solvent-resistant nylon and features a non-marring surface. To prevent slippage and other possible accidents, there's a 6 rubber feel attached to the bottom surface.
In other words, we can sum this all up with the simple description: This is a really well-designed product.

P3 Ultimate Shooting Rest Gun Vise Attachment Conversion Kit
Do you own a P3 Ultimate Shooting Rest? If so, this convenient gun vise attachment will turn your rest into a fully functional vise that can hold both pistols and rifles. Not only will it hold your firearms securely, it's also padded with PVC foam that's extremely durable and prevents your guns from getting scratched or dinged.
The attachment itself is made in the U.S.A. and constructed from a tough steel that's coated from the inside-out with a high-quality E-coat finish. This is one durable tool. It's definitely a wise investment if you own a P3 shooting rest.
Shooters familiar with this shooting rest have generally absolutely loved the accessory and give it some incredibly high scores, especially compared to many of the fully designed vises that are out there.
However, it is important to remember that this is an accessory and that means that it isn't standalone. Keep that in mind when comparing ratings or looking at prices before you jump ahead with the purchase. While this is an outstanding purchase for the right shooters, it's not going to be useful if you're starting from scratch.

Nylon Multi-Purpose Vise Jaws
There's nothing worse that finding a scratch or a ding on one of your firearms. If you use a metal vise to hold your guns while you either clean or work on them, you could be putting them in danger of being damaged. However, by investing in the Nylon Multi-Purpose Vise Jaws, you can help prevent this from happening.
These jaws are designed to be used on any metal vise or drill press. Each jaw has two usable faces, one with a flat surface and one with a textured surface.
When used together, they can securely grip all kinds of items making them a useful tool for helping you clean your guns, repair them, or even rebuild them.
Another impressive feature of these multi-purpose jaws is their magnetic qualities. Yes, that's right. These two pieces will magnetically stick to your metal vise or drill press. They're also easy to attach and easy to remove. It's that simple.
When you purchase two of these items, you'll receive a special discount on your order. If by any chance you are unhappy with your purchase, you'll receive a full refund.

Impresa Universal Bench Block
A lot of gun lovers truly enjoy disassembling and reassembling handguns. If you're one of these people, then you might want to think about investing in the Impresa Universal Bench Block. This tool is perfect for this.
This bench block is constructed from a tough polyurethane and features a non-marring work surface for advanced productivity. It doesn't matter what kind of gun you're wanting to work on, the Impresa can accommodate to all kinds of firearms.
However, it is important to note that M1911s and M1911-style pistols work best.
To make the whole process of working on your favorite piece a whole lot easier, a variety of holes, notches, and grooves have been built into the tool. These features not only help prevent the loss of smaller parts, but they also help simplify your job on so many different levels.
I highly suggest anybody who loves in-depth gunsmithing to take a look at this product.

In Conclusion
There are many great options out there when it comes to finding and using a reliable gun vise. As this article has shown, there are plenty of companies who make outstanding vises to handle all of your gun needs whether cleaning, maintenance, or doing some serious gunsmithing work, a good gun vise is a critical tool if you are going to make sure all your gear is at its best. There are many great vises out there, as well as related tools and replacement parts, so take a look through the list and figure out the ones that will work best for your home workshop needs.
Take a look at our other great shooter articles like ones on red dot aiming sites for your rifle, exceptional gun rests, or this great one on the best gunsmithing kits out there!
Good video on selecting a gun vise