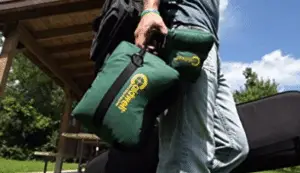 If you're looking to increase the accuracy of your shots, investing in a quality gun rest is a great idea. Gun rests come in a wide array of styles to choose from. Some of these include bag-styled, expandable, and metal-framed, giving an impressive variety that should help every shooter find the right fit.
Once you find the right model for you, you'll then understand why these are a shooter's best friend, especially if you're a fan of shooting from a sitting crouch or prone position. Shooting aides might not jump to mind when you think about the right gear for the range, but once you've started using them you won't want to go back!
Certainly beats the old days of scouting using the under legs of a cheap folding chair. So read on to find our picks for the best gun rests currently available online!
Caldwell DeadShot Boxed Combo
These two water-resistant, 600 denier polyester bags are fantastic for the outdoorsy shooter. They can literally be placed and used on almost any kind of surface you can think of including rocks, tree stumps, and even logs. You'll always get a straight, even shot, every time you shoot with these.
Another fantastic benefit to the Caldwell Deadshot is the ability to transport them with ease. These 2 nylon rests are lightweight, compact, and small enough to carry in your ammunition bag.
Let's face it: hauling a heavy piece of equipment long distances can be quite a challenge, and with this 2-piece set, you won't have to.
To make transportation even easier, each bag has a quick-connect attachment located on the side. Obviously we're really big fans of this, as we like all of our outdoor activities a bit off the beaten path. The attachment is made from tough, durable plastic and connected to the bag by a deep, imbedded stitching. This 2-piece boxed combo is definitely an excellent choice for people who like to hike, camp, and explore new territory.
These are often among the highest rated of all the gun rests for good reason, and they definitely earn a gold star from us!

Primos Group Therapy Bench Anchor Adjustable Shooting Rest
This gun rest is constructed solely from metal and features studded feet at the bottom to deliver a steady, solid shot every time. If you really want to increase your accuracy, the Primos adjustable shooting rest is a good choice.
While the full setup here is better for long guns such as rifles, it is adjustable with sections that can be removed to create the perfect pistol rest and support.
This clever device also accommodates to both right and left-hand shooters and can also be adjusted up to 2" in height. In addition to this, there's a butt plate guard built into the back of the rest which helps reduce recoil. Now, how cool is that?
Say goodbye to those irritating sore shoulders – or decide to deal with it and feel free to shoot off a lot more rounds!
When you purchase this adjustable shooting rest, you'll also receive a front shooting bag and an accessory tray, so you'll have a place to store all your extras. The Primos Group has a really nice design here, though this does take a bit more time to set up for full benefits.
This gun rest is definitely worth checking out and has the potential to help dramatically improve your overall gun range experience.

MTM K-Zone Shooting Rest (Red)
The MTM K-Zone Shooting Rest is designed for both rifle and handgun use. You can extend the length of it for guns like the AR-15 and shorten the size for small pieces like the Ruger SR22, making it a very versatile rest for shooters. When you do shoot with a handgun, make sure you use the handgun pad.
Among the top shooting rests on this list the MTM K-Zone seems bulky and compact. Sporting a 16x14x8 set of dimensions, there's a lot going on in a relatively small space with this particular design.
This pad can be adjusted for a variety of different sized pistols and features a soft, cushioned top for your wrists. Comfort matters when you're target shooting.
The screw pedestal up top also adjusts the level of your forearm. Not only will this help you increase your accuracy, but it'll also take a lot of the strain off your forearm too. Simply screw it up or down until you find the right position for you.
To add to this, this unique gun rest is constructed from durable plastic and covered with a non-marring rubber. You won't have to worry about unwanted scratches and dings. It's lightweight, well-built, and made in the U.S.A. If you're looking for a high quality and versatile gun rest you won't complain about what this model brings to the table.

Caldwell Lead Sled Plus Recoil Reducing Rifle Rest
If you enjoy shooting magnum rifles or slug guns, then the Caldwell Lead Sled Rifle Rest is absolutely perfect for you. Why? This rifle rest can hold up to 100lbs of lead weight. There's also an adjustable weight tray that will hold two 25lb dumbbell plates. All this extra weight minimizes recoil up to 95% and provides you with a more grounded, precise shot.
In addition to this, there's two larger studded feet and a small studded foot located on the bottom of the rest to eliminate slippage. The elevation ram has also been improved to deliver a "wobble free" shooting experience, and the rear padded saddle will hold the stock of your rifle securely while you shoot.
Any good shooter knows even the smallest amount of movement can throw things way off, so these features are definitely going to be popular with shooters of all experience levels.
Training marksmen who are interested in increasing their accuracy should really think about investing in this remarkable gun rest. It's definitely a wise investment and a whole lot of fun to shoot with.
This model is a heavy duty build and one that will get a lot of positive attention for good reason.

Guide Gear Bench Rest
The Guide Gear Bench Rest is constructed from quality metal and features a beautiful power-coat finish. This shiny finish doesn't just look good, it also helps protect the metal from scratches, dings, and your basic wear and tear. Always good to see a design decision doing a lot of work instead of only serving one basic function.
To accommodate to the size of just about any rifle, there are 3 areas that can be adjusted on this device, the rear yolk, the front cradle, and the center bar. These can all be adjusted or the settings for each can be messed with individually.
Simply screw the nob either up or down until your rifle sits snug, and adjust accordingly to find the perfect height so you're in your optimal shooting pose.
The overall stability of this gun rest is also another amazing feature. It's built level, it's sturdy, and each of the three legs have rubberized, non-slip feet for advanced traction. While you're not going to get versatility here as this is built for rifles and rifles alone, there' no denying the effectiveness this deign brings to the table for long range shooting.
There's also no denying that this popular rifle rest is truly a high-quality product.

Vanguard Porta Aim Gun Rest
Gun rests with several different adjustment nobs can be a little confusing to some shooters. It can also take a little bit of time to get it set up to your liking. With the Vanguard Porta Aim Gun Rest, this isn't an issue. You'll be able to set up this device quickly and without delay.
Although that's a really cool feature, the thing that really makes this gun rest really stand out from the rest of the competition is the swiveling forearm pillow. This pillow rotates 360-degrees and securely straps in your rifle.
In other word this gun rest literally gives you the freedom to shoot where you want while also keeping your piece sturdy while you shoot. Now that's fantastic!
This clever contraption is constructed from durable aluminum, weighs less than 2lbs, and has foldable legs for easy transportation. This is an excellent choice for anyone who enjoys hiking long distances with their rifle, or simply needs to cover a lot of ground to get in the best spot for hunting their big game of choice.
Every purchase comes with a 5-year warranty covering your basic wear and tear, which is extremely impressive in this field.

Caldwell Steady Rest NXT Shooting Rest
The Caldwell Steady Shooting Rest is quite a versatile device. It's designed for both rifle and handgun shooting, and it also works great as an aid for sighting in your firearms. The adjustable cradle allows you to get a snug and secure hold on your gun.
The total length of this little rest is 26″ but can be shortened by up to 3″ vertically. The design consists of 3 main pieces, and because of this, you can size-up the gun rest to match just about any kind of rifle or handgun.
From the AR-15 to the Beretta 380 Auto, you'll always get a sturdy and accurate shot, creating a reliable versatility that many shooters absolutely love. If you have plenty of tools that are versatile and others that are specialized, you're going to be sitting in pretty good shape overall.
To protect your firearms from scratches and dings, the body of this rest is coated in a non-marring finish, and the contoured rear support helps prevent your gunstock from losing its finish. No matter how much you shoot, your firearms will continue to look great. This is really a fantastic little contraption.

Infityle Shooting Rest Bag
This 2-piece set is an amazing pick for anybody that enjoys shooting in adverse weather conditions. Whether you're in the rain, the snow, or even the extreme heat, it's no match for the strength of these 2 bags.
Both pieces are made from durable water-resistant 600D polyester and sewed together with tough stitching. You can also transport them with ease. They're lightweight, compact, and easily connect to the should strap that comes with each order, which makes it much easier to move them and carry them from place to place.
They are designed for long barrel guns such as rifles or shotguns, and should work great for either with the proper setup. They are a relatively new name when it comes to shooting bags, but they have quickly gained a solid reputation for quality of material and build.
In addition to this, the company really puts their money where their mouth is when it comes to standing behind their work. When you purchase this set, you'll receive a 100% money back guarantee, which is always a reassuring thing to hear.
Basically if for any reason you find yourself in the extreme minority that are unhappy, simply return it for full refund.

Guide Gear Recoil Reducer Shooting Rest/Gun Vise
What happens when you combine a tough gun vise with a sturdy gun rest? You get the Guide Gear. This clever device will not only help you improve your accuracy, it'll also make cleaning and repairing your firearms a much easier job.
Another feature that makes this contraption a treasure is the recoil reducer.  There's nothing more annoying than having to ice your shoulder after a fun day of shooting, and when you shoot with this, that won't be a problem anymore.
To accommodate to the size of your firearm, both the front rest and the rear clamp can be adjusted easily and in a quick manner. Once you have adjusted it to your liking, your gun will be held firmly and securely.
Last but definitely not least, there's a vinyl bag attached to the base of the rest. This bag has a durable zipper and will provide you with a place to store all your accessories. It'll hold ammunition, ear protection devices, gun straps, cleaning supplies, and much more.

What to Look for in a Shooting Rest
One of the first things to understand during your search for the perfect shooting rest is that there are many different types of rests, while each style of rest will also have various brands contributing to each style of shooting rest. Each type of rest has its own advantages and disadvantages depending on what exactly it is you are looking for, but you need to first understand the differences between each type.
The lead sled shooting rests
A lead sled refers to any type of a shooting rest that will completely hold, support, and contain a rifle solidly in place. There are several brands that really go with this design over any other focusing on taking away human error so once the rifle is sighted in it's all about just getting the right aim and following through by squeezing the trigger.
These are often used for shooting with high caliber rifles or pistols that have a major kickback or can be hard to control. These rests tend to be heavier in weight because they are heavy duty designs. Sometimes a little more weight needs to be added to help minimize the recoil from these large long barrel guns.
While these are generally among the most popular types of shooting sleds the problem is that they also tend to be the heaviest/most bulky as well as the most expensive.
The shooting bags
Sandbags have long been a standard type of boost for shooters, but modern shooting bags have taken that basic but effective concept to an entirely new level. This is an easy, inexpensive, and easily portable way to reduce recoil and give additional support to help the shooter increase their control, which means better aim and better results, as well.
There are several shooting bags on our top 10 list and in fact our top overall choice falls under this category. These are convenient to carry and can provide some stability and recoil reduction from multiple shooting positions.
While these are certainly the most versatile and easy to use of the many shooting rests out there, and are great for beginners as well as a useful tool for more experienced shooters, as well.
The shooting tables
Definitely used only by shooting tables, this is a rest that offers guidance for the sitting or kneeling position as there is an adjustable seat that is set to a certain height
Shooting pod shooting rests
If you're looking for a shooting rest that is actually going to help when out in the field hunting, especially with long range shots, then you want to take a look at shooting pods. Often available in bi-pods or tripods, these are often portable, can take a bit of time to set up, but once set up you get such a good bead on the prey even at a really long distance.
These pod rests come in a variety of different designs and offer an important about of stability and support that is crucial for long range shots with a hunting rifle, especially when the prone position isn't an ideal option.
If you want more information on shooting rest types, check out that article for more great information!
What other factors go into buying the perfect shooting rest?
Don't go in assuming that one shooting rest is best above all the others, or that you only have one perfect option. There are many different types of shooting rests out there and many shooters find that multiple options work great depending on their specific need at any given time.
There are many different factors that go into figuring out what type, style, and brand of shooting rest is ideal for your specific needs. While these considerations are going to vary a bit from one person to another, it is important to note that there are some general measurements that every hunter or shooter should look at before making a final decision.
Just a short review list of major considerations include:
The cost/your overall budget
Durability – will the rest hold up to the level of use you plan?
Specific benefits – is this shooting rest built to provide the specific benefits you want?
Ease of design – how easy is it to set up or use?
Shooting position – what type of shooting position are you going to practice firing from?
If you want to learn more about the various types of shooting positions out there, make sure to check out that article.
Shooting Rests FAQ
Q: How many types of shooting rests are there?
A: Generally speaking there are four types of shooting rests: Lead sled, shooting bag, shooting table, & shooting pods.
Q: Wait are shooting rests for hunting or just recreational shooting?
A: Personally I have always used these for occasional target shooting, especially from standing or kneeling as opposed to prone position shooting with rifles. However, these have been used by some hunters out in the field.
Q: Are shooting rests only for long barrel guns?
A: While these are the most common types of shooting rests, there are various rests that are designed specifically for handguns, as well, and then there are shooting vises that are also adjustable and can be used for one or the other.
Q: How many types of shooting pods are there?
A: Two leg and three leg shooting pods, in general.
Q: What shooting rests are best for beginners?
A: This is also going to vary depending on what type of shooting and what needs you have, but if in doubt look at a high quality shooting bag first. These are almost always useful at every level of shooting and hunting, work at the range or out in the wild, and are now made to be very durable meaning these are often a great deal for shooters at all levels.
Q: What is the best brand of shooting rest?
A: This is going to depend a lot on the specific type of shooting rest in addition to preference. There are many great options there, and we feel pretty good about our overall top ten list so you will find several of the absolute best options out there.
In Conclusion
Having the right shooting rest can make your target shooting afternoons much more enjoyable, and let you really focus on improving your aim and your skills a shooter as opposed to getting tired arms and forearms after hours of holding your firearm. These shooter's rests are popular pieces of equipment and while there are many DIY options, why spend the money and effort for something functional but sub-par when you can get one of the top notch choices on this list for cheap?
Other resources of note:
Take a look at the list, buy the one that's right for you, and enjoy your shooting time like never before!
Shooting Bench Shooting Tips YouTube Video