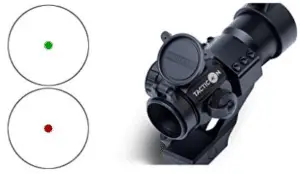 When it comes to laser sights, you have a choice between using either a red or green dot. Some people like using red while others prefer using green. However, there are a few advantages to using a green laser in comparison to a red one.
First, green laser sights can be seen up to 50 meters (a touch over 150 feet for those of us who aren't metrically focused). This is a much farther of a distance than what a red laser sight delivers.
In addition to this, green lasers are stronger and have a more solid path. By increasing your visibility and viewing distance, you'll definitely find yourself shooting much more accurately.
If you're interested in investing in a greet dot sight, you'll want to make sure you choose a model that is a good fit for your firearm but also one that performs well and is built to last. If you're unsure which kind you should choose, check out the products listed below. They're all very high-quality sights that are well worth the money.
Ozark Armament Rhino Tactical Green & Red Dot Sight
If you're someone who really enjoys shooting in harsh environments, then you'll absolutely love this green and red combination laser. This is one tough device. Whether you're in negative temperatures, the pouring rain, or even the extreme heat, you can count on the Ozark Armament Rhino to continue to perform no matter what.
Ozark even backs this up with a 1-year warranty on all parts and labor.
Another thing that you'll absolutely love about this laser sight is the 5 different adjustable brightness settings. This feature allows you to choose the right brightness for the environment you're shooting in. These settings are easy to adjust and extremely convenient. You'll find yourself shooting more accurately due to your increased visibility.
This top of the line laser sight is made for both rifles and shotguns of all sorts. The cantilever mount that's included with every purchase makes attaching this device to your firearm a walk in the park. It really is just that easy. This is definitely a great investment for any avid shooter.

TACTICON Predator V1 Green & Red Dot Sight
When Tacticon designs a product, you know it's built to perform. Tacticon is a company owned by combat veterans. They know what works, what's effective, and the best way to do it. That's why when you purchase a gun accessory from them, you can feel confident knowing that you're getting nothing but quality, and the Predator V1 is proof of that.
You'll see your accuracy improve drastically when you use this green and red dot sight. The tactical optic on this device is truly amazing. Not only is it incredibly accurate, but sighting in on your target is extremely convenient. It literally takes no time at all, and the best part? No matter how many rounds you've shot off, this remarkable sight will continue to hold zero. Now, that's impressive.
Although these features are amazing, the 5 brightness level settings on this laser dot sight are just as cool. These settings are easy to change and allow you to shoot in any kind of lighting environment you want. You'll find that these 5 different brightness settings will not only help increase the accuracy of your shots, but they'll also take a lot of the stress off your eyes in comparison to other sights without these settings.
If that wasn't enough to convince you to add this green and red dot sight too your collection, then the durability of it should. The body is constructed from top-of-the-line aluminum and contains O-rings to keep contaminants from getting inside and corroding the device.
These sights are waterproof, fog-proof, and is backed up by a lifetime warranty. You'll even receive an extra battery when you purchase this sight. Now, that's a deal.

Feyachi Reflex Sight with Adjustable Reticle
The thing that makes this green and red dot sight really unique is the 4-style reticle. The designs you have a choice between include single dot, circle-dot combination, crosshair-dot combination, and crosshair-circle-dot combination. Every one of these combinations can be done in either green or red.
When you use the Feyachi, you'll also love how fast and convenient the target acquisition is. Sighting in on your target has never been easier. This is only enhanced even more by the extended field of view. This sight is specifically designed to help increase accuracy while also keeping you completely aware no matter what kind of situation you may find yourself in. This is truly one great combat laser dot sight worth every penny.
Attaching this reflex sight to your firearm is not at all difficult with the included rail mount system. You'll never have to worry about this device coming loose or falling off. Once you attach it, it's attached.
The body of this sight is also quite remarkable. It's waterproof, shockproof, and made from a real durable aluminum that can withstand even the harshest weather conditions. You won't be sorry when you invest in the Feyachi reflex sight.

GERO Tactical Green & Red Dot Sight
A lot of sights on the market claim to be extremely accurate, and although many in fact are, very few can compare to the Gero tactical green and red dot sight. This handy device can literally hold zero for a longer period than just about any model out there. I mean, it really doesn't matter how many rounds you fire off, this laser dot sight will continue to hold a zero setting. This green & red dot sight really is that dependable.
To help you shoot even more accurately, the brightness can be adjusted to your personal preferences in addition to the kind of lighting you're shooting in.
Adjusting them is a real piece of cake. There's no difficult programming, and the adjustment nobs are easy to use. You'll also find the eye relief to be a pleasure to use as well. Anybody that truly loves to shoot will definitely appreciate this green and red dot sight.
Like most of the green dot sights listed here, the Gero is waterproof, shockproof, fog-proof, and completely weatherized. You can drop it, bang, it, crack it, and even submerge it in the snow, and it'll continue to perform for many years to come.

UUQ 2.5-10×40 Tactical Rifle Scope Green & Red Laser Sight
You'll really be able to shoot accurately when you shoot with the UUQ. This tactical rifle scope has a built-in green and red laser dot sight that can be turned on and off with a convenient little switch located on the side. Another really cool aspect to this duel combination is that the little green and red dot sight can be detached and reattached with little or no effort at all.
If you decide you want to use either the scope or the sight by itself, just disconnect it and reconnect it when needed. I find that to be a very convenient feature.
The reticle is also really cool. It's can be illuminated in either green or red, depending on what you choose, and there's also several brightness settings built in for you can choose from for accurate and precise shooting. It doesn't matter if you're shooting at dusk or dawn, you'll be able to easily adjust the brightness to the specific condition you're in.
The shockproof body of this clever contraption features O-rings that prevent moisture, dirt, and other contaminants from getting inside and corroding it away. The body is also nitrogen purged making it 100% fog-proof and extremely convenient to use.
I highly suggest this duel scope and laser dot sight to any enthusiastic shooter. You're basically getting two products in one.

In Conclusion
There are many different types of sights out there. Whether you prefer laser sights, red dot sights, or green dot sights, the options are plenty! We have talked about red dot sights before, and will continue to look at other optic options that are available to both recreational shooters, hunters, and professional target shooters. This review article was our picks for the best green dot sights available (many of the best in both articles are red-green option), and we hope you found one that fits your needs!
Very good video comparing red dot versus laser sights

Other Resources of Interest: